---
Summer is officially here and I can't think of a better reason to pick up a bottle of wine and invite your friends over for dinner! Tonight's post is a fun and feminine tablescape I created with Rebecca Dawn Design to celebrate the dawn of summer.
Inspired by the merging seasons we've combined the blossoming branches of spring with summer's colourful blooms, accented with aztec textiles, gold accents and of course some rosé — because I can't be stopped! I'm also sharing my tips for pulling together an eclectic tablescape with budget friendly and thrifted decor, because I believe unique celebrations don't have to come with an extravagant price tag. Come gather around my dining table and let's chat summer entertaining!

---
SUMMER SOLSTICE DINNER PARTY
---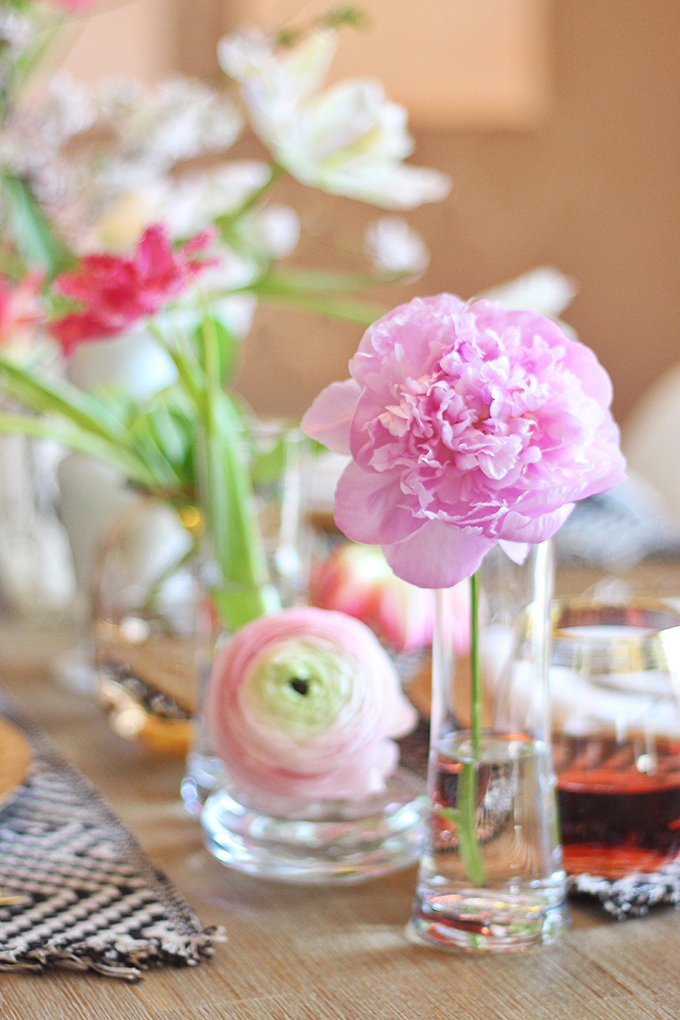 When my boyfriend came home from work to find this setup on our dining table, he jokingly asked if the queen was coming over for dinner! I giggled, but it got me thinking that most people probably assume setting up a dinner party like this costs a fortune and that's just not the case. In fact, almost all of these items Rebecca and I already owned — and most of them are budget friendly or thrifted!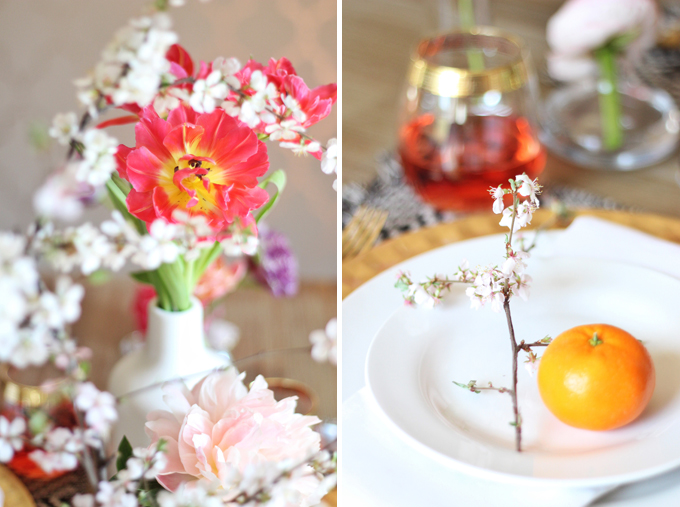 Today I thought it would be fun to walk you through this eclectic summer solstice inspired tablescape — showing you how I pulled it together step by step and sharing my sources along with some styling and design tips!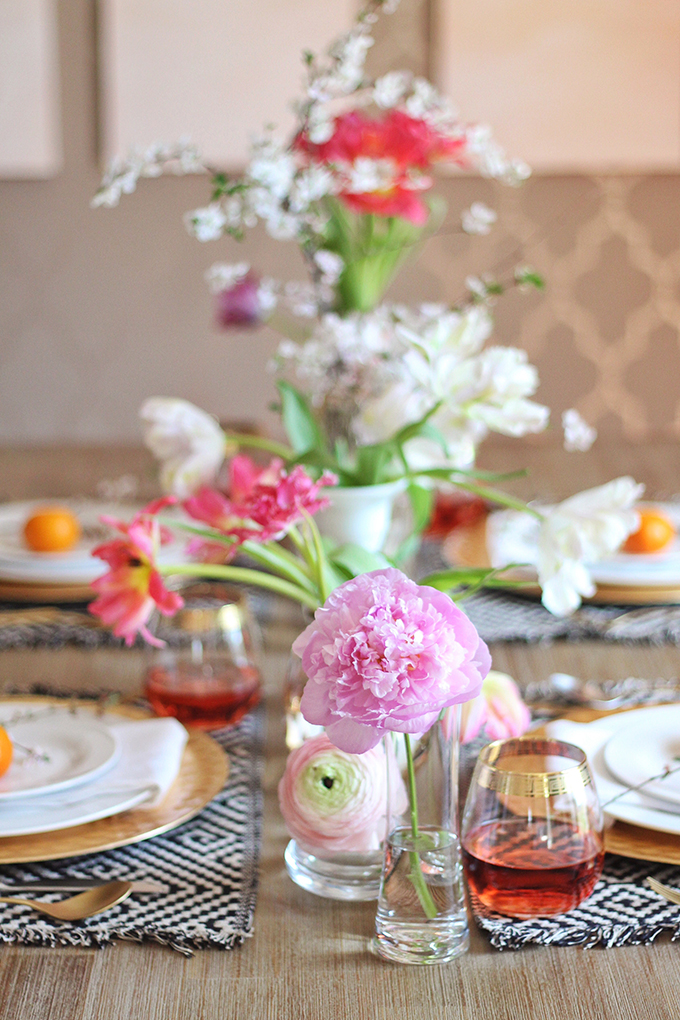 Like any creative project, it's important to start with a vision. If you decide on an overall theme, it makes it much easier to source or pull in elements you already own. Since I already owned most of this decor, it was simple to combine it all on my dining table, but the challenge was to do so in a way that made it fresh.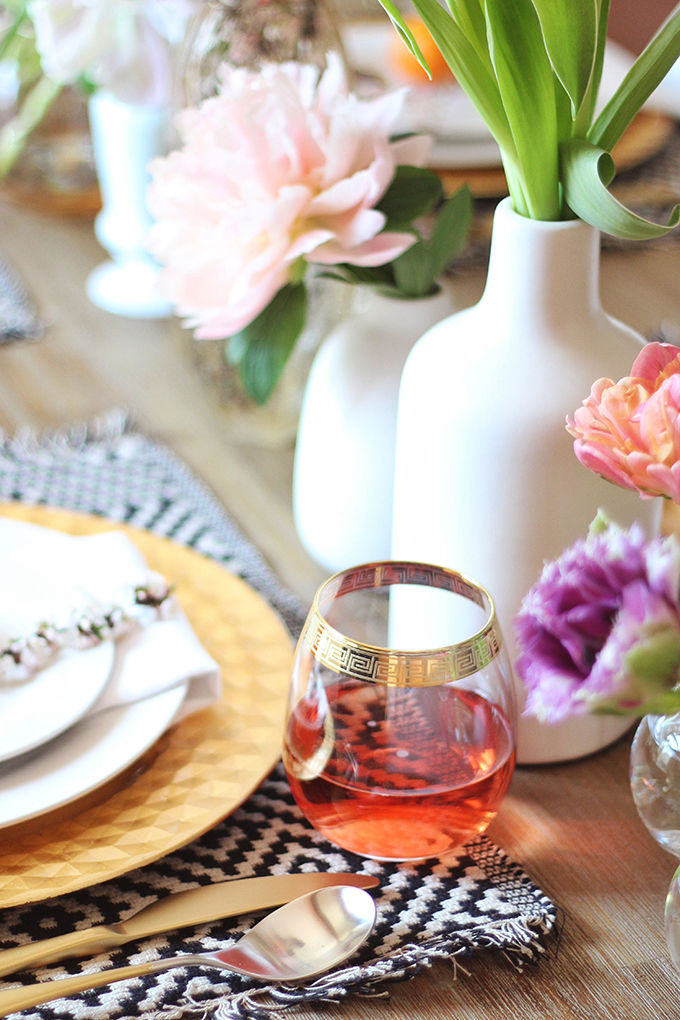 Layers and textures are fundamental in creating an interesting tablescape. So, to begin I laid down my favourite aztec placemats. Believe it or not, I found these on clearance for $2 each before Target left Canada (which I'm still sad about, for the record). They live on my dining table almost permanently!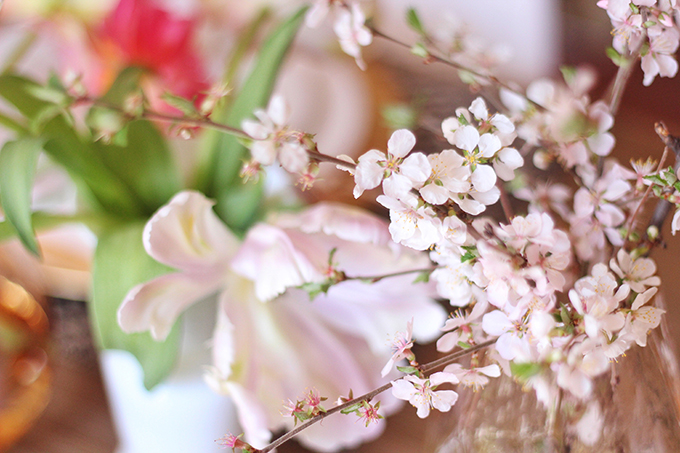 I worked with gold and white accents to bring cohesion to the theme. One of the best tips I can give you is not to be afraid to play with colour (which come from our flowers in this tablescape), but to pick a few cohesive neutrals to anchor and balance your setup. So, I added my gold chargers (which I picked up at Walmart during the holidays for $1 each). Then, I topped the chargers with simple white plates (from Superstore) and white linen napkins. To keep things harmonious, I also used my gold-rimmed stemless wine glasses, which probably look familiar because I use them all the time! I picked them up for $4.99 each at Homesense, which is one of my favourite sources for unique entertaining pieces and styling props. To complete each place setting, I used my gold flatware.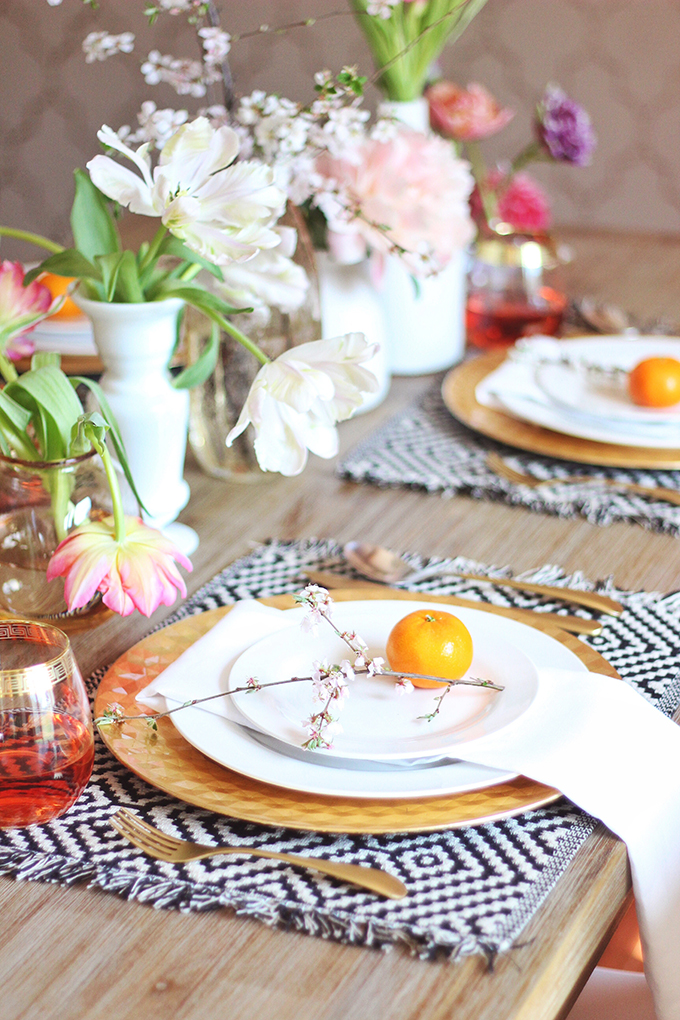 Presentation is everything and details totally make a dinner party. Crisply ironed napkins presented in an interesting way add a touch of elegance to your tablescape. I also love the idea of bringing the outside in and styling each place setting with a unique, natural touch. For this summer solstice dinner party Rebecca foraged flowering branches (more on urban foraging here) from her Mom's Nanking Cherry Tree. They're gorgeous, free and they add a whimsical touch to each plate. A fresh clementine brings a playful element and a fun pop of colour — plus if guests arrive starving they can always enjoy them as you're preparing dinner! Styling each place setting with a piece of seasonal fruit is a thoughtful touch that allows you to add a simple pop of colour.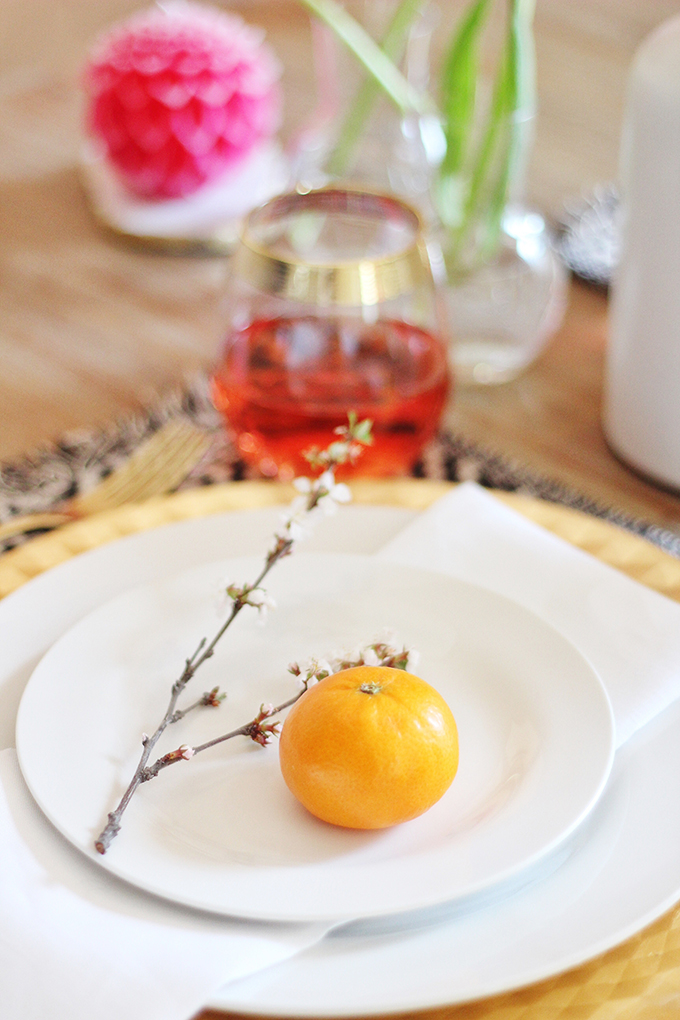 If there's one item I can suggest to elevate your tablescape, it's fresh flowers. I love fresh flowers, but I also know they can be expensive. So one of my best tips is to create a centerpiece yourself! This doesn't mean you have to become an expert in flower arranging by any means. Grab a bunch of mix-matched vases in a similar colour palette (we used vases Rebecca already owned in clear, white and golden, neutral tones) and add a some fresh flowers to them to create a unique centrepiece! If you don't have many to choose from, my favourite place to find unique vases is at thrift stores. They're very inexpensive and so much fun to shop for! Combining vases in varying heights will also create beautiful flow and movement in your centrepiece.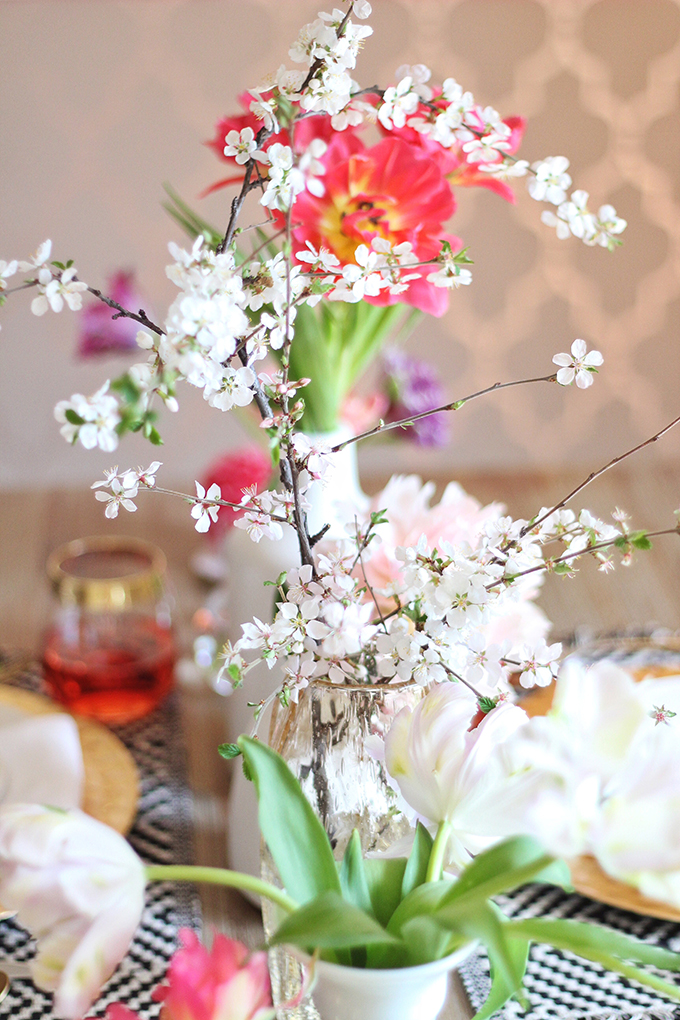 For our fresh flower centerpiece we used various tulip varieties (more about tulips here), peonies and Nanking Cherry Tree branches. Use whatever flowers suit your theme and are accessible to you — including what's growing in your backyard or neighbourhood. Foraging flowering branches or greenery, or purchasing individual flowers (or grocery store bouquets) and arranging them yourself will save on cost and allow you to create something totally custom.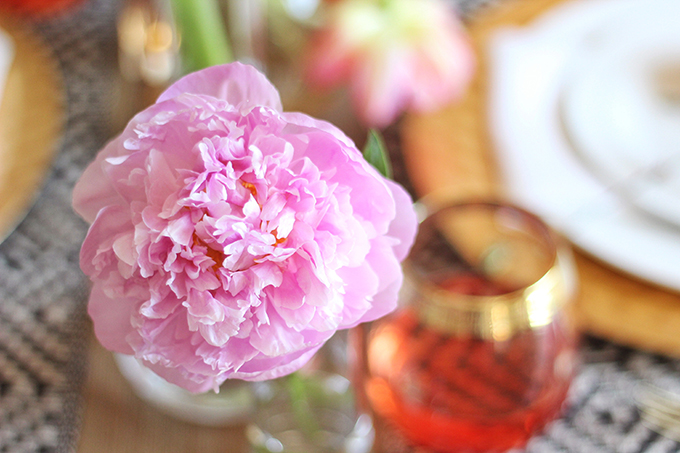 To begin styling your centrepiece, start by placing the vases down the centre of your table in scattered pattern. Play with varying heights and orientation to add interest. Then, prepare each vase (most flower care tips here) and get to arranging! For this tablescape, Rebecca combined flowers in similar colours or varieties in each vase to create a colourful cohesion.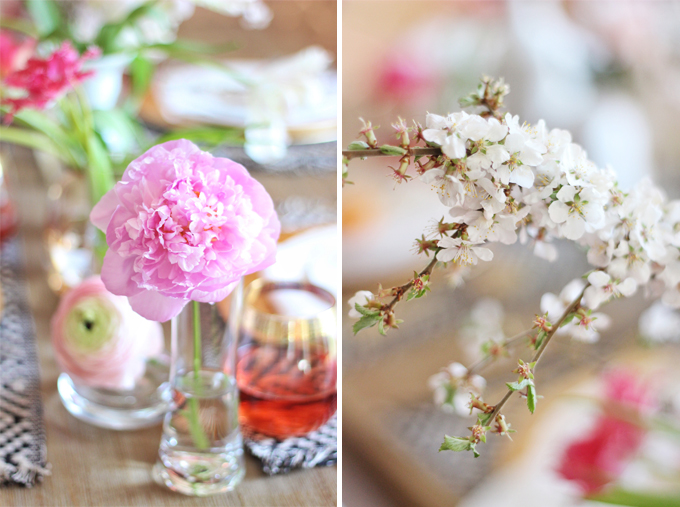 One of the many things I've learned from Rebecca is that flowers aren't perfect — and they look best when you allow them to 'just be themselves' without altering them too much. Rebecca believes that the natural beauty and quirks of each flower should be embraced and I couldn't agree more.
I love the playful, organic feeling she was able to achieve by combining upright blossoms with downturned ones to celebrate the unique shape of each flower. Isn't the effect beautiful?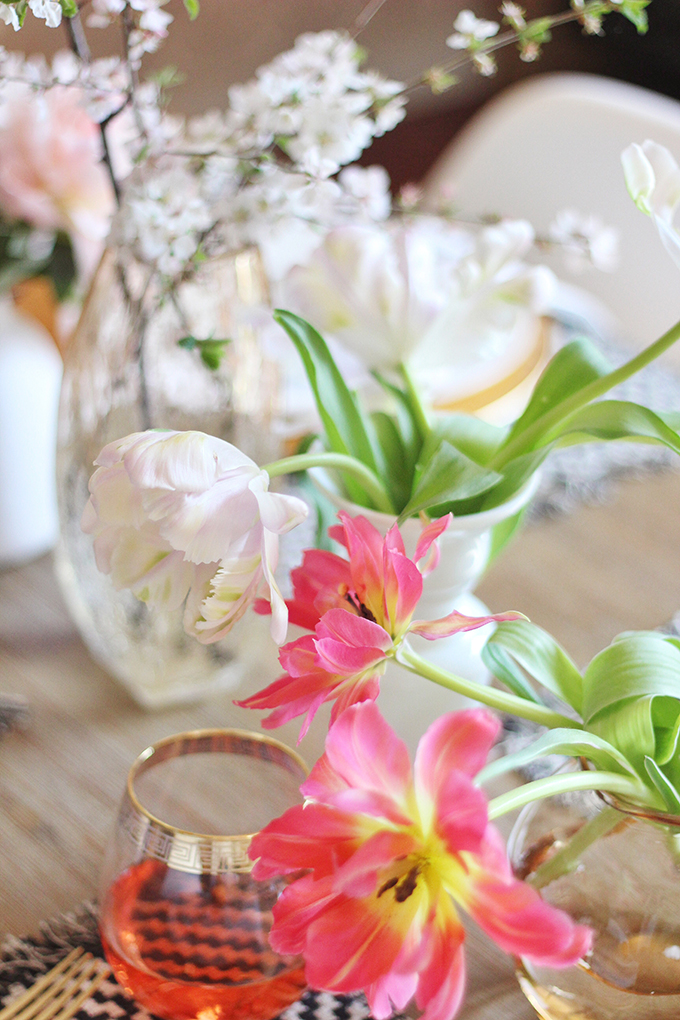 And lastly, I poured some rosé. I promise it's not all I've been drinking — but I have been on a major rosé kick lately and I love the way it photographs. The beautiful pink hue of the rosé helps tie in the palette of some of our colourful blooms, which is always something I consider when selecting a beverage for a tablescape. These small, purposeful details make a big impact in the overall look and feel of your celebration!
---
LEARN MORE ABOUT SPRING & SUMMER FLOWERS
---
---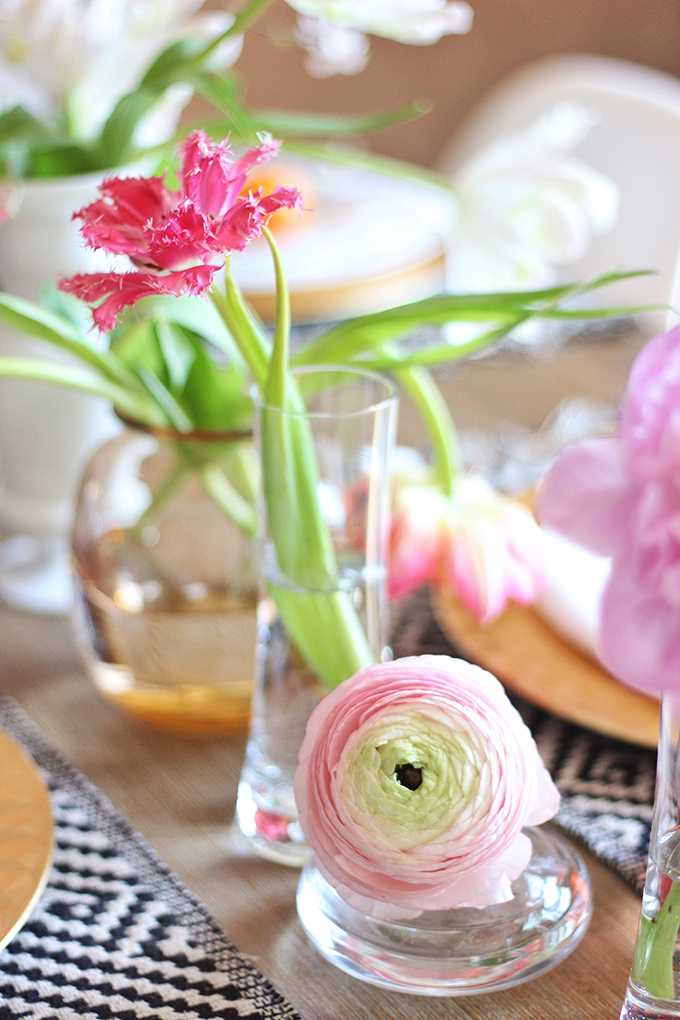 Are you planning any summer parties? If you are, I'd love to hear all about them! I love any excuse to celebrate and think it's something we should do more of in our everyday lives. I hope my tips were helpful! If you have any questions or comments for me just leave them below. Cheers to the start of a new summer!
---
Disclaimer: Thank you Rebecca Dawn Design for partnering with me to create this gorgeous summer solstice dinner party! This post is not sponsored, and contains my genuine thoughts and recommendations. JustineCelina uses affiliate and referral links, which allow me to receive a small commission when you make a purchase through one of my links. Your purchases help to support JustineCelina.com!