It's been awhile since I reviewed some new products from one of my favourite high end makeup brands Bite Beauty. So today I'm excited to bring you a review of 3 summery shades from their most recent launch — the Amuse Bouche Lipstick range. If you're not familiar with Bite, they're a Canadian lip-exclusive brand who's products are made with natural, food grade ingredients that are actually good for your lips. Bite Beauty used to make my all time favourite lipstick formula, the Luminous Crème Lipsticks. I also introduced so many of you to Bite products last year — I love it when you leave comments, send me messages or tag me in photos wearing my product recommendations!
Imagine my dismay when I heard Bite was discontinuing the Luminous Crème Lipsticks earlier this year (do anyone else's favourite products always seem to get discontinued?!). When I discovered they were replacing the Luminous Crème Lipsticks with a new lipstick line called Amuse Bouche I was intrigued — and a bit skeptical, to be honest! I'm happy to report that I love Bite's Amuse Bouche Lipsticks just as much (if not a little better!) than their predecessor, my beloved Luminous Crème Lipsticks. Come hang out for a review, photos and swatches of the Bite Beauty's Amuse Bouche Lipsticks in Meringue, Gingersnap and Pickled Ginger!
---
BRAND & FORMULA OVERVIEW
---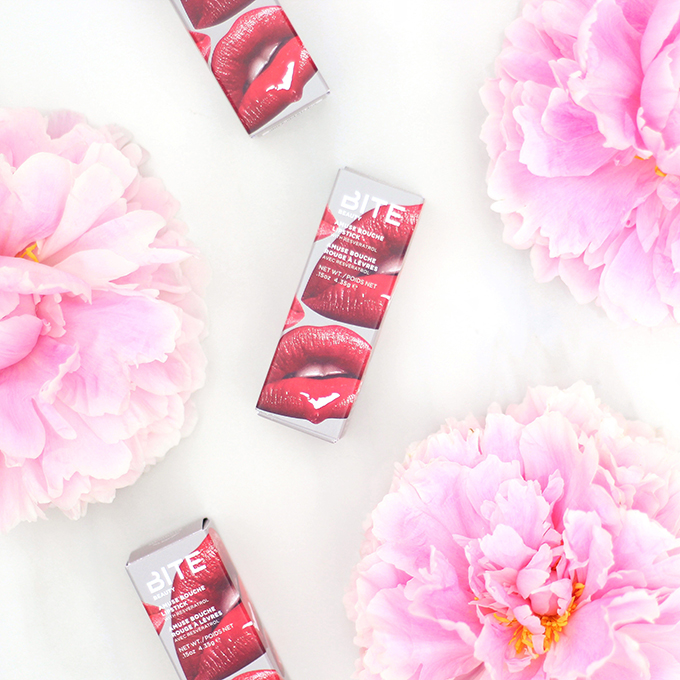 I fell in love with BITE Beauty products in 2015 and they're still some of my all time favourites. The concept behind this Canadian brand is super cool — all of their products are made with natural, food-grade ingredients, don't contain petrochemicals and are certified gluten-free. So technically, you could eat these lipsticks (they contain fresh pressed citrus and taste a bit fruity)! This formula contains an antioxidant called Resveratrol (also found in red wine!), which fights free radicals and helps to reduce signs of the aging on the lips over time. I like to use natural beauty products when I can and I get tons of use out my BITE products.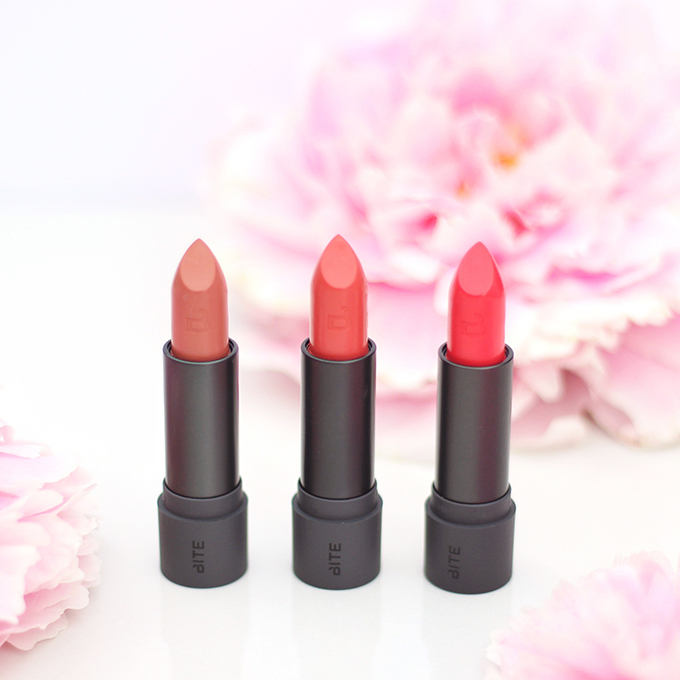 The new Amuse Bouche formula contains a balanced blend of lip-quenching nutrients, vitamins along with 12 edible oils and are supposed to deliver saturated lip color with weightless coverage. If you're been a longtime reader of JustineCelina you'll know I love my drugstore beauty products, so if I'm going to pay $30 for a lipstick it better have something amazing to offer that I'm not able to find at the drugstore for a fraction of the price! I completely think that Bite's Amuse Bouche lipsticks are worth the investment — there's really nothing like these artisinal, small-batch, hand crafted lipsticks on the market at any pricepoint. And, they brought back their most popular Luminous Crème shades and revamped them into Amuse Bouche Lipsticks, which I'm overjoyed about!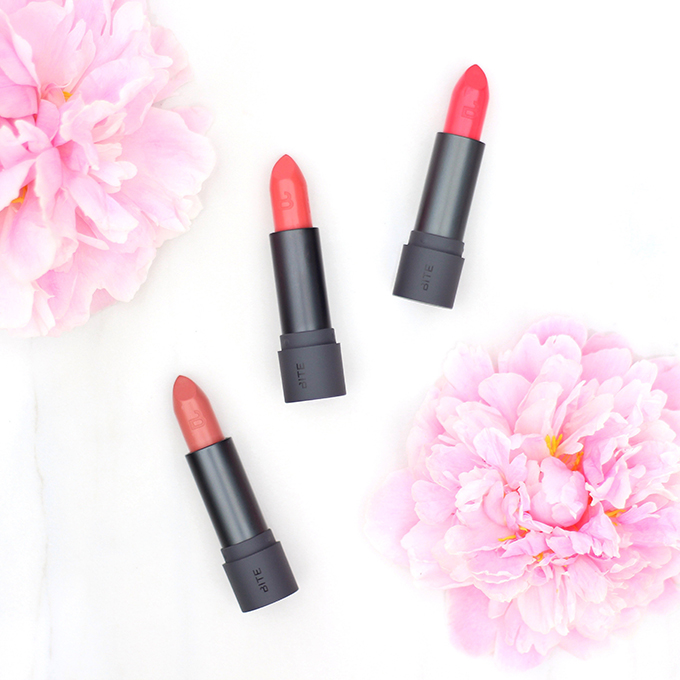 Now let's compare Bite Beauty's Luminous Crème formula to the new Amuse Bouche formula. To start, the Luminous Crème Lipsticks were ultra smooth with intense, creamy, super pigmented and luxurious colour payoff. Texture wise, they literally felt like you were slathering butter on your lips (in the best way possible)! The Amuse Bouche formula is made with triple milled pigments, so the colour is very saturated, but the formula isn't as thick on the lips as the Luminous Crèmes were. Overall they're a bit less creamy and slippery (even though they're still very creamy), but therefore they also last longer on the lips, making it a win-win! They're moisturizing and they wear beautifully. Think of the Amuse Bouche lipsticks as modernized, natural twist on a classic lipstick — kicked up a few notches!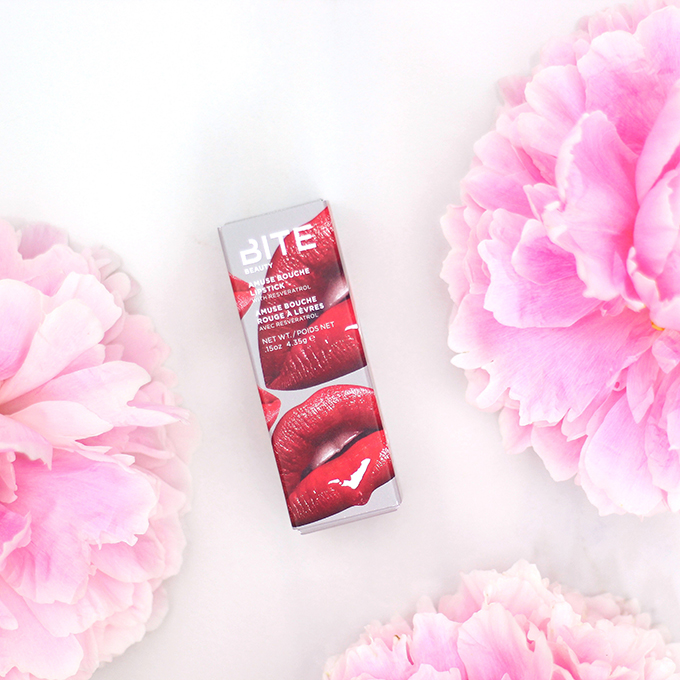 Bite's Amuse Bouche Lipsticks offer a satiny finish (as opposed to the Luminous Crèmes which I described as lightly glossy) that wears for 6+ hours on me, depending on the shade. For C $30.00, you receive 0.15 oz of product which is a typical, full sized lipstick.
---
A peachy nude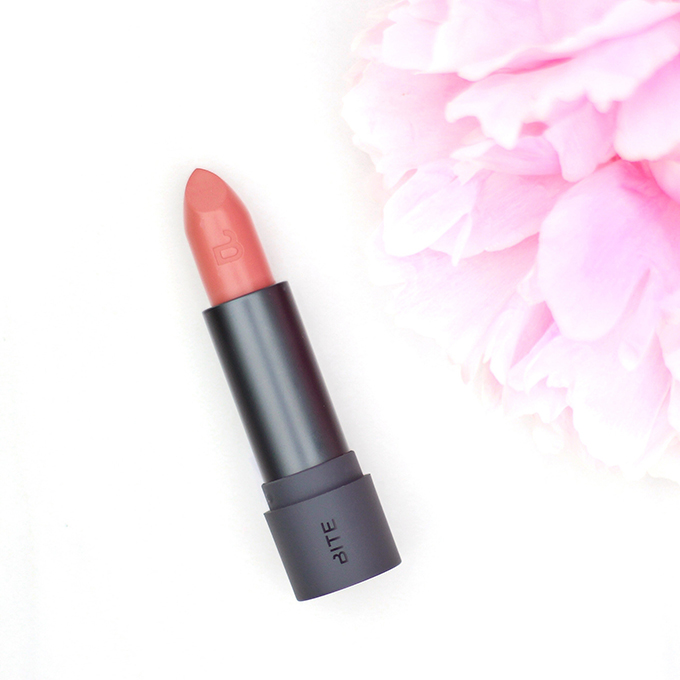 Bite describes Meringue as a peachy nude, but on my warm skintone it pulls more neutral. It's a fantastic mid-tone, summery nude with pink and peach undertones. I thought it would be the most wearable nude of the range — so if you're near my skintone (NC 25-30) this would be a great option for you!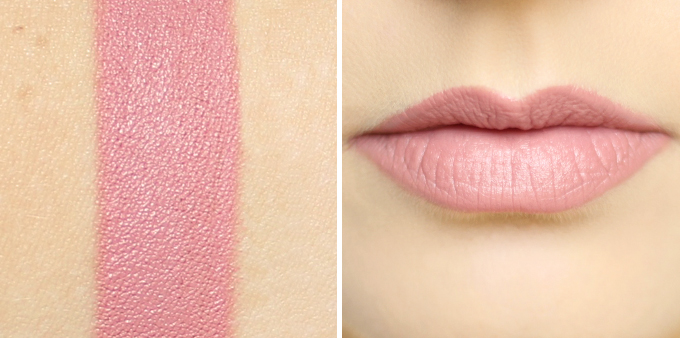 I'm wearing Bite Beauty's Amuse Bouche Lipstick in Meringue on my lips.
---
A fresh peach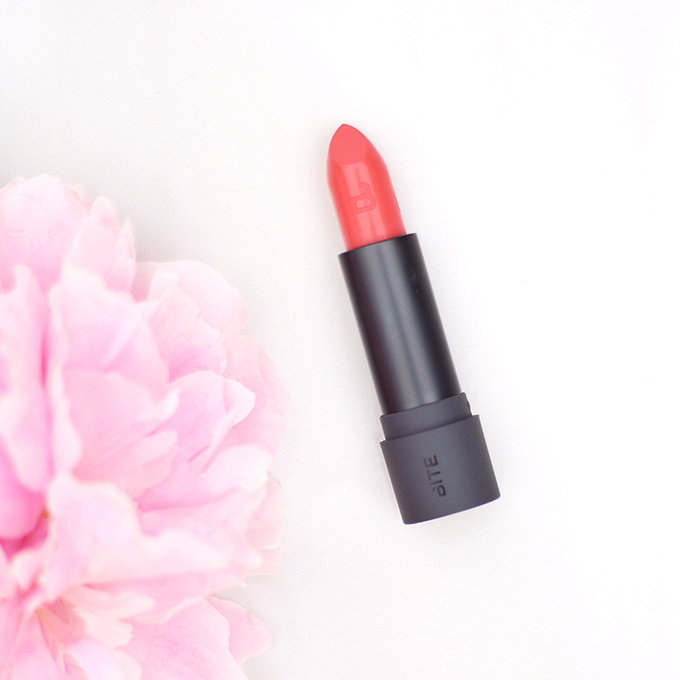 Bite describes Gingersnap as a fresh peach, but I think it's more of a mid-toned, neutral coral. It's very peachy but very wearable and it's my favourite shade of the bunch — I think of it as a coral nude. It adds the perfect amount of colour to your completion without being overwhelming and also coordinates well with other makeup you may be wearing. A perfect summer shade! If you want to see it outside in different lighting conditions, I'm also wearing it in this style post.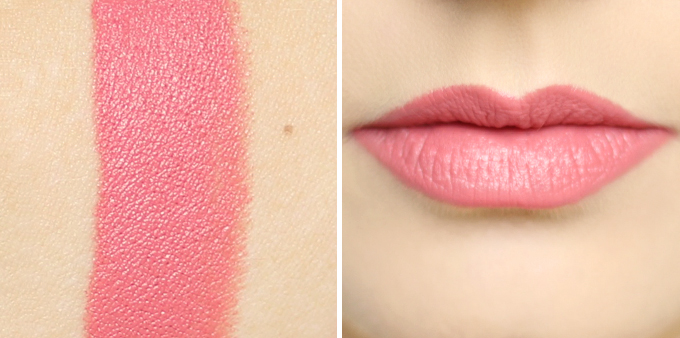 I'm wearing Bite Beauty's Amuse Bouche Lipstick in Gingersnap on my lips.
---
An electric coral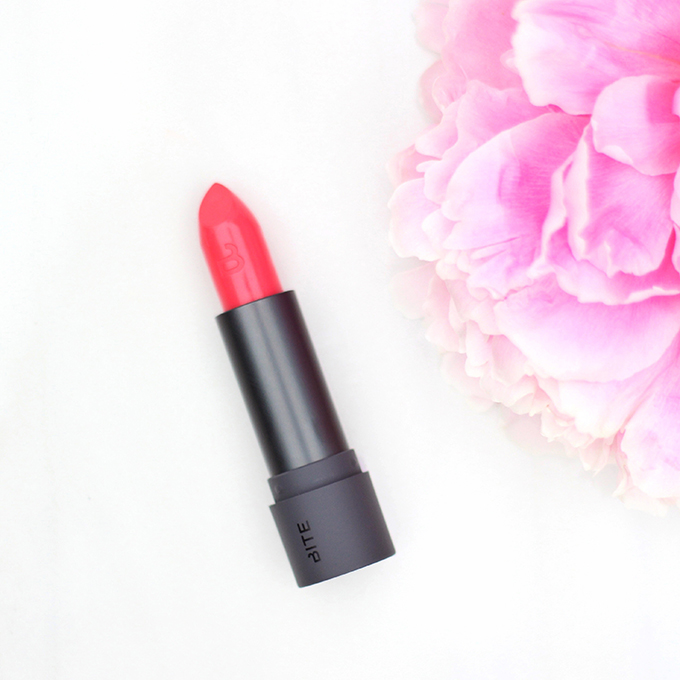 An electric coral? Yep, that's exactly what Pickled Ginger is. It's a true, bright coral with equal amounts of pink and orange — a truly stunning shade that's both daring and wearable at the same time. In formula, it's a little thicker than Meringue and Gingersnap. If you want to see it outside in different lighting conditions, I'm also wearing it in this style post.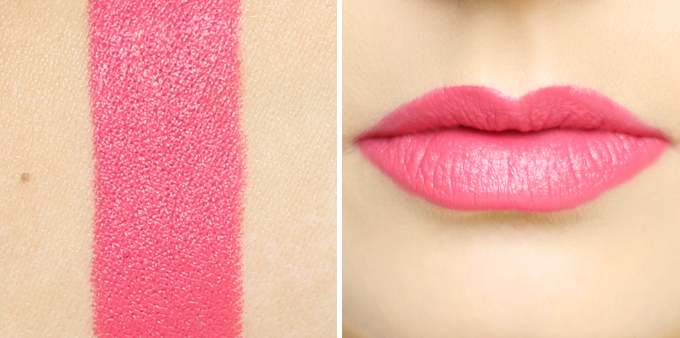 I'm wearing Bite Beauty's Amuse Bouche Lipstick in Pickled Ginger on my lips.
---
Keep in mind that these shades will look totally different on different skin tones. For reference, I have light / medium skin with warm, yellow undertones — I'm a MAC NC 25-30.
---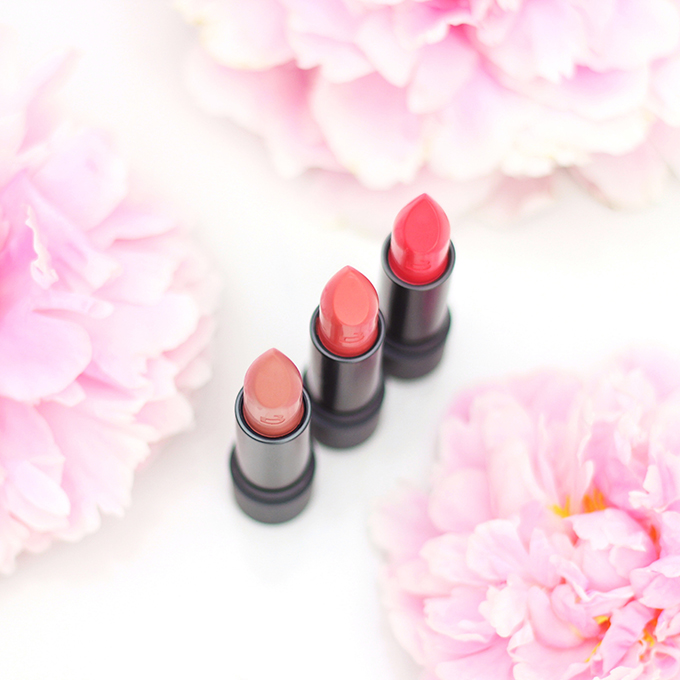 What are your favourite summertime lipstick shades? Are you planning to pick any of these the Amuse Bouche Lipsticks up, or do you already own a few? If you treat yourself to a new lipstick please let me know how you like it! Or, if you have any questions for me, feel free to ask in the comments section below. I've recommended Bite Beauty products to so many people and everyone loves them just as much as I do!
---
Disclaimer: Products marked with * indicate press samples provided for editorial consideration with no obligation for feature or review. This post is not sponsored, and contains my genuine thoughts and recommendations. JustineCelina uses affiliate and referral links, which allow me to receive a small commission when you make a purchase through one of my links.
Save
Save
Save
Save
Save
Save
Save
Save
Save
Save
Save
Save
Save
Save
Save
Save
Save
Save
Save
Save
Save
Save
Save
Save
Save
Save
Save
Save
Save
Save
Save
Save
Save
Save
Save
Save
Save
Save
Save
Save
Save
Save
Save
Save
Save
Save
Save
Save
Save
Save
Save
Save
Save
Save
Save
Save
Save