---
One of my favourite things about summer is spending time in the serenity of country and getting outside. I welcome any chance to dine al fresco (meaning: in the open air) and today I'm walking you through how I pulled together this unique outdoor dinner party on a budget. This earthy, upscale celebration is inspired by the Easy Vegan White Mushroom Pizzas on the Grill I created for The Food Bloggers of Canada to celebrate outdoor summer entertaining!
Tonight I'm sharing my insider tips for creating and styling memorable gatherings — from my favourite sources for inexpensive entertaining essentials, to foraging for unique pieces in the prairies, to a simple copper-themed DIY. I also chat about the gorgeous (but budget friendly) Rebecca Dawn Design florals, inspired by the wild beauty of our Canadian summers. In the true spirit of al fresco dining I invite you to bring the inside out and join me for a glass of Sauvignon Blanc on a gorgeous summer evening among the swaying grass and tall trees!
---
AL FRESCO SUMMER DINING INSPIRATION
---
Would you believe me if I told you I set this tablescape up on a weathered picnic table that's been perched in this spot for almost 15 years — and then thew a door foraged from an abandoned farm on top? Well… that's exactly what I did!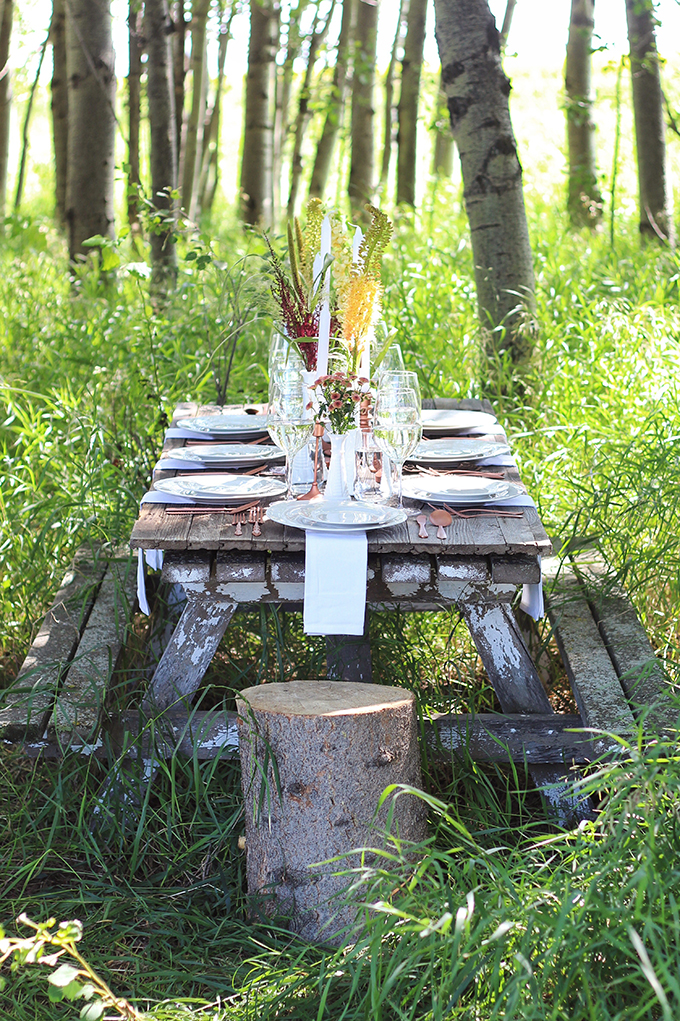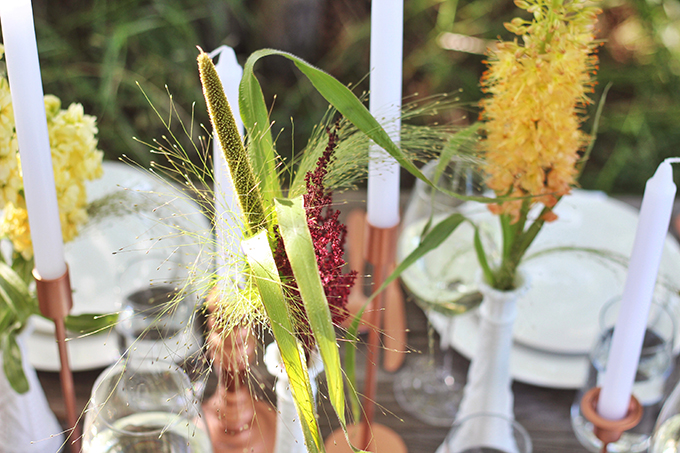 I love the way the light dances through the trees at my childhood home in rural Alberta during the summertime and illuminates objects in different ways. We're always outside enjoying a glass of wine or a cocktail during the summer, revelling in the breeze and golden light streaming through the trees. It really is a magical place — but we never use this picnic table! This summer, I knew I wanted to create an al fresco tablescape in this setting to share it with all of you. So I decided to roll with what was already there and leave this forgotten picnic table exactly where it was, using it as the base for my tablescape! Isn't the effect of the overgrown grass and foliage so pretty?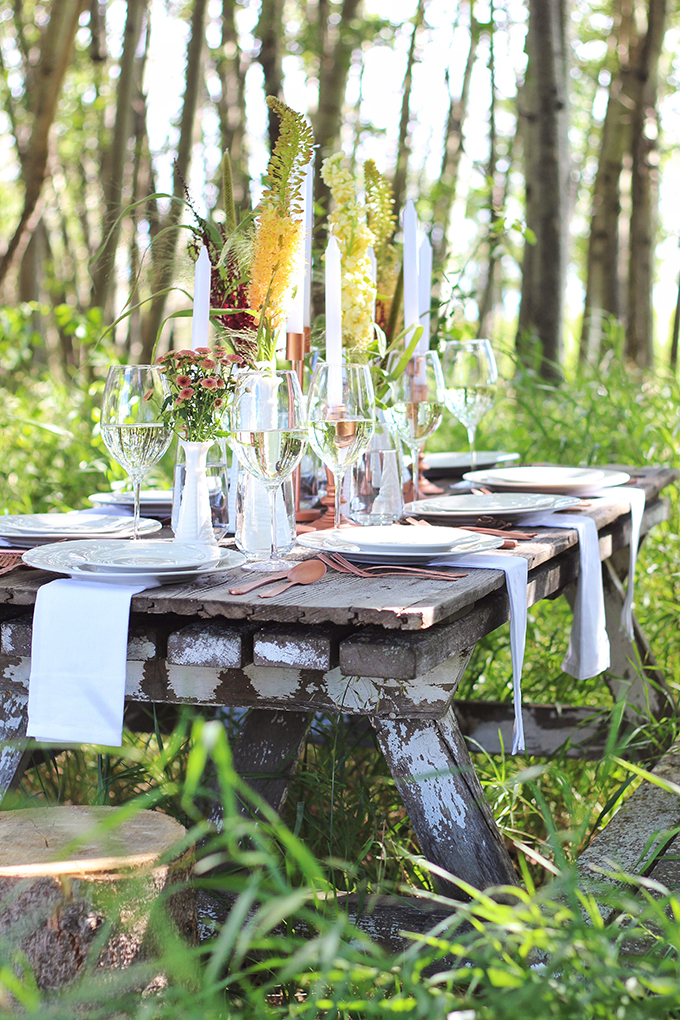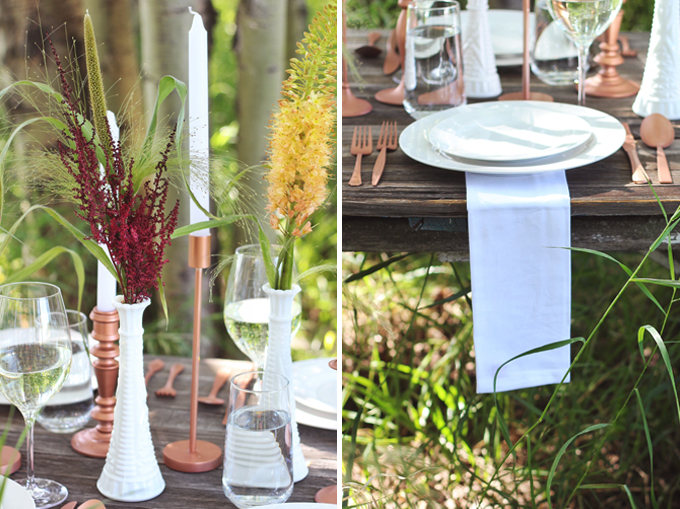 Tree stumps (usually reserved for firewood!) were used to create seating for the extra place settings on the ends of the table — now able to accommodate 8. I'm a big believer in using what you have on hand in new and unexpected ways to create unique and memorable celebrations. If you have an old (or new) picnic table kicking around, or and any solid flat surface you could use as a tabletop I hope this post inspires you to experiment with elegant al fresco dining this summer. You might be amazed at what you can create with things you have just kicking around!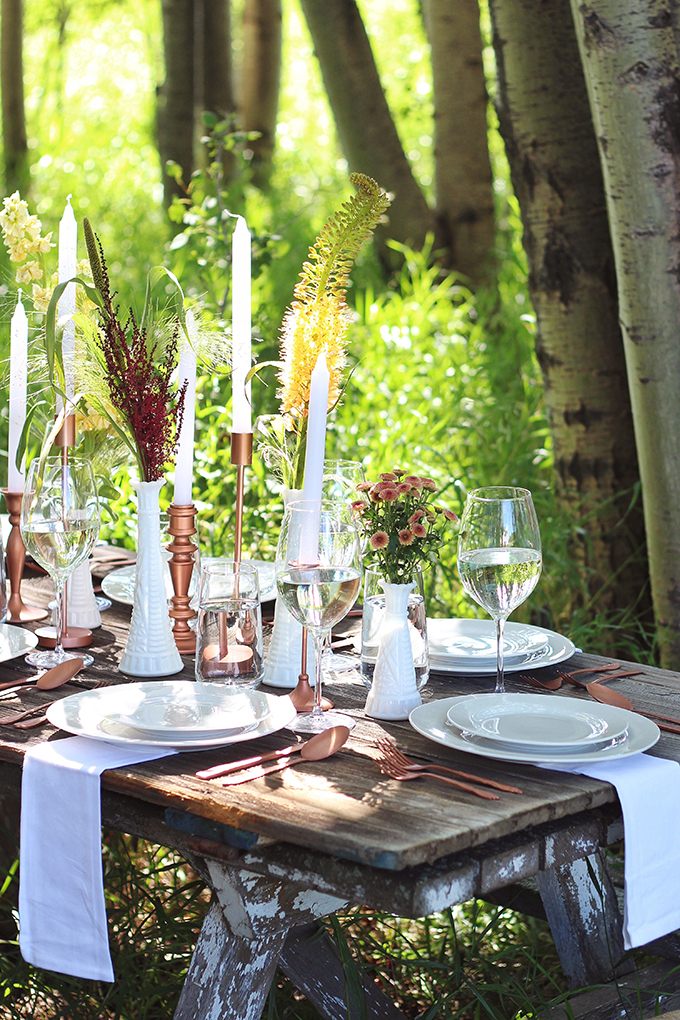 ---
Details & Inspiration
---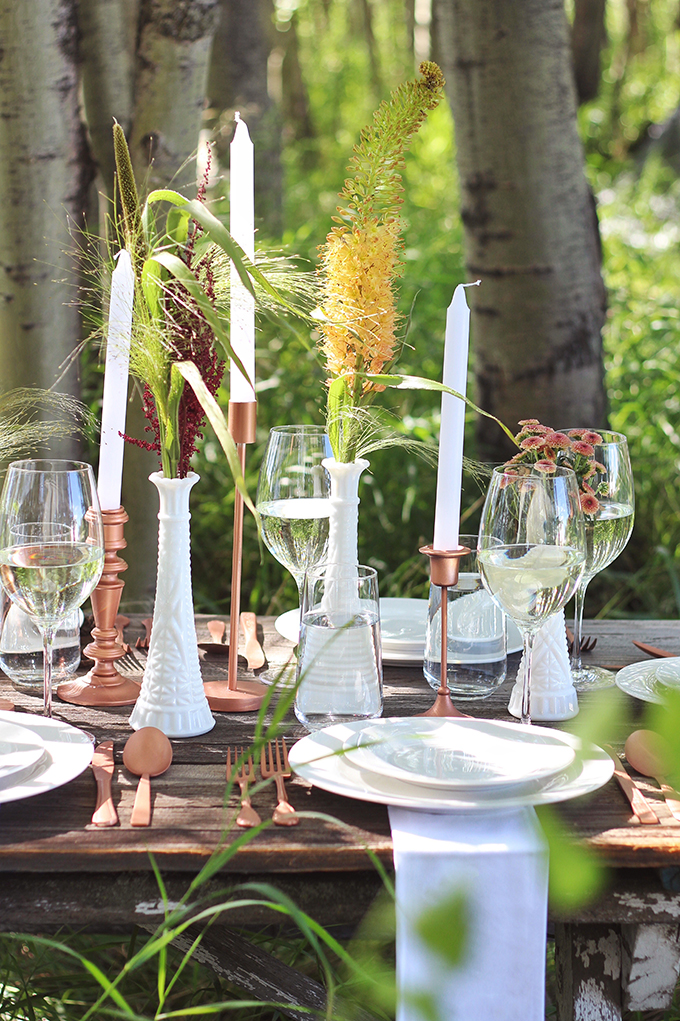 It's always the details that give a tablescape that wow factor — so let's chat about my inspiration for this dinner party! Although I love colour, I worked with a neutral palette inspired by the surroundings; wood, crisp whites, greenery, copper, buttercream, burgundy and apricot. I've always found the combination of earthy and upscale elements interesting and that's something I played with here. Even though I prefer modern design and clean lines, I love to mix modern and rustic elements to keep things interesting.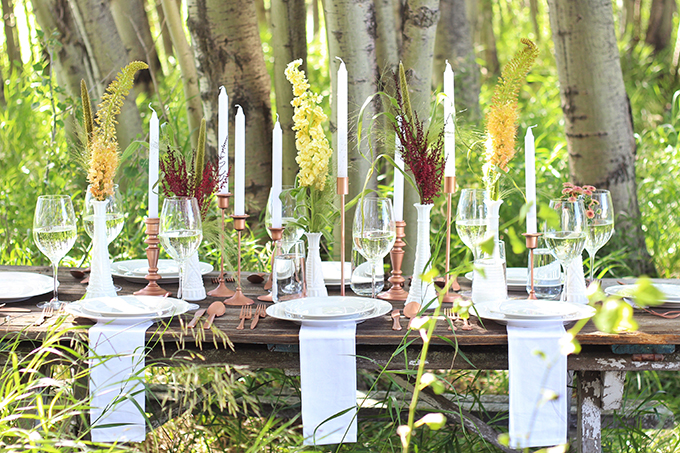 I'm always mindful of how setting plays into whatever I'm styling. Rebecca, who I worked with on the centrepiece for this al fresco celebration, also believes that flowers should feel organic to the environment they'll be in — and I love the wild, textured arrangements she came up with. I created a moodboard to solidify and organize my ideas, which is something I always do for creative projects and collaborative blog posts.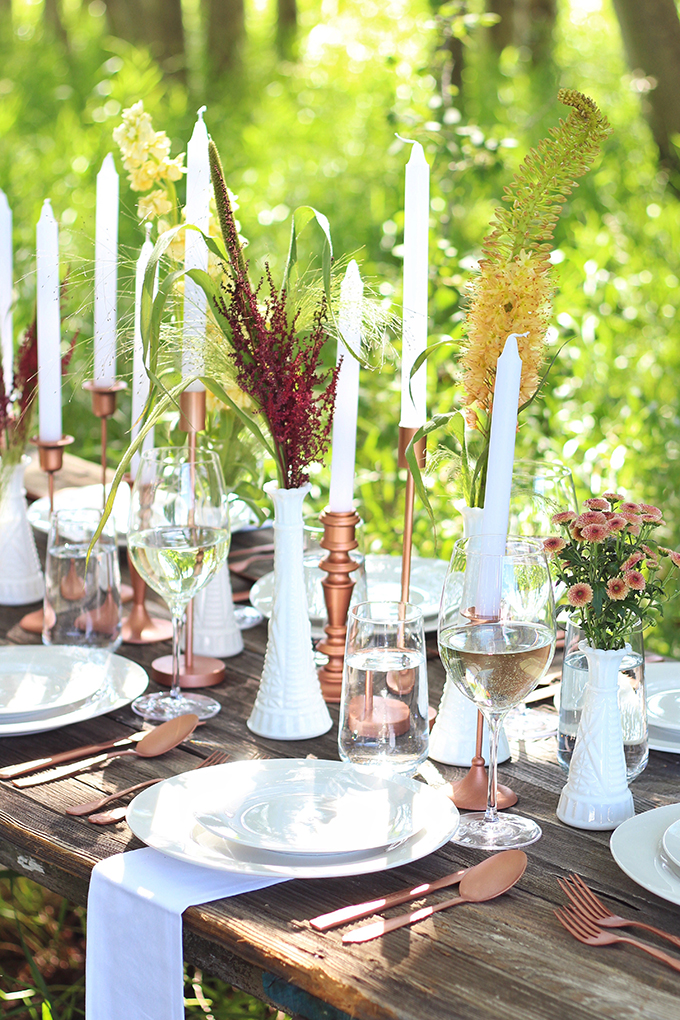 Since the setting is so serene and tranquil, so I wanted to create an inviting atmosphere with elegant touches. So often we just resort to the basics for summer entertaining because it's easy (and hey, I get that!). But with a few special touches you really can create something memorable for your guests — whether it's for a weeknight dinner or a special occasion!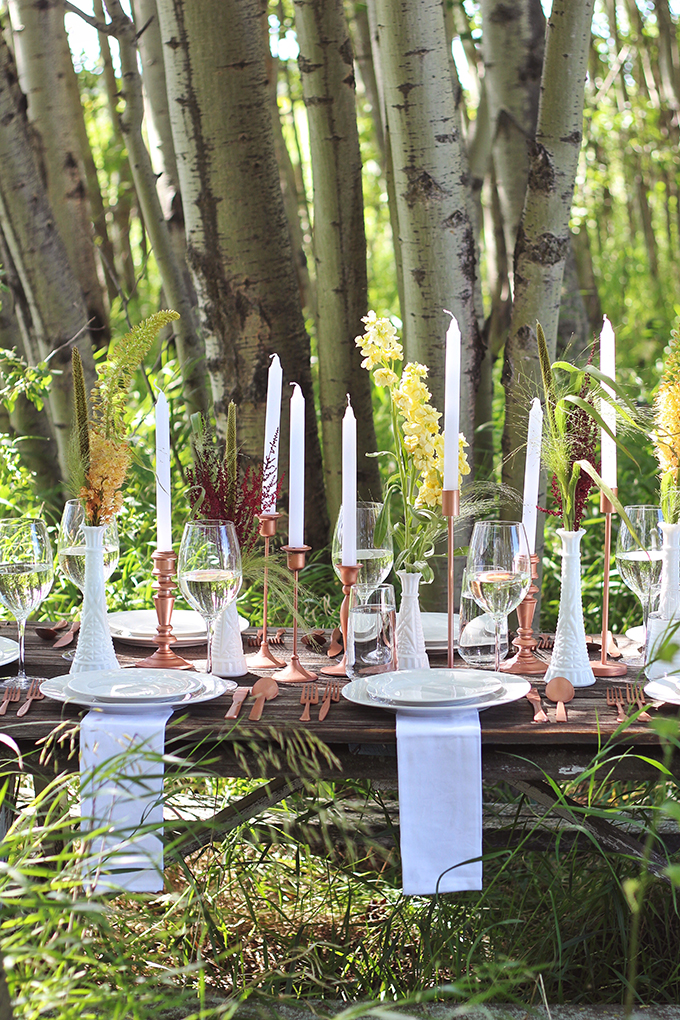 ---
Decor & Entertaining Elements
---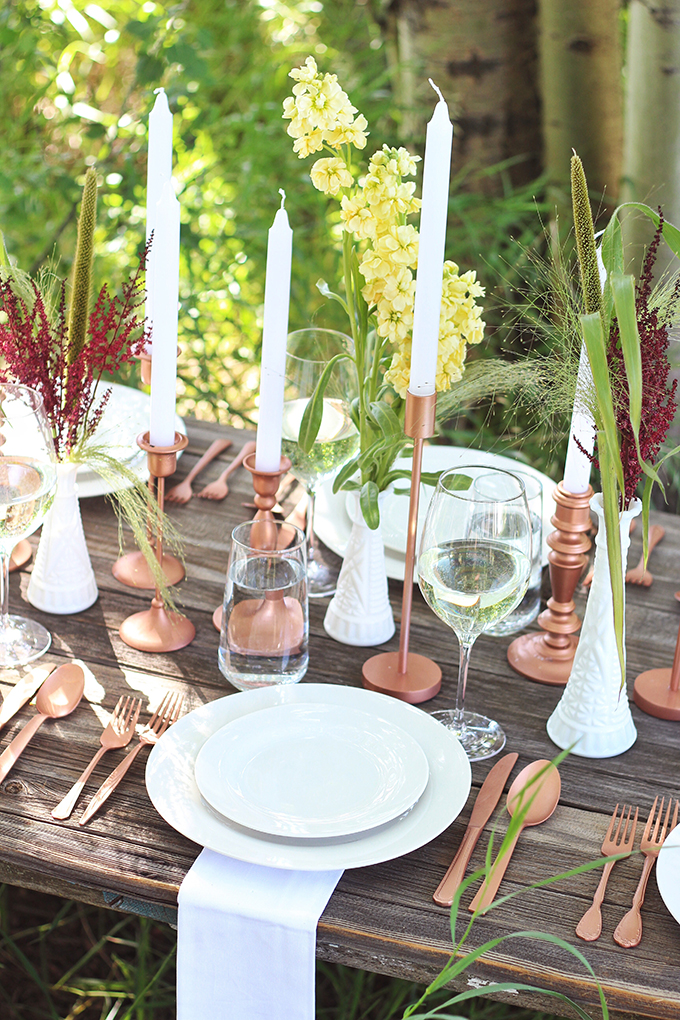 Since we're working with a foraged wood tabletop, it's necessary to add some polished elements to bring an upscale flair to this celebration. The white place settings with crisply ironed white napkins really dress up this tablescape and keep it from looking too rustic. They also work to unite our wooden surfaces with an elegant touch. The plates are from the Everyday Essential collection at Superstore and so are the napkins. Both are very inexpensive but great quality and I use them all the time! I kept stemware simple and modern — we've owned this set of wine glasses for a couple of years. The water glasses are new addition to our serveware and a bargain HomeSense find. I love HomeSense for unique decor and entertaining essentials!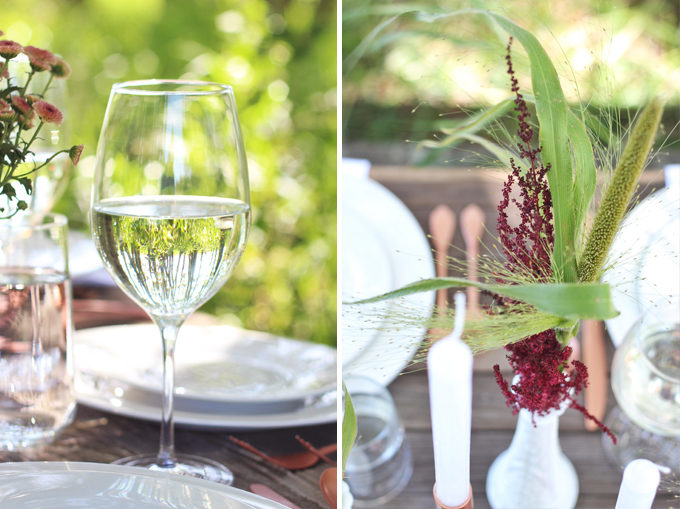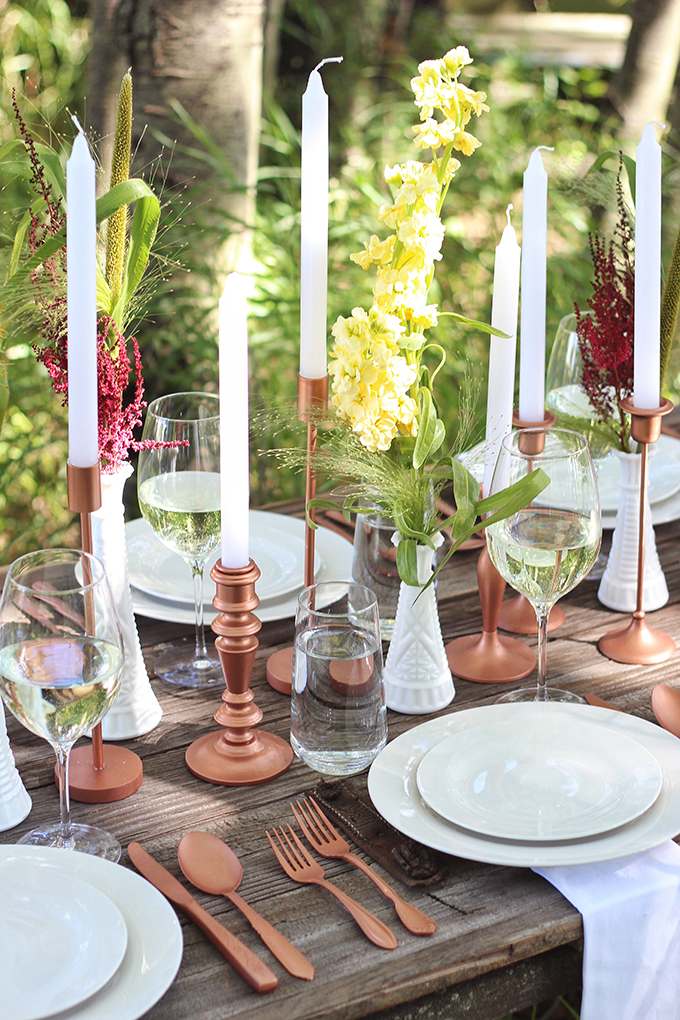 The utensils coordinate with the candlestick holders in a copper palette. I found all of the candlestick holders for $1 – $4 each at Value Village and spray painted them copper — they were mix matched to start out with! It's such a simple DIY but a very effective one if you're looking for something in a certain colour and you aren't able to find it! To recreate this effect, look for candlestick holders in a variety of heights. I looked for a mixture of traditional and modern styles — it may look strange until you spray paint them all, but I promise you it all comes together! I also purchased the white taper candles at Superstore for less than $1 each. Taper candles are a simple touch that really elevate the mood of your dinner party.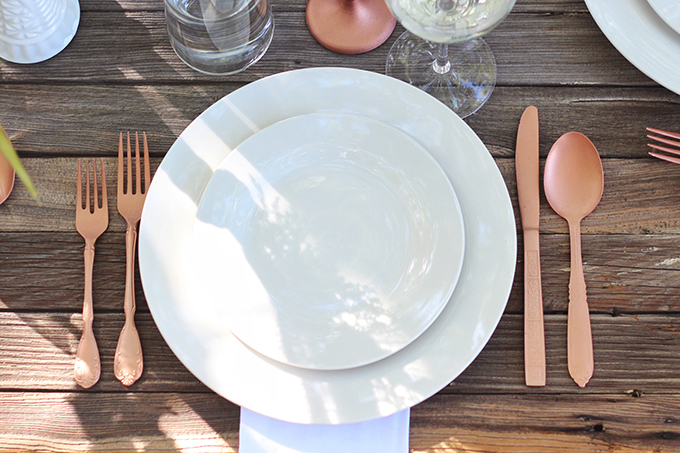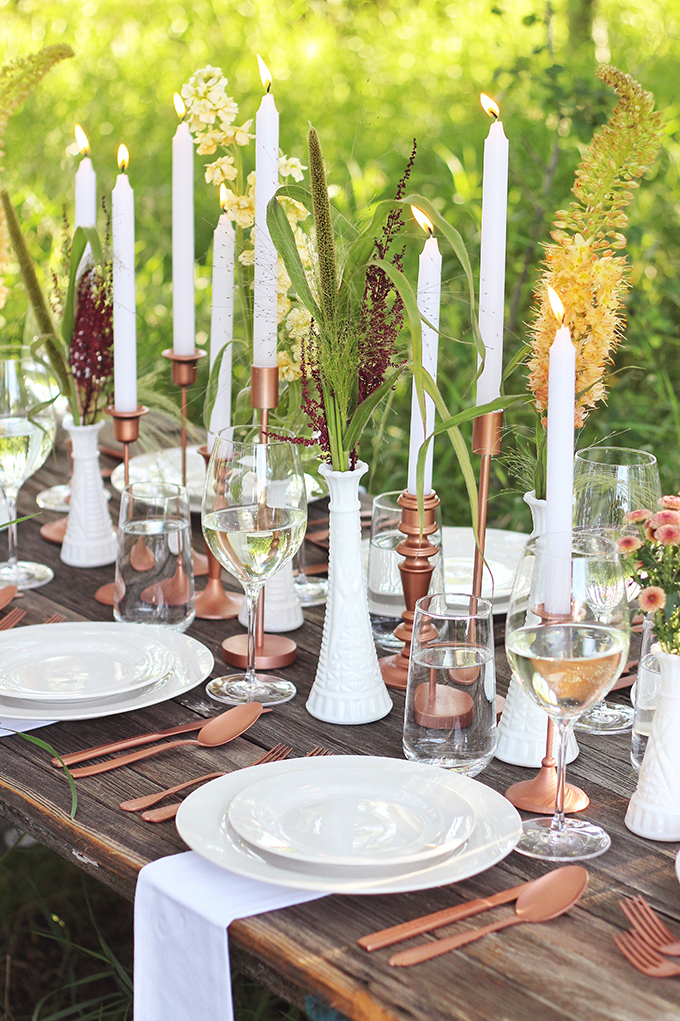 ---
Flowers
---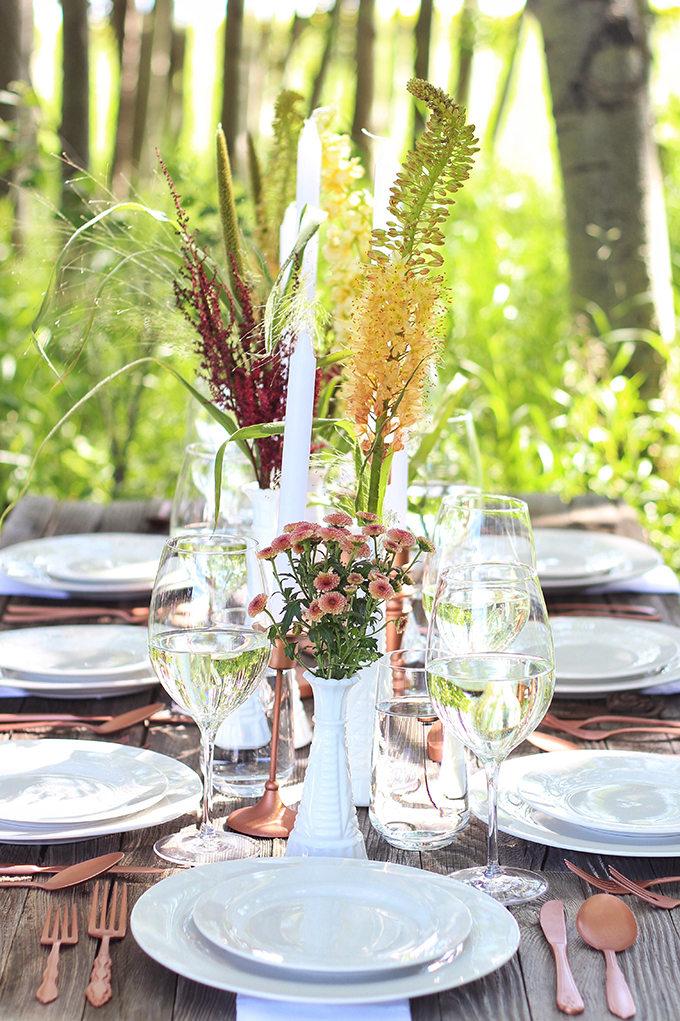 Let's chat about the flowers for this al fresco summer dinner party! I love this achievable approach to flowers where you create a staggered arrangement by grouping smaller vases with a few blooms in each. In fact, Rebecca and I did something similar (with completely different blooms) in our Summer Solstice Dinner Party post. You don't need to be an expert flower arranger to be able to pull something like this together — although, I did just happen to work with one for this post and she's provided some tips and tricks for keeping things cohesive when creating your centerpiece!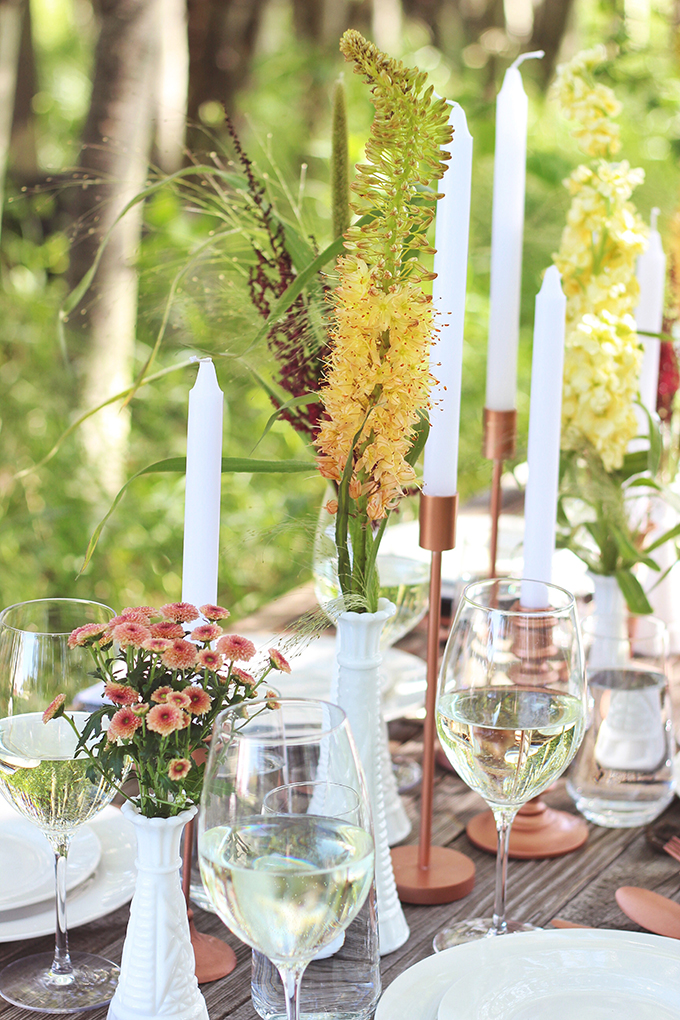 First, source your vessels (ie: whatever you will use to contain your flowers). I was so excited to find these vintage milk glass bud vases at Value Village for $1 each. Value Village is a treasure trove for inexpensive vintage if you know what to look for and I always meet the most interesting people there while I'm shopping! I love the ornate pattern in the glass — it adds some interest to this tablescape with texture, but since they're white they'll coordinate well with a variety of decor. We used 6 vases (3 short and 3 tall) for this centrepiece. Then, determine which flowers and greenery you'd like to use. Rebecca chose a medley of flowers including Eremurus, Stock, Astilbe and Chrysanthemums combined with greenery and grasses of Millet and Panicum for a wild effect. Of course, you can use any blooms that coordinate with your tablescape and setting — all of these are relatively inexpensive.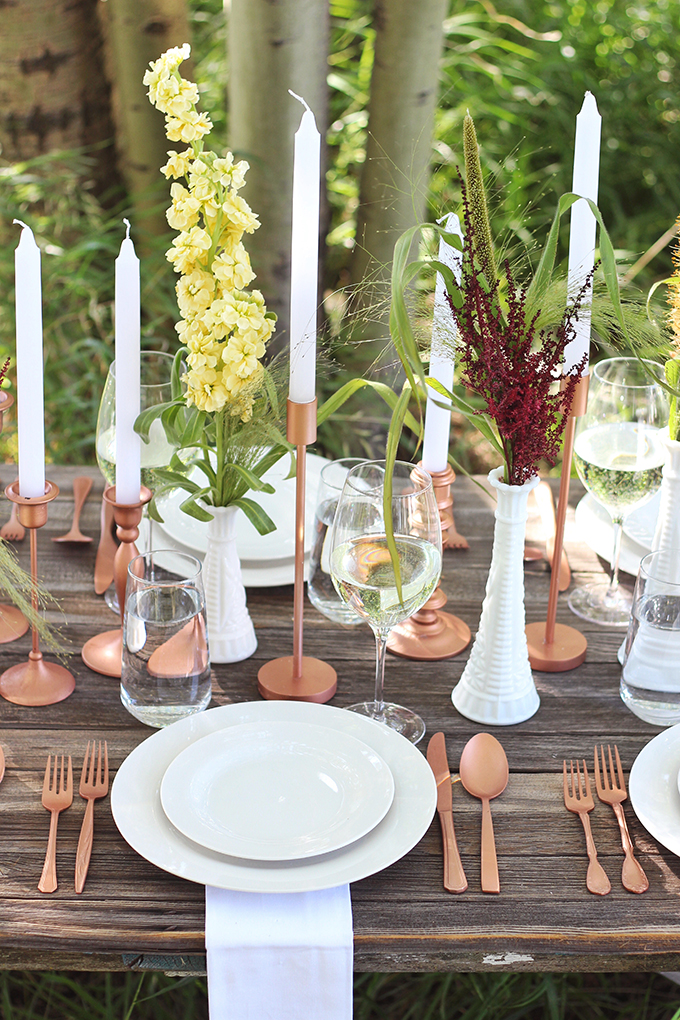 Rebecca has 2 general rules when adding flowers to smaller bud vases like these to make them aesthetically pleasing. First, combine the same type of flower (or similar coloured blooms) into each vase, adding greenery if you wish. This helps to create cohesion when you're using a few different blooms. Second, flowers and greenery should either be half as tall or one and a half times tall as the vase. One other thing we did was add the same greenery and grasses (millet and panicum) to each vase to tie everything together.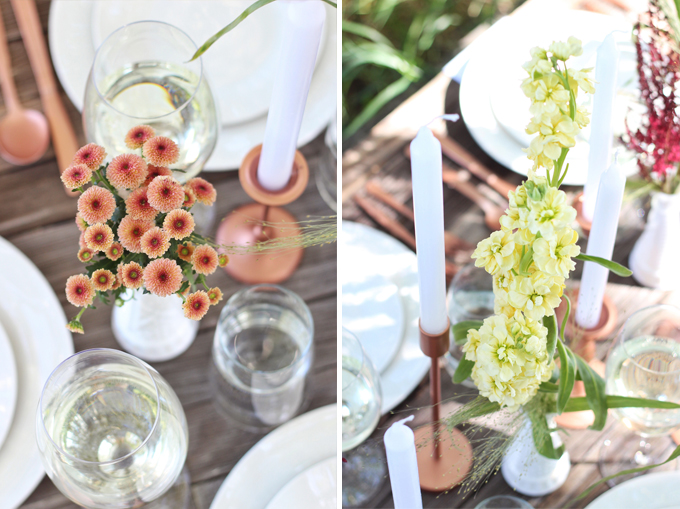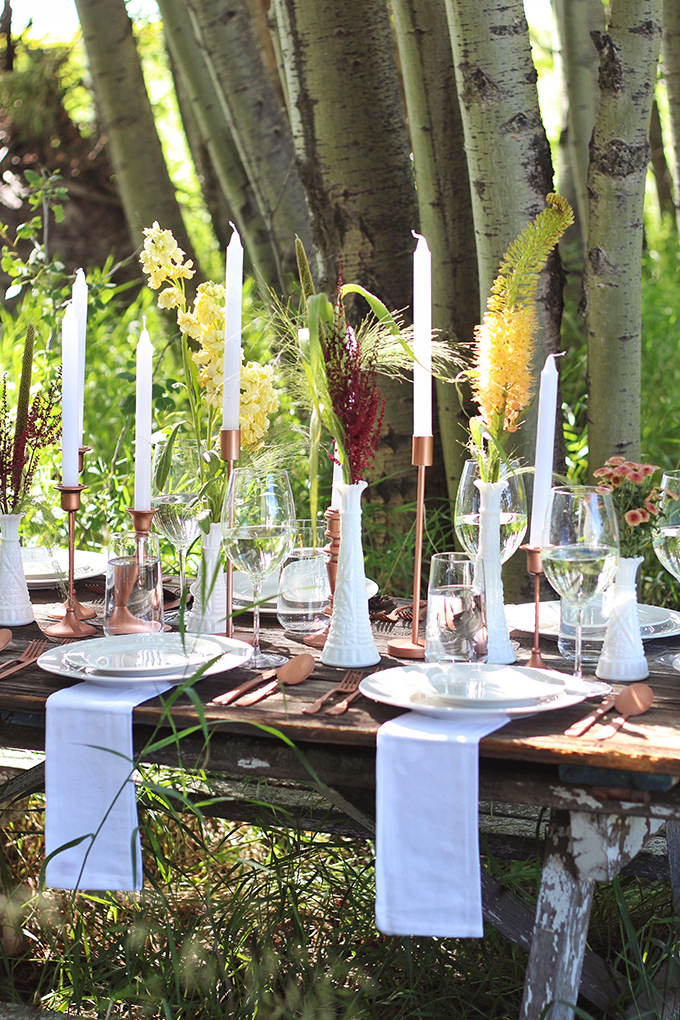 If you'd like to learn more about these late summer and early fall blooms, we'll have a post coming up soon! In the meantime, you can browse our other flower content.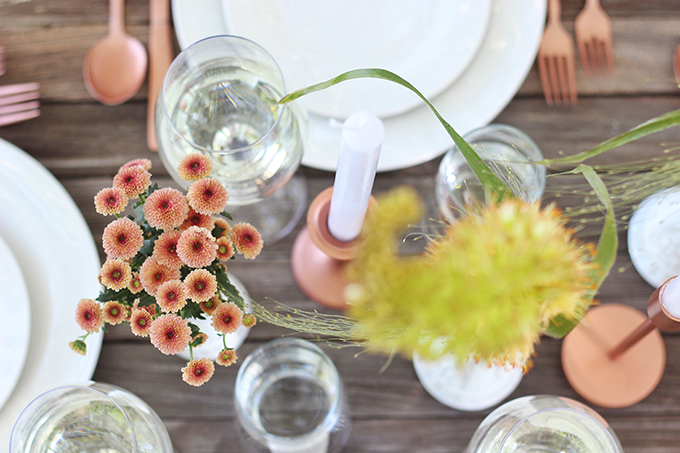 ---
Setting Up
---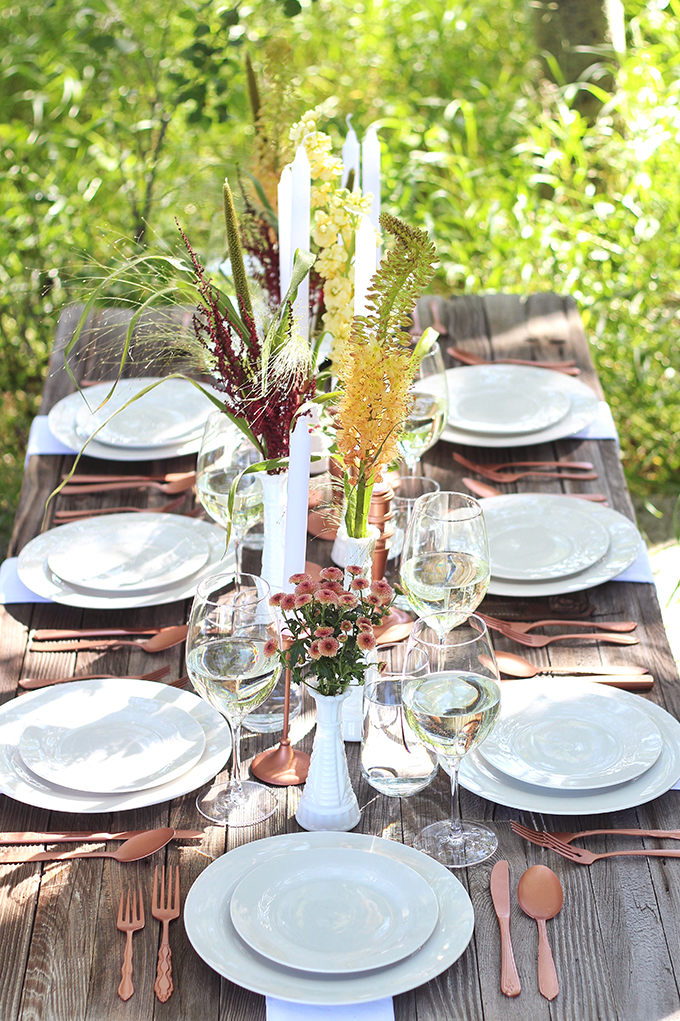 The easiest way to assemble a tablescape is to start from the bottom up! First, use serving trays or carts with wheels to transport everything outside. To begin, I place plates and napkins. Then, I move onto finishing each place setting with cutlery and stemware. Next, I like to add my centerpiece or whatever design element will live in the center of the table. Here, I started by staggering the candles and then adding the flower vases among them, adjusting as needed to create a visually pleasing layout. Once everything is assembled, step back and snap a few photos to see how everything is working — often I see holes or areas that need tweaking in photos more easily than I can spot them with my naked eye. Once you're happy with the way everything is looking, pour yourself a glass of wine and enjoy your evening!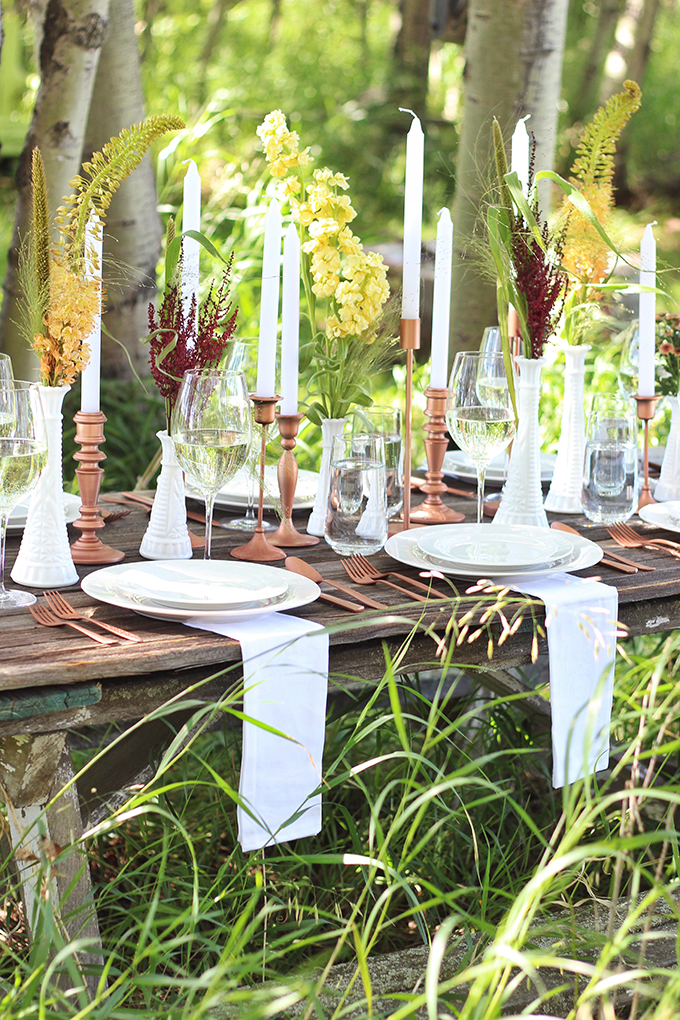 ---
MORE SUMMER ENTERTAINING INSPIRATION & BEVERAGES
---
Rosé Lychee Elderflower Sangria
Kelsey's Tuscan Kitchen Wedding Shower
---
EASY VEGAN WHITE MUSHROOM PIZZAS ON THE GRILL
---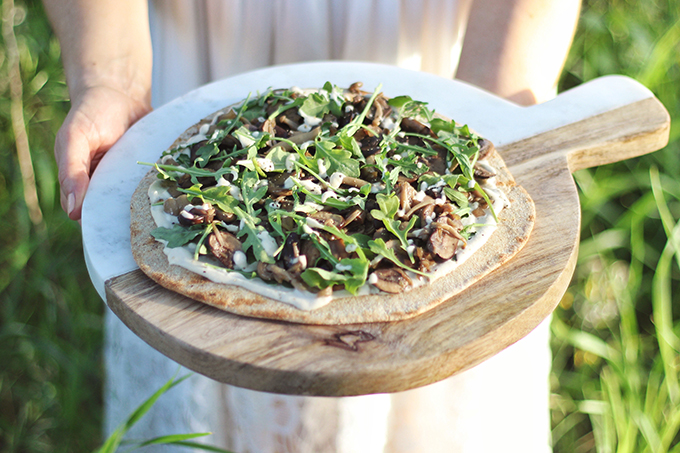 If you'd like the Easy Vegan White Mushroom Pizzas on the Grill recipe this al fresco tablescape was inspired by, head over to The Food Bloggers of Canada site to grab it. These easy but elegant pizzas are cooked entirely on the grill, making them perfect for effortless summer entertaining!
---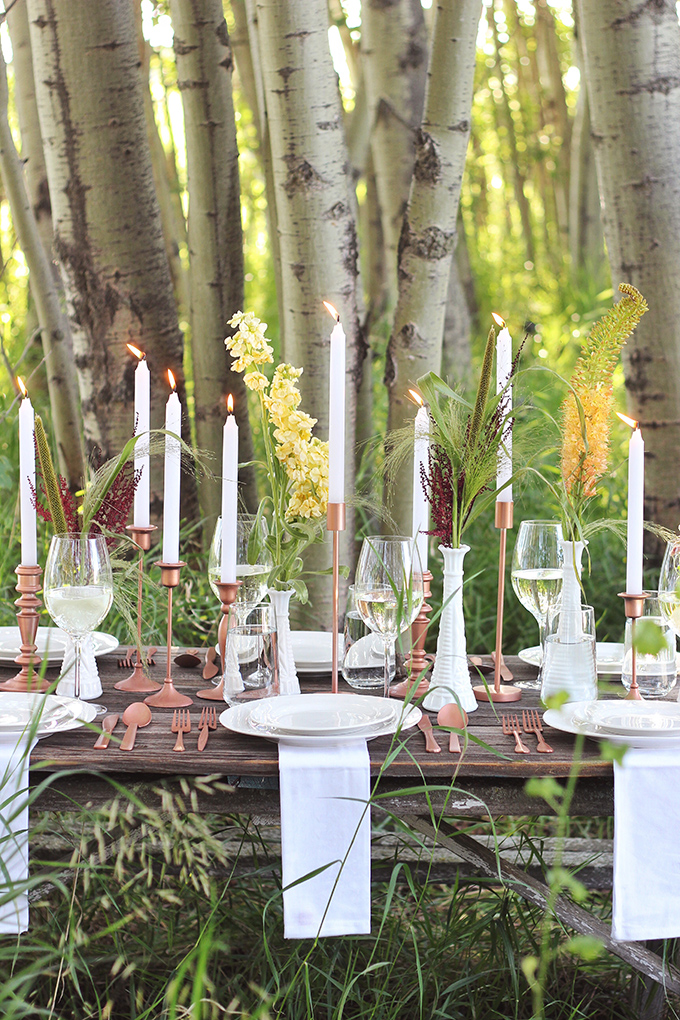 Are you hosting any summer parties? If this post inspires you to create an al fresco celebration I would love it if you comment below or tag me in your photos! I hope you're all having a great summer and soaking up as much of this rare beautiful weather with family and friends as possible. Cheers to inspired entertaining!
---
Disclaimer: Thank you to Rebecca Dawn Design for partnering with me to create this post. This post is not sponsored, and contains my genuine thoughts, ideas and recommendations.