---
Welcome back for a fresh DIY post, friends! It's been quite awhile since I've shared a home-based DIY project here at JustineCelina, but that's about to change this spring! You see, I have expensive taste — especially when it comes to home decor. But I'm also a pretty crafty and love the challenge of figuring out how I can achieve a similar look for less — like the Natural Tree Trunk Side Table I made for a third of the price of its West Elm dupe, for example. Over the years that post has become one of my most popular pieces of content, so I know you love home based DIYs as much as I do — and I couldn't be more thrilled to bring more of them to you this year! Tonight, I'm sharing all the DIY details that went into the Large Driftwood Macrame Wall Hanging I created for our recently refreshed Living Room!
The inspiration for this Large Driftwood Macrame Wall Hanging came about as my DIY ideas often do — I spot a stunning piece of art or decor and fall head over heels, only to experience extreme sticker shock when I find out how much it costs! In this case, I found similar scale wall hangings (for reference, this piece is 70″ x 52″) retailing online for up to $1 500 (plus shipping!) — and while I believe art is worth the investment if you absolutely love it, since this is a trendier piece, I was hesitant. I knew I could probably DIY something similar for a fraction of the cost — and I was right! I made this our Large Driftwood Macrame Wall Hanging for less than 30th of the cost of the inspiration piece — plus it ties in perfectly with our space and I have the satisfaction of knowing it's completely unique. This project took about an hour and a half to complete and cost less than $50! If you want to know how I pulled it off, pour yourself a delicious glass of wine, get comfortable and let's get into it!
---
DIY | LARGE DRIFTWOOD MACRAME WALL HANGING
---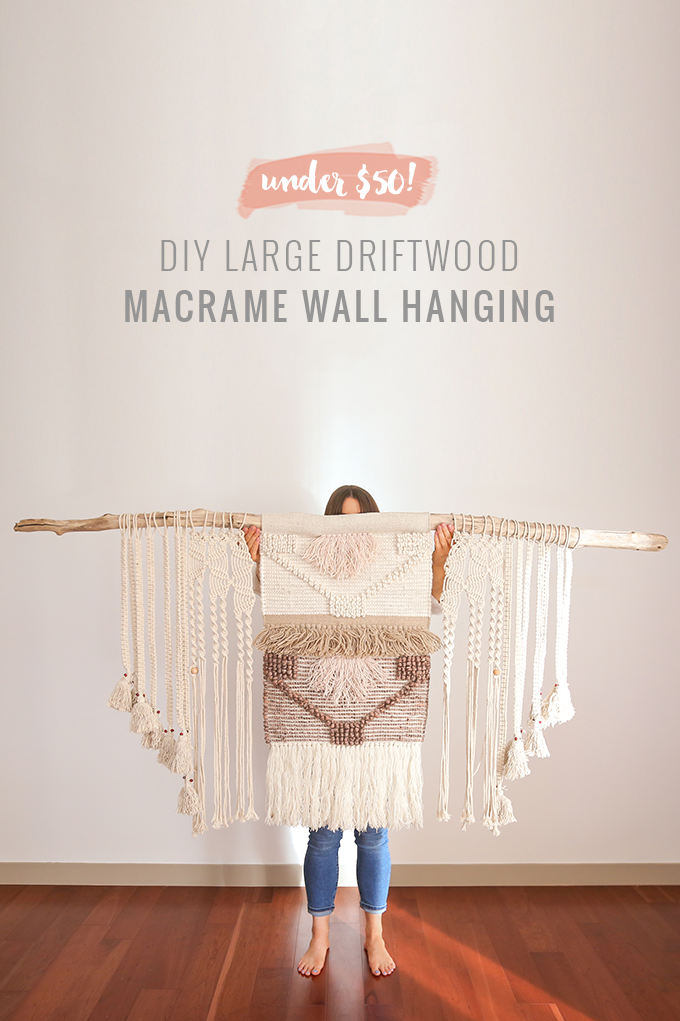 ---
Sourcing Your Materials & Project Planning
---
Real talk — sourcing your materials is actually the most time consuming part of the entire project! I'm no expert macrame artist, but I had spotted some beautiful, smaller scale macrame wall hangings at HomeSense on my many runs to source elements for our living room — so I figured I could amalgamate them into one large scale driftwood wall hanging. I hunted for materials for this piece for about a month — but since I was already stopping into HomeSense regularly, I just worked it in! HomeSense has a fantastic selection of wall hangings in store, but they just we're big enough for what I wanted. So, I kept a reference piece in mind (you can spot it in the upper left hand side of my living room mood board below) and scoured all my local stores for macrame wall hangings I could deconstruct and reassemble.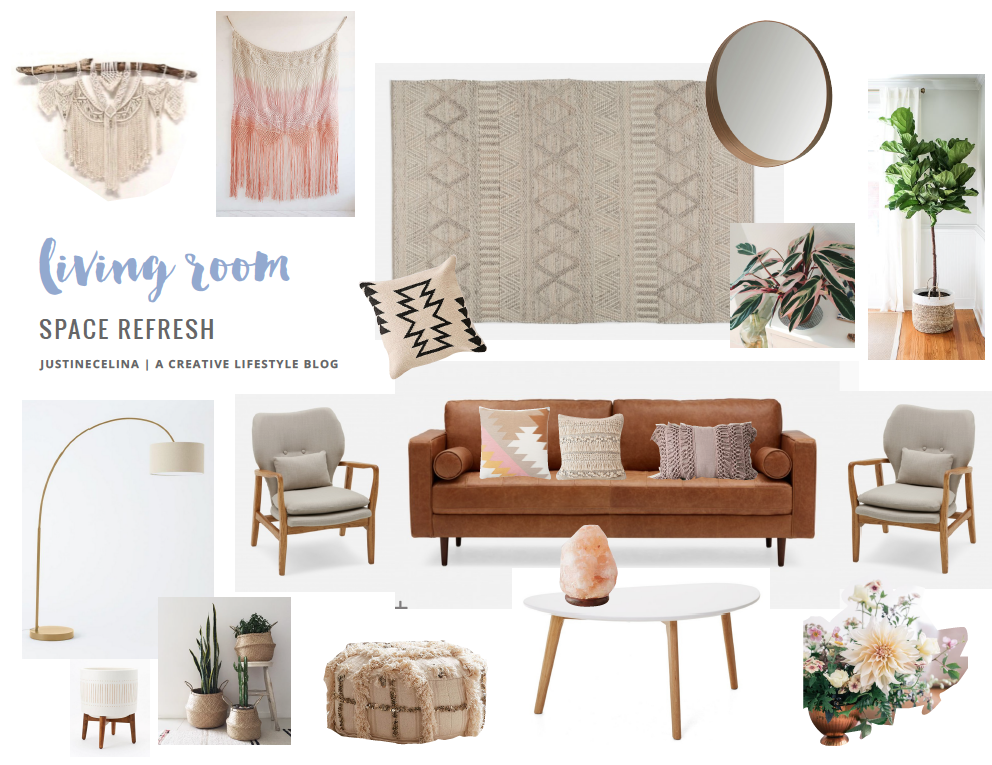 I ended up finding the middle piece first (for just $24.99), which I loved because it tied in the mushroom accent trim in our space (if you're curious about our wall or accent colours, you can read more about them in our Paint Transformation post). Then, I started searching for driftwood — and luckily I have a pretty amazing source! If you stopped by for our Living Room Reveal, you may have noticed a lot of driftwood in our space. I've always loved driftwood, but started collecting it over the years on girls weekends at my friend Kelsey's lake in interior BC. However, I didn't have the nearly 6′ piece I needed for this wall hanging, so I asked Kelsey for a good place to find driftwood close by (we live about an hour from some of Canada's most stunning lakes in Banff National Park!) — turns out she actually had a piece that would work! I lucked out big time as it had been drying out in her garage since the summer, but if you don't have an awesome source like I did, I suggest going for a forage at bodies of water close to you. You may be surprised at what turns up, especially in the summer!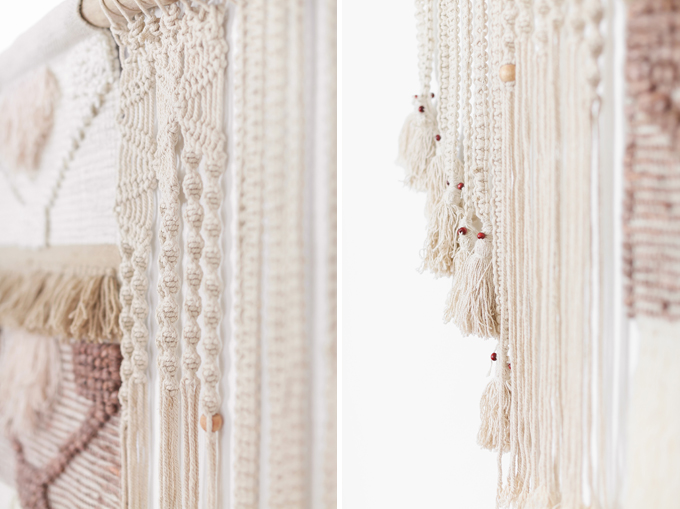 Once I had my driftwood and my centre hanging, I could start to visualize what the piece would actually look like and what I needed to source to complete it. On my HomeSense runs, I looked for other macrame wall hangings similar in length that were neutral in colour and that I could also detach from their wooden rails easily. I ended up finding a damaged piece in the clearance section for $5 that was perfect — all the macrame pieces were in long braids of varying length and they were actually coming off of their metal rod (I have no idea what the piece looked like in its original state!), so I snapped it up (it's what's on the outer edges of our hanging). On another HomeSense run, I found one neutral piece on a wooden dowl (for $19.99) that I figured I could cut in half and use on either side of the centre piece. I was set!

Once you have your smaller hangings and a sturdy piece of driftwood, you just need a few materials to bring your Large Driftwood Macrame Wall Hanging to life!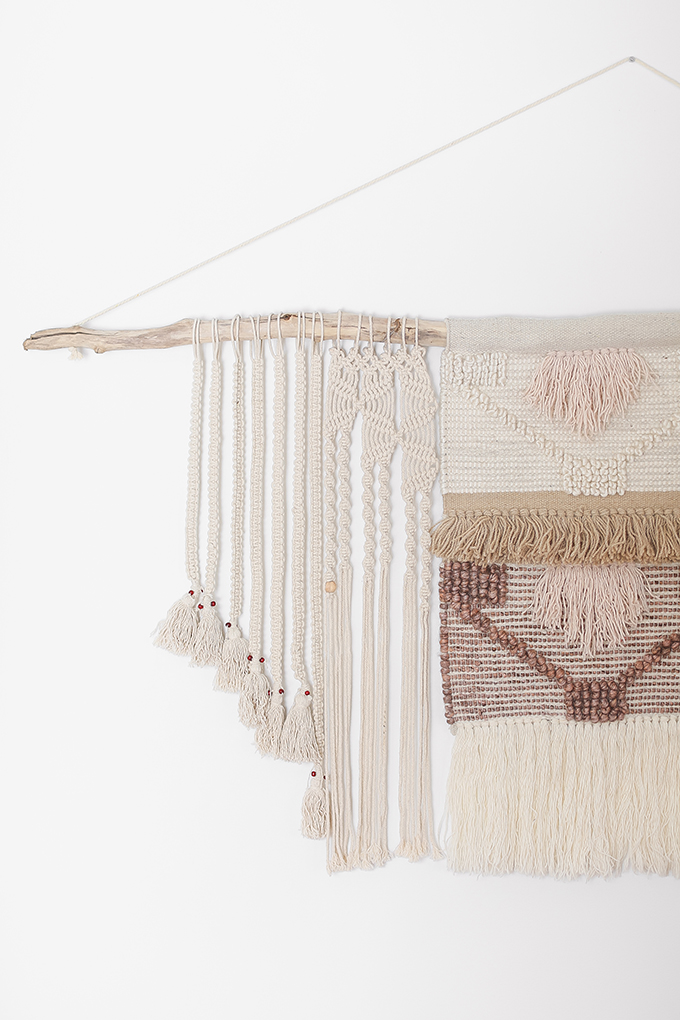 ---
Materials
---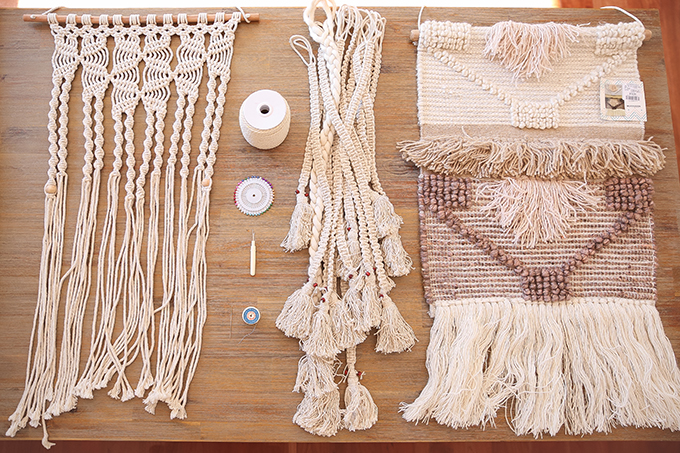 • Large piece of driftwood
• Macrame wall hangings of similar heights and varying textures
• Seam ripper
• Craft scissors
• Needle and thread
• Power drill
• Drill bit (your drill bit similar in diameter to your cord)
• Macrame cord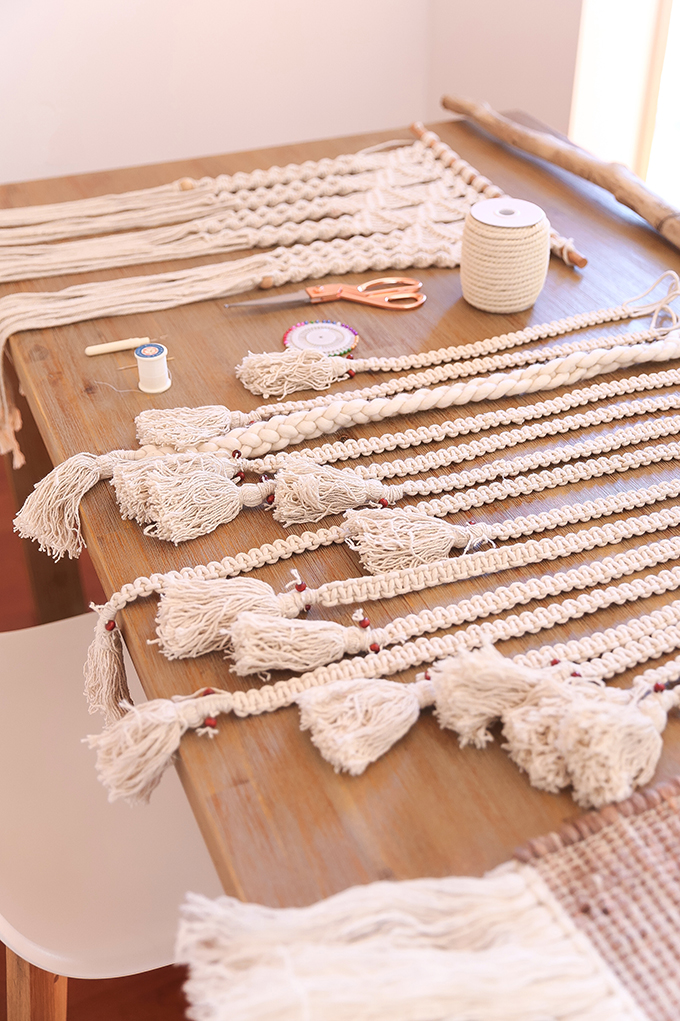 ---
Process
---
Since this is a bespoke project and every wall hanging will be unique, you may need to take different steps to achieve your desired result. Let me walk you through my process — yours should be similar if you have similar materials!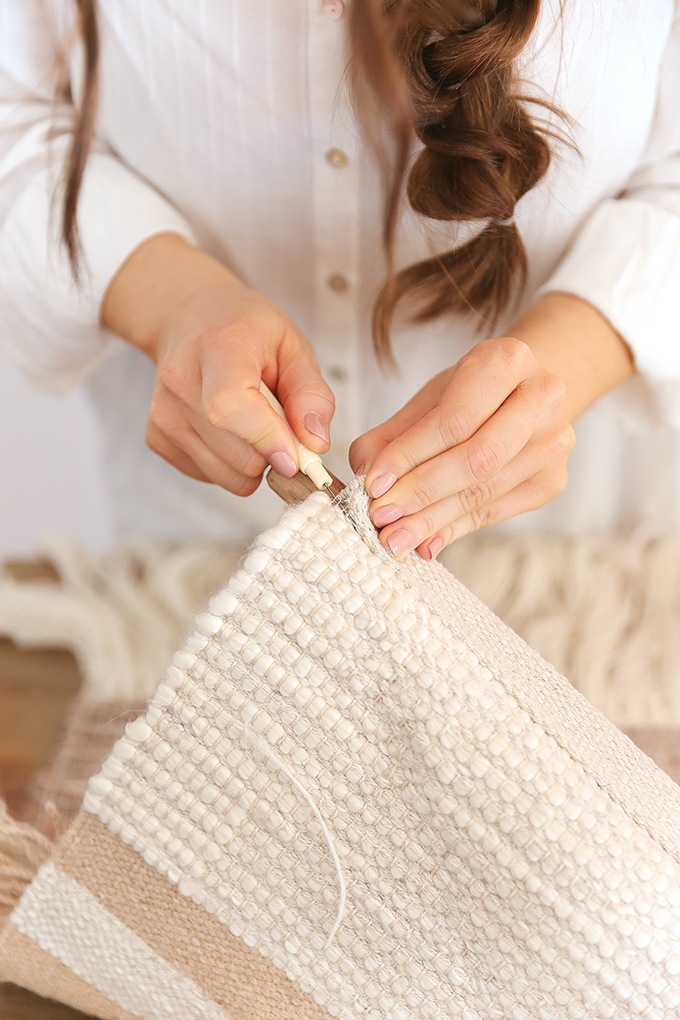 1. To remove my wall hangings from their wooden dowels, I ripped the seams, cut the cords used to hang each piece and unsecured the top loops.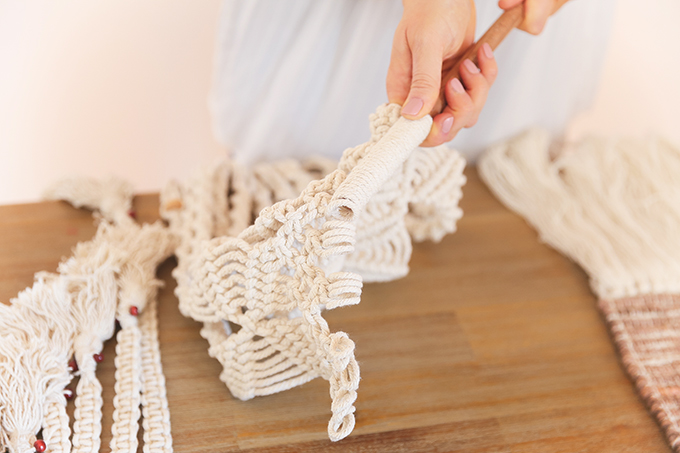 2. Then, I measured the length of my driftwood and the width of my focal macrame piece to determine centre.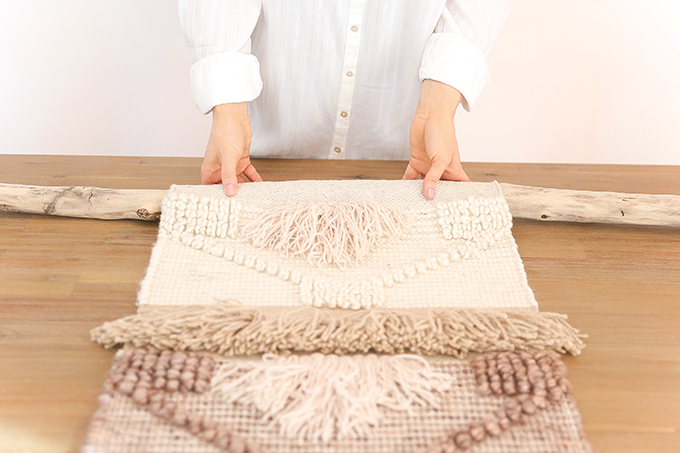 3. I positioned the focal macrame piece in the centre of my driftwood, checking my measurements on both sides.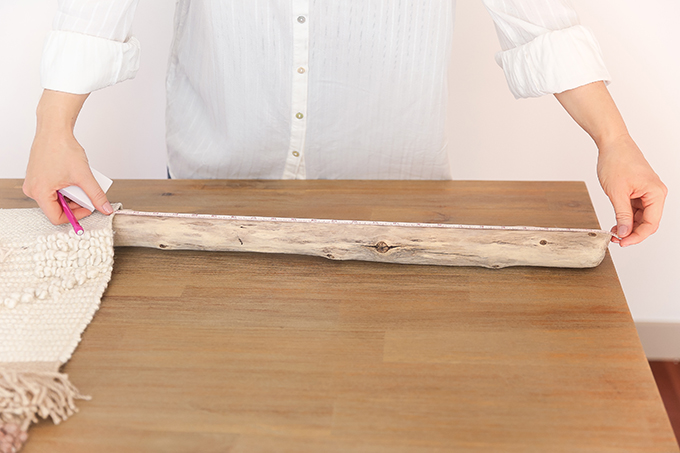 4. I stitched the macrame piece onto the centre of my driftwood.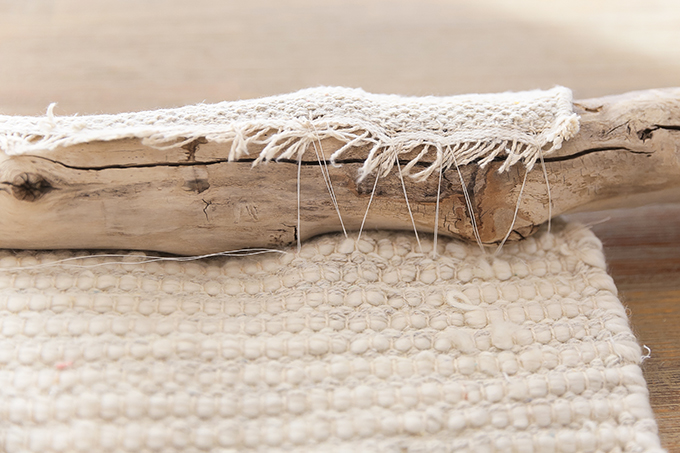 5. Then, I cut the piece I wanted to add to both sides of the centre piece in half, carefully tying off my ends and tucking them behind other loops to ensure they were hidden. I also unraveled the macrame loops at the top of the piece to ensure they were large enough to slide over the driftwood.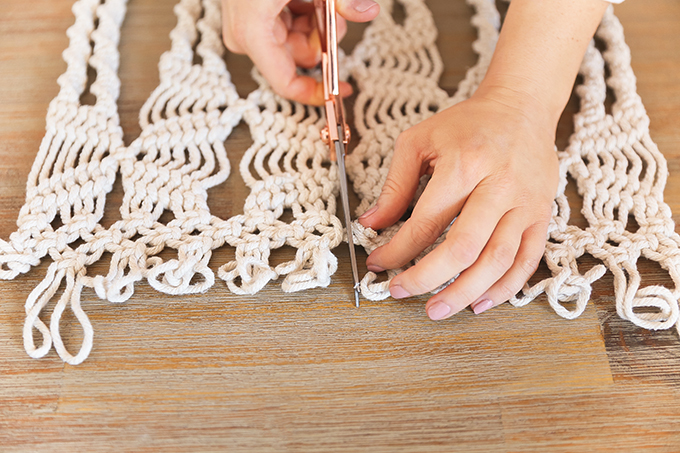 6. I slid both pieces onto the driftwood, on each side of the centre piece.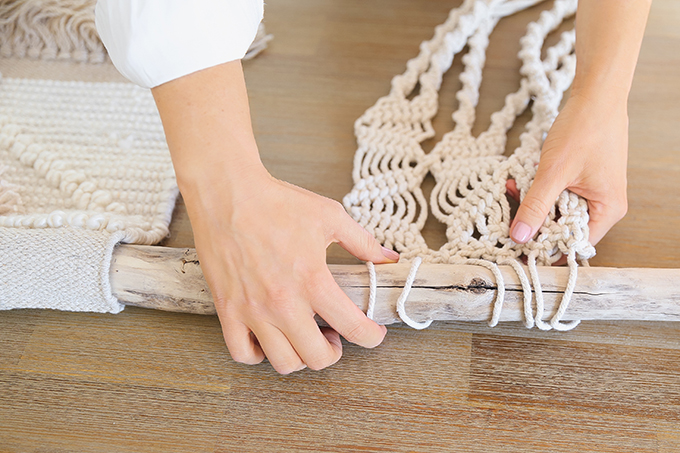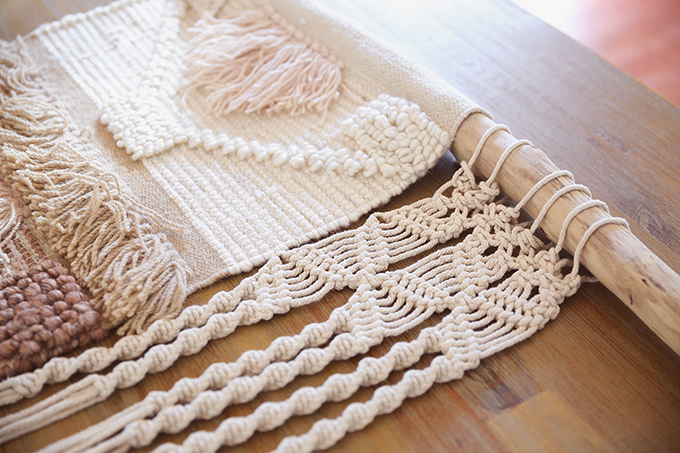 7. I gathered all the loose braided pieces of macrame and lined them up — longest to shortest. Then, I divided them in half and arranged them, longest to shortest, on either side of my hanging.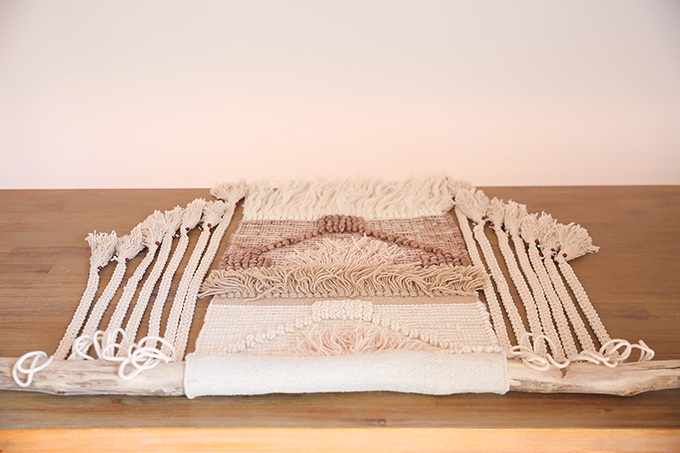 8. I slid the braids onto the driftwood on either side of my hanging, longest to shortest, to finish the design of the wall hanging.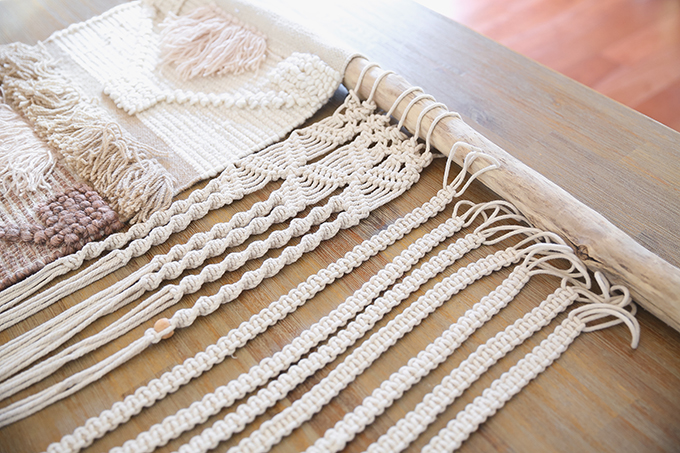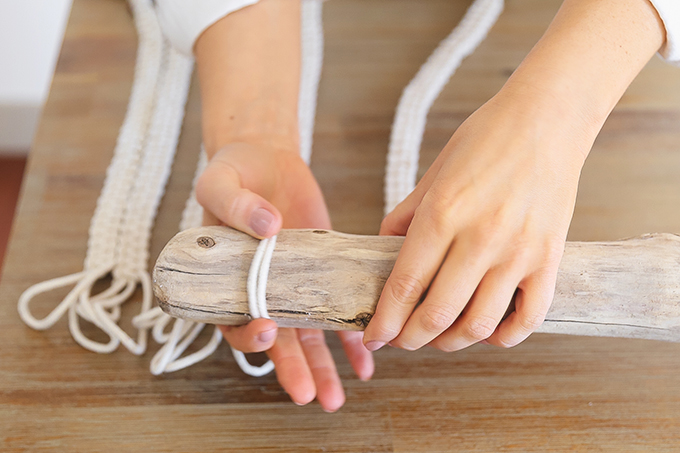 9. Then, I drilled a 2 hole through the driftwood, about 3 inches away from each edge, to thread our macrame cord through to hang the piece.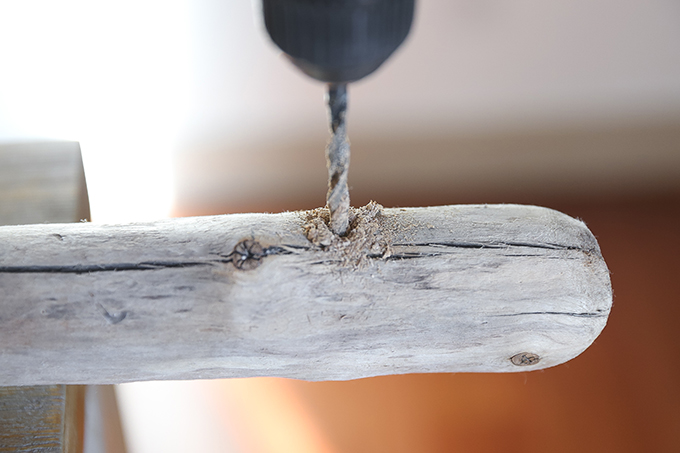 10. I cut my macrame cord roughly 6″ longer than the length of my driftwood.
11. On one side, I fed the cord down through the hole and tied a knot on the underside.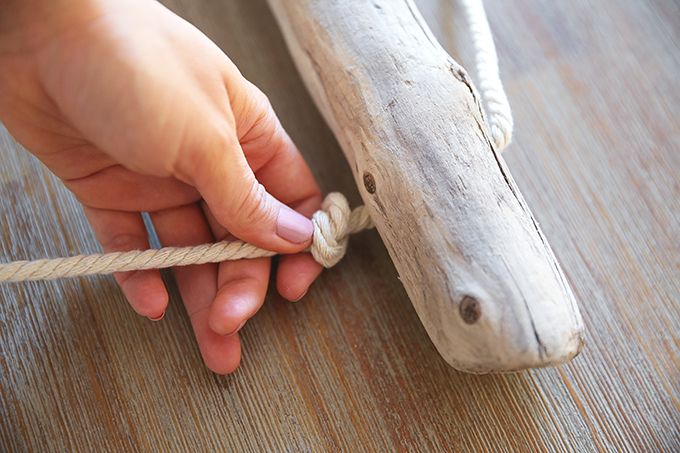 12. I estimated the length of cord I would need to hang the piece and tied a knot on the other side, making sure to leave extra cord.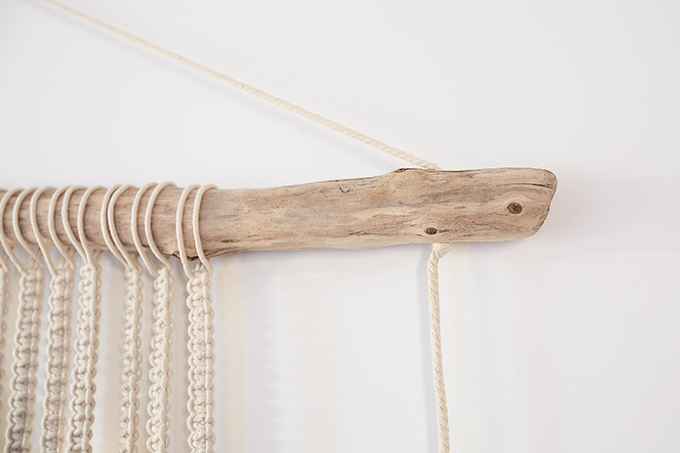 13. I drilled my mounting screw into the wall (make sure to drill into a stud if your piece is heavy) and hung my wall hanging. I found the weight of the materials caused the hanging cord to drop, making it too long. I shortened it by removing the cord knot at one end and feeding more of the cord through the hole, re knotting and re hanging as needed.
14. Once I was happy with the way the piece was hanging on the wall, I trimmed any excess cord from either side of the knot. And volia — a Large Driftwood Macrame Wall Hanging for less than $50 is born!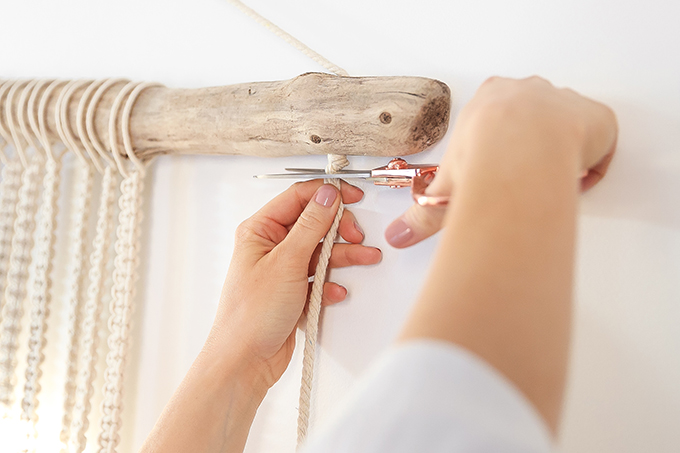 ---
MORE DIY & DWELL CONTENT
---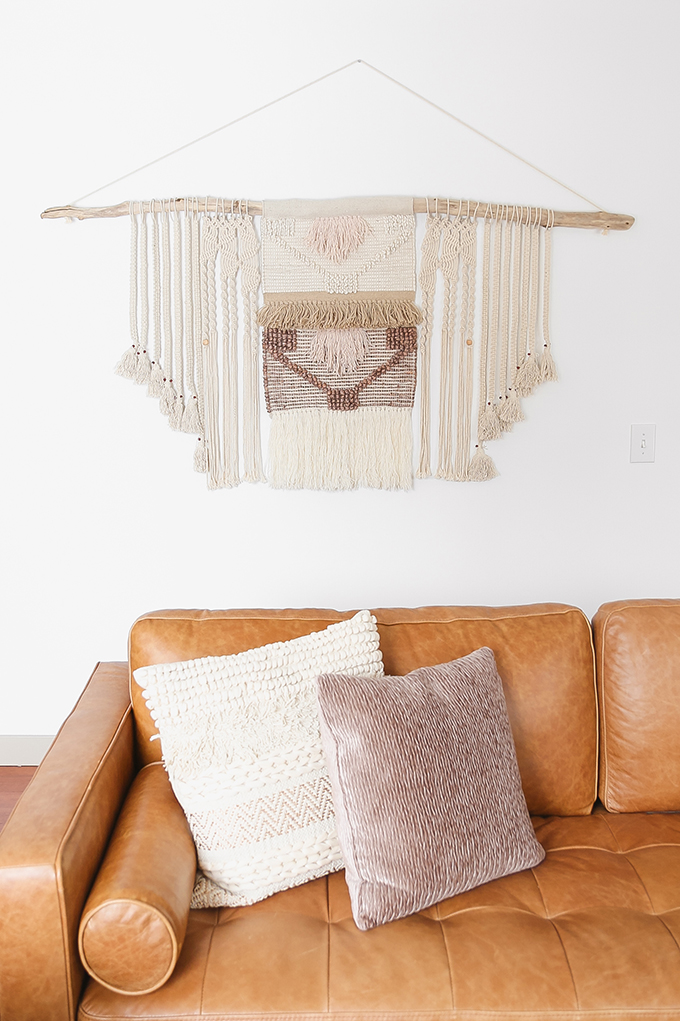 Space Refresh | Living Room Reveal
DIY | Natural Tree Stump Side Table
Space Refresh | Paint Transformation

DIY | Distressed Boyfriend Jeans
---

Do you like to DIY projects for your home? I have a few other DWELL based DIY projects coming up this spring that I can't wait to share with you! I hope you found this post helpful and feel empowered to tackle a DIY Driftwood Macrame Wall Hanging of your own! If you do, I'd love to see photos — feel free to share, tag me, use the #justinecelinaDIYs hashtag, or shoot me a DM or an email so I can see your beautiful creations. I also have a DIY Pinterest Board if you're feeling crafty! Thanks for stopping by today, everyone.
---
Disclaimer: This post is not sponsored and contains my genuine thoughts, ideas and recommendations. JustineCelina uses affiliate and referral links, which allow me to receive a small commission when you make a purchase through one of my links. Thank you for supporting the brands and businesses that support JustineCelina!