---
Today I'm showing you how I made these little Wildflower Bundles for a summer dinner party! I was inspired by these Wildflower Bundles from Free People, and thought they would make a cute idea for a summer tablescape, on top of the napkins at each place setting. It's such a simple but special touch, and guests like to take them home and dry them. You can make these with whatever wildflowers and shrubs you have in your own yard, all you need is some scissors and twine.
---

What you'll need
• Greenery and shrubs from your yard (1 piece of each different shrub for each bundle)
• Flowers (I like to use at least 2 different flowers for each bundle)
• Twine (I purchased mine at Michaels, but you can also find it for much less at dollar stores)
• Scissors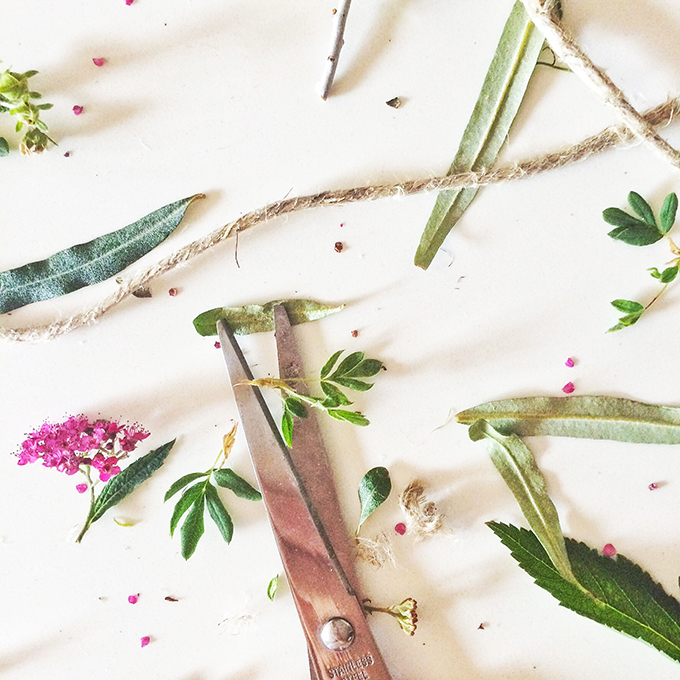 ---
WILDFLOWER BUNDLES
In any season, I love to bring elements of the outdoors inside. This summer, I've been all about adding fresh flowers, wildflowers, and shrubs and greenery to my space. For my Wildflower Bundles, I wanted lots of greenery to bring life into an otherwise neutral tablescape. The little daisies are so cute and scream summertime (plus the white and yellow coordinate with other elements of my decor), and I added a pop of fuchsia to bring a bit of contrast and visual interest to the bundle. Since fuchsia and yellow / green are complimentary colours (art school coming out here!) they enhance each other and really pop.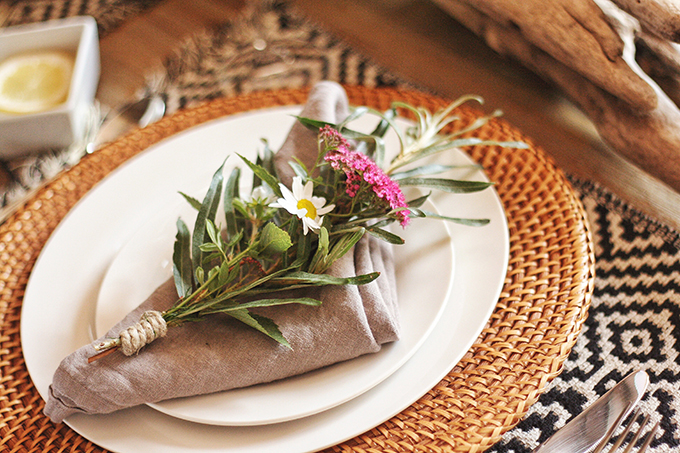 1) Cut your longest and most leafy piece of greenery to the size you want your bundle. For my bundles, I used a shrub with a long, thin leaves (but a wide leaf span) for my base shrub.
2) Layer a second piece of greenery over top, cutting it about half an inch shorter than your first piece. My second piece of greenery wasn't as wide, and added a lot of extra leafy texture.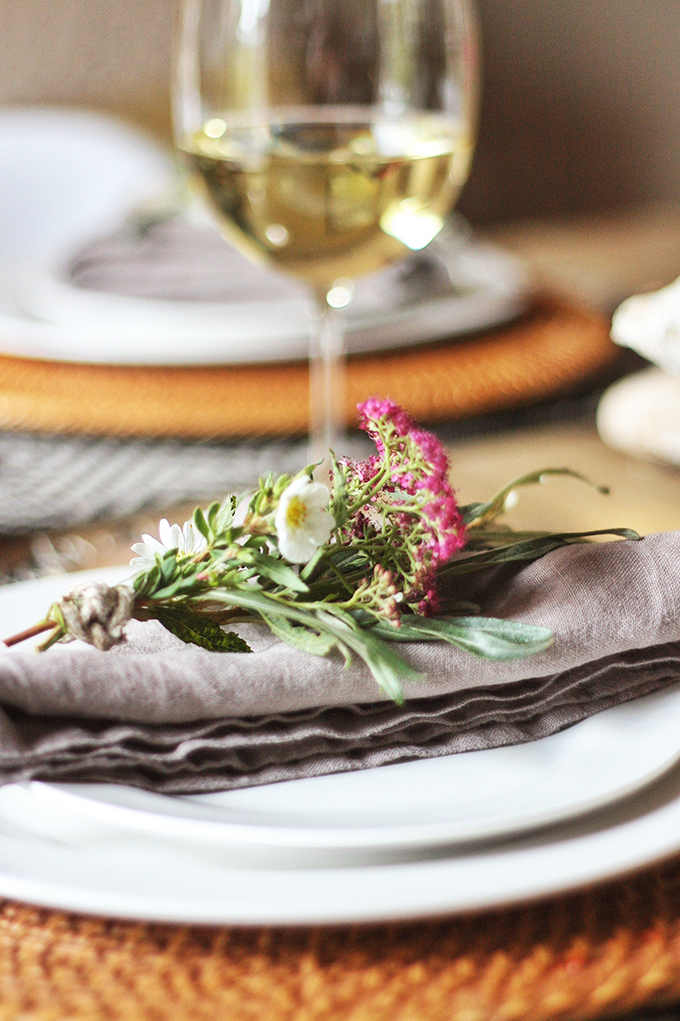 3) Layer your largest flower, berry or colourful element on top, cutting the stem 1 – 2 inches shorter than your longer piece of greenery.
4) Layer your smallest flower or colourful element on top, cutting it 3 inches shorter than than your longer piece of greenery.
5) Once you're happy with the shape and they way the flowers and greenery fit together, start wrapping twine around the base of the bundle. Tie the twine in a knot at the back or side of the bundle, and trim. These don't have to be perfect, that's part of their charm.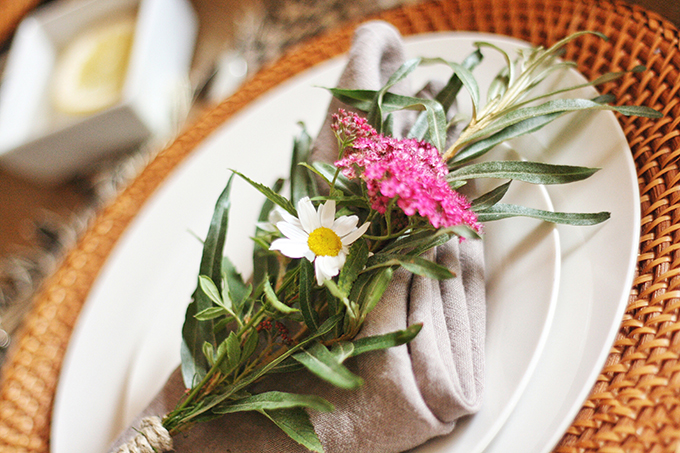 Note: This is just a guideline! Feel free to experiment and have fun with layering different colours and textures. If guests want to dry the bundles, it works best if they give them a spritz of hairspray while they're still fresh, then hang them upside-down to dry.
---
I also tried some with extra greenery and without the fuchsia flowers — these are so bright and fresh!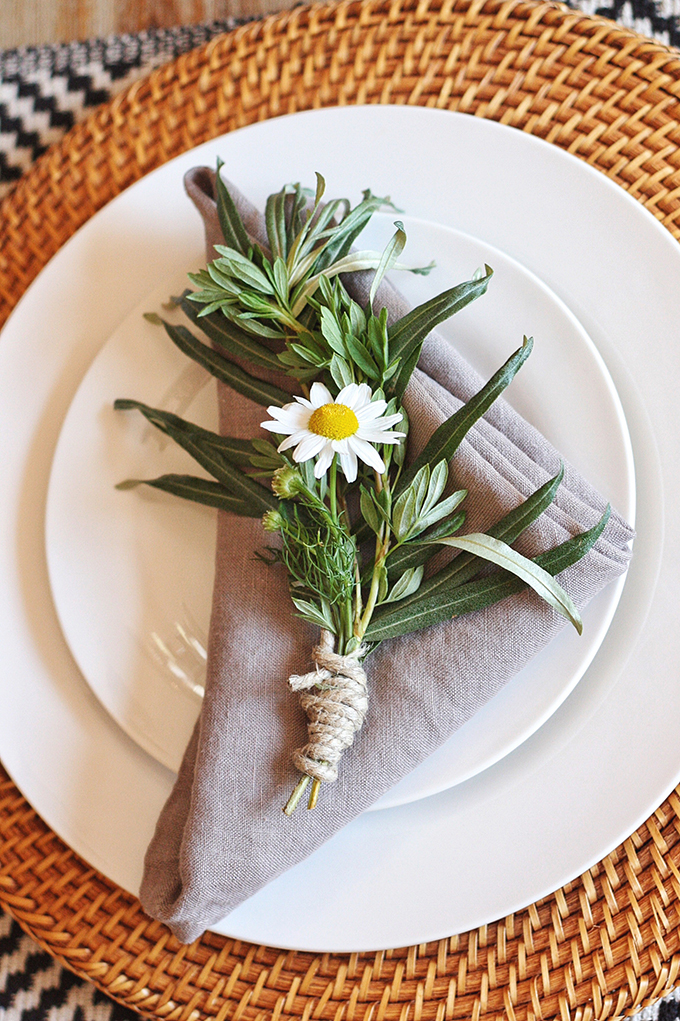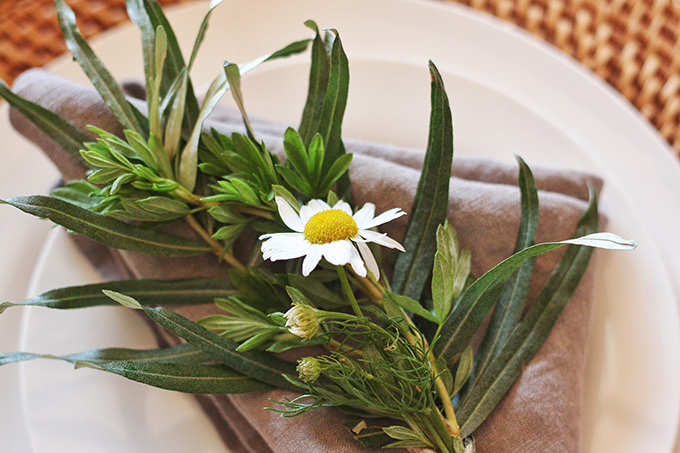 What I love about these Wildflower Bundles is that they totally change with the seasons the location! In the summer, lots of flowers and herbs are in bloom, and all are fair game. If you grow your herbs like basil or lavender, they would be beautiful in these bundles. Try experimenting with layering and adding different textures — you really can't mess these up, and you can get as creative as you want! If you live near the mountains, try adding some berries. Live in the country? Incorporate some wheat or canola! In the fall, you could incorporate changing leaves and twigs. The possibilities are endless!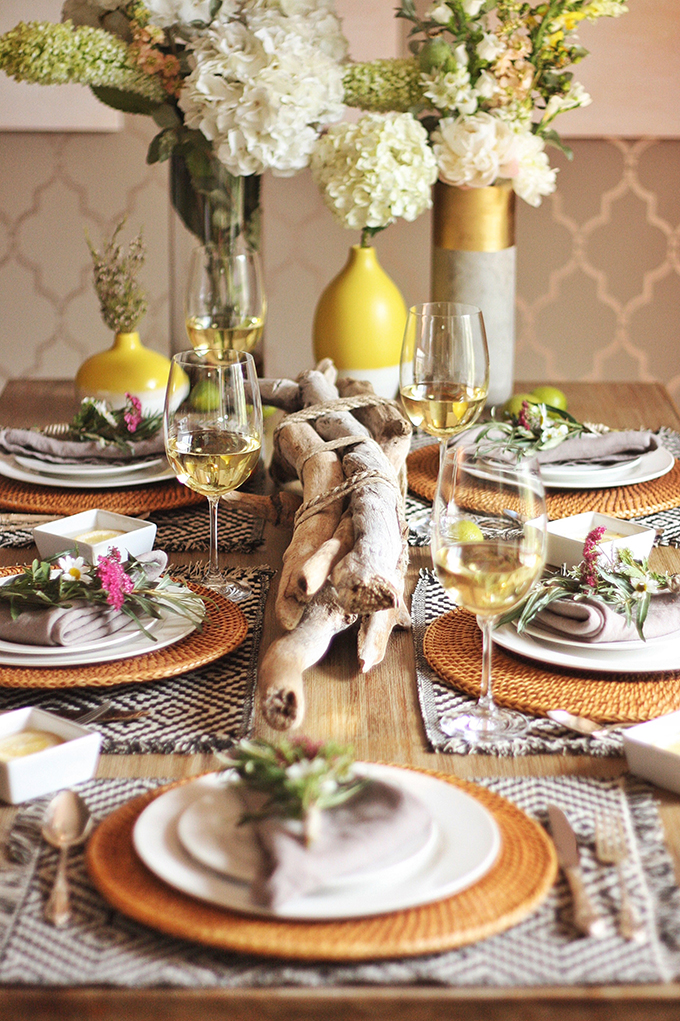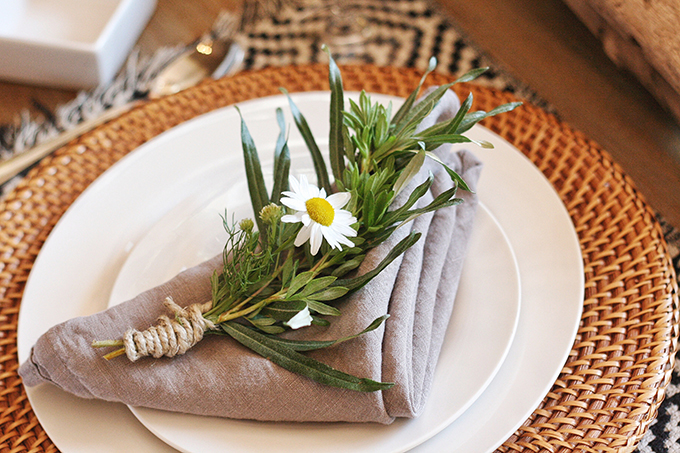 For full details on my centerpiece, and shoppable links to pieces I've used to style my tablescape, head over to my Driftwood Sculpture Centerpiece post. If you're interested in my wall paint and stencil, check out my Wine Nook post.
---
I hope I've inspired you to look around and see what elements of nature you can bring inside to add a special touch to your next dinner party! If you guys make a Wildflower Bundle, tag me in your photos on social media, or leave a comment for me below. I'd love to see what you come up with! Have a great weekend!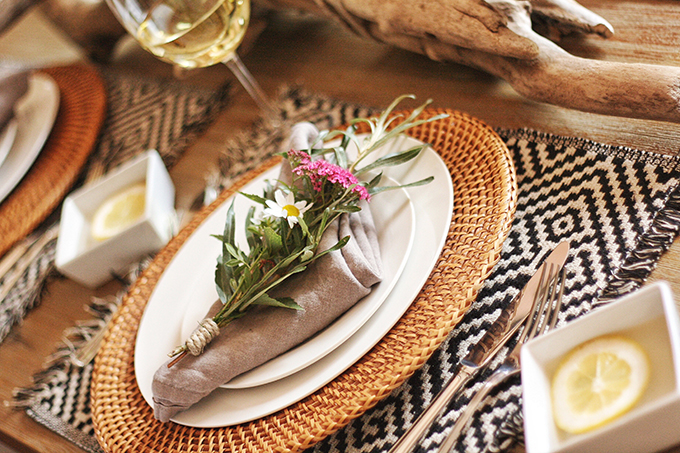 ---
Disclaimer: This post is not sponsored, and contains my genuine thoughts and recommendations. JustineCelina uses affiliate and referral links, which allow me to receive a small commission when you make a purchase through one of my links. Your purchases help to support JustineCelina.com!