---
As 2018 draws to a close, I'm sharing two fresh playlists for all your NYE listening needs! First up, my December Soundtrack — a short n' sweet playlist featuring 33 of my favourite tracks from the month, including a few alternative, jazzy, chilled-out Christmas tunes thrown in at the end for good measure! A handful of my favourite tracks from this past month include Chill Cole's The Infinite Dreamer, Ariana Grande's thank u, next (it's just so damn catchy and the music video was amazing!), Grapel's Sucker, Chain Wallet's No Ritual, Mishega's Episodes, Galavant Cross's Needless To Say, The Raveonettes The Christmas Song, Nikki Lane's Falalalalove Ya, Laura Gibson's Silver Bells, The Ronette's Sleigh Ride and The Head and The Heart's What Are You Doing New Years Eve?
If you're in need of even more fresh tunes, check out my Spotify-generated 2018 Soundtrack, featuring my 100 most played songs from 2018! I really look forward to these automatically compiled, year-in-review playlists — they bring back the best memories. If you're looking for some easy listening music to enjoy as we wind down 2018, this is your playlist. Whether you're staying in or enjoying a night out, I hope you all have a fun, safe and happy New Years Eve! Thank you for spending a little bit of the last day of 2018 with me and for your continued support here at JustineCelina! Happy New Year and cheers to a fabulous 2019!

---
DECEMBER 2018 SOUNDTRACK
---
---
2018 SOUNDTRACK
---
---
NEED MORE FRESH TUNES? CHECK OUT MY LATEST PLAYLISTS
---
November 2018 Soundtrack (or listen on Spotify)
October 2018 Soundtrack (or listen on Spotify)
September 2018 Soundtrack (or listen on Spotify)
August 2018 Soundtrack (or listen on Spotify)
July 2018 Soundtrack (or listen on Spotify)
Or, browse the MUSIC archives here at JustineCelina for almost 4 years of monthly playlists!
---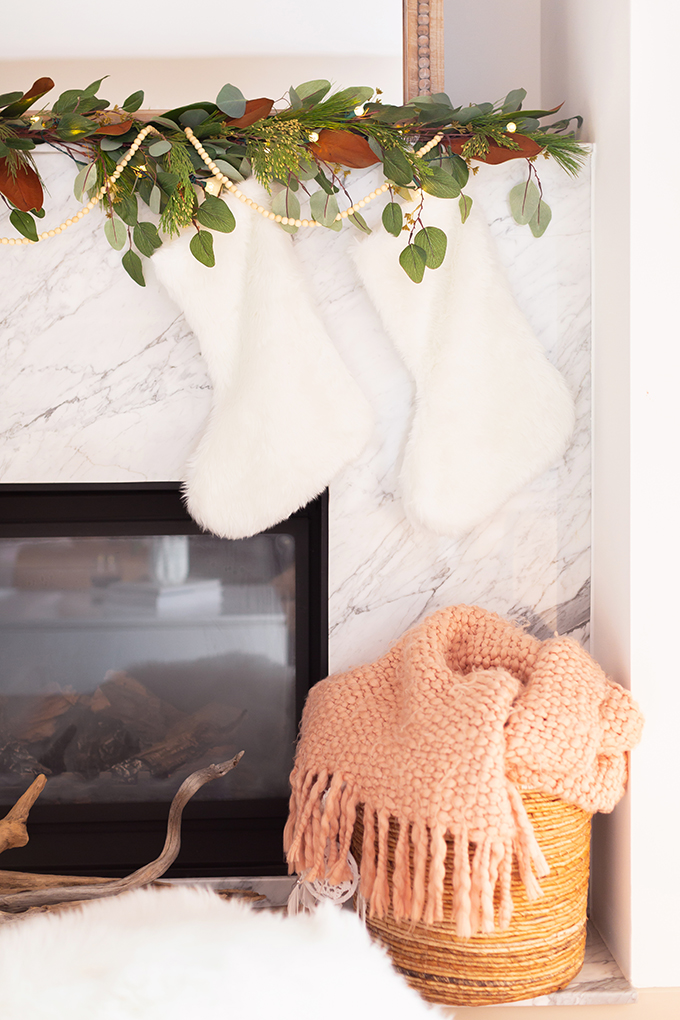 This month's album cover is a snap from our Apartment Friendly Modern Holiday Decor — I had so much fun decorating for the holidays this year! I found these faux fur stockings at JYSK — aren't they adorable?! If you're interested in anything else you see, I've linked all sources over in that post.
What have you guys been listening to lately? Leave me your recommendations in the comments, I'd love to hear from you! Do you use Spotify? If you do, feel free to drop some links to your playlists, or playlists / artists you think I'd enjoy. Wishing you all the best in 2019!
---
Disclaimer: This post is not sponsored, and contains my genuine thoughts, ideas and recommendations. JustineCelina uses affiliate and referral links, which allow me to receive a small commission when you make a purchase through one of my links. Thank you for supporting the brands and businesses that support JustineCelina!