---
And just like that it's the end of April, which means it's time for another Monthly Soundtrack! April was such a whirlwind month — from our first Apartment Therapy feature to working with Tourism Calgary and SAKS to lots happening BTS for our upcoming Kitchen / Dining Reveal (there's still a lot of work to do but it's coming together!), this chill, eclectic, easy going playlist was on repeat the entire time! My April 2018 Soundtrack features 3 hours of instrumental and electronic (I love to listen to music without lyrics while I'm reading, writing and working), tropical house, alternative and indie with a dash of hip hop thrown in for good measure. If you're looking for some inspiring tunes to help motivate you this spring, I have just the playlist!
A few of my favourite tracks this month include LAYNE's The Fog, Blockhead's Insomniac Olympics, Kodomo's Concept 16, TM Juke's Marbles & Drains, Mishegas Episodes, Soccer Mommy's Your Dog, The Voidz Leave It In My Dreams (major The Strokes vibes!), Sir Sly's &Run, J-Walk's Soul Vibration, Moby's Mothers of the Night, Hovvdy's Pretend, Bite's Plastic Picnic and Phelian's Grimoire. If you take a listen, be sure to let me know what some of your favourites were!
---
APRIL 2018 SOUNDTRACK
---
---
NEED MORE FRESH TUNES? CHECK OUT MY LATEST PLAYLISTS
---
March 2018 Soundtrack (or listen on Spotify)
February 2018 Soundtrack (or listen on Spotify)
January 2018 Soundrack (or listen on Spotify)
My Top Songs of 2017 (or listen on Spotify)
December 2017 Soundtrack (or listen on Spotify)
Or, browse the MUSIC archives here at JustineCelina for 3 years of monthly playlists!
---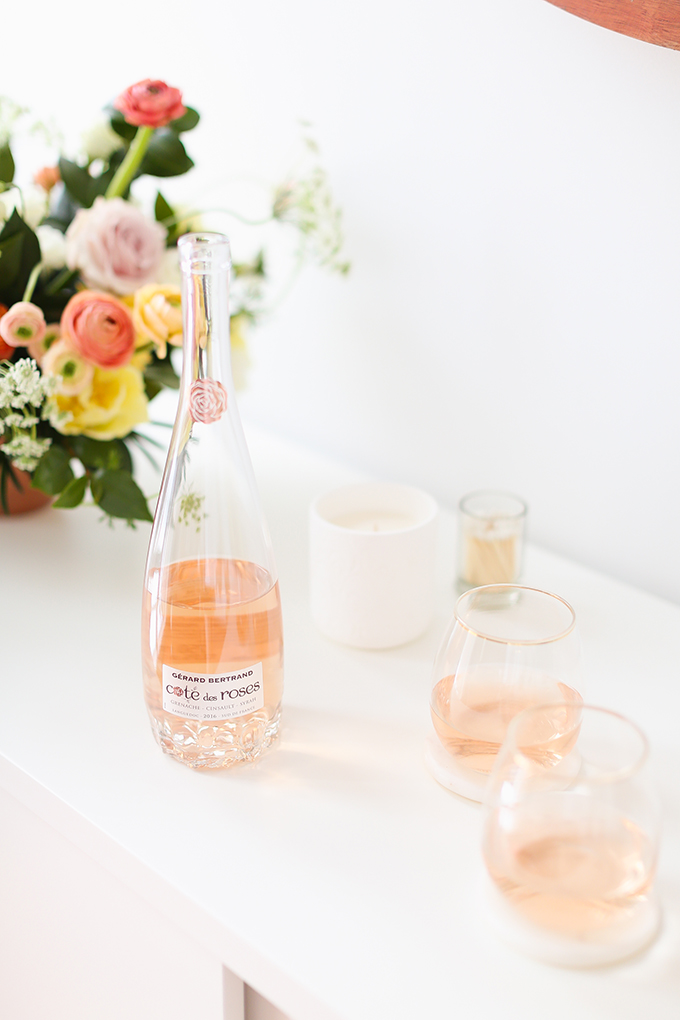 This month's album cover is an outtake from the day I shot this beautiful spring arrangement. It was the end of the day and I was getting ready to shut it down, so I poured myself a glass of rosé (isn't the bottle beautiful? It was designed by an art student!) and lit a candle — and I thought it was worth capturing! These things are a few of my favourite little luxuries. You'll be learning more about this cheerful spring arrangement in our next FLOWER EDUCATION post here at JustineCelina.
What have you guys been listening to lately? Leave me your recommendations in the comments, I'd love to hear from you! Do you use Spotify? If you do, feel free to drop some links to your playlists, or playlists / artists you think I'd enjoy. I love to discover new music!
---
Disclaimer: This post is not sponsored, and contains my genuine thoughts, ideas and recommendations. JustineCelina uses affiliate and referral links, which allow me to receive a small commission when you make a purchase through one of my links. Thank you for supporting the brands and businesses that support JustineCelina!