We've been having quite a few grey, rainy days lately. So, I thought I'd embrace it and show you what I wear on a more casual day when I still want to look cute and pulled together! On cooler spring days I like to feel cozy but also wear lighter colours and layers to keep things fresh and seasonally appropriate. I pretty much live in great basics like skinny jeans, cute flats, classic v-necks and oversized cardigans when I'm keeping things casual. Sometimes I also give my eyes a break from contacts and wear glasses. I picked up a couple of new frames recently, so I thought I'd show you how I style them on a casual day! I also chat about my go-to natural makeup look — it's perfect for glasses.
---
Oversize Open Cardigan with Patch Pockets c/o Kersh | Speckled V-Neck Tunic Tank | White Zipped Hem Denim | Seek Cut-Out Flats | Grey Fringe Bag | Triangle Ring | Aura Black Prescription Eyeglasses c/o EyeBuyDirect | Colourpop Lippie Stix in Westie
---
GREY DAYS
---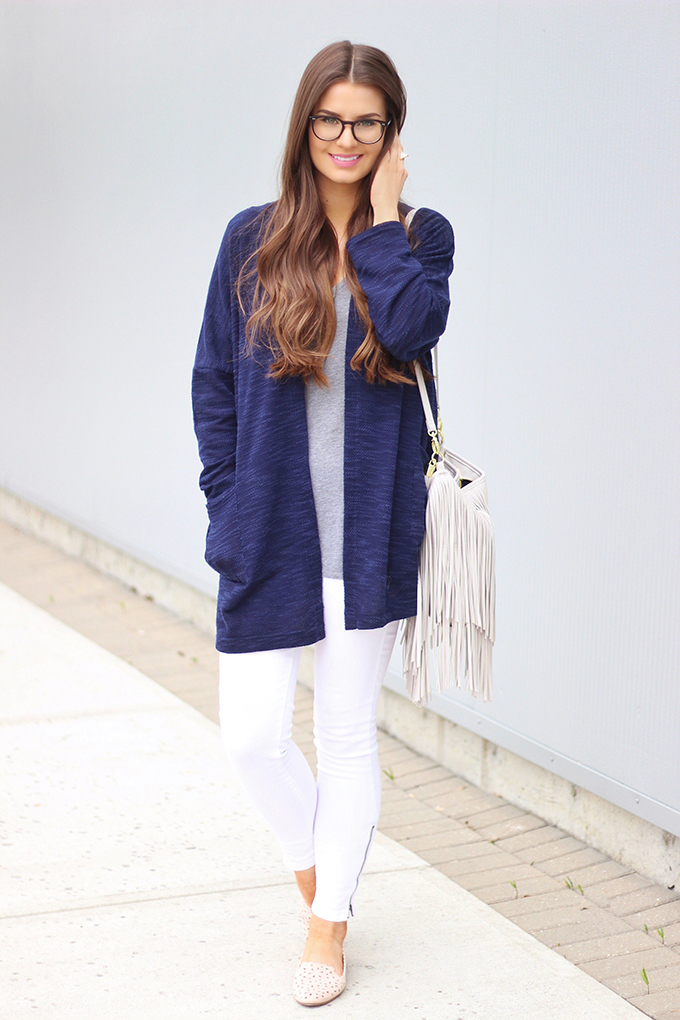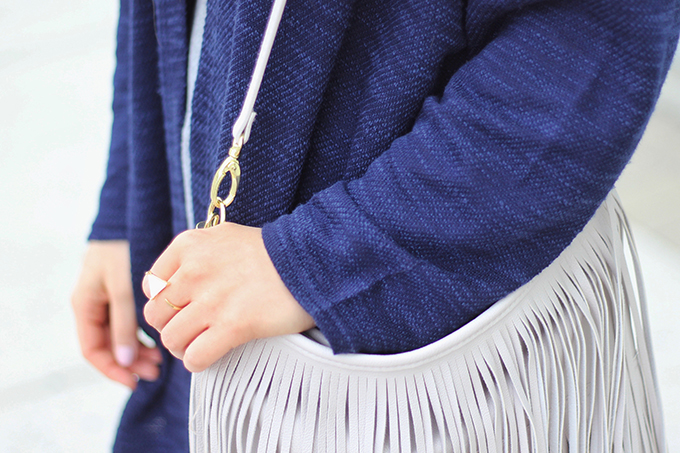 I'm not dressed up all the time — and I bet you're not either! While I love to dress up (and dress well) I think cute, casual outfits are just as much fun to style and they're what you'll find me wearing during my downtime. Today's look is super casual, relaxed and cozy.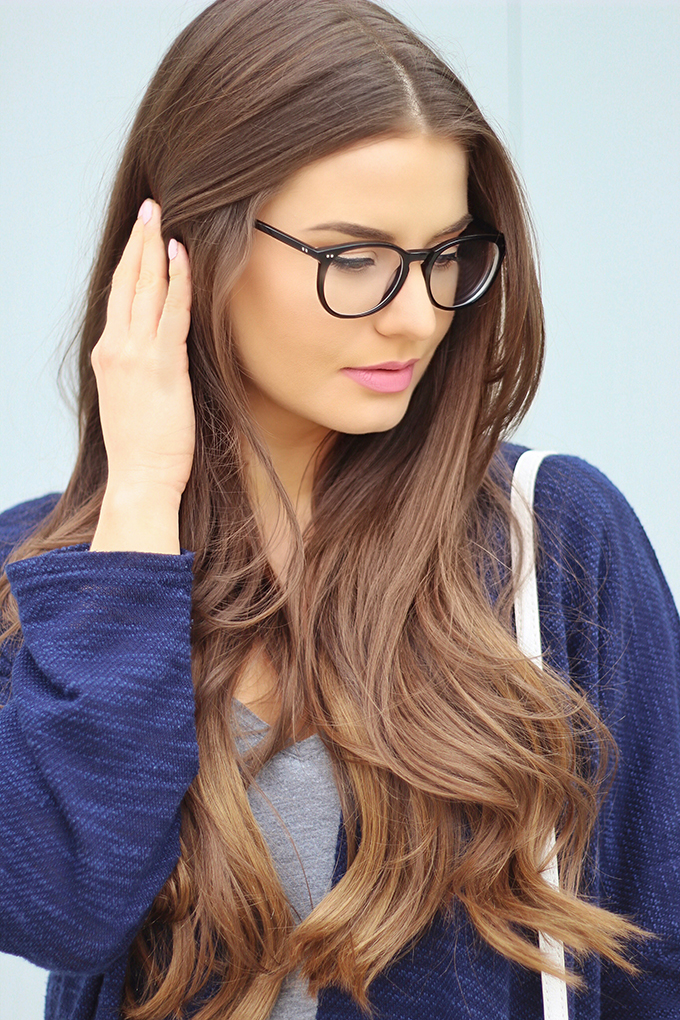 Did you know I'm blind as a bat? Yep, it's true. I wear contacts almost everyday, but when I don't have any meetings and am working from home, or running errands I like to wear glasses to switch things up and rest my eyes. I've been lusting after a pair of oversized black frames for awhile now — and I finally found the perfect ones in EyeBuyDirect's Auras.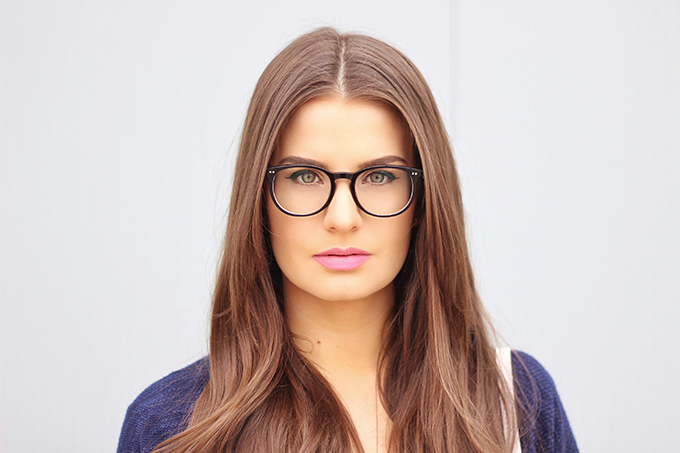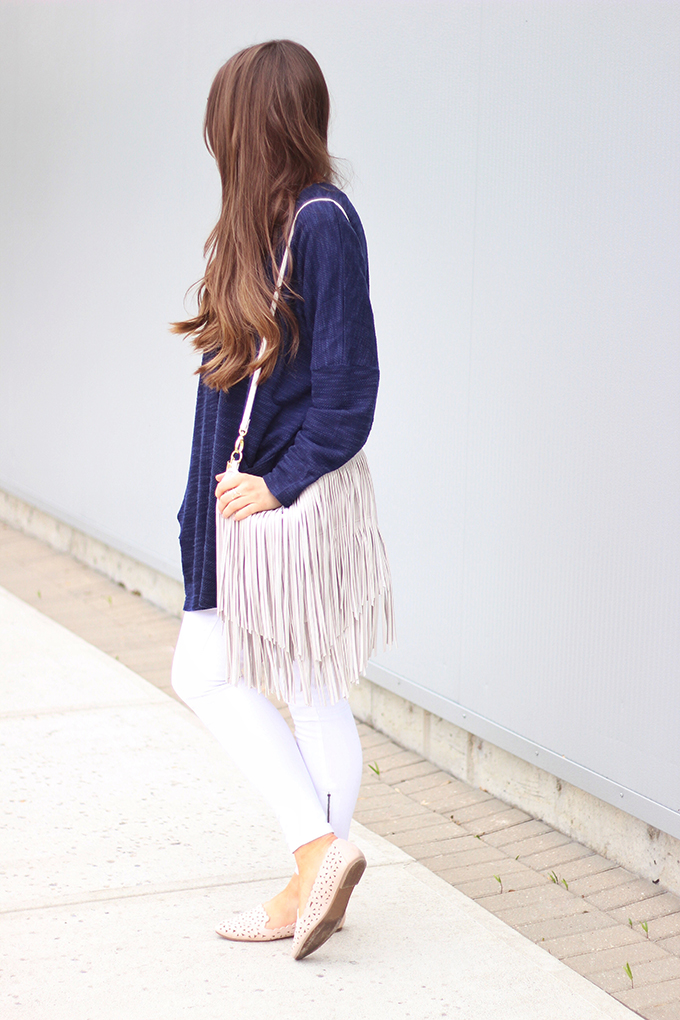 On casual days, I'm all about quality basics with cute details to add interest to my outfits. If these flats look familiar, it's because I mentioned them in my Spring Shoe Essentials post. I've been putting some serious miles on these adorable laser-cut flats from TopShop — the soft blush shade acts as a great light neutral and pairs so well with almost everything. I've also mentioned my love for fringe many times here at JustineCelina, and I think this light grey fringe shoulder bag from H&M is perfect for spring! It's light and airy while adding texture and movement to the look. I also mentioned my love for shades of grey this spring in my Spring Style Staples post.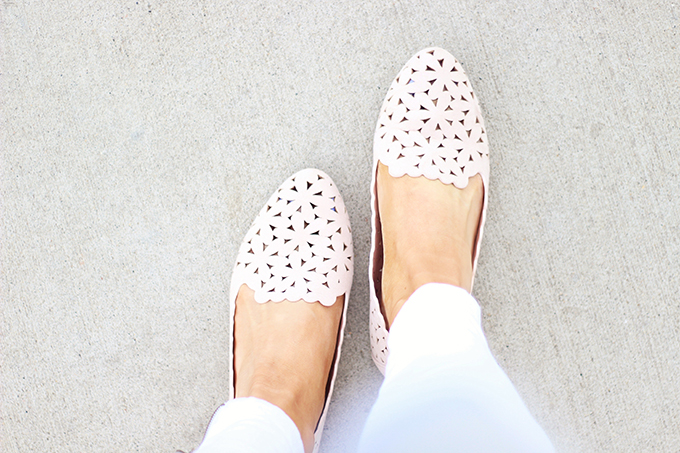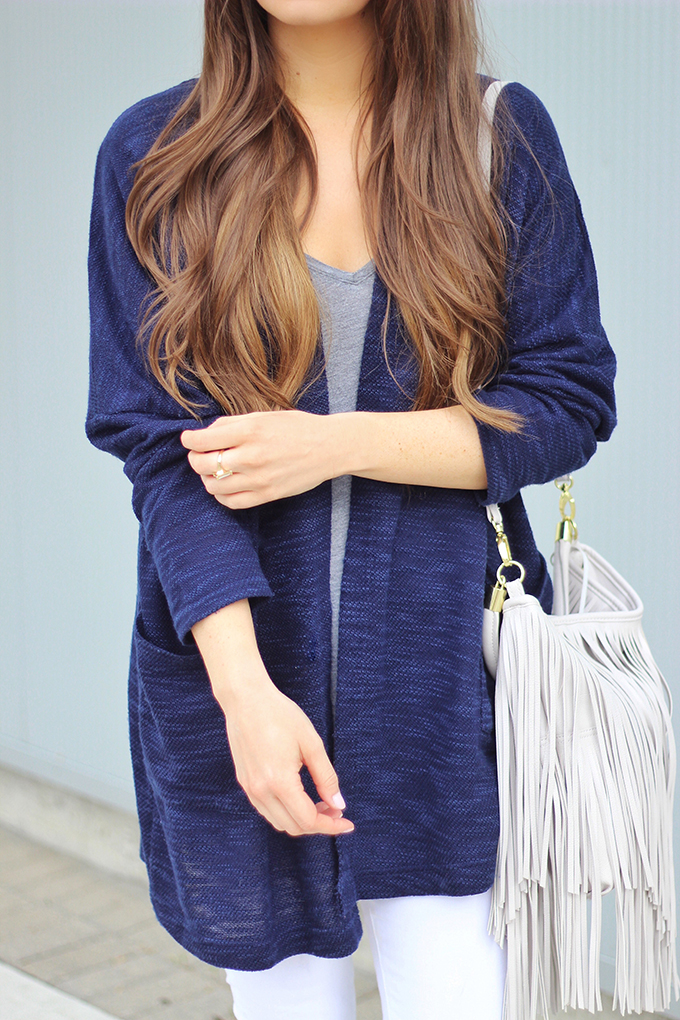 I've been living in this gorgeous Oversize Open Cardigan with Patch Pockets from Kersh lately. I love that it's super slouchy and comfortable, but the fabric is so lightweight — it keeps the piece seasonally appropriate. Navy isn't a colour I wear often, but I'm into nautical-inspired palettes right now! My favourite way to wear darker hues in the spring is to pair them with light, tone-on-tone neutrals like I'm doing here.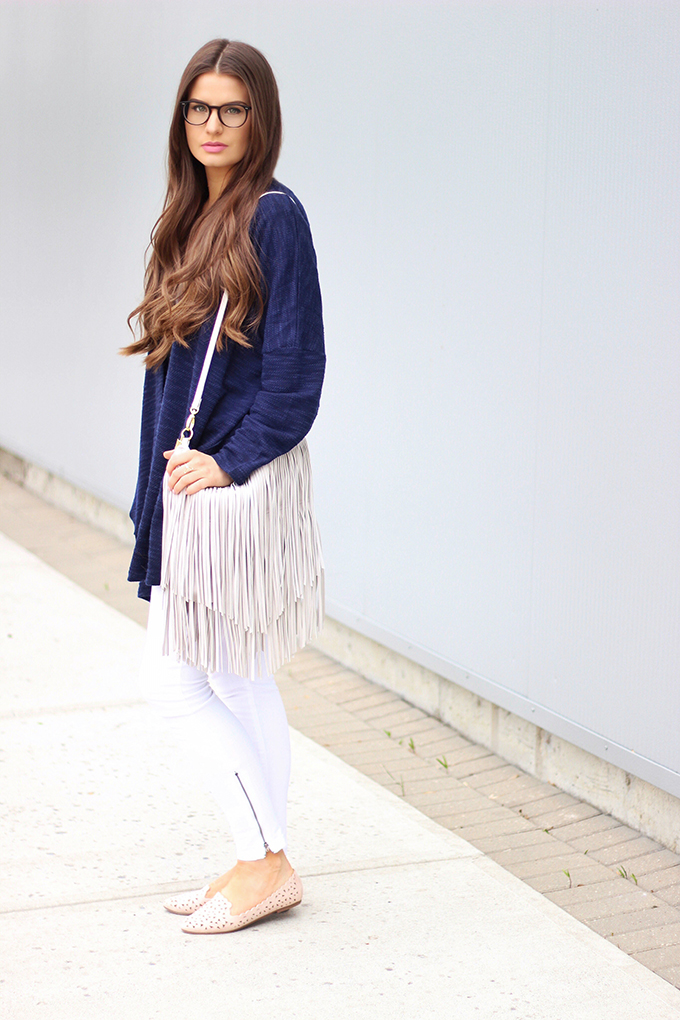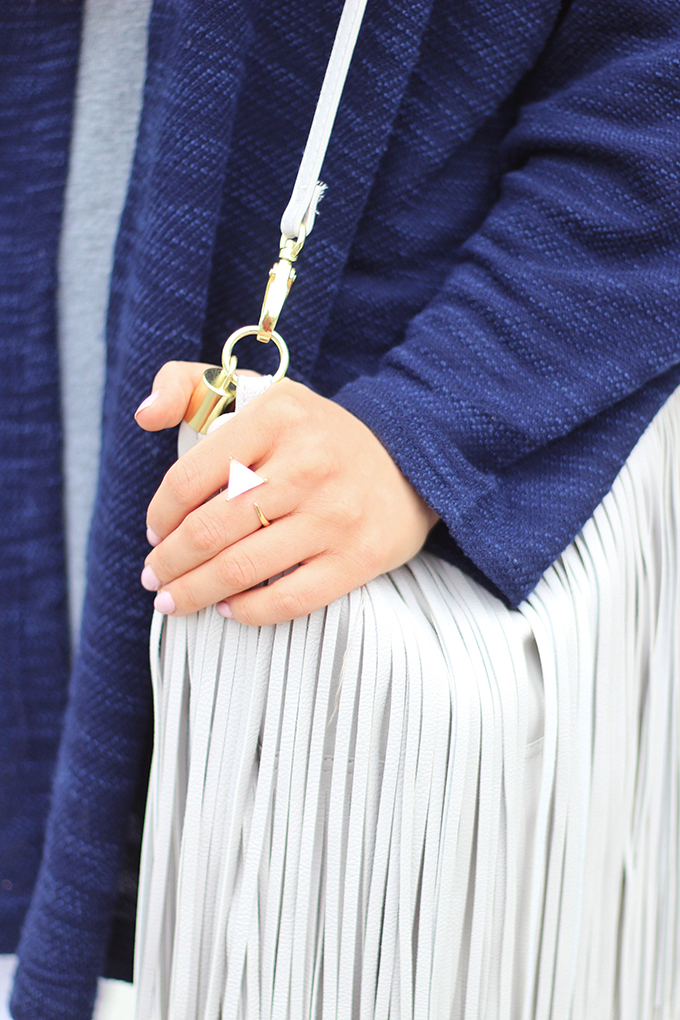 One easy way to elevate a casual look is to accessorize with unique pieces. I love this faux stone triangle ring I picked up at the new Dynamite opening at Market Mall a few weeks ago! If you haven't stopped into Dynamite in awhile (or ever!) I think you'll be surprised at how sophisticated the new concept is. It feels like a boutique — without the boutique price tag. I picked up quite a few basics, including a few colours of the v-neck I'm wearing here, a necklace and a beautiful striped tunic. My Mom also found some great work wear basics — she loved the lightweight blazers and tunics because they're perfect for travel. Expect a few pieces from their Summer 2016 line to trickle into my style content over the next little while!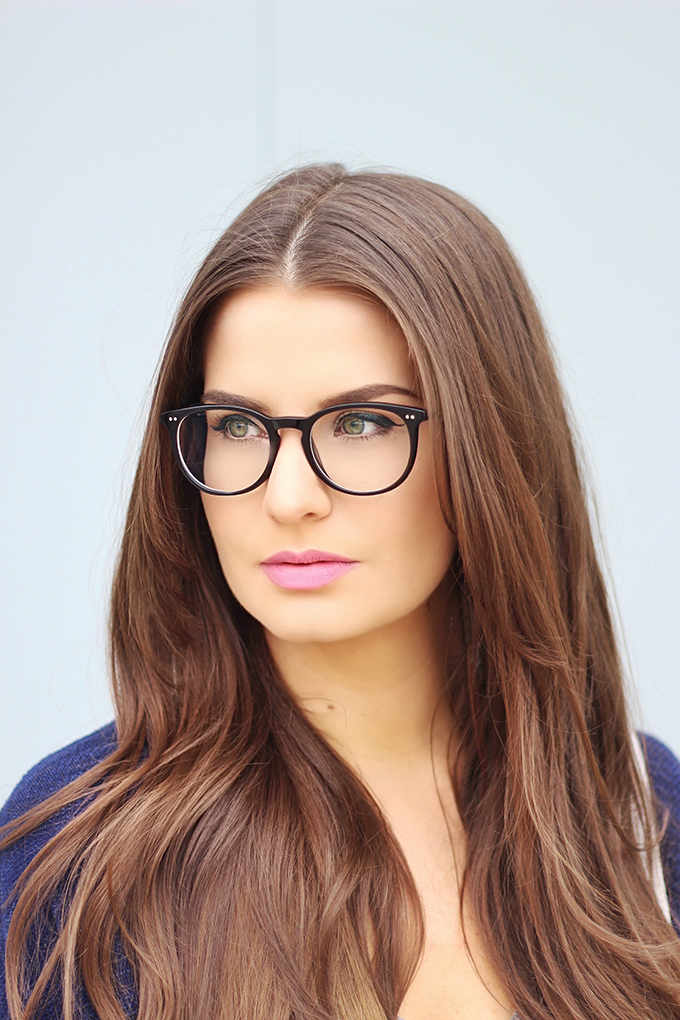 Let's chat about makeup for glasses! While I firmly believe you should wear whatever you like and feel comfortable in, I personally like to keep things minimal but enhancing when I'm wearing glasses. My go-to look is so simple! I wear whatever highlight I'm wearing on my skin on my eyelids (here it's the Laura Geller Baked Highlighter Duo in French Vanilla / Portofino), whatever bronzer or contour I'm wearing on my face in my crease (here it's theBalm Bahama Mama Bronzer) and add a simple winged eyeliner (my favourite is the Kat Von D Tattoo Liner in Trooper because it's so easy to use). I finish the eyes with a couple coats of my favourite mascara (still loving the Covergirl LashBlast Volume Mascara in Very Black). I also pop a nude eyeliner in my waterline to make my eyes look fresh and awake. I like to keep the skin matte and clean (here I'm wearing my favourite drugstore foundation, L'Oreal Infallible Pro-Matte 24 HR Foundation in 105 Natural Beige) and the cheeks lightly flushed. On the lips I always switch it up, but I've been loving Colourpop's Lippie Stix in Westie lately for a fresh, springy pop of colour! I mentioned it in my 5 Unconventional Spring Lip Colours post.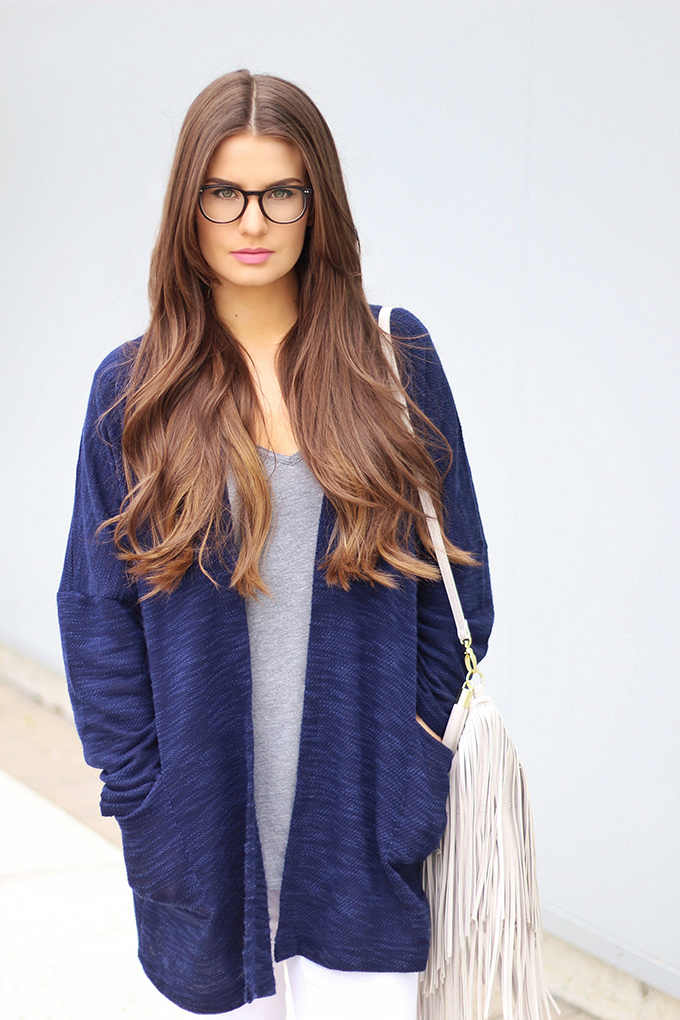 I ordered two pairs of frames online from EyeBuyDirect because I can never find exactly what I'm looking for at the Optometrist. They have an amazing selection of trendy frames and the quality is incredible. The black Aura's are the ones I'm wearing in this post and I love them for day-to-day wear. I also chose a translucent frame, the Prism, for long days in-front of the computer. EyeBuyDirect has an EyeZen package, which is designed specifically to help reduce eye strain in our digital world! So I customized my Prism's with the EyeZen package (see the subtle coating on the lenses?). As someone with extremely sensitive eyes, I was excited to try it out. My eyes love EyeZen! At the the end of a long work day my eyes are noticeably less fatigued, red and strained. It's a great option!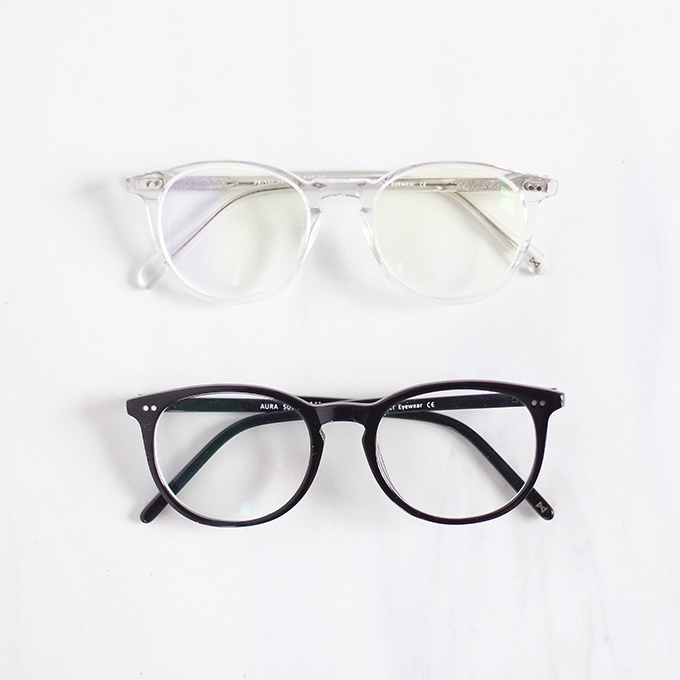 EyeBuyDirect was kind enough to provide me with a coupon code if you're looking for some new glasses! Use JustinexEBD at checkout for for 20% off your entire order (shipping cost is not included; one time use per customer, up to 6 frames per order). Please report back if you place an order — I'd love know what you picked up!
---
SHOP THE LOOK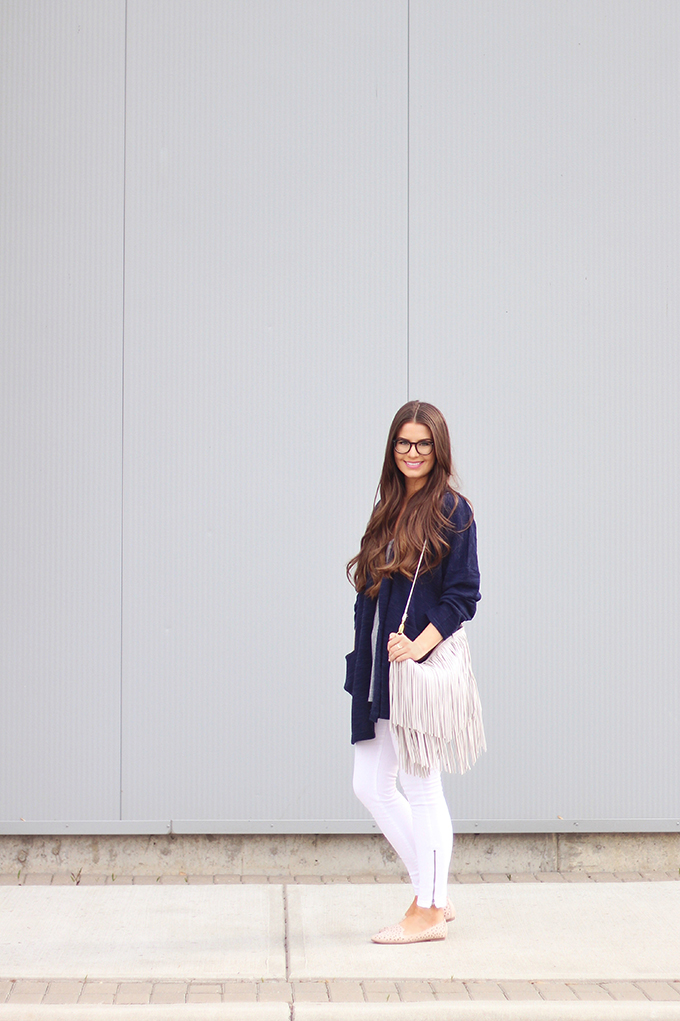 ---
Oversize Open Cardigan with Patch Pockets c/o Kersh | Speckled V-Neck Tunic Tank | White Zipped Hem Denim | Seek Cut-Out Flats | Grey Fringe Bag | Triangle Ring | Aura Black Prescription Eyeglasses c/o EyeBuyDirect | Colourpop Lippie Stix in Westie
---
Disclaimer: This post is not sponsored, and contains my genuine thoughts and recommendations. JustineCelina uses affiliate and referral links, which allow me to receive a small commission when you make a purchase through one of my links. Your purchases help to support JustineCelina.com!