Today's post is all about shoes! I really love shoes — I'm a bit of a shoeaholic and always have been! If you're reading this, you probably love shoes too. I own quite a few pairs and love being able to totally change the feeling of an outfit by pairing it with different shoes. A few weekends ago I was doing my seasonal shoe rotation (swapping my winter shoes for spring and summer styles) and I got to thinking — if I had to chose only 5 pairs of shoes to transition from spring to summer, which ones would I pick? That's what today's post is all about! My Spring Shoe Essentials are a mixture of practical, fun, casual and dressed up — I've chosen 5 pairs of shoes to take you through every event and occasion. From casual flats, to the quinessential nude pump, to prints, tassels and fun pops of colour, I've got you covered this spring! The best part? Each pair is under $150!
---
A Pop of Colour 1 2 3 4 | Something Floral 1 2 3 | Nude Pumps | Loafer Love 1 2 3 | Light Flats
---
LOAFER LOVE
---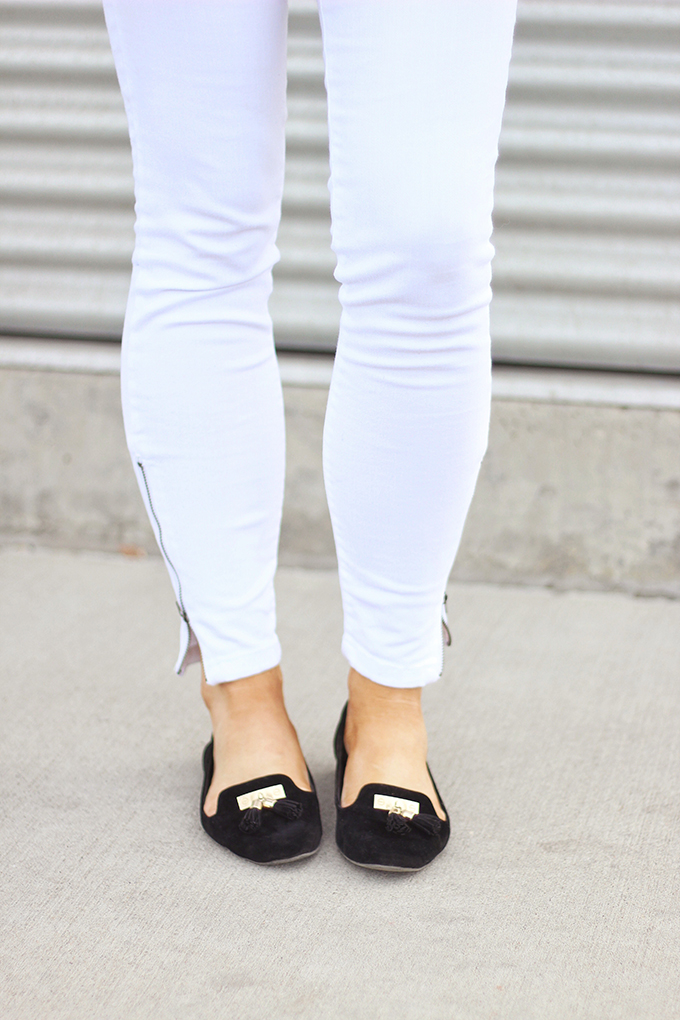 These are definitely my most worn pair of shoes. I know I can throw them on with just about anything and be comfortable and put together. I picked them up at TopShop last season, but I've linked similar pairs here, here and here. Along with Zara, TopShop makes the best quality shoes you can buy for your money in my opinion. I love the details of these loafers — the black suede and the tassels add a sophisticated, chic vibe while still remaining casual. Tassels are everywhere this season (more about that in my Spring Style Staples post) and I've been loving accessories that incorporate the trend in a subtle way.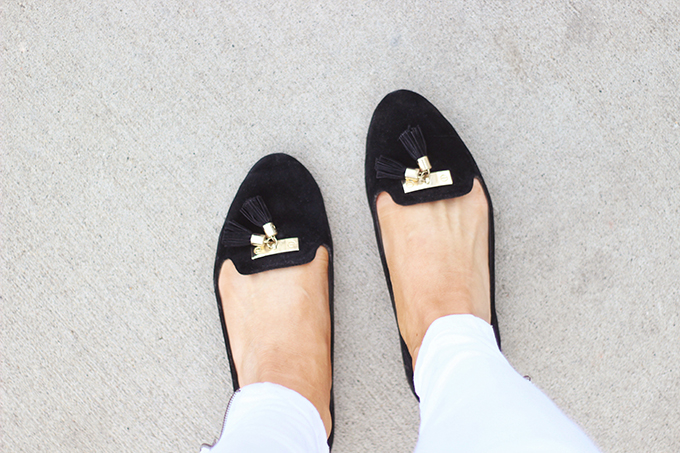 ---
LIGHT FLATS
---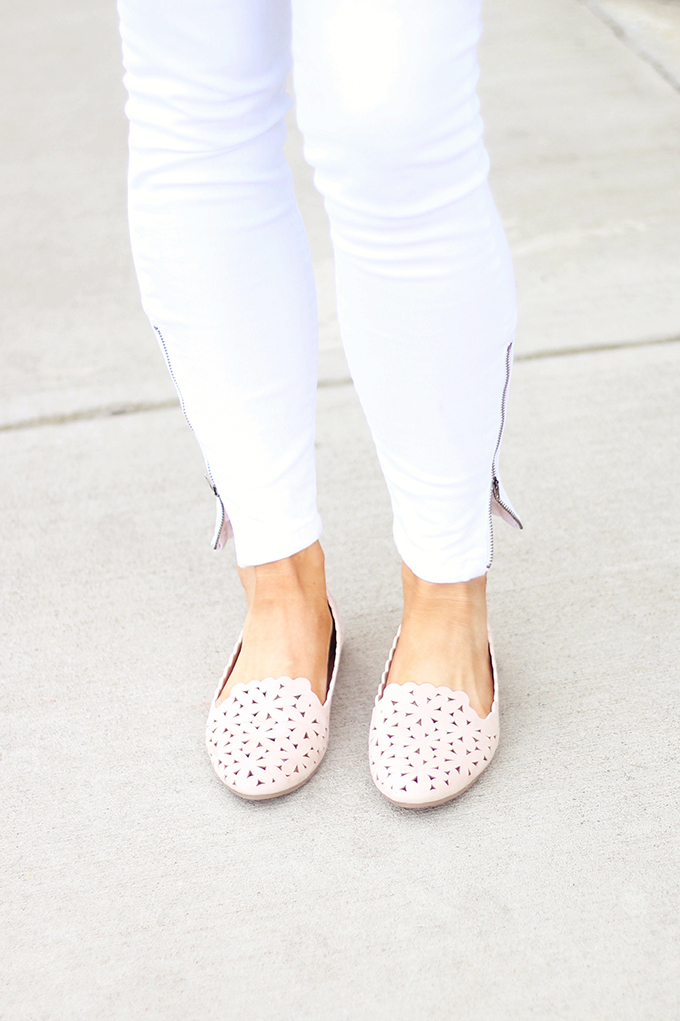 These flats scream spring to me! I love the slightly pointed shape, the soft blush shade and the intricate cut-out details. I think if you have a dark pair of flats (like the loafers I mentioned above) and a light pair of flats for spring, you totally have your bases covered. I could pair anything I'm wearing with these flats or my loafers and be set. These seek cut-out flats are another great TopShop find — they're super comfortable and they're also really breathable, which I like. They're casual but feminine, and I love pairing then with edgier items like leather jackets or bold lips to soften an outfit and add a touch of romance.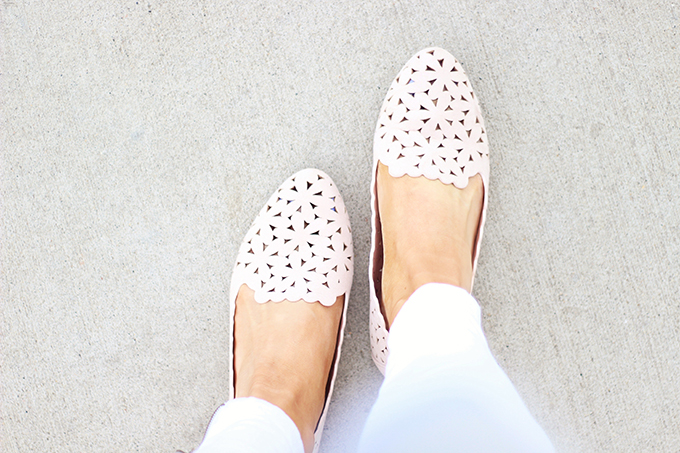 ---
NUDE PUMPS
---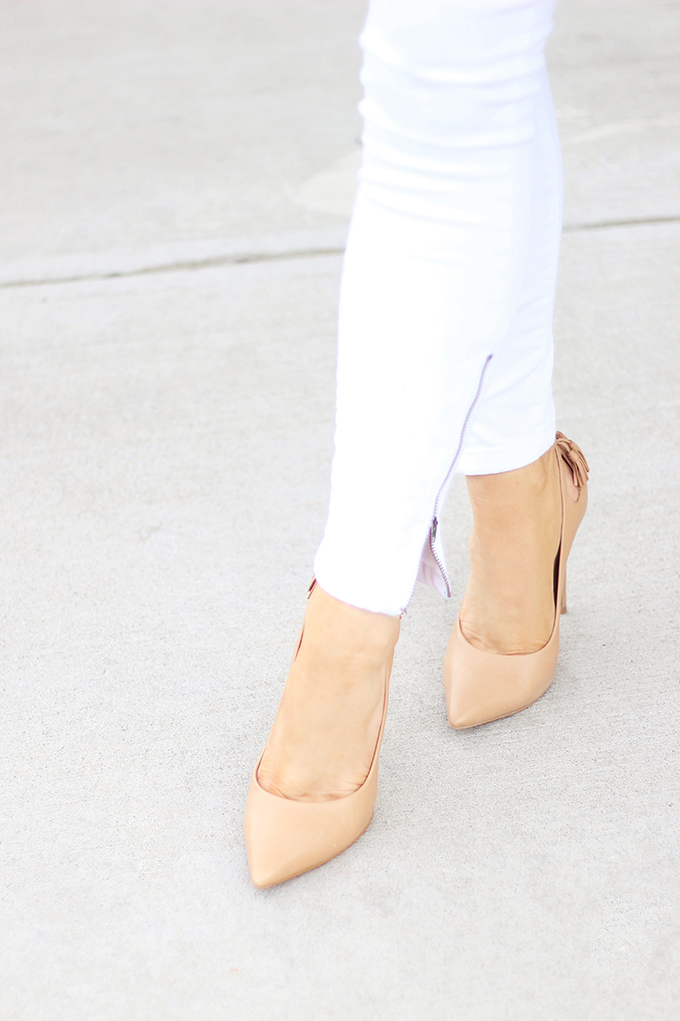 Are you getting sick of me talking about what a quinessential wardrobe staple pointy-toed, nude pumps are yet? Seriously though, I've mentioned this many times on the blog, but if there's one pair of shoes I think every woman should own it's a pair of nude, pointy toed pumps. When selecting your perfect nude heel, the key is to match the colour of the shoe as closely as possible to your skintone if you want a truly seamless, leg-elongating effect. I really love these tassel back pumps from TopShop (so much that I also purchased them in black!). And believe it or not, they're pretty comfortable. They're also a more classic way to incorporate the tassel trend into your personal style and update your wardrobe this spring!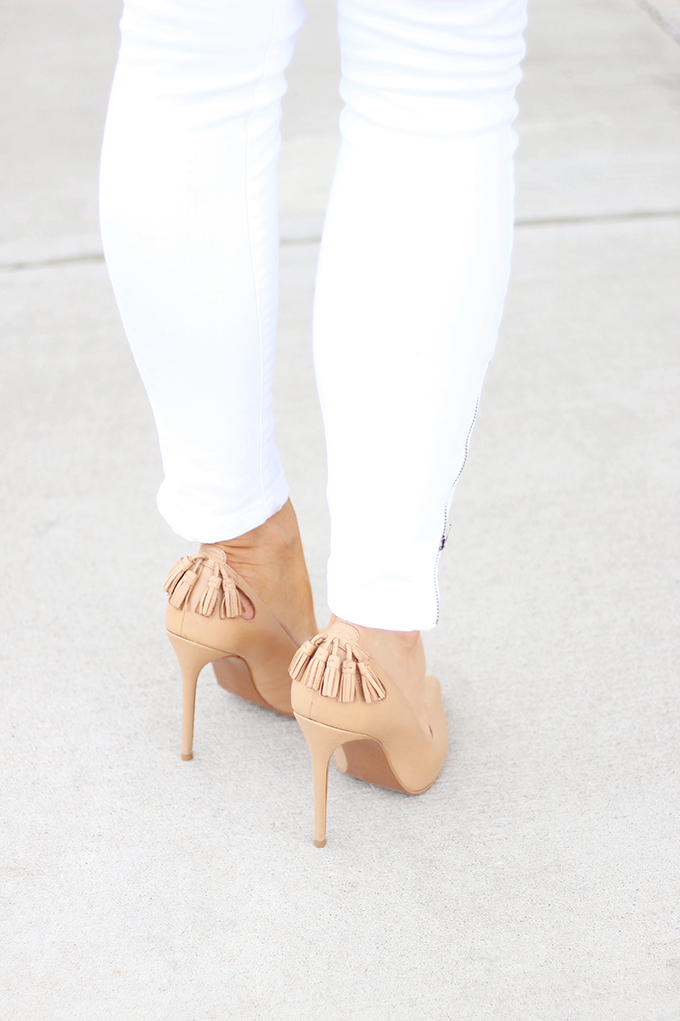 ---
SOMETHING FLORAL
---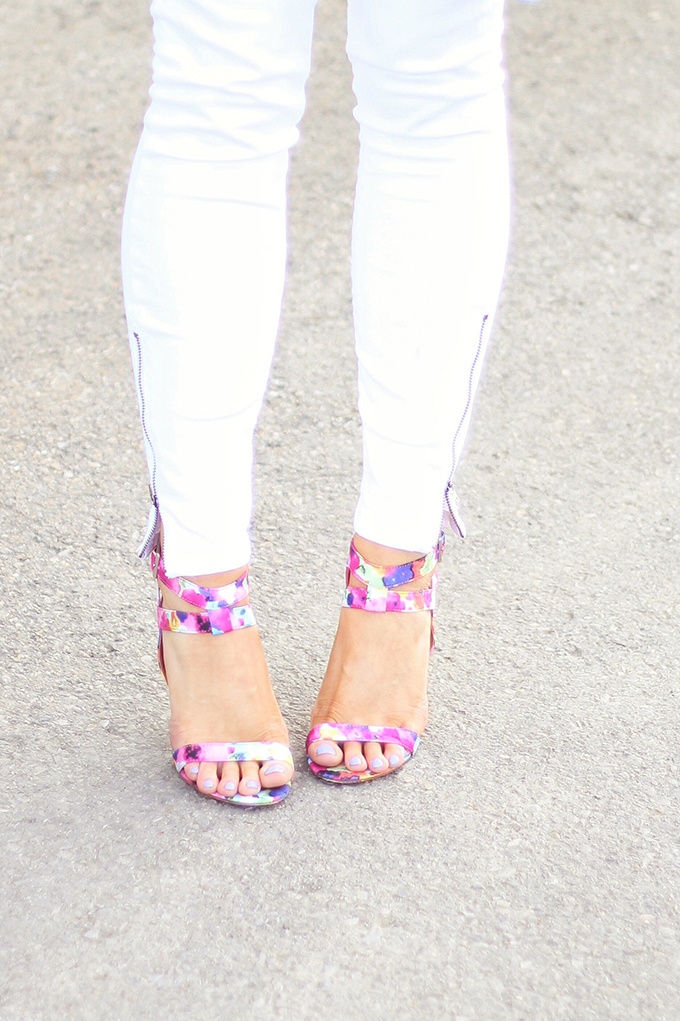 I wear these strappy floral sandals a lot during the spring and summer. Since the print is so colourful, they pair well with many different outfits, colours and prints! These little sandals look great with jeans, skirts, dresses, short and everything in between. If you have your bases covered with great neutral flats and heels, I think it's important to have a couple of fun pairs of shoes to add pops of colour and pattern to your spring and summer style. Florals have always been popular during the spring, but I love the watercolour effect of this print. These are from Lulu's (a couple seasons ago) but I've similar pairs here, here and here.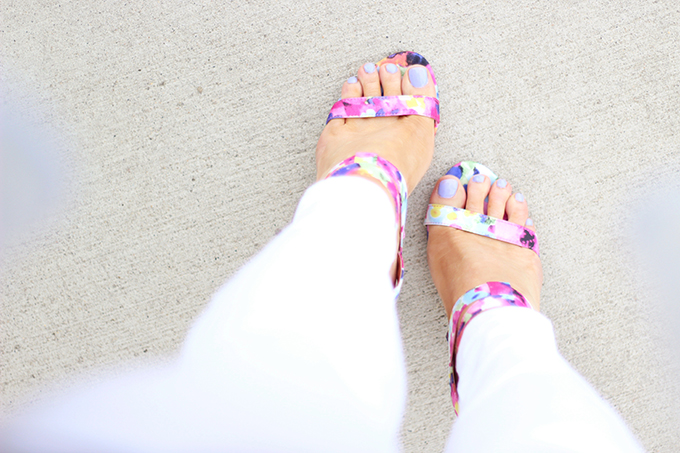 ---
A POP OF COLOUR
---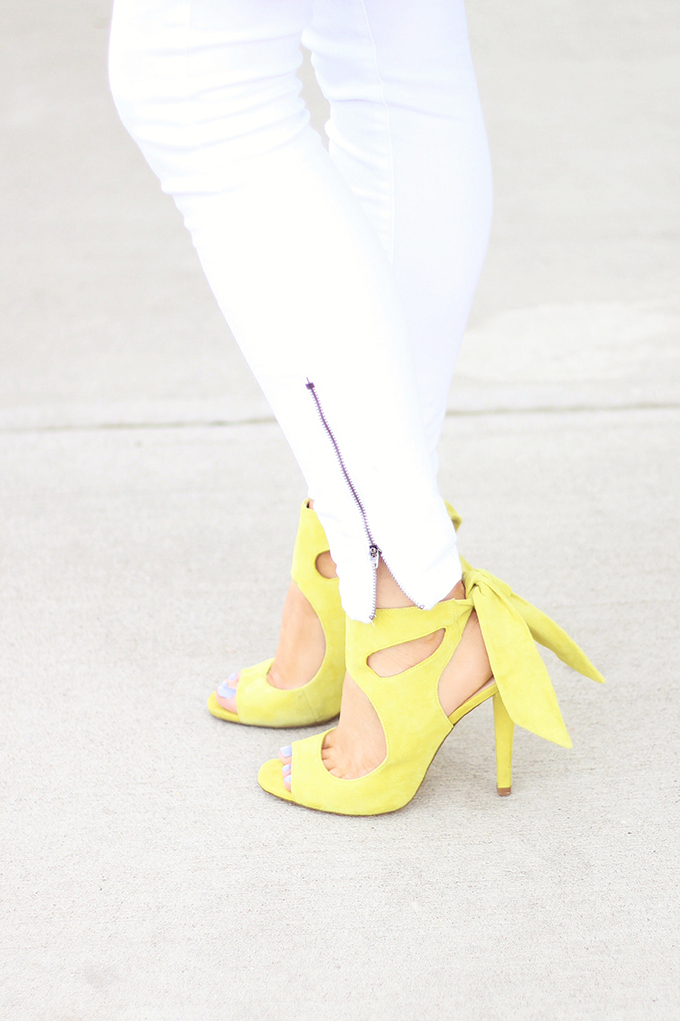 A more unconventional shoe in a playful pop of colour is definitely a spring must have! I was actually lusting after this very pair of shoes from Zara last spring and I'm so happy I picked them up. Even though they're a more unique shoe, they're surprisingly versatile and I always get so many compliments when I wear them. With yellow making such a statement this spring, I love this chartreuse shade to add a fun, unexpected twist to an otherwise simple outfit. In my last style post I chat about the different ways you can incorporate yellow into your wardrobe — if you're not sure you can pull it off by your face, try adding a pop of colour in an accessory! I've worn these to business meetings as well as more formal events, and they also look great and with jeans and a t-shirt. They add a dose of fun and interest to whatever I'm wearing! You can find my favourite yellow sandals this season here, here, here and here.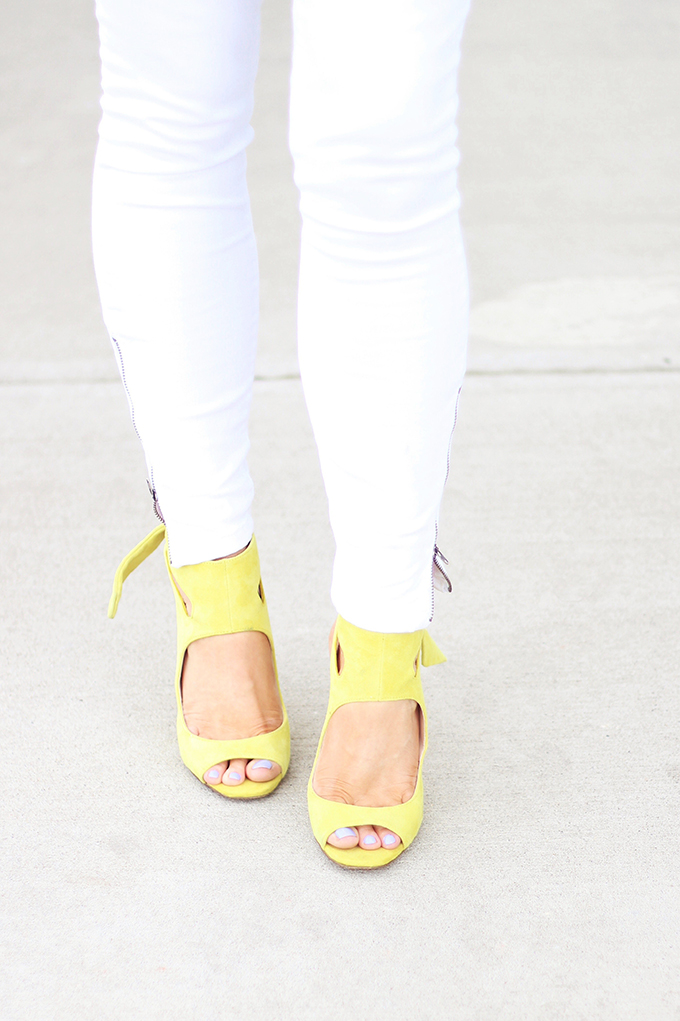 ---
SHOP SPRING SHOE ESSENTIALS
---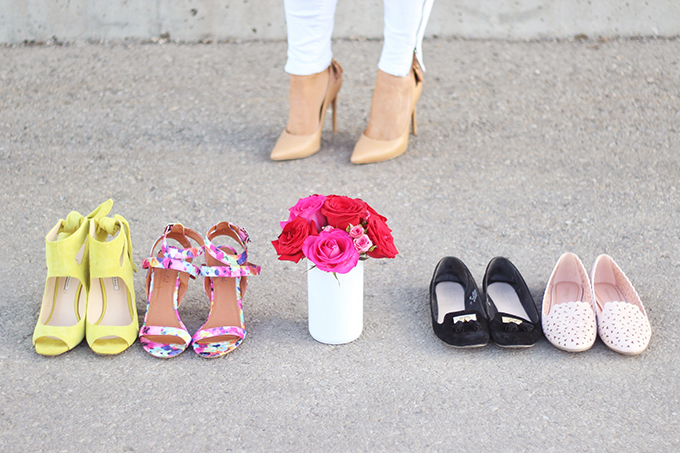 A Pop of Colour 1 2 3 4 | Something Floral 1 2 3 | Nude Pumps | Loafer Love 1 2 3 | Light Flats
— I'm also wearing —
Grey Cardigan | White Zipped Hem Denim | Periwinkle Polish
---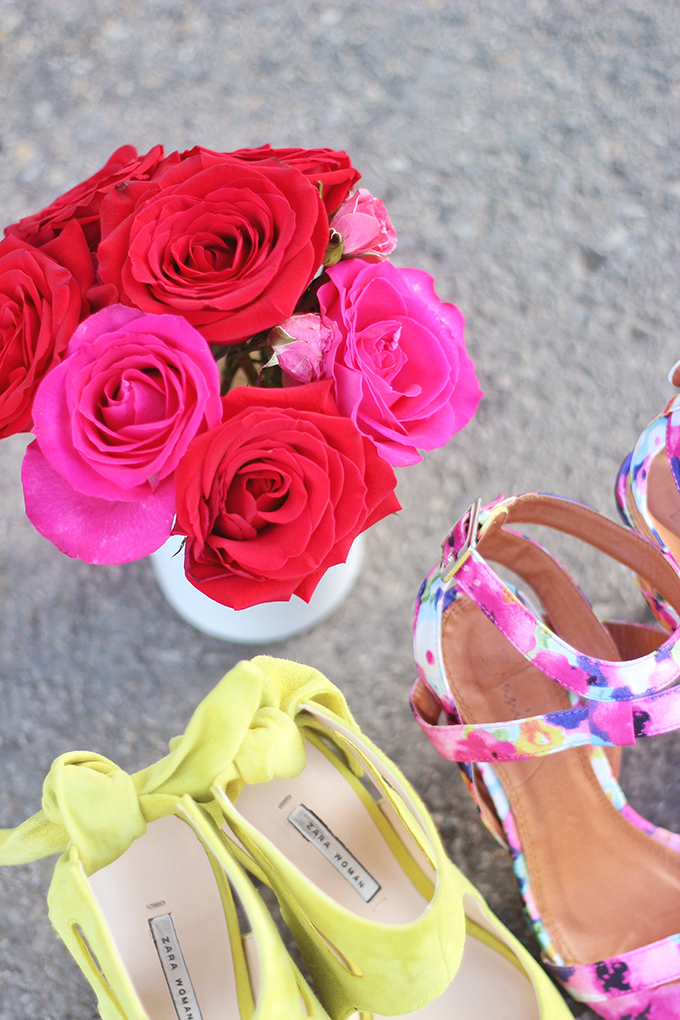 What are your favourite spring and summer shoes? If you have a recommendation, question about what I'm wearing or comment for me please leave it below. And enjoy the rest of your Sunday! Also, thanks so much to Erica at Rhosyn Floral for the gorgeous blooms!
---
Disclaimer: This post is not sponsored, and contains my genuine thoughts and recommendations. JustineCelina uses affiliate and referral links, which allow me to receive a small commission when you make a purchase through one of my links. Your purchases help to support JustineCelina.com!