---
Who else is sick of winter?! I know I've definitely been craving some colour in my life lately! So this week, I've teamed up with Litehouse Foods and The Food Bloggers of Canada to bring you a fresh, colourful entrée salad recipe that can be on your table is less than half an hour! My Pomegranate Hibiscus Salmon Salad combines mixed greens and peppery arugula with strawberries, yellow peppers, mandarin oranges, dried cranberries, almonds and red onions — topped with a fresh fillet of wild sockeye salmon. It's created with Litehouses's Pomegranate Hibiscus Dressing, from their new Green Garden line. I also give you a behind-the-scenes look into my creative process of shooting and styling imagery for photoshoots and blog posts!
---
First — if you're just here for the recipe, stop by The Food Bloggers of Canada site!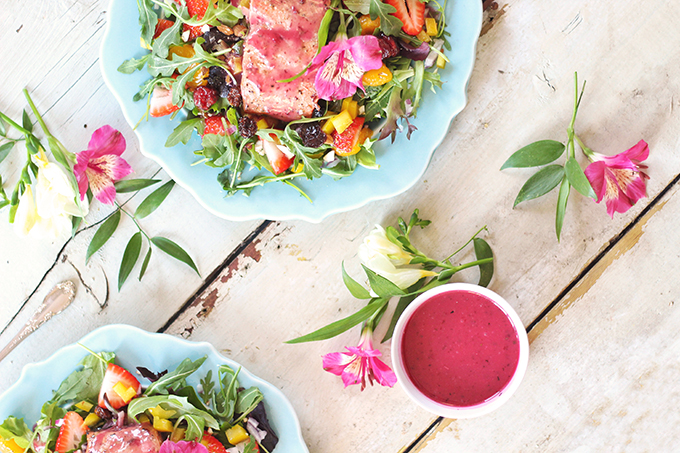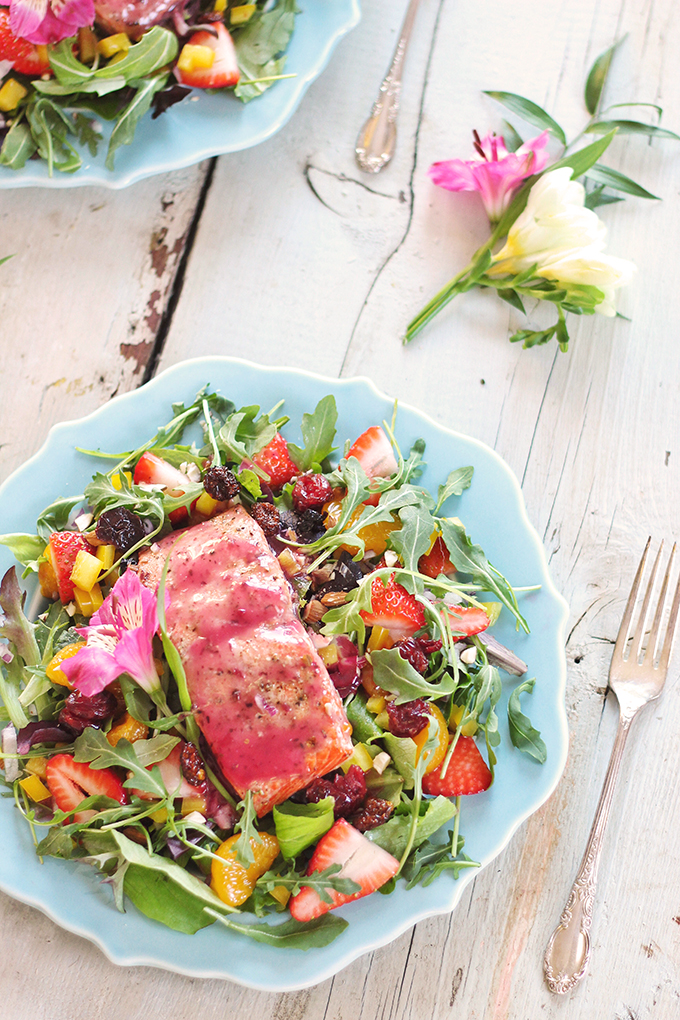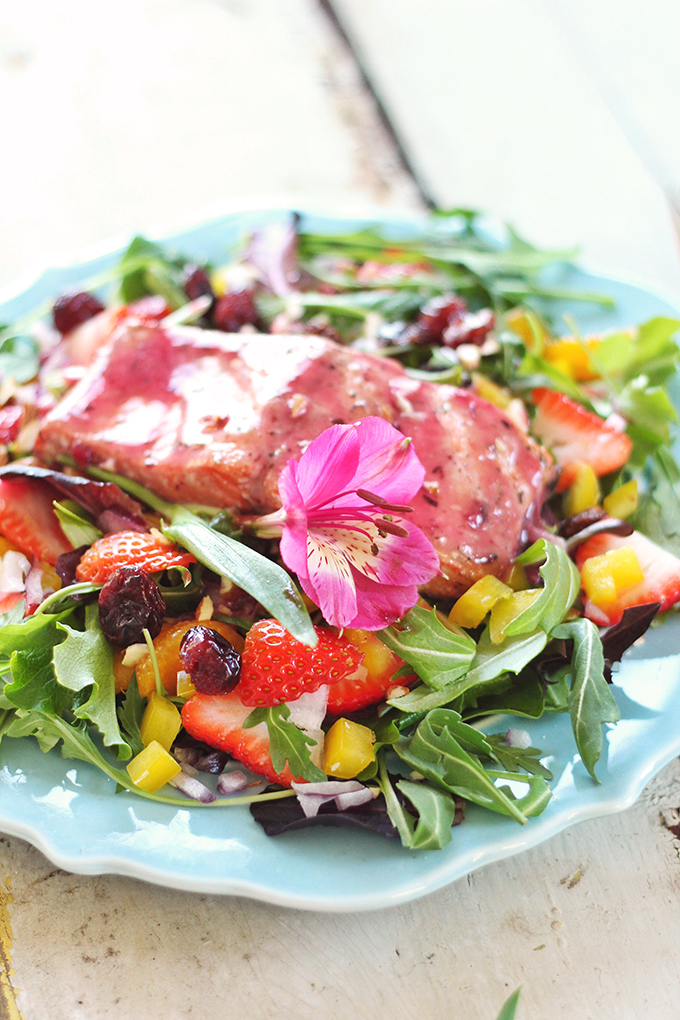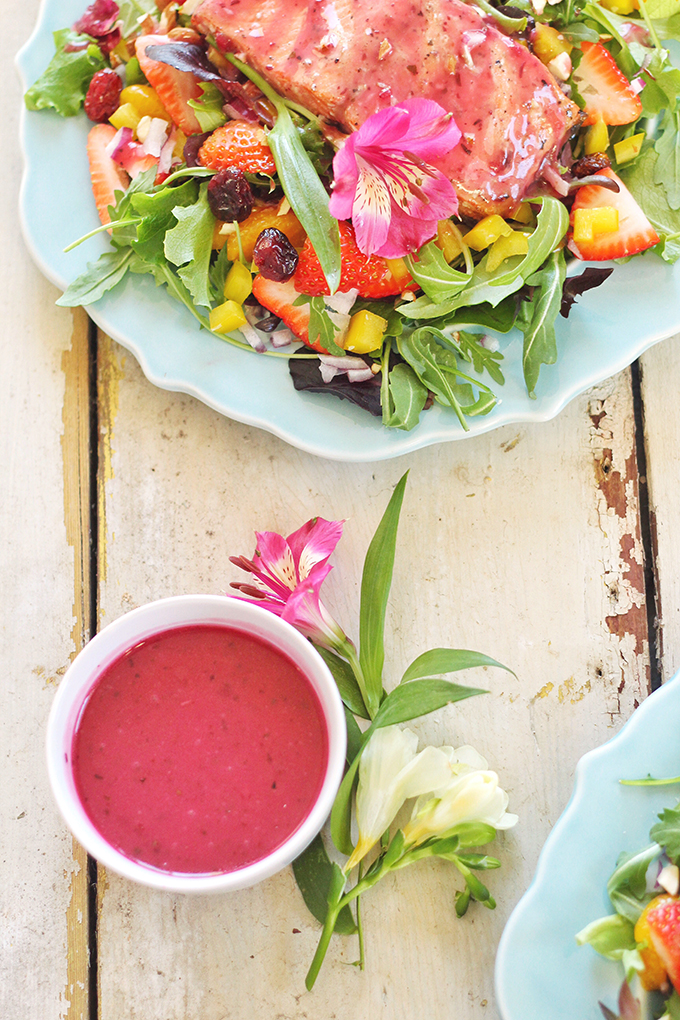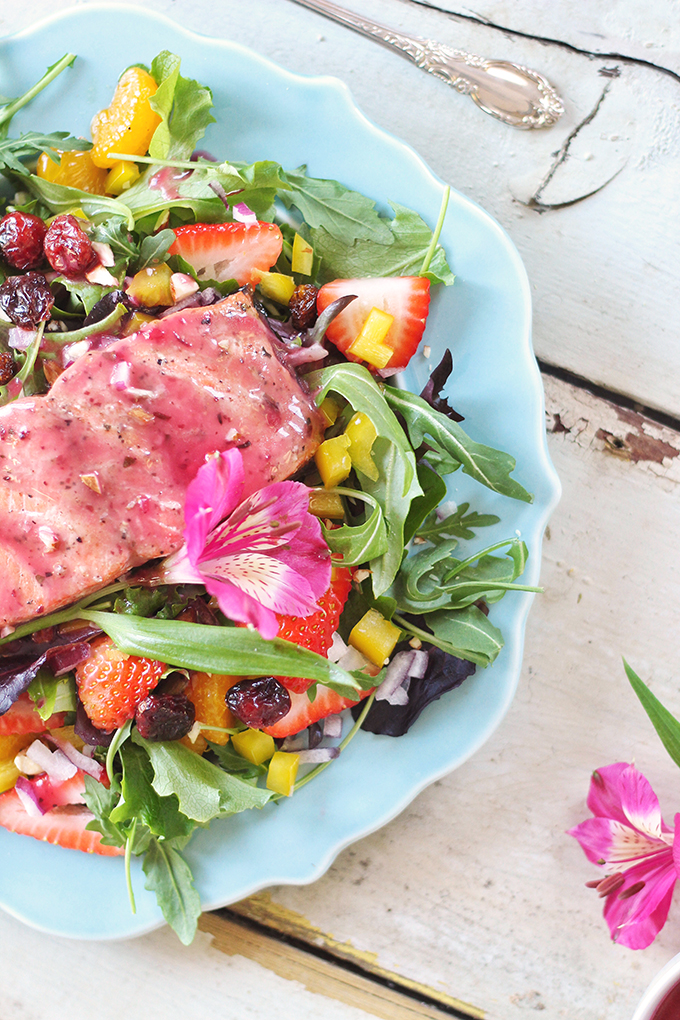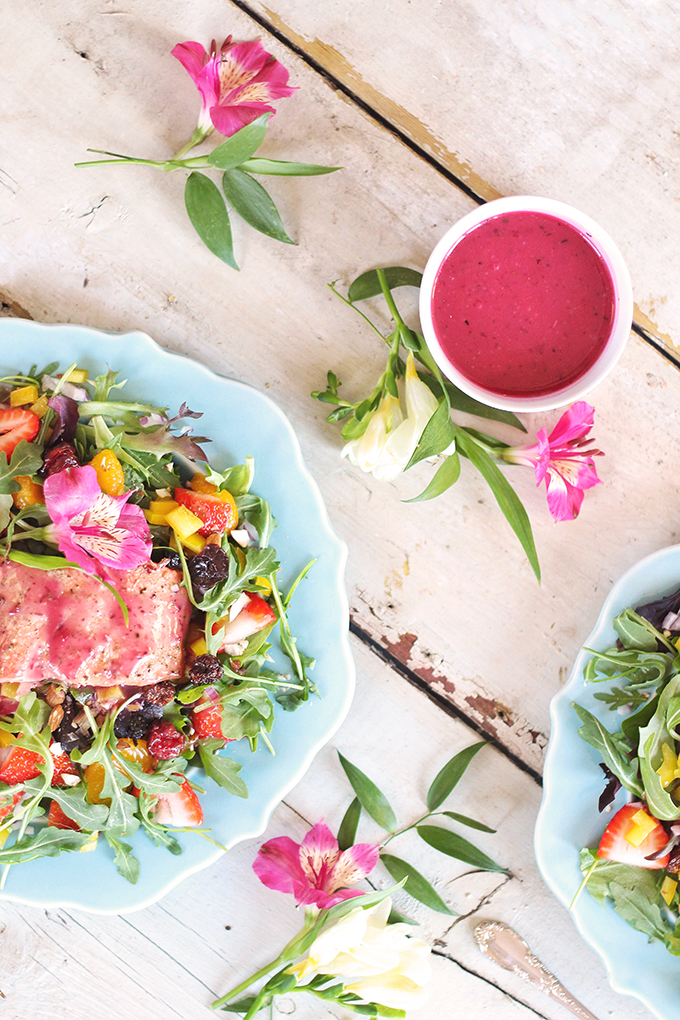 Today I thought I'd share some additional photos in this post — kind of a behind-the-scenes look into my creative process for blog shoots. I always shoot so many photos for blog posts and photoshoots (between 100 – 300 each time!), and then flag my favourites to share with you. For this particular post, I shot 247 images, flagged 61 that caught my eye, and then narrowed it down even further for this post to feature 20 of my favourite images, which is my post maximum for JustineCelina. It's always a process (that I absolutely love!) to choose my favourite shots, whether I'm shooting, styling or directing! I'm crazy about the medley of colours, textures and angles in these shots — things that I think are essential in creating unique, engaging imagery.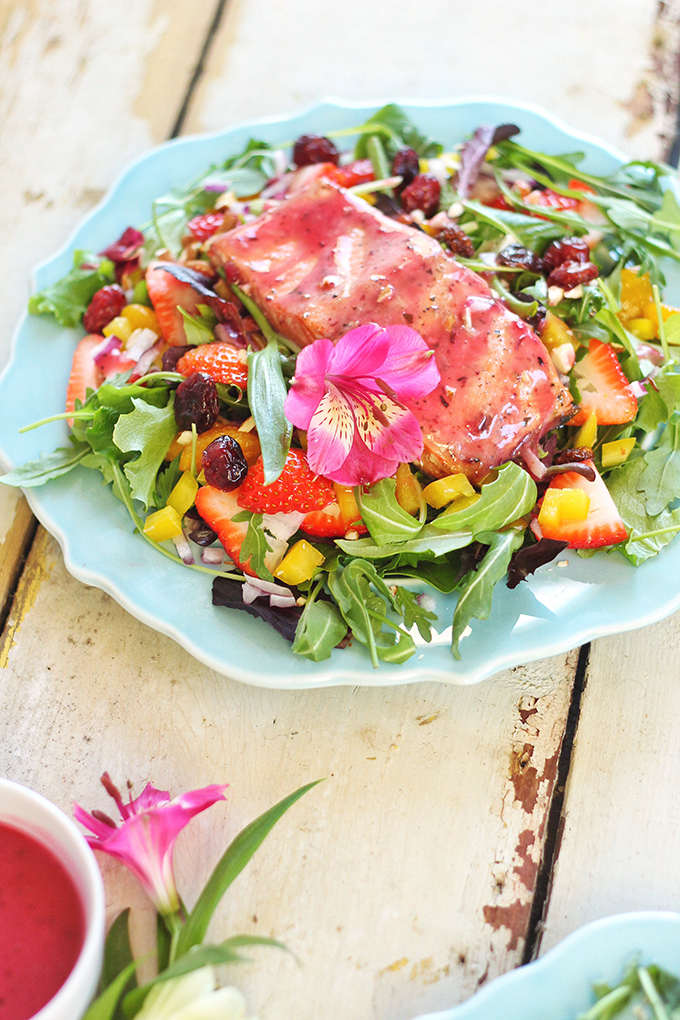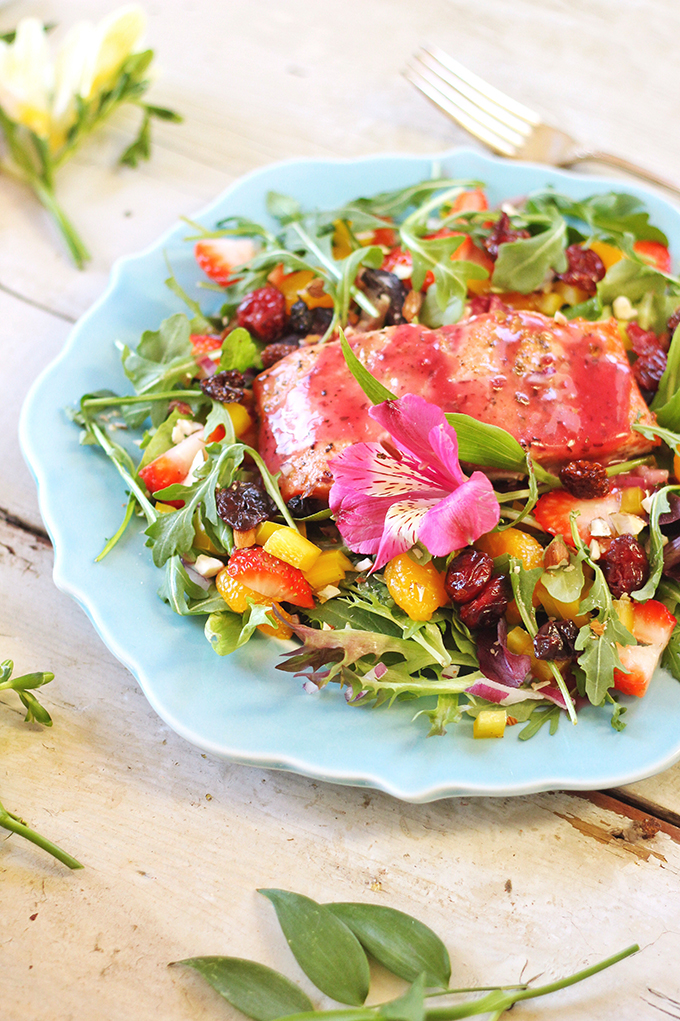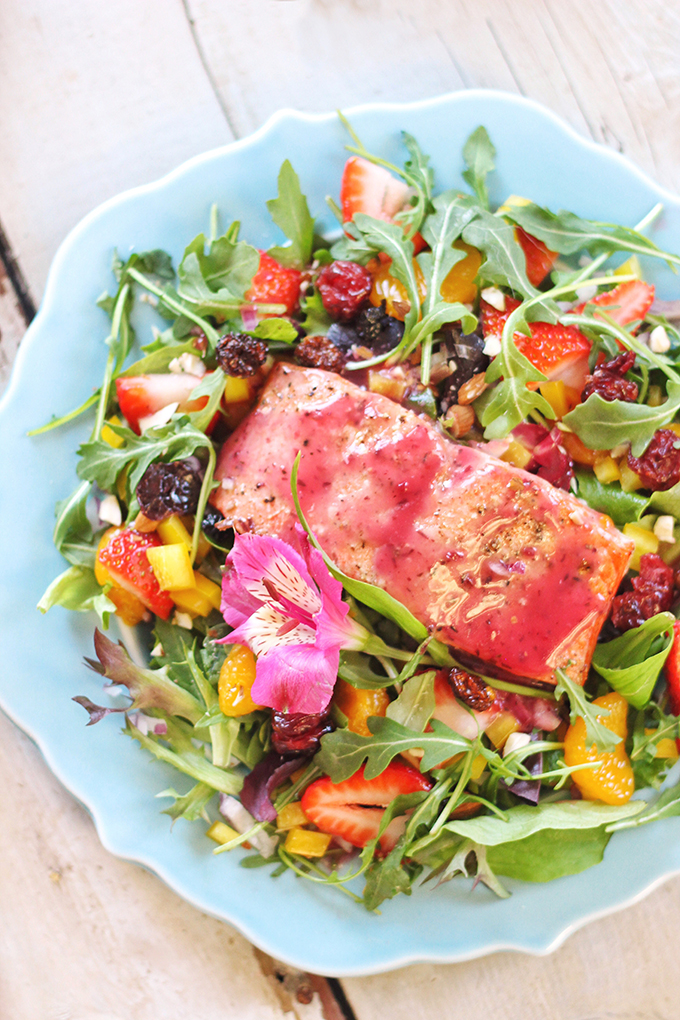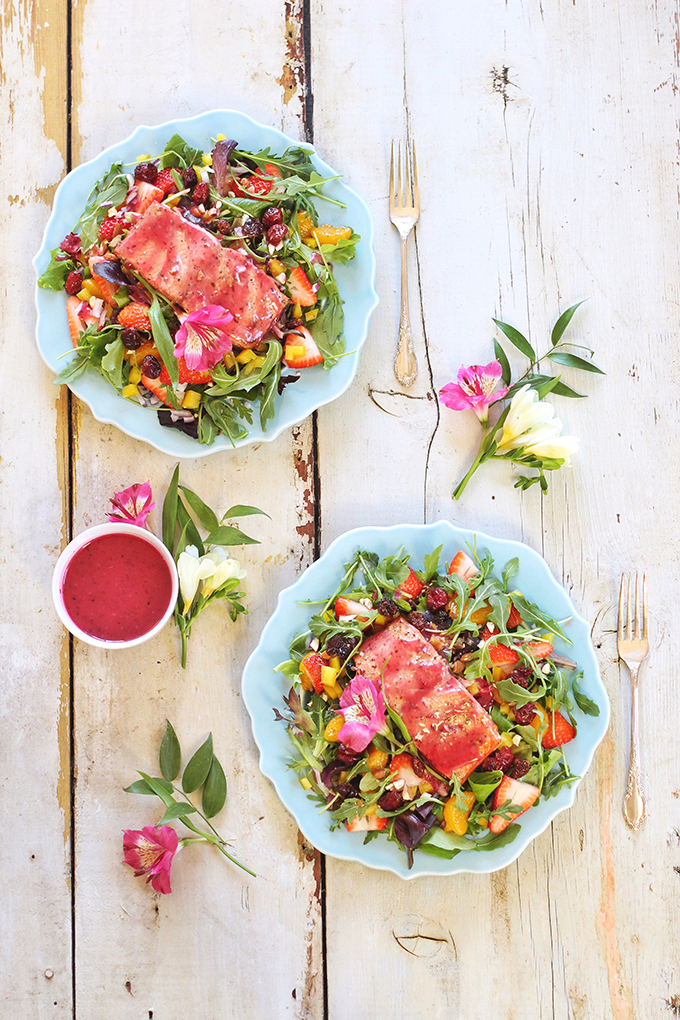 I love the process of rearranging and styling the shot so that it looks just right from different angles. We all know how obsessed I've been with pink hues lately — so I picked up some pretty pink blooms to style this post and compliment the name and flavour of the dressing. While I couldn't track down actual Hibiscus flowers in Calgary in the middle of January, I did find some pink Alstromeria at my local grocery store to give a similar effect. I love to have fresh flowers at home, so I usually have some around that I can choose from (ie: absolutely demolish) for blog shoots. This week I had some white Freesia left over from my 2015 Beauty Favourites post, and some greenery that was gifted to me by my good friend Sheryl at Lynn Fletcher Weddings and Jaime at Fleurish Flower Shop.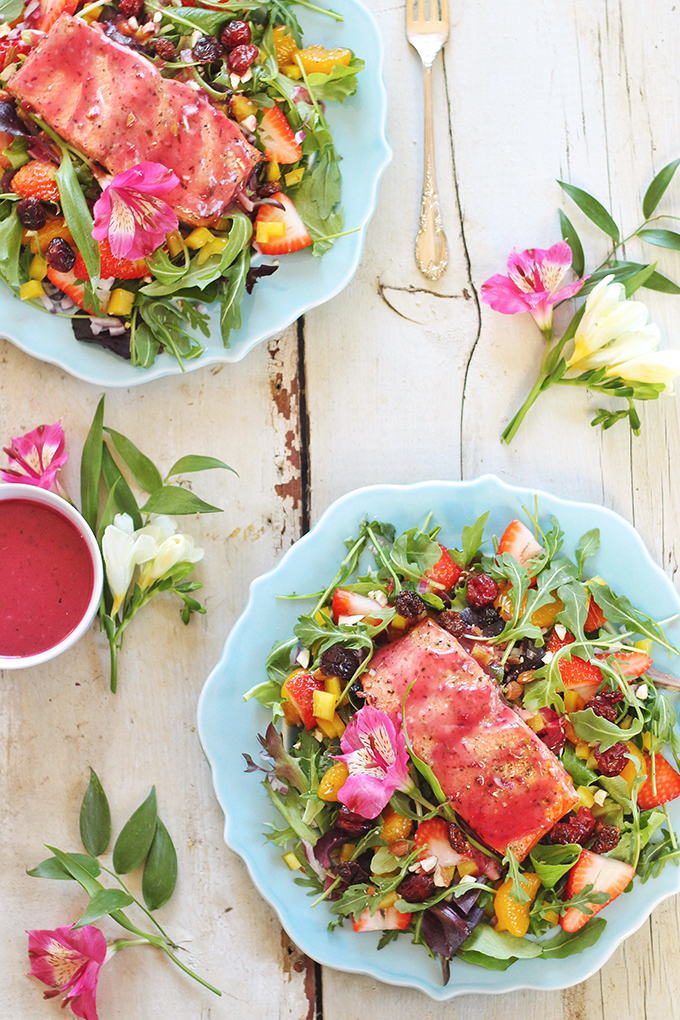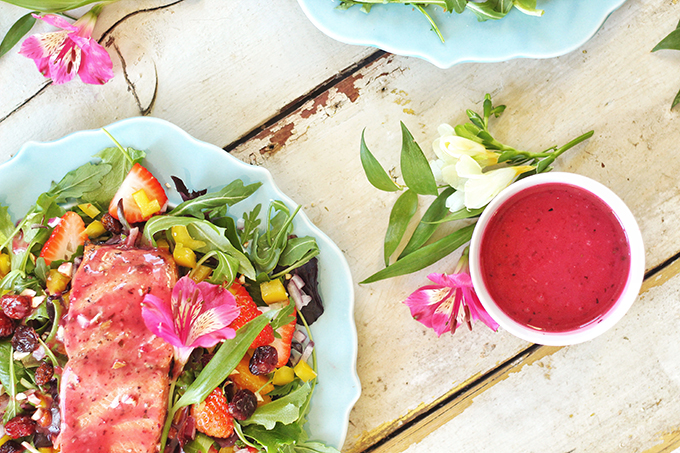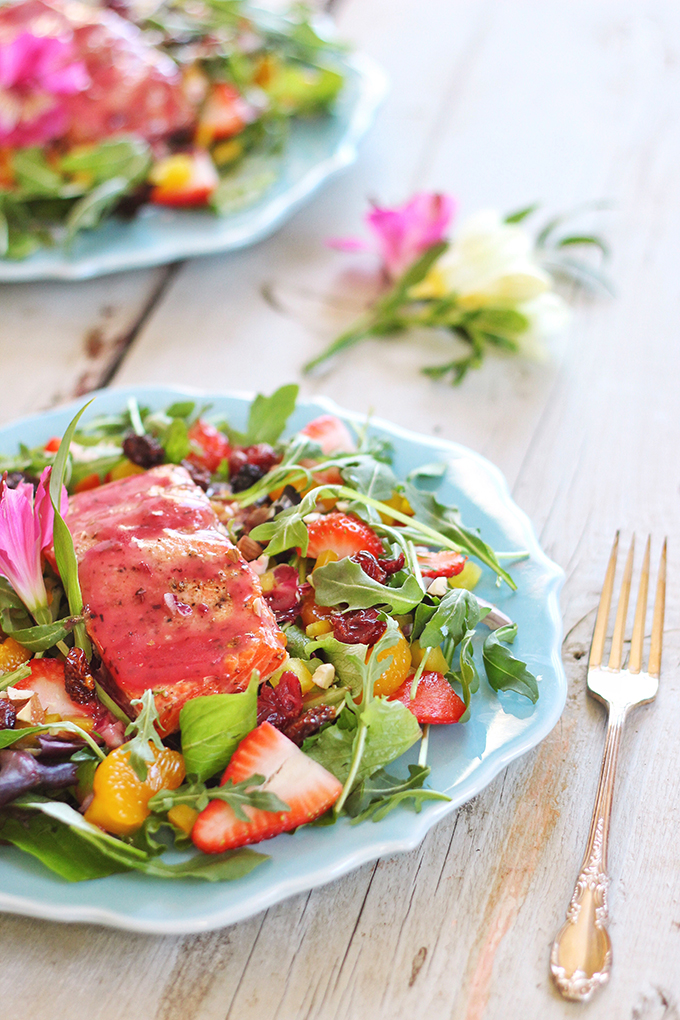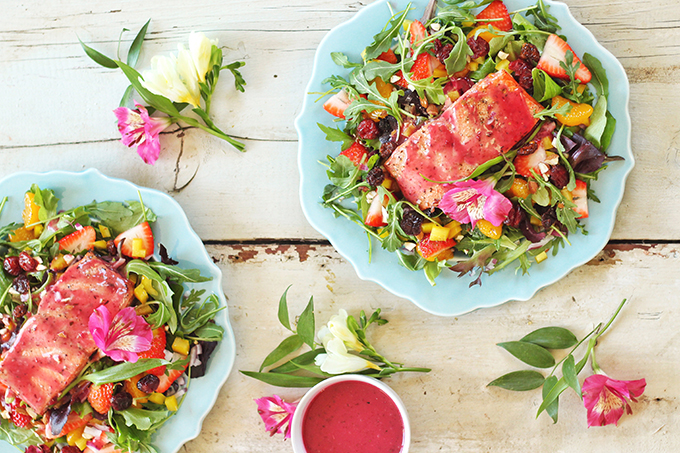 I usually incorporate some form of flowers or greenery into my photos — I'm constantly inspired by the colours and textures of plants, and the beauty and elegance of nature. I love the fresh, vibrant, natural feeling plants give my photos! When I'm dreaming up my vision for shoots, I actually make a note of flowers and greenery I think would work well to compliment the subject matter — whether I'm shooting food, beauty, lifestyle or fashion. My local florist knows me very well!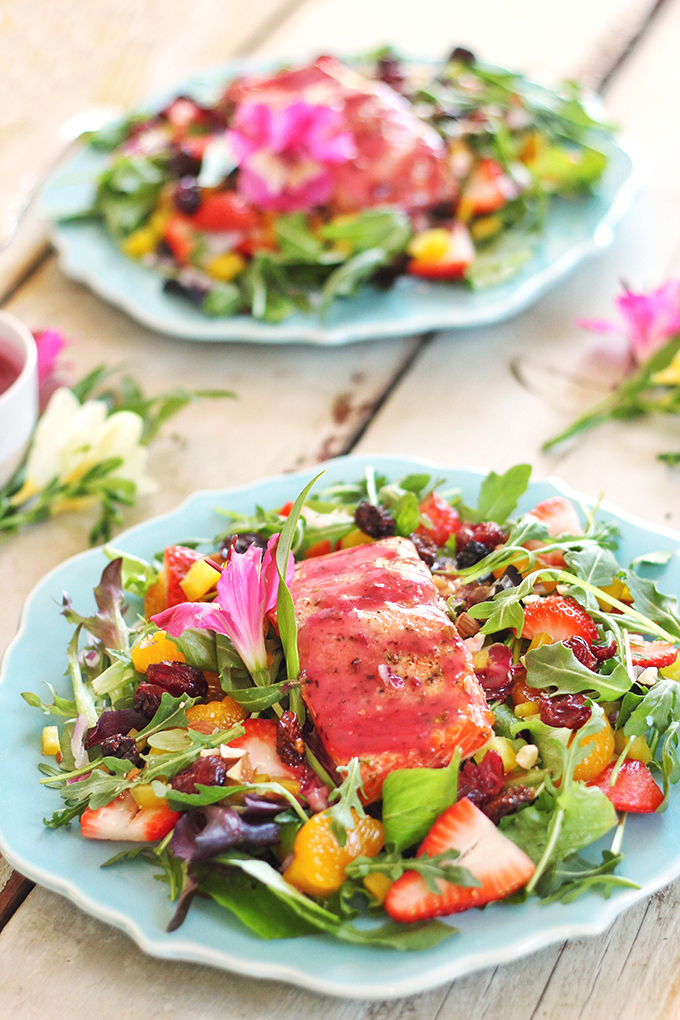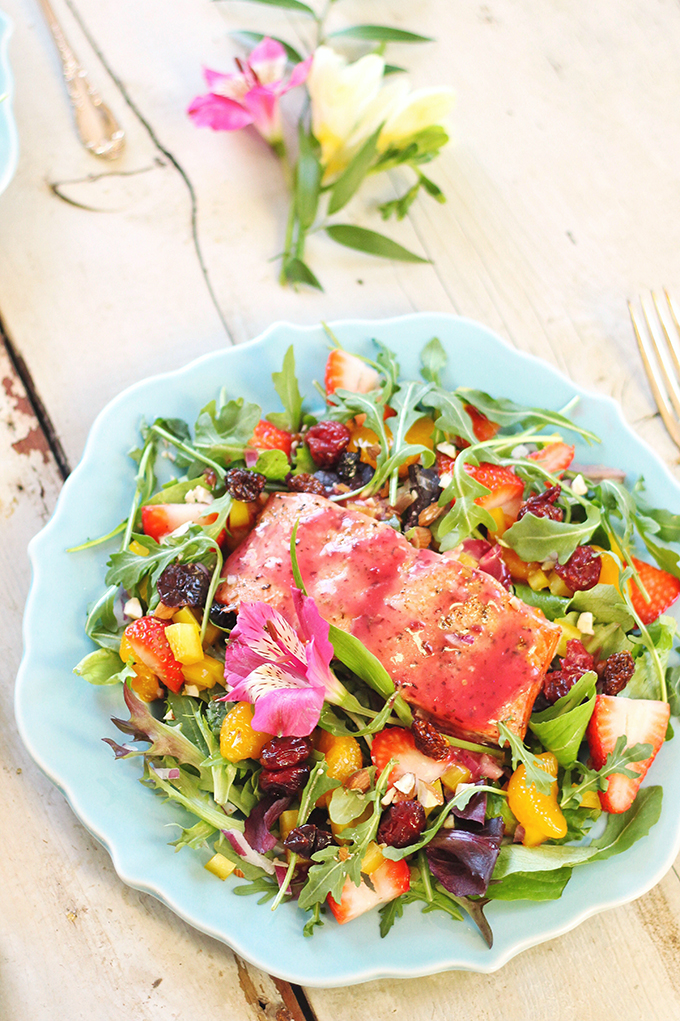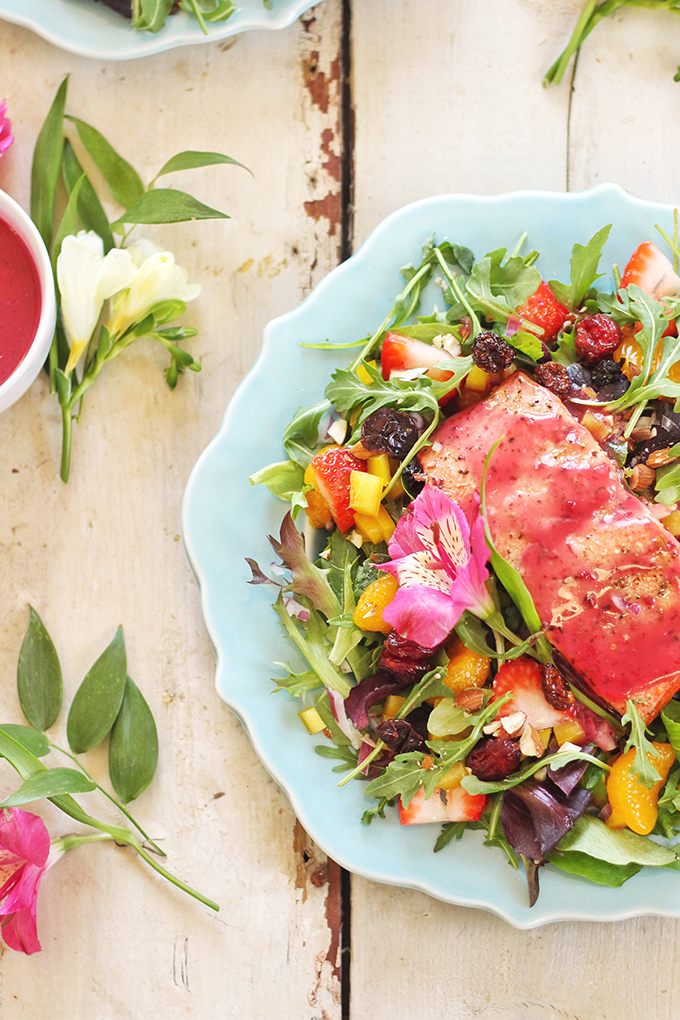 ---
STILL HUNGRY? MORE SALAD RECIPES
---
New Year Detox Salad with Pink Tahini Dressing
Tangled Thai Salad with Ginger Peanut Sauce
Nectarine Basil Salad with Pineapple Balsamic Vinaigrette
---
LOOKING FOR MORE STYLING INSPIRATION? BROWSE MY STYLED SHOOTS
---
Pantone 2016 Colours of the Year Inspiration | Rose Quartz & Serenity
---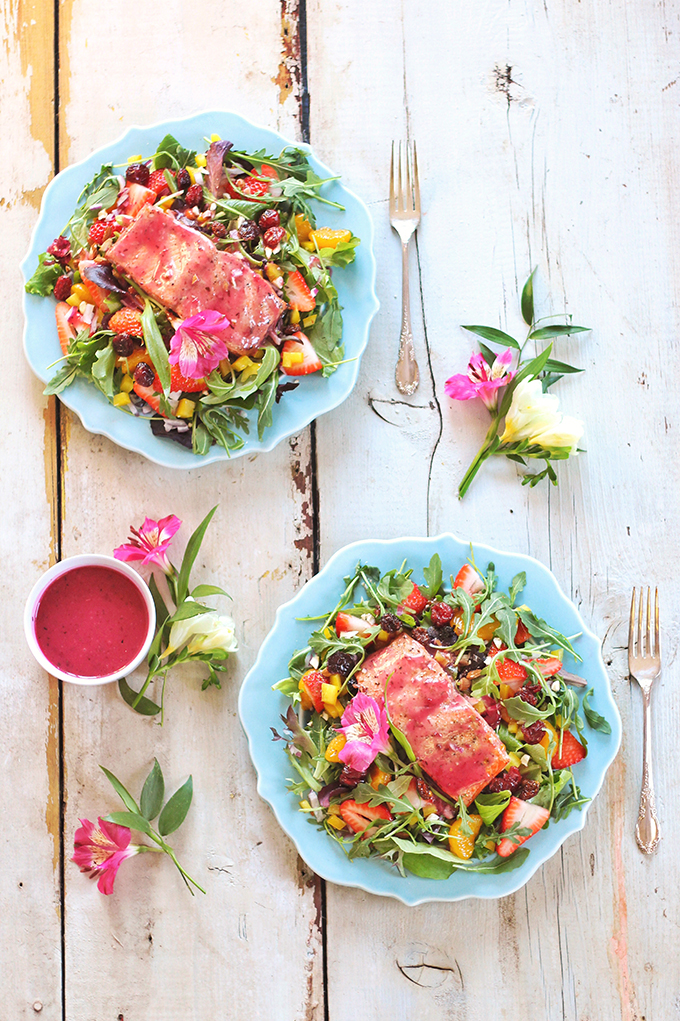 Which shots are your favourite? Any foods or flavours in particular you're craving as we embark on the long transition into spring? I hope you enjoy my favourite photos of this vibrant spring salad — and that it inspires you to bring some colour into your life by eating the rainbow this winter!
---
Disclaimer: My post for The Food Bloggers of Canada is sponsored by Litehouse Foods, and contains my genuine thoughts, ideas and recommendations. Thank you to The Food Bloggers of Canada for featuring my recipe, and to Litehouse Foods for sending the delicious dressings over!