---
As 2020 draws to a close, I'm sharing two fresh playlists for all your NYE listening needs! First up, my December 2020 Soundtrack — a short n' sweet playlist featuring 37 of my favourite tracks from the month! As usual, you can expect an eclectic melange of genres, artists and sounds airing on the instrumental side that helped me through the pre-holiday hustle in this MONTHLY SOUNDTRACK. I discovered Spotify's Focus Music playlist in December, which is where many of my inclusions are gleaned from! A handful of my favourite tracks include Orange Stick's stripped down rendition of Kayne's Runaway, That's Cool's Believe, Franco Robert's Hola, Andrew Gialanella's Remainder, Rhian Sheenan's Little Sines, Attom's Oasis, Christopher Willitis's remix of Tycho's Into The Woods, Brother Tiger's Sunset District, Sonalis's Flux, Young Lungs I Want My Life To Change, Lil Skate's Living,  Satin Jacket's A Higher Place, Joey Pecoraro's Movie Night and  Digital Farm Animals remix of You're The One For Me.
If you're in need of even more fresh tunes, check out my Spotify Wrapped 2020 Soundtrack, featuring my 100 most played songs from 2020! I really look forward to these automatically compiled, year-in-review playlists — they bring back the best memories. If you're looking for some easy listening, feel good, inspirational music to enjoy as we wind down 2020 at home with a bottle of bubbly, this is your playlist. No matter what you're up to this New Years Eve in quarantine, I hope you all have a peaceful, joyful and safe evening! Thank you for spending the final day of 2020 with me and for your continued support. I'll no longer be publishing monthly soundtracks here at JustineCelina in 2021 in an effort to optimize my time, refine my content and pursue my larger goals (more on that coming soon!). That said, you can always come join me on Spotify, where I'll continue to share what I'm listening to each month. Happy New Year and cheers to brighter days ahead in 2021!

---
DECEMBER 2020 SOUNDTRACK
---
---
2020 SOUNDTRACK
---
---
NEED MORE FRESH TUNES? CHECK OUT MY LATEST PLAYLISTS
---
November 2020 Soundtrack (Listen on Spotify)
October 2020 Soundtrack (Listen on Spotify)
September 2020 Soundtrack (Listen on Spotify)
August 2020 Soundtrack (Listen on Spotify)
July 2020 Soundtrack (Listen on Spotify)
Or, browse the MUSIC archives here at JustineCelina for nearly 6 years of monthly playlists!
---
SHOP THE STORY
---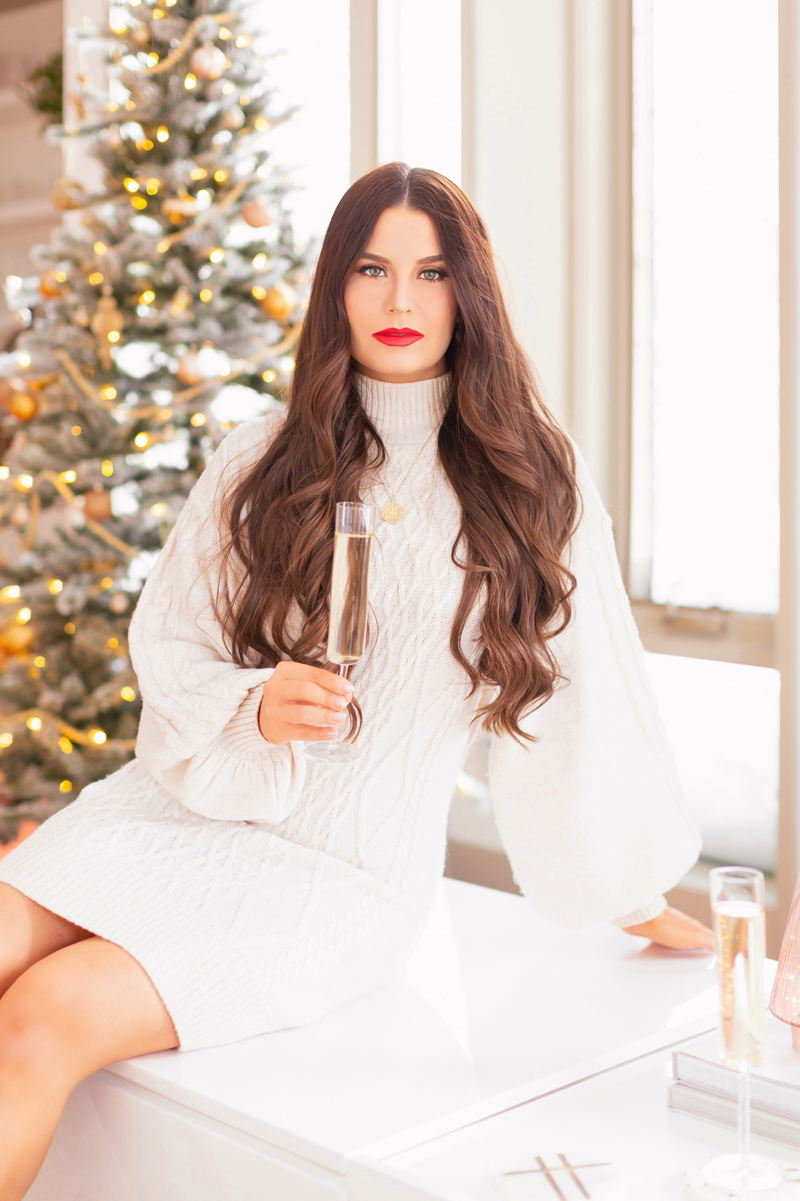 ---
I captured this month's album cover on the day I shot our Mid Century Meets Boho Holiday Decor! The night prior we experienced massive winter storm that brought over 2 feet of snow — which made for the most perfect natural softbox. Although it also happened to be Winter Equinox and was the shortest day of the year, the light was absolutely dreamy while the sun was up and I captured as much holiday content as possible! Catch more from our 2020 holiday decor, or learn more about the lipstick I'm wearing (Lancôme's Matte Shaker High Pigment Liquid Lipstick in Red'y In 5) in My Top 5 Red Lipsticks for the Holidays post!
What have you guys been listening to lately? Leave me your recommendations in the comments, I'd love to hear from you! Do you use Spotify? If you do, feel free to drop some links to your playlists, or playlists / artists you think I'd enjoy. Wishing you all the best in 2021!
---
Disclaimer: This post is not sponsored, and contains my genuine thoughts, ideas and recommendations. JustineCelina uses affiliate and referral links, which allow me to receive a small commission when you make a purchase through one of my links. Thank you for supporting the brands and businesses that support JustineCelina!