My April 2017 Soundtrack is one of my favourite Monthly Soundtracks I've shared in quite awhile. I'm not sure what it was (being laid up at home for 10 days while my finger recovered probably had something to do with it!) but I was in such a musical mood this month and discovered so many incredible, inspiring artists along with way.
April's Soundtrack is chill, happy and upbeat with lots of alternative, indie and electronic vibes — plus a healthy dose of folk and hip hop thrown in for good measure. There have been so many standout tracks on rotation this month, but Donovan Woods It'll Work Itself Out, a really cool, stripped down remix of Don't Dream It's Over, Louis the Child and Elohim's Love is Alive, Mating Ritual's Cold, Chet Porter Chelsea Culter's Stay, One Man Dancing's Blank Page, Hollow Cove's Coastline, RAC and Roastam's This Song, Jessie Early's Body Can't Hold, Louis the Child and Ashe's World on Fire, Utah's No Coast, CLAVVS Silver Tongue, Paperwhite's Human Nature, Fallen Roses and B dom's Yours and Nobody Else's, The Chainsmoker's The One, Skrux's Our Fragment, Goldroom's Till Sunrise, Emmit Fenn's Blinded, The 1975's A Change of Heart, Rachel K Collier's Paper Tiger, No Suits and Abhi The Nomad's I'm Good and Stonefox's Dreamstate sounded particularly good to my ears (I'm only about halfway through the playlist but I'll park it there!). I can't wait for you to hear them in this 5 hour, 82 song playlist!
---
APRIL 2017 SOUNDTRACK
---
---
Need more music? Here's a link to last month's soundtrack, or you can also listen to the playlist on Spotify. I've also populated each of my Monthly Soundtracks since I've been blogging (over 2 years now!) to my Spotify profile, for your listening pleasure. Or your can also browse the MUSIC section here at JustineCelina. Happy listening!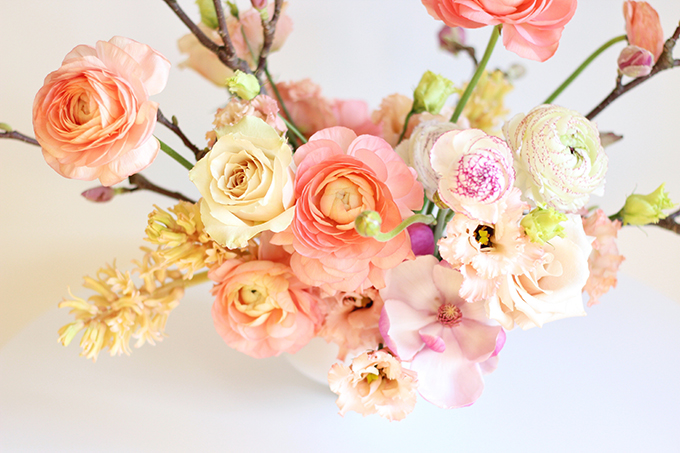 This month's album cover is an outtake from our Blushing Spring Arrangement — be sure to swing by if you'd like to learn more about these gorgeous spring blooms and how to care for them! It looks like warmer spring weather is just around the corner (I'm so over this snow!), so let's enjoy it this weekend! Take care, everyone.
---
What have you guys been listening to this month? Leave me your recommendations in the comments, I'd love to hear from you! Do you use Spotify? If you do, feel free to drop some links to your playlists, or playlists / artists you think I'd enjoy.
---
Disclaimer: This post is not sponsored, and contains my genuine thoughts, ideas and recommendations. JustineCelina uses affiliate and referral links, which allow me to receive a small commission when you make a purchase through one of my links. Thank you for supporting the brands and businesses that support JustineCelina!