---
Happy Canada Day, friends! I spent the day foraging our beautiful Alberta land for ingredients and shooting July's DIGITAL BLOOMS — and I couldn't think of a better way to spend the true north strong and free's 153 Birthday! This month I wanted to commemorate the peaceful couple of weeks I've spent here at my childhood home in rural Alberta creating content by channeling inspiration from my surroundings into July 2020's Digital Blooms, so you can enjoy a little bit of country tranquility, too! Despite all the flowers that are currently blooming here on our acreage, my favourite quintessential image of summertime in the country is a sea of tall, wild grasses dancing and swaying in the sunlight. It's a comforting image that just feels like home — and it's something I wanted to share with all of you!

This year our natural grasses seem more stunning that ever, spanning an array of golden, lavender, purple and green hues — and I harvested an assortment of Reed Canary Grass, Smooth Brome, Perennial Ryegrass, Crested Wheatgrass and Cheatgrass to create July 2020's Digital Blooms! To switch things up and keep all materials for this free tech wallpaper authentic to the prairies, I also photographed the wild grasses on a piece of foraged barn board from an abandoned farmhouse just a few miles away (this is where all of the wooden backdrops you see here in the JustineCelina RECIPE section are from!). Click through to download a snapshot of summertime in the country straight to the background of your computer, tablet or phone — absolutely free!
---
HOW TO DOWNLOAD
---
Desktop (iOS)
Click on the image you want to download and it will open in a new window. Right click and select 'Save Image As' or 'Set as Desktop Wallpaper'. If you selected the 'Save Image As' option, then just locate the image you saved, right click, and then select 'Set Desktop Picture'.
Phone / Tablet (iOS)
Click on the image you want to download and it will open in a new window. Then, click on the up arrow icon at the bottom of the screen, and select 'Save Image'. Navigate to 'Settings', then 'Wallpaper', then 'Choose a New Wallpaper' and select the image you downloaded from your photos. You'll be able to scroll across the image by dragging your finger across the screen and you can resize or crop it to your liking to display different sections of the design.
---
USAGE
---
These images are for personal use as digital device wallpapers only and cannot be used in any other way without express permission from JustineCelina. I'm relying on the honour system here, but you guys are good people, right? 😉 You can still share the love — if you know someone who would enjoy these wallpapers, please send them our way by sharing the link to this post.
---
DIGITAL BLOOMS JULY 2020 | FREE DESKTOP WALLPAPER
---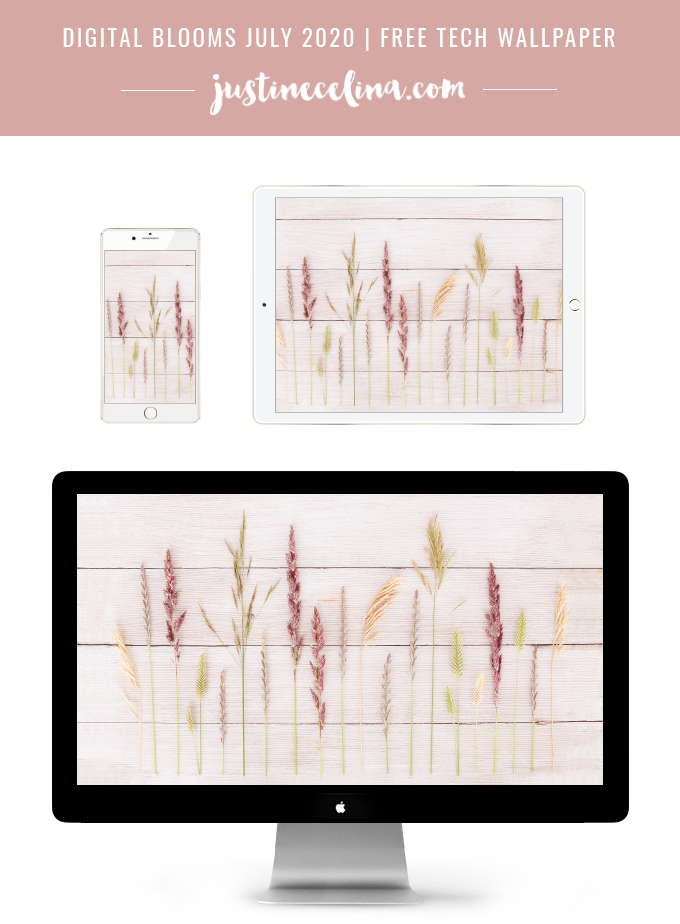 ---
— To download, simply click the image below and follow the How to Download steps —
---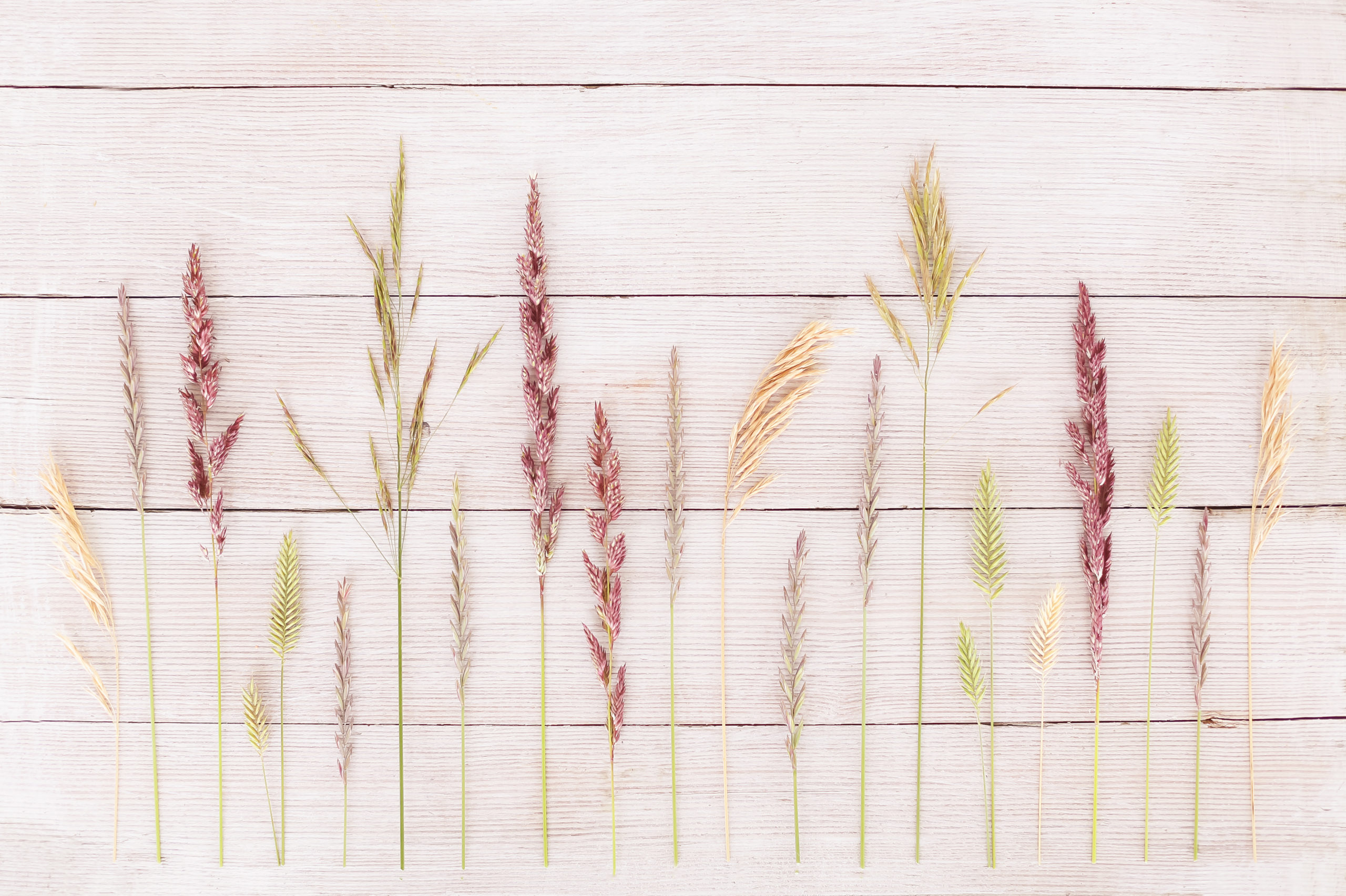 ---
BROWSE THE DIGITAL BLOOMS ARCHIVES
---
Simply click right here (or the image below) and you'll be taken to the archive page to browse thumbnails of each month. Happy tech wallpaper shopping!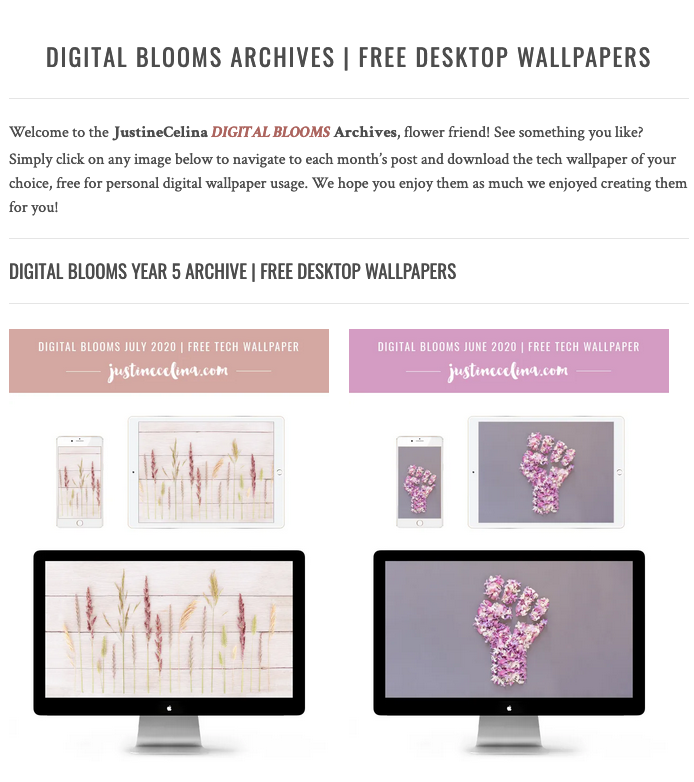 ---
Thank you for stopping by to download July 2020's DIGITAL BLOOMS today! I hope you enjoyed this special prairie edition that represents a  place that's very near to my heart — and that it brings you a bit of peace and tranquility with every glance.
I've been shooting content almost everyday here in the country and can't wait to share it with you over the coming months! In early August, expect my Summer 2020 Lookbook full of relaxed, breezy, comfortable outfits inspired by this slow and strange (but magical!) summer.  You can also help me spread a little extra love and share your DIGITAL BLOOMS with #justinecelinadigitalblooms on social media — I always highlight my favourites on Insta Stories! Enjoy your weekend, friends.
---
Disclaimer: This post is not sponsored, and contains my genuine thoughts, ideas and recommendations. All copyright of these images is retained by JustineCelina.com. If you're interested in licensing these images for other personal or commercial purposes, please contact me.