---
Looking for a fun playlist for your summer adventures? I've got you covered today with my June 2017 Soundtrack! This lighthearted, easy listening playlist features 3 hours and 15 minutes of indie, alternative, chill electronic and tropical house with a dash of hip hop — perfect for roadtrips, backyard barbecues, picnics, Canada Day festivities and anything else you may be getting up to this summer! It's full of good vibes and pairs well with carefree, sunshiny days.
I feel like I say this every month, but I discovered so many new artists and tracks I'm excited to share with you. A few June standouts include Shallou's Truth, Zave & FAL's Always, Ryan Playground's How About We Believe, Steve James & RKCB's In My Head, Coolwater Set, RAC and JVZEL's The Coast, Satin Jacket's Olivia, CIRRRCLE, A.G.O, Ami Ide and Jyodan's Cycle, The War on Drugs Thinking of a Place, Brett's Tell Me All The Dreams You've Been Having, Tyzo Bloom & Casey Cooks Tip Toe, Odesza's Meridian, Lanks & Airling's April, LEO ISLO & Tontario's Coexist, KROY's Go, Holmsey's Wilder, Y.V.E. 48 & LissA's Nothing to Say, Kygo & Ellie Goulding's First Time, Awae, Damned & Layna's Hold Me, Real Estate's Darling, Slushii's Sapient Dream, Ben Phipps & Ashe's Don't Look Back, Blood Culture's Phospholipid, Olukara & LoVibe's Dark Skinned Girls and Bien's Spinning on Blue. Cheers friends — have a great long weekend!
---
JUNE 2017 SOUNDTRACK
---
---
Need more music? Here's a link to last month's soundtrack, or you can also listen to the playlist on Spotify. I've also populated 2 and half years of Monthly Soundtracks to my Spotify profile, for your listening pleasure. Or your can also browse the MUSIC section here at JustineCelina. Happy listening!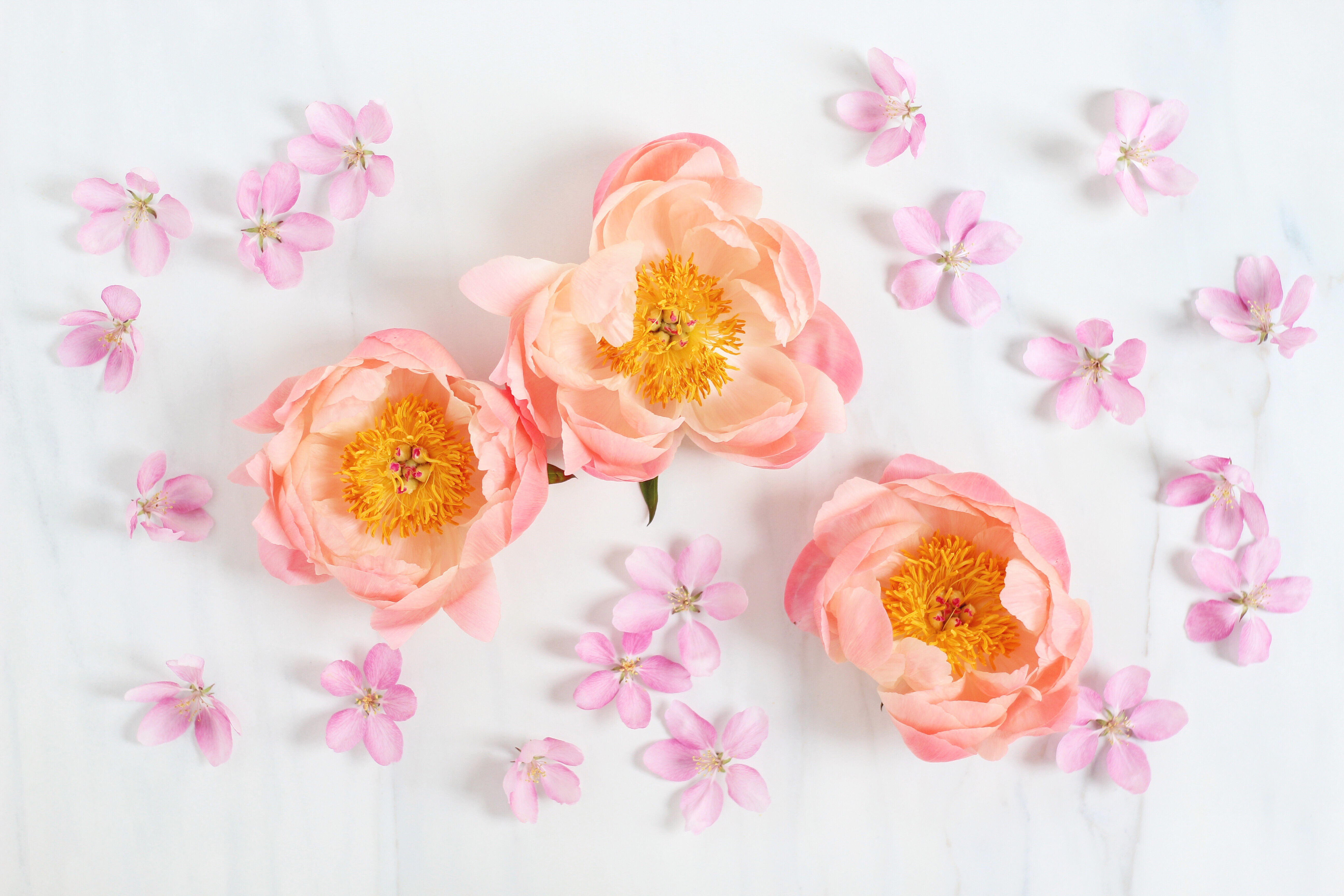 We shot this month's album cover while we were working on our June Digital Blooms (if you look closely, you'll see my very tender, newly healed left index finger!). Be sure to hop over to that post to download the free, peony themed digital wallpaper above — which also features these gorgeous, watercoloured apple blossom flowers!
---
What have you guys been listening to this month? Leave me your recommendations in the comments, I'd love to hear from you! Do you use Spotify? If you do, feel free to drop some links to your playlists, or playlists / artists you think I'd enjoy.
---
Disclaimer: This post is not sponsored, and contains my genuine thoughts, ideas and recommendations. JustineCelina uses affiliate and referral links, which allow me to receive a small commission when you make a purchase through one of my links. Thank you for supporting the brands and businesses that support JustineCelina!