---
Happy Canada Day long weekend, friends! What's everyone up to? We're enjoying some time with my family in the country — enjoy the tranquility of the prairies and doing some cocktail testing (get ready for a refreshing summer recipe coming your way later this month!). Whatever your Canada Long Weekend holds, I have the ultimate soundtrack for you! My June 2018 Soundtrack includes over 3 hours of easy listening grooves spanning genres — with a healthy dose of folky, bluegrass inspired vibes thrown in for good measure. I recently discovered Spotify's Stay Wild playlist and it decorated the majority of this past week while I worked away on the second installment of my What to Wear to | The Calgary Stampede post — hence the uptick of tasteful twang at the tail end of this playlist!
While I love every track in include in these Monthly Soundtracks, this month, SACRE's Lemonade, Polo & Pan's Arc-en-ciel, Mura Kami's Your Voice, AQUA STONE THRONE'S 3 Ways, Tadashi's When You're Ready, L'indécis's God Behind The Pines, Bath's Extra Solar, Alina Baraz's I Don't Even Know Why Though, The American Dollar's Carousel (a new-to-me band with an Explosion's In The Sky vibe!), Coubo's Good Morning, The East Pointer's Two Weeks, Sony Alven's remix of Boardwalk, Yoke Lore's Beige and PYNKIE's Dew. Wishing you all a fun (and safe!) Canada Day long weekend!
---
JUNE 2018 SOUNDTRACK
---
---
NEED MORE FRESH TUNES? CHECK OUT MY LATEST PLAYLISTS
---
May 2018 Soundtrack (or listen on Spotify)
April 2017 Soundtrack (or listen on Spotify)
March 2018 Soundtrack (or listen on Spotify)
February 2018 Soundtrack (or listen on Spotify)
January 2018 Soundrack (or listen on Spotify)
Or, browse the MUSIC archives here at JustineCelina for 3 years of monthly playlists!
---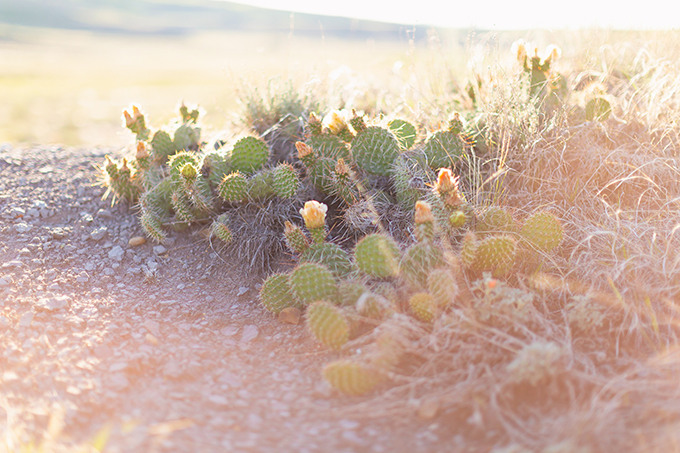 This month's album cover is an outtake from some upcoming style content we shot in the Alberta Badlands, just a couple of miles from my childhood home (I snapped it very quickly — were were shooting 3 looks that day and on our way to the next location to catch the sunset for my What to Wear to | The Calgary Stampede, Part II post!). In all my years living on the prairies, I've never seen Prickly Pear Cactus in bloom as they only bloom for 2 weeks — I was so grateful to catch them this year! If you follow along with my COCKTAIL section, Prickly Pear Cactus may sound familiar as this is the cactus that Eau Claire Distillery uses to make their Prickly Pear EquineOx, featured in my Spring Equinox Kiwi Elderflower Smash.
What have you guys been listening to lately? Leave me your recommendations in the comments, I'd love to hear from you! Do you use Spotify? If you do, feel free to drop some links to your playlists, or playlists / artists you think I'd enjoy. I love to discover new music!
---
Disclaimer: This post is not sponsored, and contains my genuine thoughts, ideas and recommendations. JustineCelina uses affiliate and referral links, which allow me to receive a small commission when you make a purchase through one of my links. Thank you for supporting the brands and businesses that support JustineCelina!