I'm back with another monthly soundtrack for you today — is it just me or did November fly by?! November was packed full of so many exciting things, including a road trip to Jasper for Christmas in November, lots of work, photo shoots and blog projects that I'm excited to share with you soon! November's Soundtrack is a bit shorter than most at just 50 tracks, so let me know what length you prefer for these playlists. I start them at the beginning of each month and add tracks as they catch my ear, so there's never any rhyme or reason to the length!
A few standout tracks this month include this remix of Blood in the Cut, Lowell's West Coast Forever, this awesome remix of Tracy Chapman's Fast Car (that I discovered driving out to my childhood home in rural Alberta earlier this month!), Glass Gang's Wild Light, Molly Marlette's Do Me a Favor, Matt DiMona's The Universe We Dreamt, pronoun's just cuz you can't, Day Wave's Wasting Time, SteHouse & Nick Leng's Been So Long, Kirty's Get To You, Oliver Tank's Swerve, Sure Sure's Fat Lady, pronoun's snowed in // there's no one new around you, Oscuro's All In My Mind and Blonde Maze's Antarctica. If you're looking for some new music as we roll into December, give my November Soundtrack a listen!
---
NOVEMBER SOUNDTRACK
---
---
Need more music? Here's a link to last month's soundtrack, or you can also listen to the playlist on Spotify. I've also populated each of my Monthly Soundtracks for the past year and a half to my Spotify profile, for your listening pleasure. Or your can also browse the MUSIC section here at JustineCelina.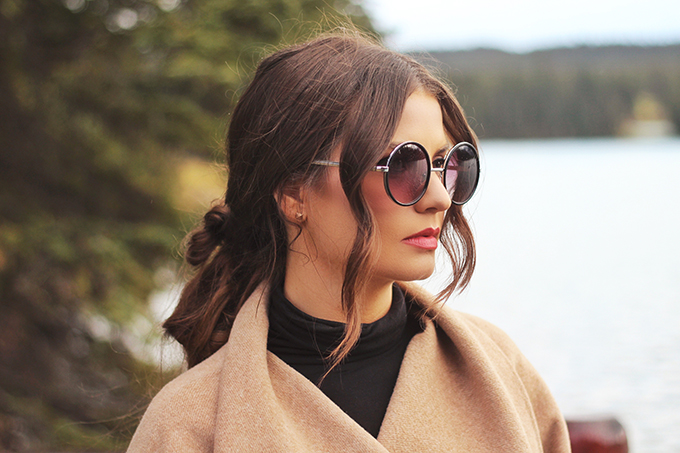 This month's album cover was taken overlooking Beauvart Lake at the Fairmont Jasper Park Lodge. It was a rainy day but we headed down the the dock in front of our cabin to enjoy some bubbles and watch the sunset — it was so peaceful. If you'd like to read more about our trip, hop over to this post! And if you'd like to read more about my lip colour, check out my November Beauty Favourites post.
---
What have you guys been listening to this month? Leave me your recommendations in the comments, I'd love to hear from you! Do you use Spotify? If you do, feel free to drop some links to your playlists, or playlists / artists you think I'd enjoy.
---
Disclaimer: This post is not sponsored, and contains my genuine thoughts, ideas and recommendations. JustineCelina uses affiliate and referral links, which allow me to receive a small commission when you make a purchase through one of my links. Thank you for supporting the brands and businesses that support JustineCelina!

Save
Save
Save
Save
Save
Save
Save
Save
Save
Save
Save
Save
Save
Save
Save