---
Friends, I'm thrilled to finally share a post I've been meaning to publish for years all about My Top 10 Self Help and Personal Development Books! Although I've always been interested in these topics, this isn't the type of content I would typically share in a dedicated post here at JustineCelina — until 2021, that is! As we surpass one year into a global pandemic, I find myself reflecting on the journey that's taken place, both collectively and individually. The world has changed drastically over the last 12 months — and I have too. Learning to navigate this new normal has resulted in a lot of self reflection, growth, healing and transformation as I anchor into WELLNESS practices — which I've mostly shared with you on social media, until recently. While I'll always appreciate creating and sharing beautiful and inspiring tangible things that contribute to a vibrant, fulfilled life, 2021 is the year where I share things that bring me inner peace, joy and inspiration as I create from a more mindful, aligned place. JustineCelina is, after all, A Creative Lifestyle Blog — and my self care, personal development, and spiritual practices contribute greatly to my ability to create and stay inspired as an entrepreneur!
Whether you're just dipping your toes into the literary world of self help and personal development or are a longtime enthusiast of the genre, this post is for you! I invite you to slip into your most comfortable loungewear, pour yourself a mug of herbal tea and curl up on the sofa with me tonight as I deep dive into My Top 10 Self Help and Personal Development books — including mini reviews, key takeaways and quotes from each book, why they resonate with me and my process for absorbing (and applying) the information learned. I've also included shoppable links to each title, as well as a Pinterest-friendly graphic so you can bookmark this post for future reference! Who's ready to dive into some seriously inspired and motivational reading material on this cozy Saturday evening?

---
MY TOP 10 SELF HELP & PERSONAL DEVELOPMENT BOOKS
---
This year, I've been focusing on developing a routine that supports my well being during lockdown. A large component of this is intuitive exercise including long walks and runs 3 times per week, when I love to listen to audiobooks!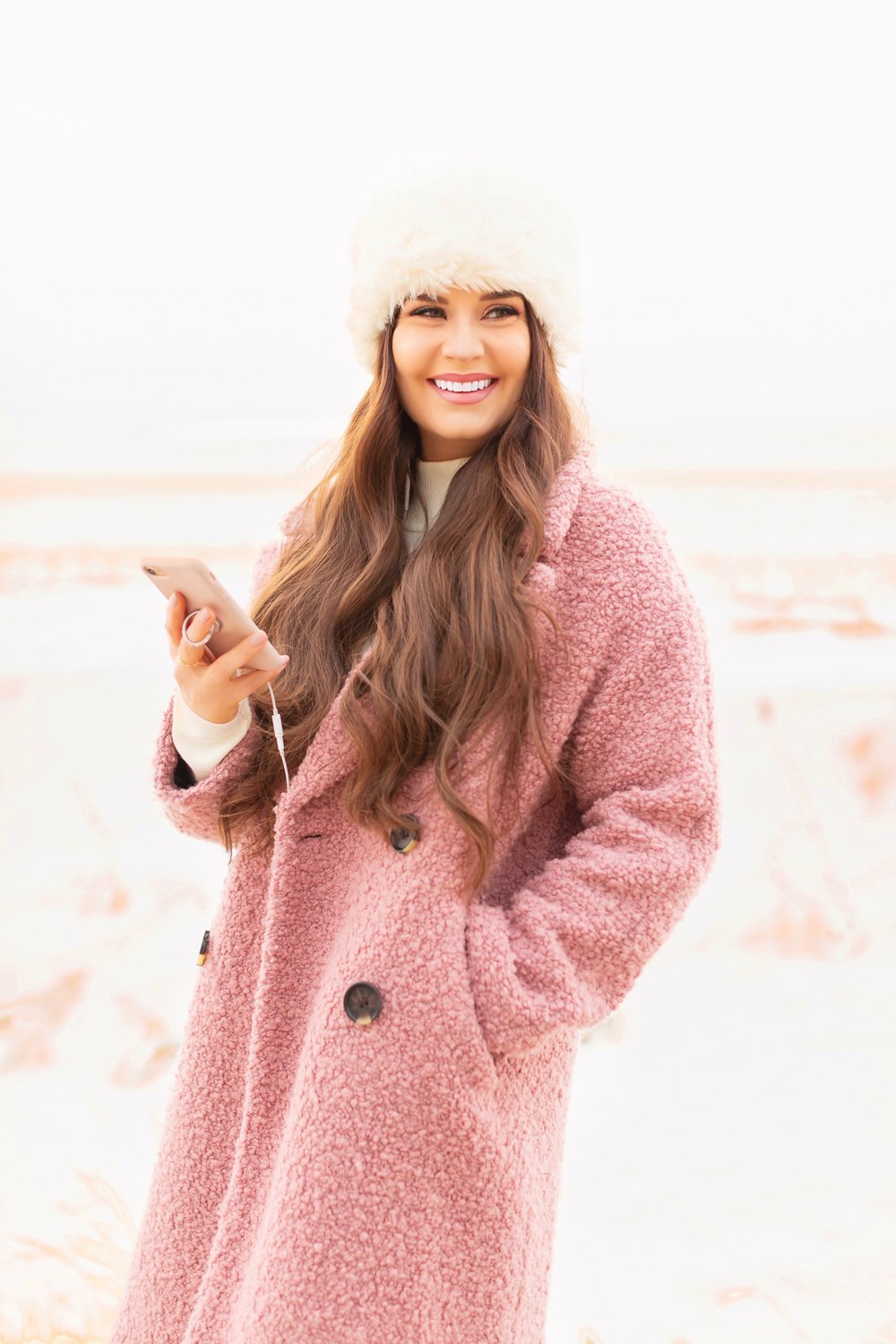 I've always loved listening to audiobooks while I walk or run — it's a wonderful way to absorb information while your mind is stimulated by a fresh environment. In particular, I find self help and personal development subject matter is best absorbed while I'm moving my body physically. This year, I've set a goal to read (or listen to) one book per month — and into April, when this post was published, I've hit my reading goal. It's done wonder for my mindset and my motivation in 2021!
While I'll always love hardcover books, we live in an apartment with limited storage — and we have quite the collection of books already. For the past 5 or so years, I've explored the world of audiobooks to help me grow, learn and expand my knowledge. This year, I've also started sharing Audible credits with my Mom, who's also enjoying book by her favourite authors and motivators in audio format. I find listening to authors reading their own words extremely valuable and actually now prefer audiobooks to physical books.
⠀⠀⠀⠀⠀⠀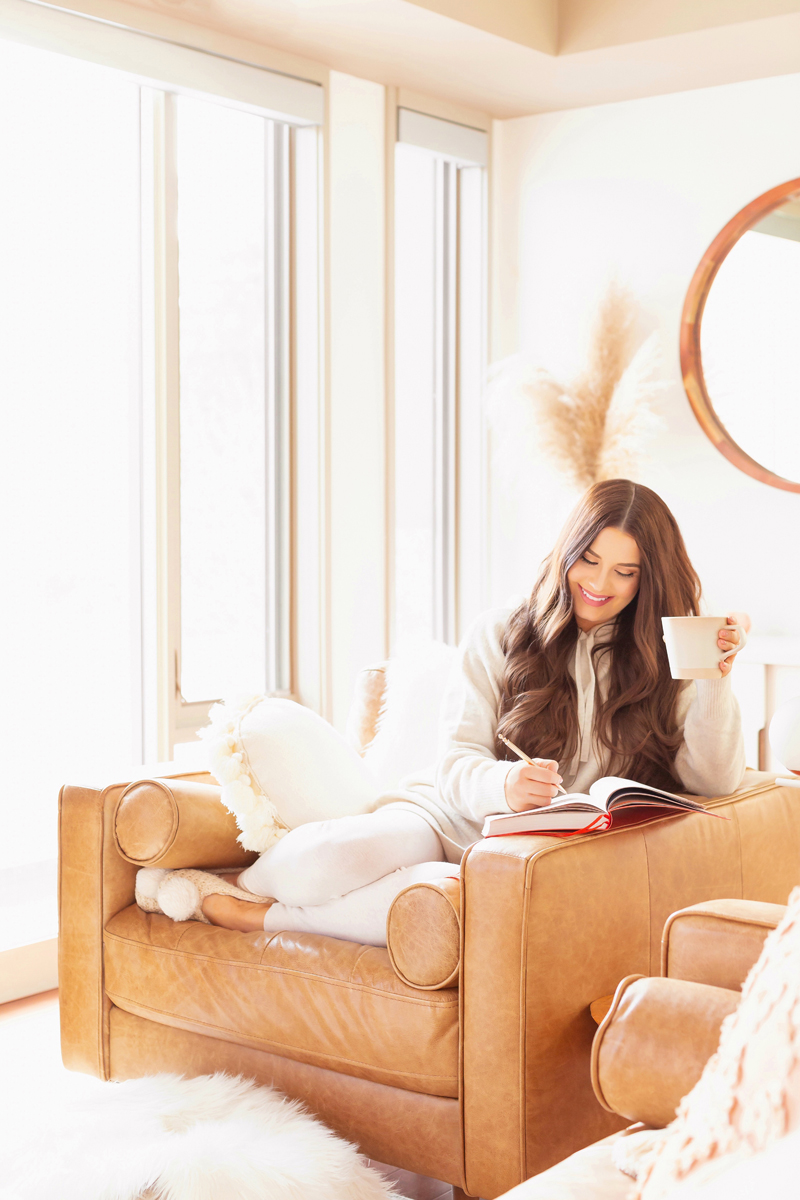 ⠀⠀⠀⠀⠀⠀⠀⠀⠀
Whether I'm listening while I'm out exercising in nature, popping my ear buds in while I'm cleaning or doing other household chores or simply enjoying a book in the comfort of my Living Room, I love to take notes and keep a journal (or Note in my phone) for the books I consume each year. As I read or listen, I write down specific phrases or concepts that resonate with me so I can explore them further and review after I've finished the book. I've found this process to be very beneficial in breaking down concepts and applying them to my own life, as well as reflecting on what I've learned.
So, now that we've covered how I like to read, consume information and apply it, let's jump into My Top 10 Self Help and Personal Development Books (in no particular order), shall we?!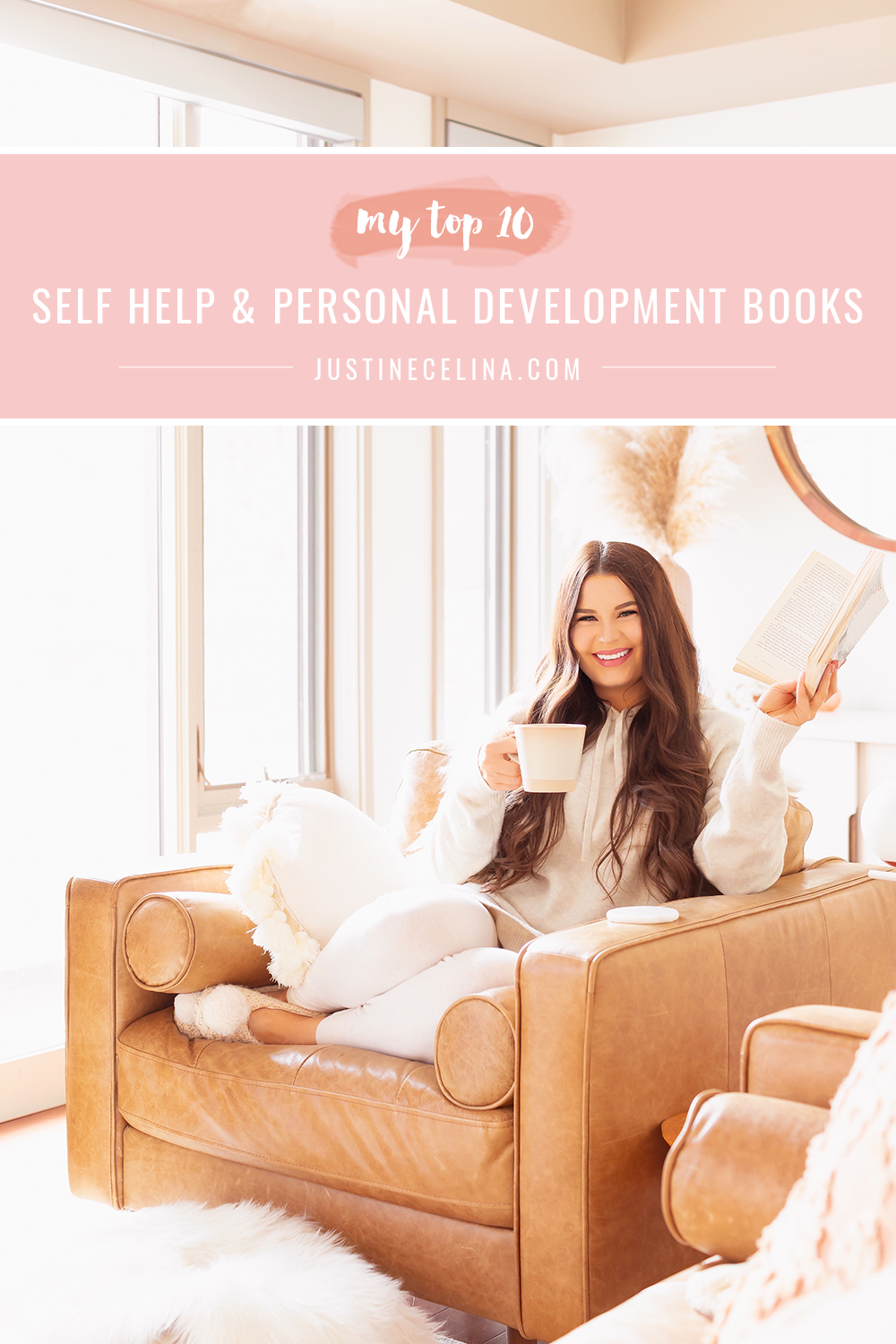 ---
BIG MAGIC
---

"A creative life is an amplified life. It's a bigger life, a happier life, an expanded life, and a hell of a lot more interesting life. Living in this manner—continually and stubbornly bringing forth the jewels that are hidden within you—is a fine art, in and of itself." ~ Elizabeth Gilbert
Elizabeth Gilbert's Big Magic was my first foray into the world of self help literature — I actually own the hard cover, not just the audiobook. Often I feel I discover certain books, podcasts and creators at the exact time I need them, which is definitely true of Big Magic. It was published right around the time I started JustineCelina and the book's deep dive into creative living beyond fear really resonated with me!
Big Magic will always have a place in my heart — and it's one of my top recommendations for female entrepreneurs looking for inspiration and empowerment. Gilbert explores how to turn your creative ideas into reality, along with a practical guide on how to navigate common road blocks you may encounter along the way.
---
GIRL, WASH YOUR FACE
---

"Girl, get ahold of your life. Stop medicating, stop hiding out, stop being afraid, stop giving away pieces of yourself, stop saying you can't do it. Stop the negative self-talk, stop abusing your body, stop putting it off for tomorrow or Monday or next year. Stop crying about what happened and take control of what happens next. Get up, right now. Rise up from where you've been, scrub away the tears and the pain of yesterday, and start again." ~ Rachel Hollis
---
THE MOTIVATION MANIFESTO
---

What should our life story be? How can we direct our thoughts and actions to make that a reality? ~ Brendan Burchard

I added The Motivation Manifesto: 9 Declarations To Claim Your Personal Power to my Audible wish list after reading that it was one of Meghan Markle's favourite books. I'd been familiar with Brendan Burchard's online presence for a few years and was looking for a motivational kick start for my first book of 2020 — and The Motivation Manifesto fit the bill perfectly. In fact, I listened to this book in it's entirety under the palapas in Huatulco on our week long vacation — and left feeling reinspired and ready to tackle the year ahead!
The Motivational Manifesto is, well… the most motivational book I've ever listened too. In fact, I re-listened to it at the start of 2021! Through an innate understanding of human nature and self mastery, Burchard explores strategies to increase motivation levels and live our intentions to meet life with full presence and power.
"Personal power is directly tied to personal responsibility. Some might hope that freedom means we can release responsibilities from our lives, but nothing can be further from the truth." ~ Brendan Burchard

---
UNTAMED
---

"We can stop asking what the world wants from us and instead ask ourselves what we want for our world." ~ Glennon Doyle
Glennon Doyle's Untamed was my first read of 2021 — and it was exactly what I needed to dust myself off after a challenging 2020. As someone who's pursued an unconventional life path and always challenged societal norms and expectations simply because they simply didn't feel right for me, Untamed really resonated. Untamed: Stop Please, Start Living is my top recommendation for the modern woman determined to life on her own terms with integrity, peace and power — I highly recommend it!
"Here's to The Untamed:
May we know them.
May we raise them.
May we love them.
May we read them.
May we elect them.
May we be them."
~ Glennon Doyle
---
THE SECRET
---

"Decide what you want to be, do, and have, think the thoughts of it, emit the frequency, and your vision will become your life." ~ Rhonda Byrne
I consider The Secret: Dare to Dream required reading for anyone interested in learning more about The Law of Attraction and how to harness it's power to create a fulfilled, abundant life. I'd always been curious about The Law of Attraction and had an understanding of the basic principles — but discovered after reading The Secret that it's something I had unconsciously been practicing since childhood! In The Secret, Byrne explores how your mindset conspires with the the universe to create your reality — and how you can take control of it to manifest your deepest desires.
---
YOU ARE A BADASS
---

"When we share what we were brought here to give, we are in alignment with our highest, most powerful selves." ~ Jen Sincero
You Are a Badass: How to Stop Doubting Your Greatness and Start Living an Awesome Life is another book I discovered early in my personal development journey. If you're searching for a powerhouse guide to discovering what you truly want out of life, realizing your potential, unleashing your confidence and living life to the fullest apologetically, You Are A Badass is your book! I especially love the audiobook version, narrated by the author.
"Surrendering is the free-falling backwards into the unknown and trusting that The Universe will catch you." ~ Jen Sincero
---
THE BIG LEAP
---

"I expand in abundance, success, and love every day, as I inspire those around me to do the same." ~ Gay Hendricks
Gay Hendrick's The Big Leap: Conquer Your Hidden Fear and Take Life to the Next Level was my second read of 2020, shortly before I made some major changes in my businesses. Hendrick's philosophies around living a life of integrity, wholeness and harmony while building a strong foundation that allows you to thrive in your 'Zone of Genius' really spoke to me — and ultimately shifted my entrepreneurial journey. The Big Leap is for anyone looking to make a big change in their life or business, who's looking for a little bit of guidance to help them create abundance with ease and flow!
---
THE FOUR AGREEMENTS
---

"The Four Agreements:
1. Be impeccable with your word.
2. Don't take anything personally.
3. Don't make assumptions.
4. Always do your best. "
Miguel Ruiz's The Four Agreements: A Practical Guide to Personal Freedom was a cornerstone in my self help and personal development journey — and a book I recommend to absolutely everyone! It has undoubtedly changed the way I live my life, handle personal accountability, structure my relationships and guidelines for my life. The Four Agreements is a short and sweet audiobook that can be easily absorbed and applied to implement positive changes, set boundaries and realize your full self!
---
THE UNIVERSE HAS YOUR BACK
---

"Your presence is your power." ~ Gabrielle Bernstein
If you have an understanding of The Law of Attraction and are looking for a practical guide to connecting to your inner power, consider Gabrielle Bernstein's The Universe Has Your Back: Transform Fear To Faith. This book provides a clear framework to releasing blocks, relinquishing control and finding synchronicity in pursuit of your biggest dreams!
---
THE UNTETHERED SOUL
---

"There is nothing more important to true growth than realizing that you are not the voice of the mind — you are the one who hears it"~ Michael A. Singer
The Untethered Soul: The Journey Beyond Yourself was my March 2021 read and I thoroughly enjoyed it! If you're a few (or many!) books deep into your self help and personal development journey and looking to explore the depths of awareness and consciousness, I highly recommend this book. While I don't think I would have been as receptive to these larger concepts around how to navigate your feelings, thoughts and consciousness to achieve peace and enlightenment early a few years ago, I'm so happy I finally gave it a listen! The Untethered Soul is for spiritual souls ready to get in touch with their innermost selves to calm and control their overactive minds.
---
SHOP MY TOP 10 SELF HELP AND PERSONAL DEVELOPMENT BOOKS
---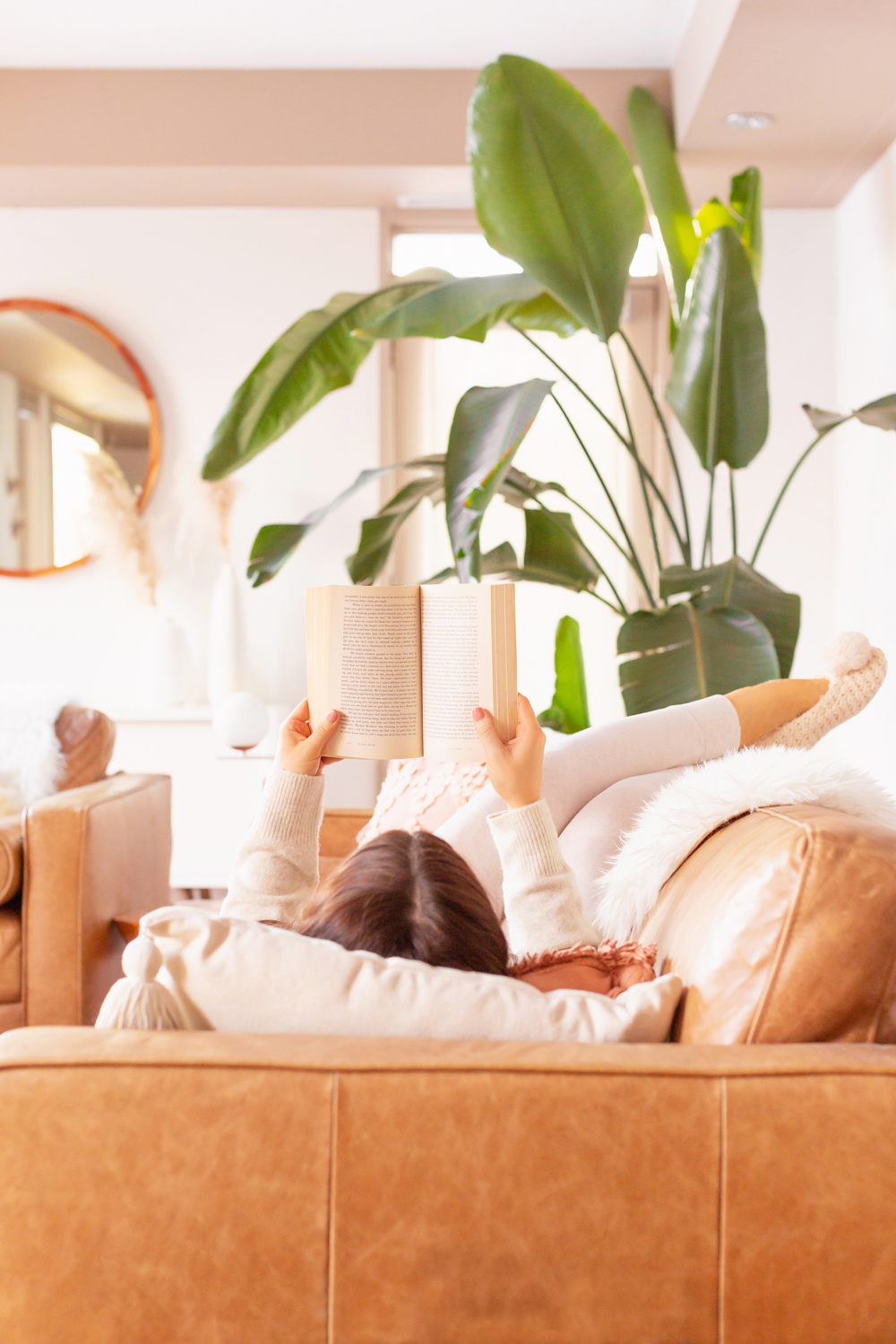 ---
MORE MOTIVATIONAL & WELLNESS CONTENT
---
My 3rd Blogiversary + 10 Things I Learned in my Third Year of Blogging
---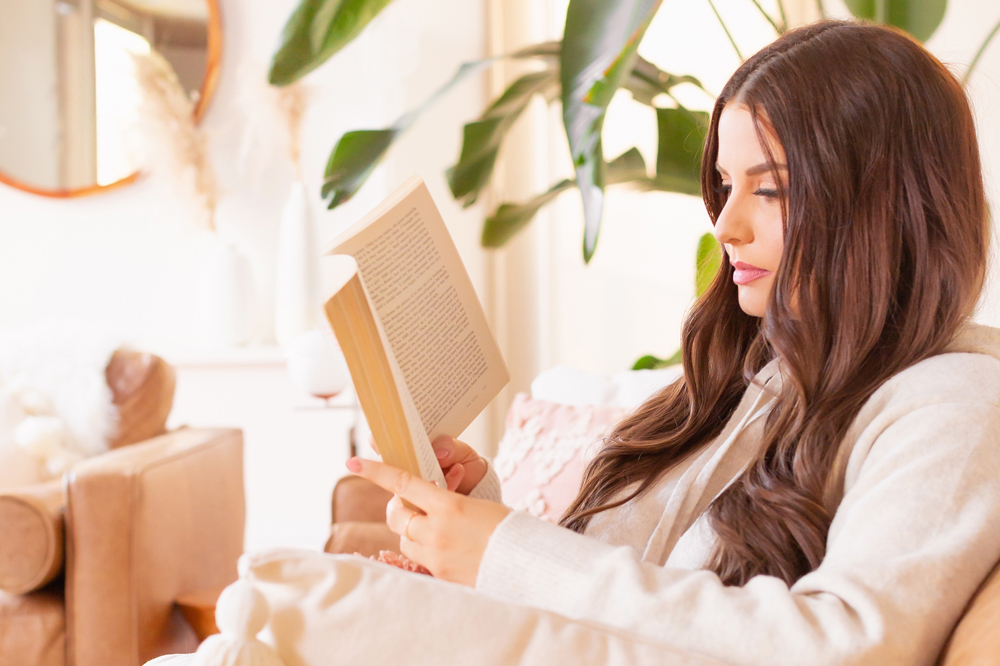 Thanks for stopping by to learn more about My Top 10 Self Help and Personal Development Books today, friends! Although I expect this to be a constantly evolving list as I'm always listening to and reading new books, it feels great to finally share this post here at JustineCelina. I would also love for you to leave your self help and personal development book recommendations in the comments below so we can inspire each other and I can add them to my ever-growing wishlist! Currently, I'm listening to Steven Bartlett's Happy Sexy Millionaire for the month of April — and loving it so far!
Are you enjoying the WELLNESS content I've shared so far this year? This new category will be a large focus here at JustineCelina in 2021, as it's what I currently feel inspired to share. I have a lot of topics already planned, but I'm always open to your requests! That said, for a glimpse of what I'm up to (and what I'm reading!) before it hits the blog, as well as some exclusive content you won't see here, come join me over on Instagram for more frequent posts, inspirational words and BTS / day-to-day life on Stories! I've also started new hashtags, #justinecelinawellness and #justinecelinareads, along with a new Pinterest board dedicated to my wellness-based content. Here's to personal development, continuous learning, self care and anchoring into the practices that support our well being!
---
Disclaimer: This post is not sponsored and contains my genuine thoughts, ideas and recommendations. JustineCelina uses affiliate and referral links, which allow me to receive a small commission when you make a purchase through one of my links. Thank you for supporting the brands and businesses that support JustineCelina!