---
With the promise of changing leaves dancing on the late-summer breeze, I'm back with a fresh instalment of DIGITAL BLOOMS to welcome my favourite month of the year! I love September because it combines the best of summer and autumn — and I've channeled that transitional inspiration into this month's free tech wallpaper. Last weekend we popped over to a local farmer's market where some incredibly lovely bouquets of sunflowers were on display and I couldn't resist picking one up to share with all of you! The best part? Everything featured in September 2019's Digital Blooms is organic, biodynamic, growing here in Alberta right now! I couldn't think of a more perfect way to celebrate the season.
September's DIGITAL BLOOMS are heavily inspired by the Pantone Autumn/Winter 2019/2020 Fashion Colour Trend Report featuring warm, transitional hues of Chili Pepper, Biking Red, Rocky Road, Sugar Almond and Dark Cheddar set on a moody Bluestone backdrop. Unique Chianti and Little Becka Sunflowers are complimented by Rudbeckia, Strawflower, wild Firewheels and Barberry leaves in free desktop wallpaper that's equal parts sunny and dramatic — just like the first month of autumn. Give your devices a seasonal makeover by clicking through to download September's free floral tech wallpaper!
---
HOW TO DOWNLOAD
---
Desktop (iOS)
Click on the image you want to download and it will open in a new window. Right click and select 'Save Image As' or 'Set as Desktop Wallpaper'. If you selected the 'Save Image As' option, then just locate the image you saved, right click, and then select 'Set Desktop Picture'.
Phone / Tablet (iOS)
Click on the image you want to download and it will open in a new window. Then, click on the up arrow icon at the bottom of the screen, and select 'Save Image'. Navigate to 'Settings', then 'Wallpaper', then 'Choose a New Wallpaper' and select the image you downloaded from your photos. You'll be able to scroll across the image by dragging your finger across the screen and you can resize or crop it to your liking to display different sections of the design.
---
USAGE
---
These images are for personal use as digital device wallpapers only and cannot be used in any other way (including social media posts) without express permission from JustineCelina. I'm relying on the honour system here, but you guys are good people, right? 😉 You can still share the love — if you know someone who would enjoy these wallpapers, please send them our way by sharing the link to this post.
---
DIGITAL BLOOMS SEPTEMBER 2019 | FREE DESKTOP WALLPAPER
---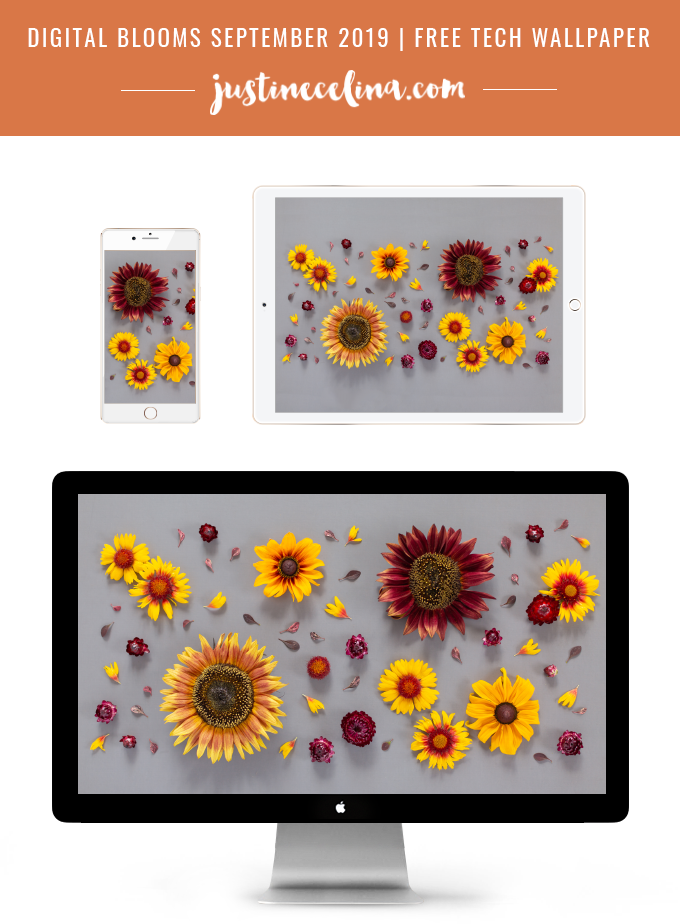 ---
— To download, simply click the image below and follow the How to Download steps —
---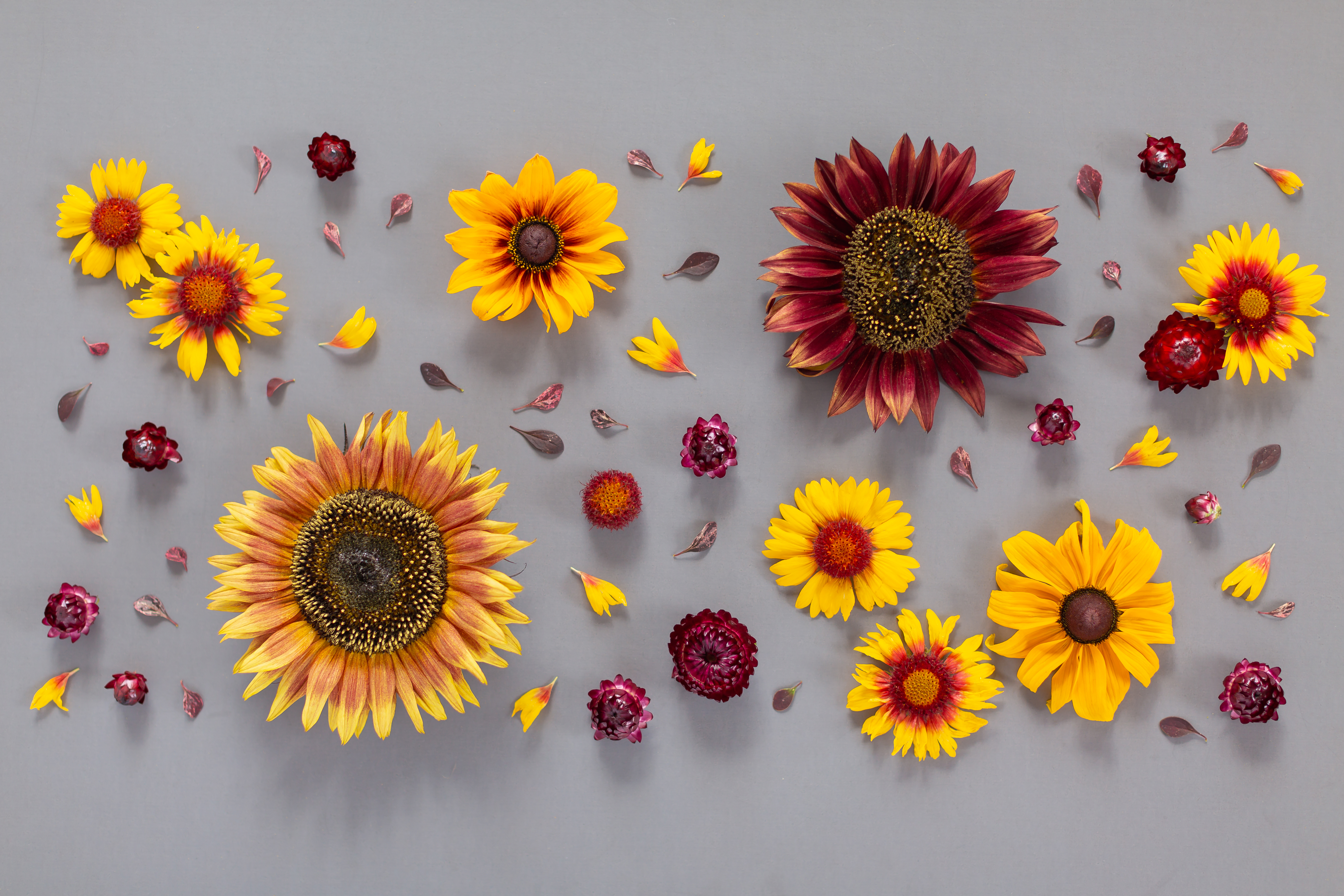 ---
BROWSE THE DIGITAL BLOOMS ARCHIVES
---
Simply click the image below (or right here!) and you'll be taken to the archive page to browse thumbnails of each month — just like you were able to do at the bottom of our previous DIGITAL BLOOMS posts. Happy tech wallpaper shopping!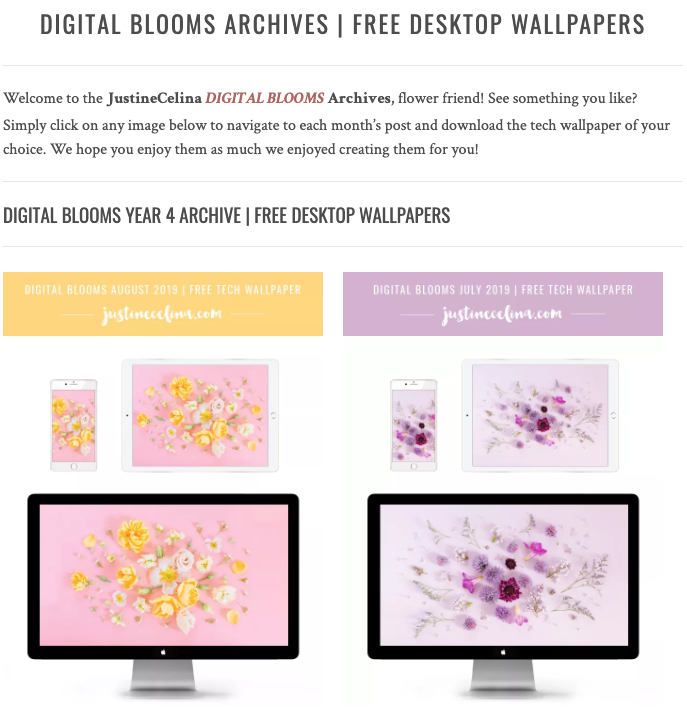 ---
Thanks for stopping by this weekend for the September 2019 edition of DIGITAL BLOOMS! It's been fun working with more local flowers over the past couple of months — this is the first time I've ever been able to bring unique Sunflower varieties to JustineCelina. Sunflowers are synonymous with September to me and I was so excited when I spotted these gorgeous colourful varieties — I hope they bring a little dose of sunshine to your screen this month as we transition into autumn! 

And if you're craving even more blooms, check out my FLOWER archives or follow along with our Digital Blooms Board and Flower Board on Pinterest for more even more floral inspiration. Happy Labour Day long weekend, Canadian friends!

---
Disclaimer: This post is not sponsored, and contains my genuine thoughts, ideas and recommendations. All copyright of these images is retained by JustineCelina.com. If you're interested in licensing these images for commercial purposes, please contact me.