To celebrate the last day of 2016, I have not one, but two fresh playlists for you today! First up, my December Soundtrack is a short and sweet playlist featuring 38 of my favourite tracks from the month — including standouts from St. South, Kultur, Trent Dabbs, Luunes, Freedom Fly, Micah Visser, Los Campesinos!, Zhu, San Holo, Saint Mesa and Celadon City. It's an eclectic mash up of different genres that sounded good to my ears this month, with quite a few instrumental tracks thrown into the mix!
Spotify also compiled 2016 Soundtrack automatically for me earlier this month, highlighting my most played songs from 2016 (how cool is that?!) — and I have to say it's pretty solid! If you're looking for some great music to decorate the last hours of 2017 today, or my top recommendations for the best tracks of 2016, this playlist is for you. Whether you're hosting or attending a party, heading out, or spending a quiet night in, I hope you all have a wonderful New Years Eve! Thank you for coming along on this crazy ride with me, I'm so grateful for each and every one of you. I have some big plans for JustineCelina next year and can't wait to see what 2017 brings — Happy New Year and cheers to an incredible 2017!
---
DECEMBER SOUNDTRACK
---
---
2016 SOUNDTRACK
---
---
Craving even more music? Here's a link to last month's soundtrack, or you can also listen to the playlist on Spotify. I've also populated each of my Monthly Soundtracks for the past year and nine months to my Spotify profile, for your listening pleasure. Or your can also browse the MUSIC section here at JustineCelina.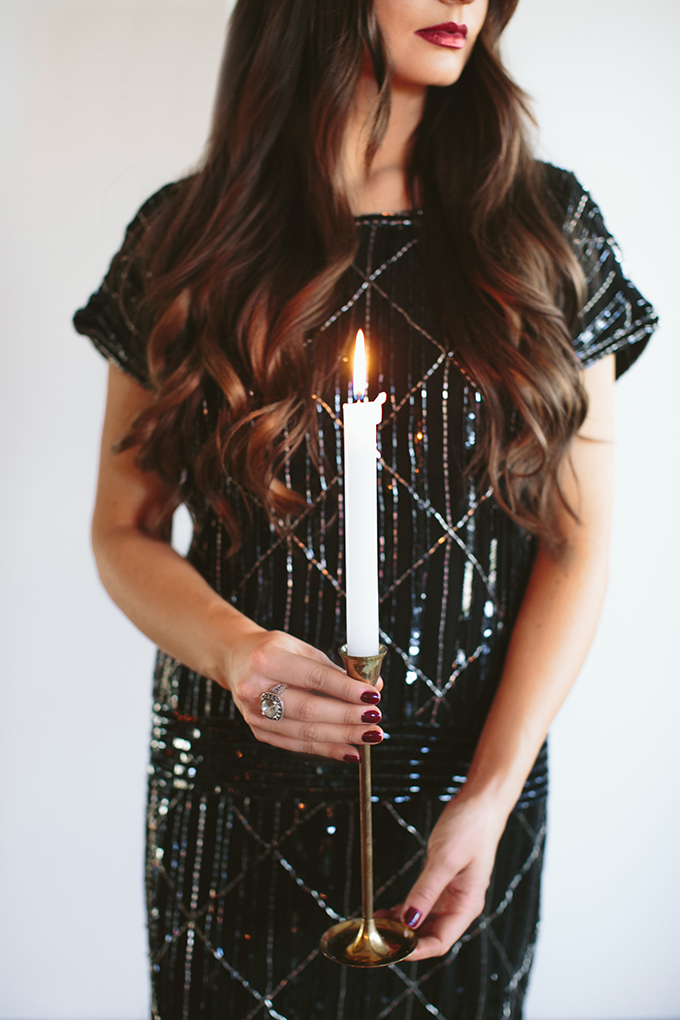 This month's album cover is part of my Luxurious New Years Eve Bash post. Hop over there if you're looking for some entertaining inspiration for tonight, or grab the Vanilla Pomegranate Mulled Wine recipe we're drinking in that post. Cheers, my friends!
And If you're curious, my glittery red lip is courtesy of the PAT McGRATH LABS Lust 004 Lipstick Kit in Bloodwine, which I reviewed in my 5 Festive Lipsticks to Try This Holiday Season post. I absolutely love this kit and find it surprisingly wearable, but it's especially perfect for New Years Eve!
---
What have you guys been listening to this month? Leave me your recommendations in the comments, I'd love to hear from you! Do you use Spotify? If you do, feel free to drop some links to your playlists, or playlists / artists you think I'd enjoy. Here's to an incredible 2017!
---
Disclaimer: Thank you to Genevieve Renee Photographie for the beautiful album cover photo! This post is not sponsored, and contains my genuine thoughts, ideas and recommendations. JustineCelina uses affiliate and referral links, which allow me to receive a small commission when you make a purchase through one of my links. Thank you for supporting the brands and businesses that support JustineCelina!