---
Fellow tequila and mezcal lovers, I'm elated to share the first my first recipe roundup dedicated exclusively to cocktails with my 5 Festive Cinco De Mayo Cocktails post! If you're a fan of my better-for-you libations, you'll know my love of tequila and mezcal runs deep — as does my adoration of Mexican culture. Over the past decade, we've been fortunate to spend quite a bit of time in Oaxaca (specifically Huatulco — one of my favourite places in the world!) and discover many fantastic artisanal tequila and mezcal varieties, visit agave farms and learn about authentic spirits and cocktail making from the locals. In fact, our home bar is always stocked with several varieties of tequila and mezcal from our travels — and I typically have a few Mexican-inspired sips in development at any given time! So today, in celebration of Cinco de Mayo, I've rounded up my most popular tequila and mezcal based cocktails — which all happen to be vegan, gluten free and refined sugar free! Hey, life is all about balance, right?!
While we may be celebrating Cinco De Mayo digitally this year, that doesn't mean we can't do it over a fantastic cocktail (or 5!). Can I interest you in a Green Jalapeño Margarita, Gingered Cara Cara Grapefruit Paloma, Watermelon Frosé Margarita, Hibiscus Blood Orange Mezcalrita or a Creamy Coconut Mango Mezcalrita? There's never been a better time to learn how to shake up a Mexican-inspired cocktail in the comfort of your own home — all you need is a cocktail shaker, a bottle of your favourite tequila or mezcal and a few simple, fresh, supporting ingredients. Join me for a crash course on tequila and mezcal (plus recommendations to pair with each recipe) as we shake up a few festive cocktails tonight in celebration of the vibrancy and resilience of Mexican culture! 
---
5 FESTIVE CINCO DE MAYO COCKTAILS
---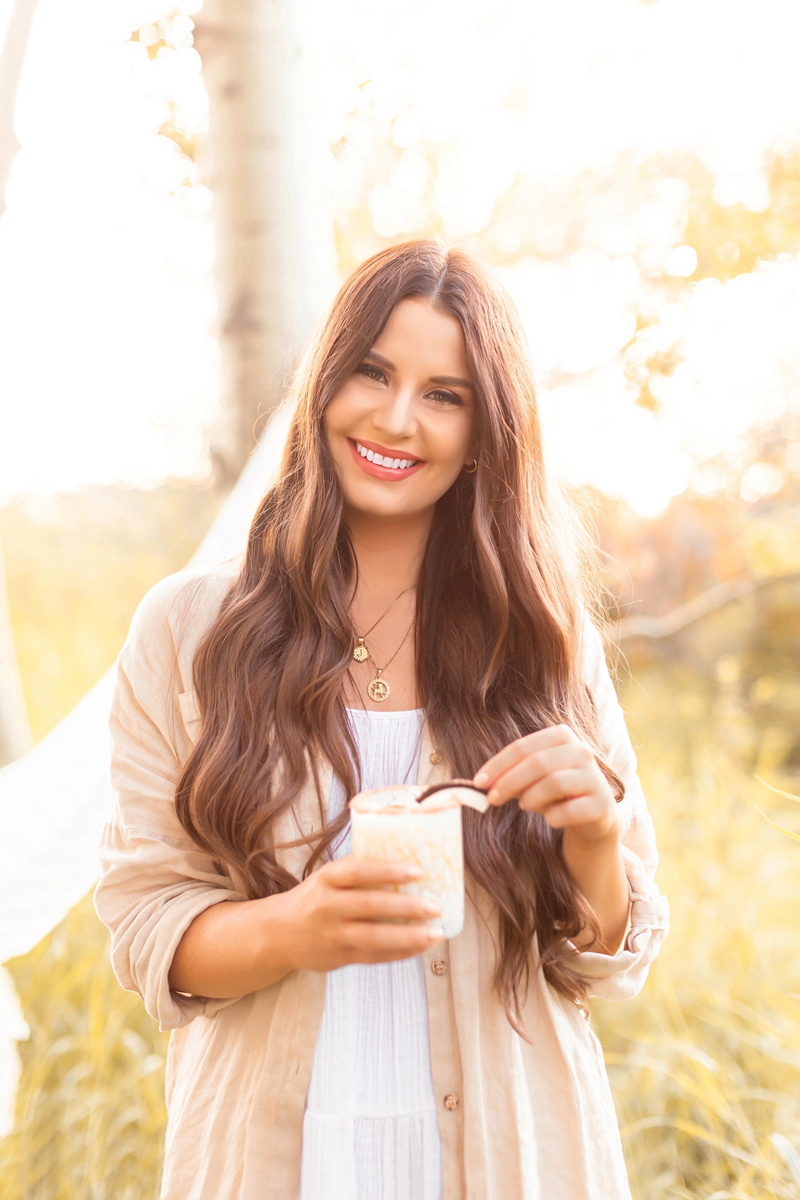 Although Cinco de Mayo isn't typically celebrated in Mexico (except in the state of Puebla), it commemorates the Mexican army's victory over Napoleon III's French forces at the Battle of Puebla on May 5, 1862. Outside of Mexico (and specifically in Canada!), the holiday is widely celebrated as we honour the legacy of Mexican courage and strength — and each May 5th, 'Cinco De Mayo cocktails' becomes one of the most searched keywords at JustineCelina! So today, I thought I'd give the people what they want and compile my best mezcal and tequila based cocktails for you in one convenient place.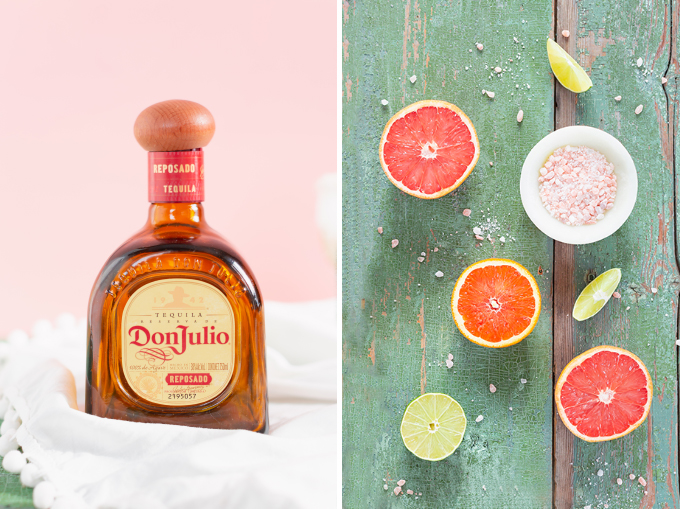 This post is divided into 2 main sections, Tequila Based Cinco de Mayo Cocktails and Mezcal Based Cinco de Mayo Cocktails — although each of my recipes will work with these spirits interchanged. Let's dive in, shall we?!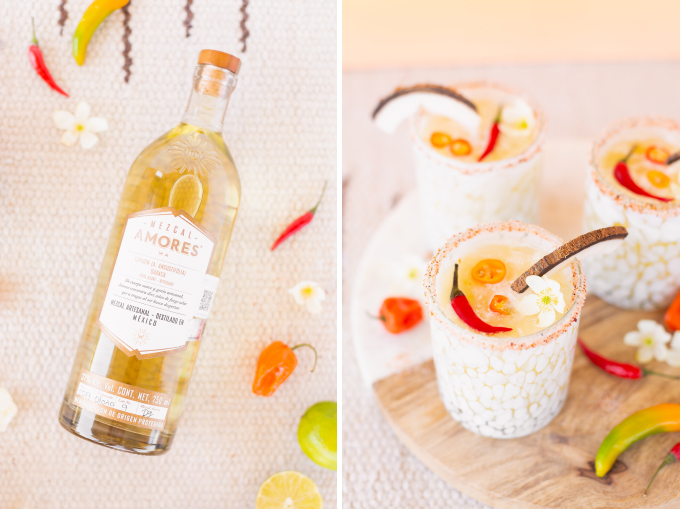 ---
TEQUILA BASED CINCO DE MAYO COCKTAILS
---
Tequila is my first love when it comes to traditional Mexican spirits. Over the years I've discovered that it can be absolutely lovely, smooth and distinctive — and I've sipped my way through just about every brand, classification and price point imaginable!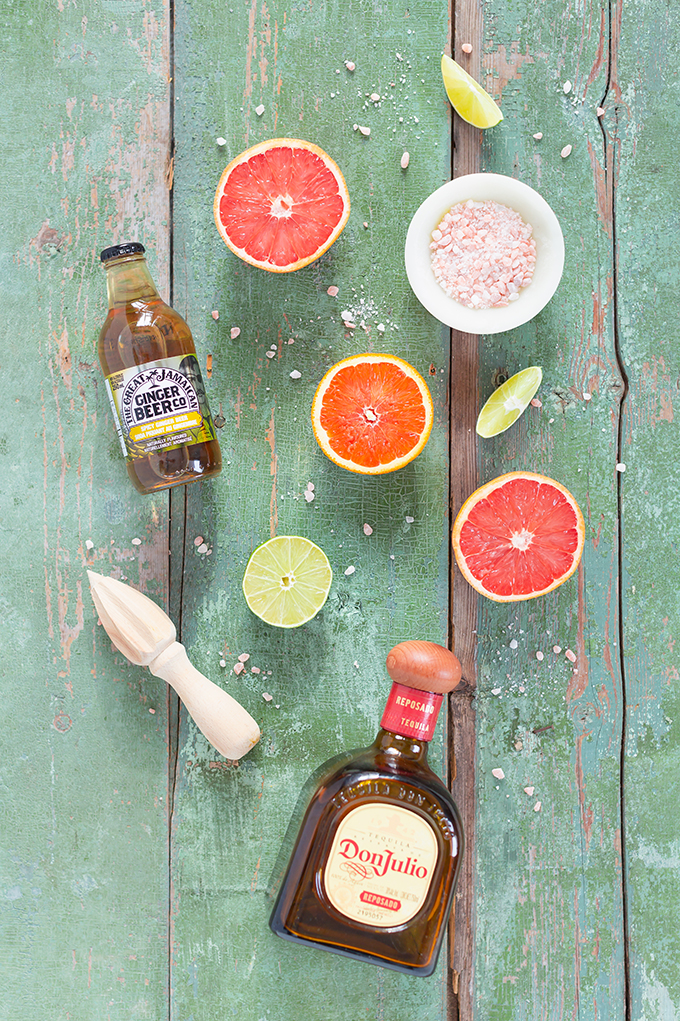 My tequila of choice is usually Reposado, which we fell in love in Oaxaca many years ago — and we've never looked back. In fact, it was the only type of tequila we kept stocked in our bar until a few years ago! Typically you'll find that most margarita and tequila based cocktails feature silver (or Blanco) tequila, and while I always keep an open mind, I typically prefer my cocktails to be Reposado-based. In these Festive Cinco de Mayo Cocktails, I've used a variety of tequila brands — but have a penchant for the golden, citrusy goodness of Reposado (Don Julio's is readily available and the one we use most often!).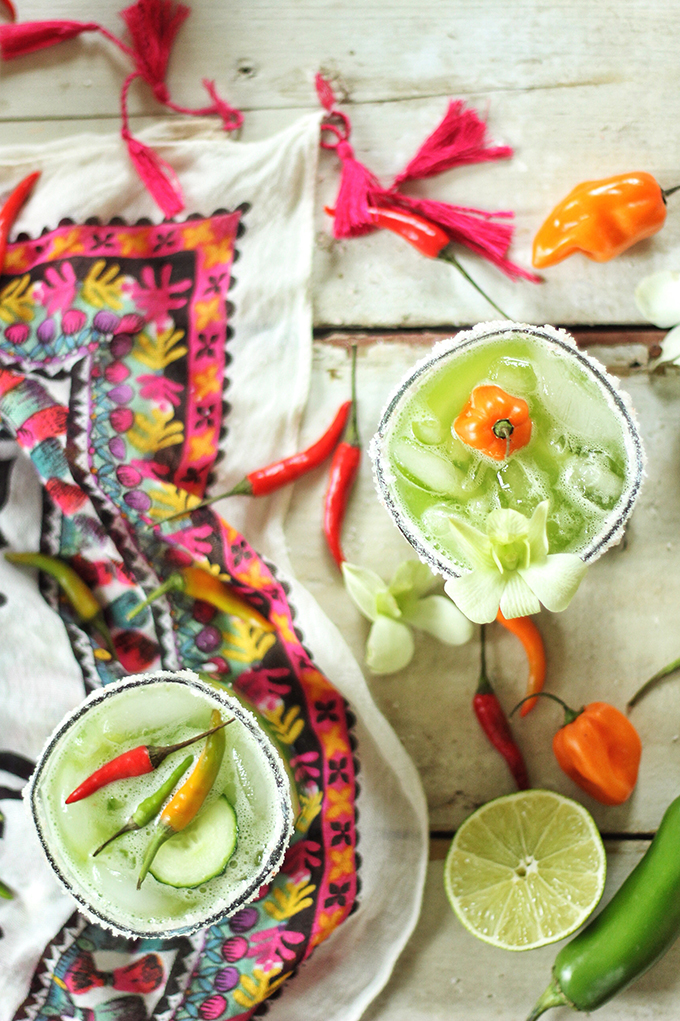 Vegan, Gluten Free, Refined Sugar Free
My Green Jalapeño Margaritas feature a freshly pressed green juice base of cucumbers, lemons, limes and jalapeños, shaken over ice with naturally sweet agave nectar and healthy splash of Don Julio Reposado tequila, then strained into a salted-rimmed glass. They're a health-conscious twist on the traditional margarita — and a fantastic way to get some extra greens in! If you're looking for a refreshing summer cocktail with a twist, you'll love these better-for-you Green Jalapeño Margaritas!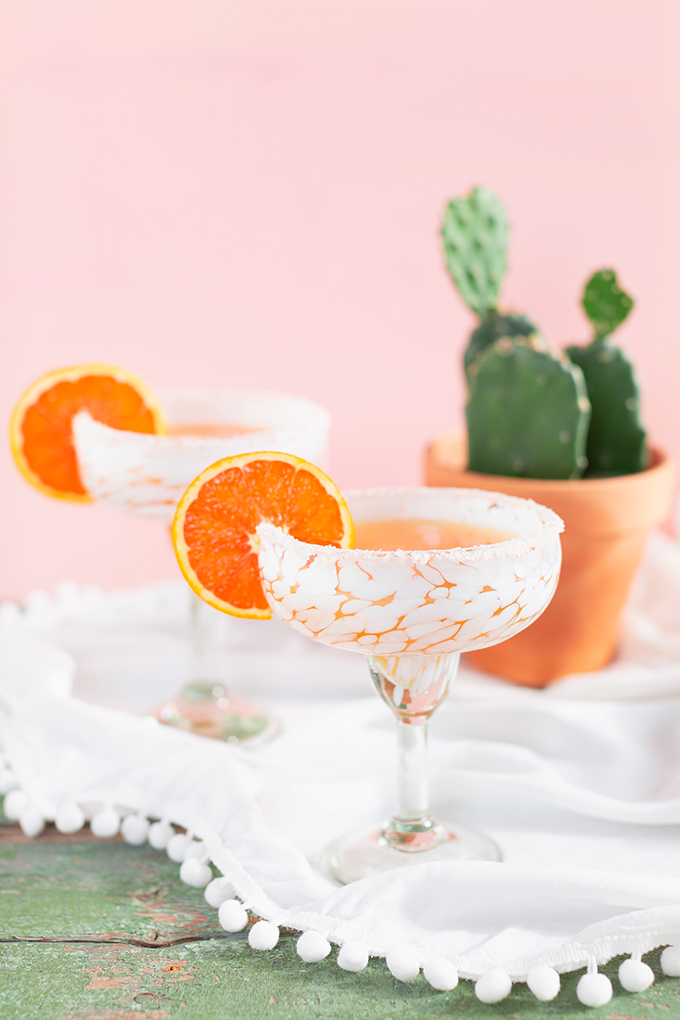 Vegan, Gluten Free, Refined Sugar Free
Have you ever had a Paloma? I've elevated this traditional Mexican cocktail with a fresh, plant-based, seasonal spin. My Gingered Cara Cara Grapefruit Paloma is a simple, refined sugar free, 6 ingredient ode to citrus season in cocktail form! Freshly squeezed Cara Cara orange, Ruby Red grapefruit and vibrant lime juice combine with Don Julio Reposado tequila, spicy ginger beer and a Himalayan pink salted rim to create a jubilant, citrus-centric tipple bursting with vivacious Mexican flavour. Transport yourself to a sun-drenched, white sandy beach in just 10 minutes — no plane tickets required!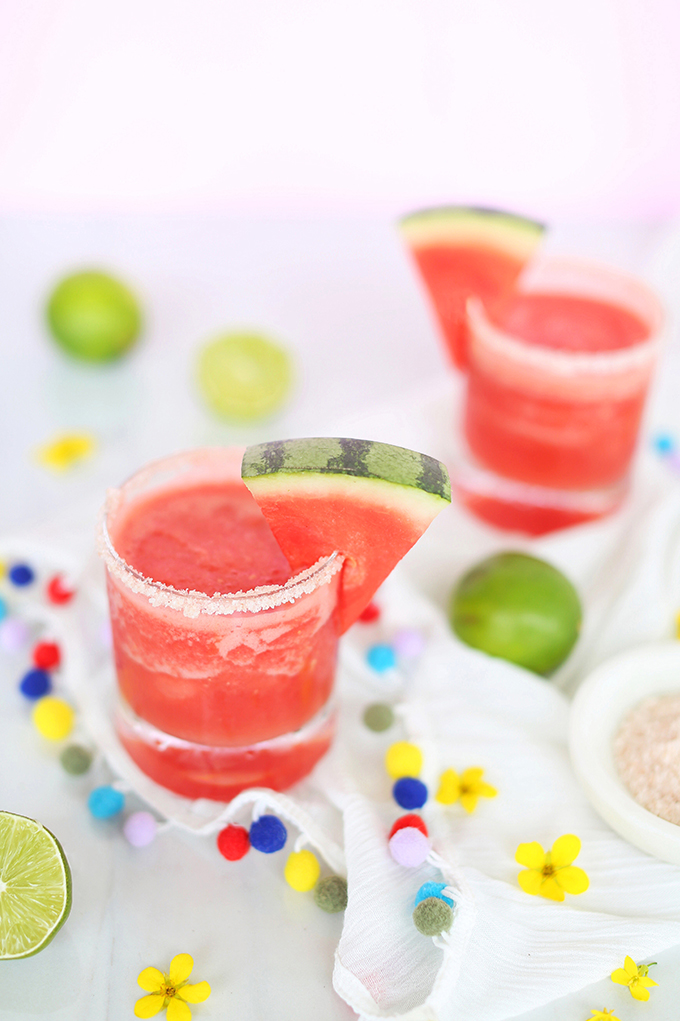 Vegan, Gluten Free, Refined Sugar Free
My Watermelon Frosé Margarita is an icy sangria 2.0 with an attitude, and tequila on her breath! She's made with just 5 ingredients blended over frozen watermelon creating a naturally sweet, feisty summer cocktail that embraces fruity flavours with a margarita essence and a Himalayan pink salted rim! This spirited frosé, sangria and watermelon margarita love child features a gorgeous Los Azulejos Reposado, which we originally discovered in Huatulco. The bottle and label are inspired by talavera — hand painted earthenware tiles made in the Puebla region of Mexico. Isn't it gorgeous?!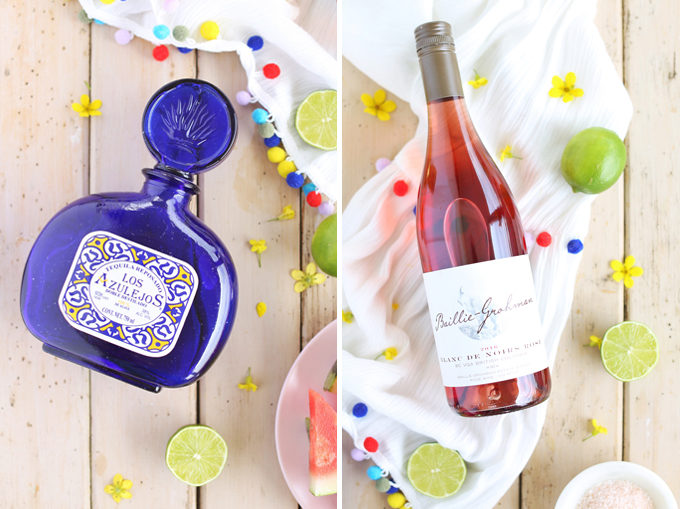 ---
MEZCAL BASED CINCO DE MAYO COCKTAILS
---
Have you ever tried mezcal? I discovered mezcal during our first trip to Oaxaca back in 2012 and it's my spirit of choice whenever we're in Huatulco — but I love seeking out new varieties here in Canada, too! When we travel, we like do as the locals do and really immerse ourselves into the cultures and traditions of the places we visit. I've sipped many mezcals over the years during our time in Huatulco (there's even a mezcal bar in town!) — and each time we go back, we discover a new favourite.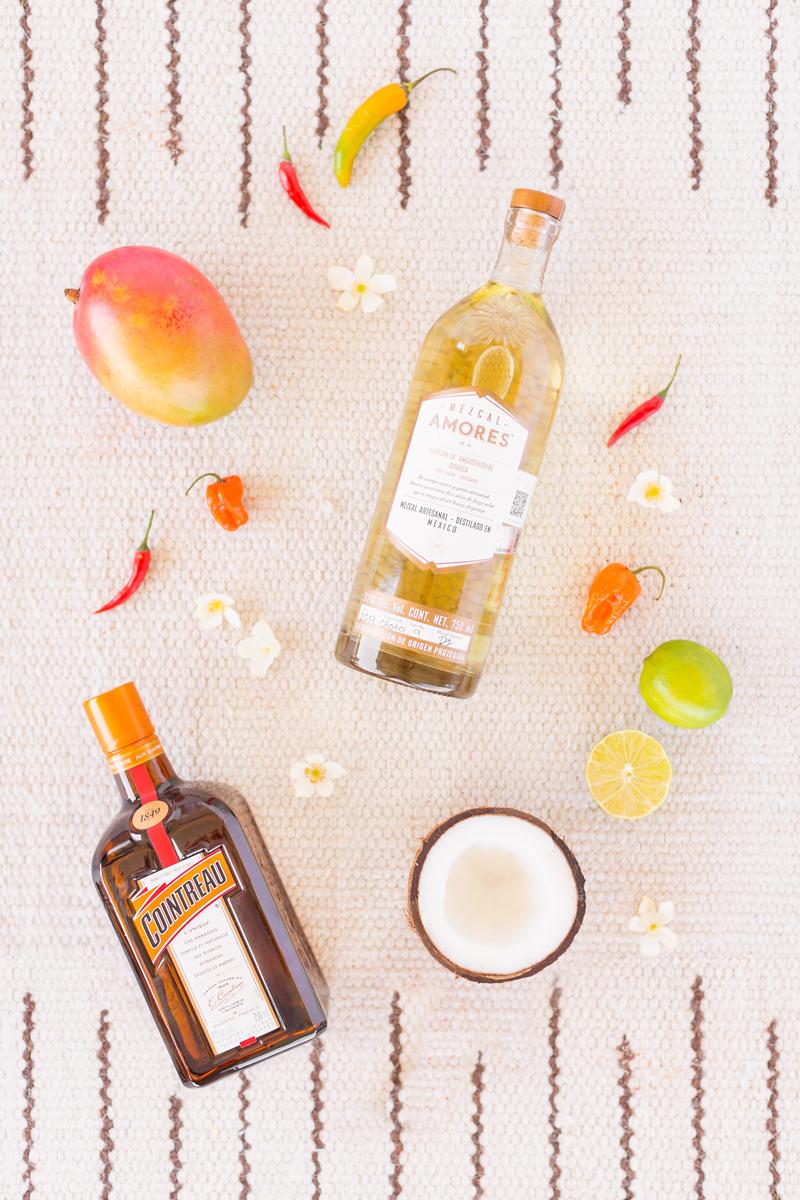 This traditional Mexican liquor is closely related to tequila (both are distilled from agave — mezcal can be made from any of several dozen species, while tequila must be made from blue agave) and originated in Oaxaca, which is still the largest producer of mezcal globally. Each time we visit we bring as many as we possibly can home to help ease our Canadian winters with spirited memories!
Since mezcal originated in Oaxaca, you'll often find mezcalritas, rather than margaritas, on the menu at many Huatulco bars and restaurants. If you're into tequila and up for exploring a smoky, spicy flavour profile, I absolutely recommend picking up a bottle! You can also substitute a quality mezcal (there are many fantastic mezcals available locally) into your other favourite tequila based cocktails to impart a smoky note. That said, if you're not able to source mezcal, you can absolutely still enjoy these recipes with your favourite tequila — I promise they'll be just as delicious!
---

Vegan, Gluten Free, Refined Sugar Free
If you're looking for an inventive libation that celebrates citrus season and the vibrancy of Mexican culture, you'll find it in my Hibiscus Blood Orange Mezcalritas! This jubilant craft cocktail is free of dairy, gluten and refined sugar and loaded with better-for-you ingredients, antioxidants and a healthy dose of vitamin C. Inspired by Mexican Agua de Jamaica, hibiscus tea concentrate combines with freshly squeezed blood orange and lime juices, Joven Mezcal, Cointreau and a splash of agave syrup shaken over ice and strained into a pink hibiscus salt rimmed glass. Transport yourself to the healing, pristine waters of the Mexican south pacific with this modernized, seasonal spin on the traditional mezcalrita!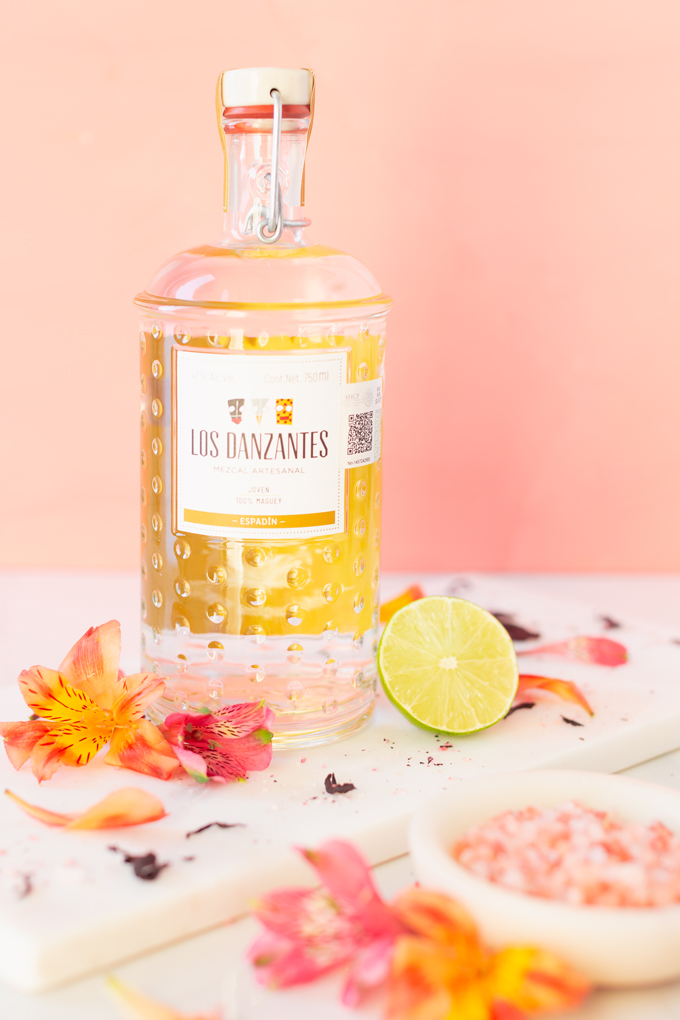 During our most trip, an artisanal mezcal produced by Los Danzantes came highly recommended by the locals — and it was love at first sip! Although I have a penchant for Reposado tequila, I fell head over heads for mezcal of the Joven variety during our time in Huatulco in 2020 (pre-pandemic!). Los Danzantes Joven is smooth, citrusy and fresh — and I enjoy sipping it chilled just as much as I do in a mezcalrita. It was the perfect compliment to this Agua de Jamaica inspired flavour profile.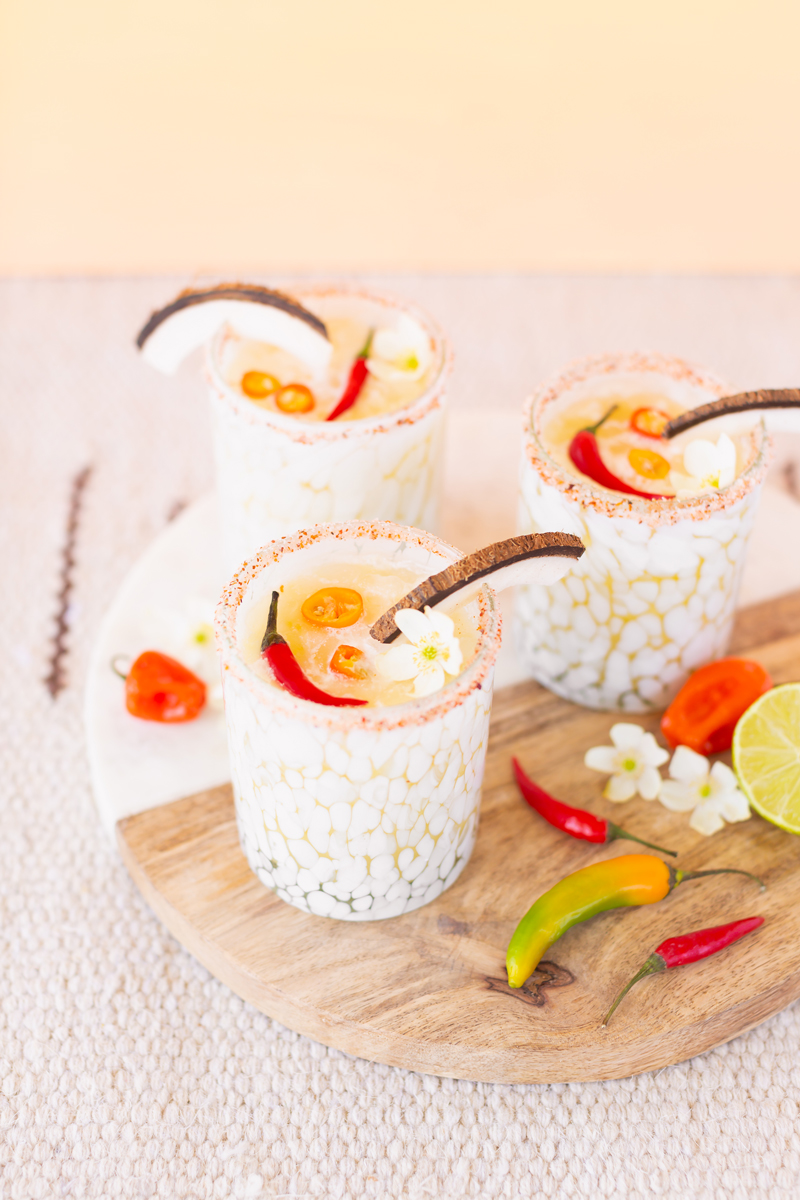 Vegan, Gluten Free, Refined Sugar Free
This recipe was actually conceived last Cinco de Mayo (our first in quarantine!), when I whipped them up for a festive night in, simply using what we had on hand — and I've been sipping away on these jubilant, Oaxacan-inspired cocktails ever since! My Creamy Coconut Mango Mezcalritas are a perfectly balanced libation that are equal parts smoky, citrusy, creamy, spicy and sweet — and are (as always!) free of dairy, gluten and refined sugar. A healthy dose of hand-crafted mezcal and creamy coconut milk combine with fresh mango and lime juices, along with a splash of Cointreau, agave nectar and just a hint of red chilli before they're shaken over ice and strained into a Himalayan pink salt and Tajín rimmed glass.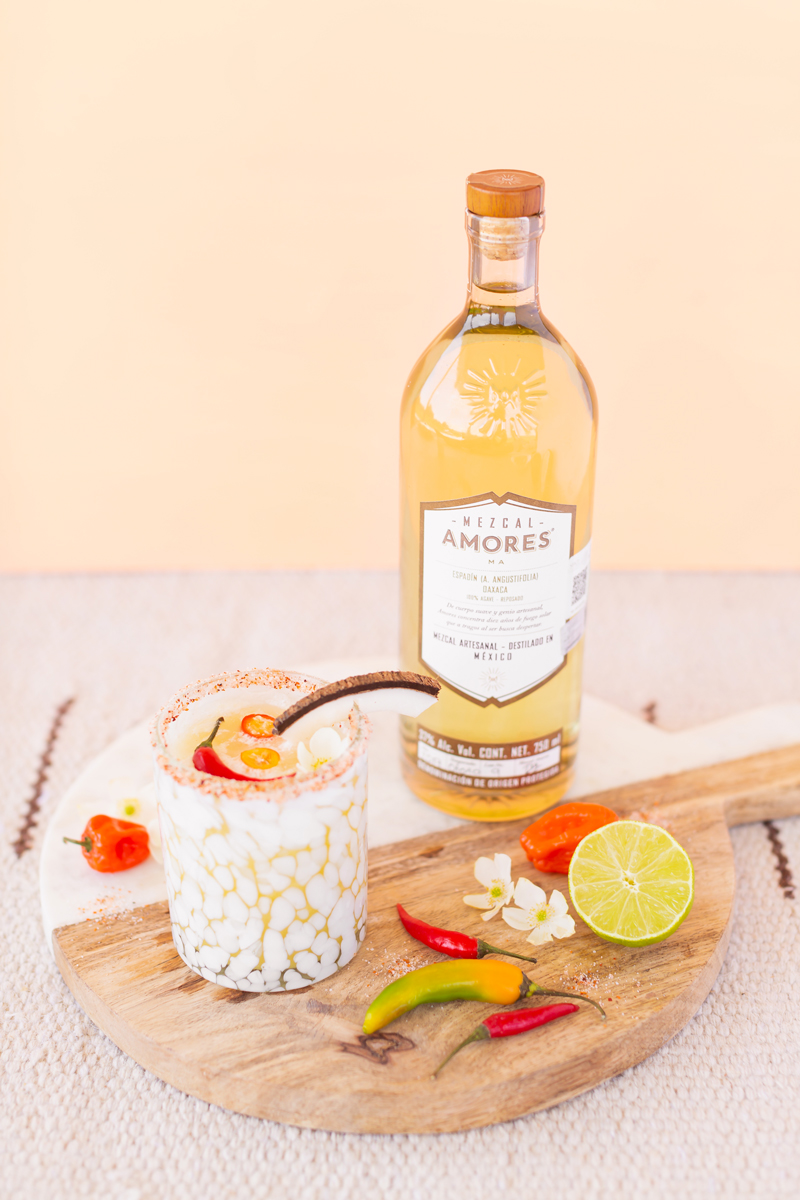 The decorated Mezcal Amores Espadín Reposado I've used in this recipe has all the qualities of traditional Oaxacan mezcal. It's smoky, woody and warm — but it also has creamy notes of vanilla, agave and amber making the finish super smooth. These more nuanced flavours inspired me to experiment with a creamy, coconut based cocktail — and I couldn't be more thrilled with the way this recipe came together.
---
PIN MY 5 FESTIVE CINCO DE MAYO COCKTAILS
---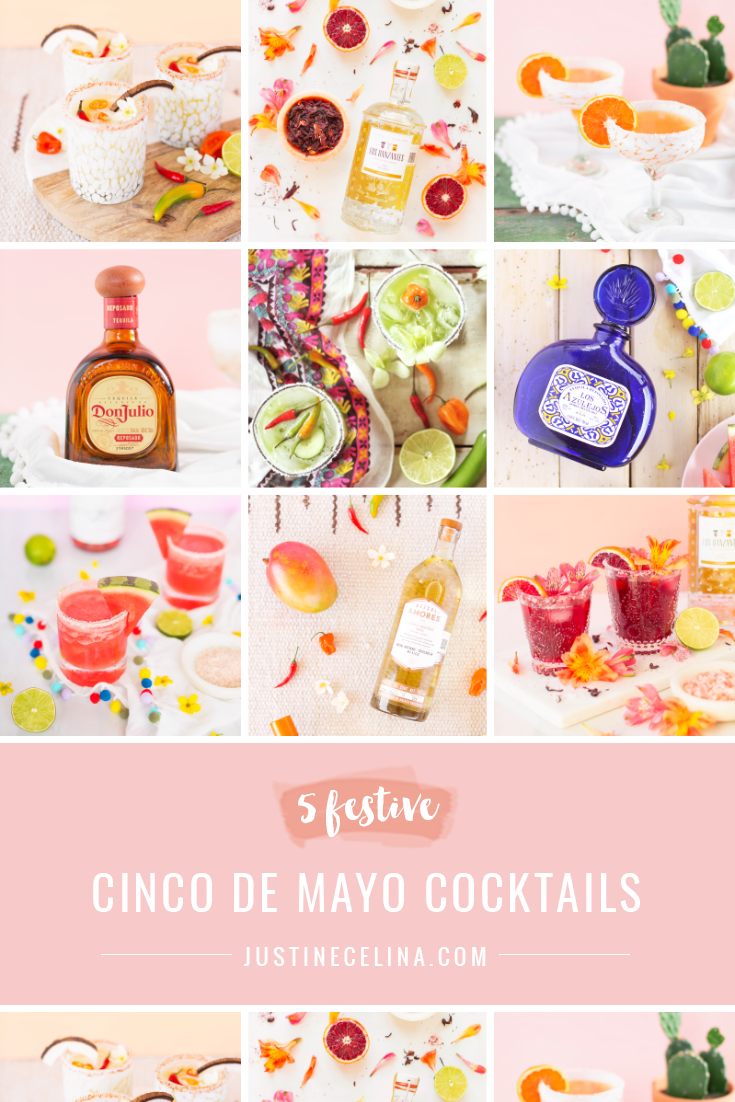 ---
Thanks for stopping by for my 5 Festive Cinco De Mayo Cocktails roundup, today friends! I hope this collection of my favourite tequila and mezcal based cocktails has inspired you to shake up something fun to celebrate Cinco De Mayo in the comfort of your own home. You can also find these spirited ideas (plus many more!) on my Clean Cocktails board on Pinterest.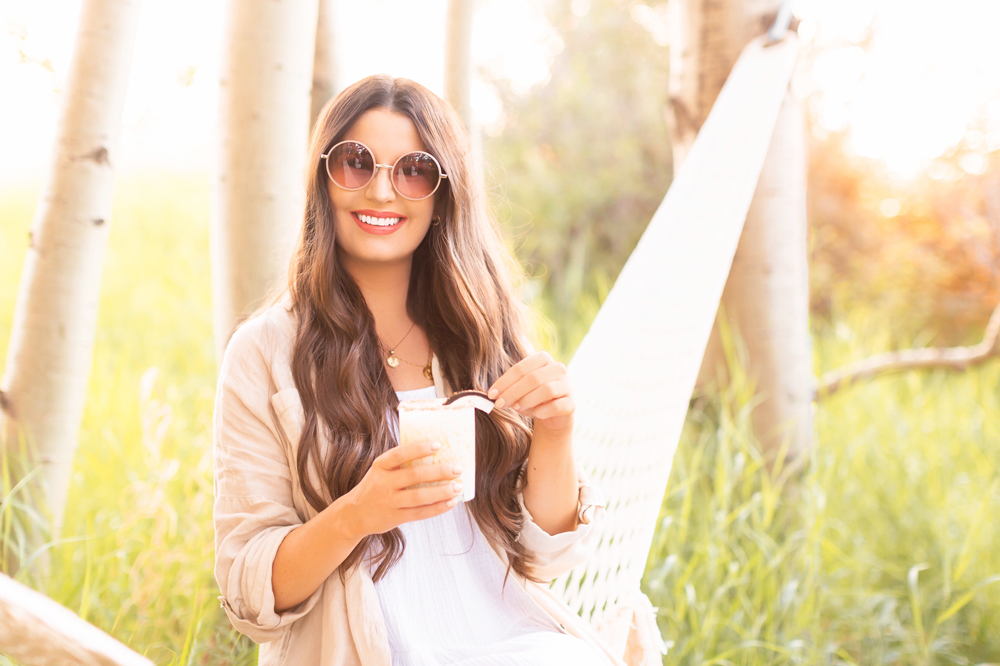 As always, if you try one of these Festive Cinco De Mayo Cocktail recipes, or pick up a spirit I've recommended please let me know — I absolutely love your feedback! Leave me a comment, or tag me on Instagram, Twitter or Facebook. We're celebrating at home tonight — complete with a new mezcal based cocktail I currently have in development and Mexican takeout from a wonderfully authentic, local cafe. Wishing you all a fun, festive and safe Cinco De Mayo — whatever you're up to! Cheers to finding new ways to bring TRAVEL into our lives through our tastebuds!  
---
Disclaimer: This post is not sponsored, and contains my genuine thoughts, ideas and recommendations. JustineCelina uses affiliate and referral links, which allow me to receive a small commission when you make a purchase through one of my links. Thank you for supporting the brands and businesses that support JustineCelina.com!