---
How is November already upon us?! 2020 has simultaneously felt like the longest and shortest year of my life (as I'm sure many of you can relate!) — but, as always, I'm thrilled to usher in a fresh new month with a beautiful, seasonally-inspired floral wallpaper! November 2020's Digital Blooms celebrates the height of autumn on the Alberta prairies with an unconventional melange of locally grown and foraged flowers, wild grasses, fall foliage and berries gathered from my flower-picking adventures at Bowden SunMaze & Eagle Creek Farms and our country property. Thanks to our warm, extended autumn this year we were treated to the most magnificent and colourful landscape transformation I've ever witnessed — and I discovered so many plants, berries and grasses I had no idea were growing wild on our acreage! 
November 2020's Free Floral Wallpaper features Alberta grown Zinnias and Red Amaranth complimented by foraged Western Snowberries, Wood's Rose Leaves, Broomsedge Bluestem and Garden Asparagus Foliage (and Berries!) set on a Pantone Autumn/Winter 2020/2021 Peach Nougat inspired backdrop. These warm, quintessentially autumnal hues are some of my favourite to incorporate into my wardrobe, beauty routine, home and floral arrangements during the fall months! Give your tech a free autumnal makeover with November's DIGITAL BLOOMS — and be sure to share the love on social media with #justinecelinadigitalblooms to show me how you're using them! As always, you can download November 2020's Digital Blooms absolutely free for personal tech wallpaper usage simply by clicking through and following the instructions. I hope you enjoy this month's instalment as much as I enjoyed creating it for you! 
---
HOW TO DOWNLOAD
---
Desktop (iOS)
Click on the image you want to download and it will open in a new window. Right click and select 'Save Image As' or 'Set as Desktop Wallpaper'. If you selected the 'Save Image As' option, then just locate the image you saved, right click, and then select 'Set Desktop Picture'.
Phone / Tablet (iOS)
Click on the image you want to download and it will open in a new window. Then, click on the up arrow icon at the bottom of the screen, and select 'Save Image'. Navigate to 'Settings', then 'Wallpaper', then 'Choose a New Wallpaper' and select the image you downloaded from your photos. You'll be able to scroll across the image by dragging your finger across the screen and you can resize or crop it to your liking to display different sections of the design.
---
USAGE
---
These images are for personal use as digital device wallpapers only and cannot be used in any other way (including social media) without express permission from JustineCelina. I'm relying on the honour system here, but you guys are good people, right? You can still share the love — if you know someone who would enjoy these wallpapers, please send them our way by sharing the link to this post.
---
DIGITAL BLOOMS NOVEMBER 2020 | FREE DESKTOP WALLPAPER
---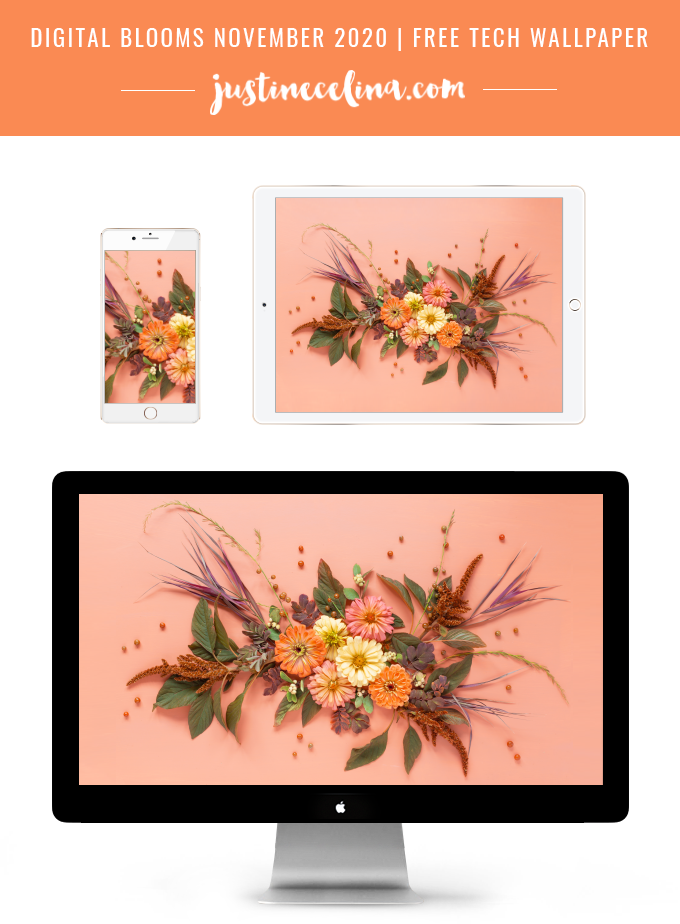 — To download, simply click the image below and follow the How to Download steps —
---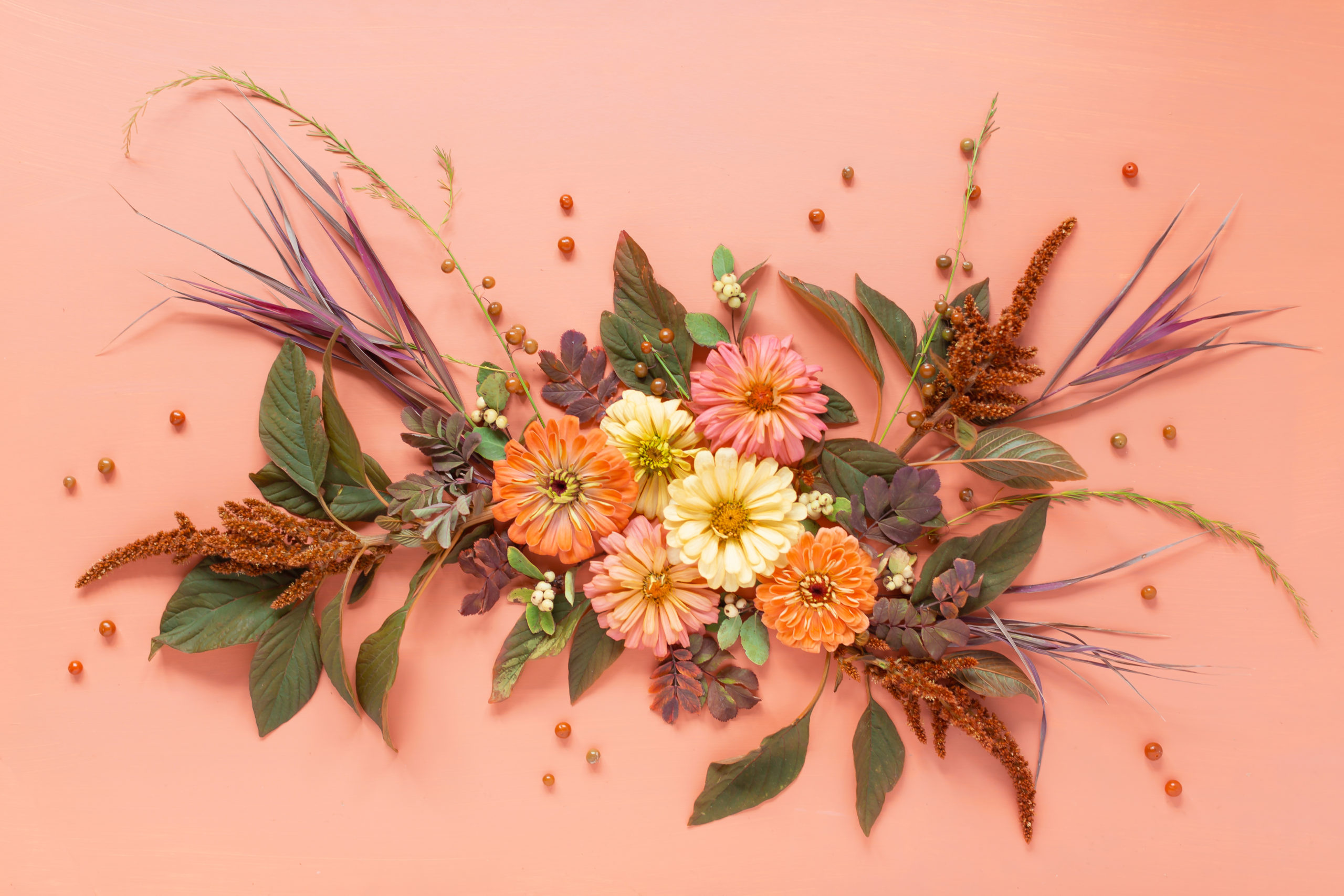 ---
BROWSE THE DIGITAL BLOOMS ARCHIVES
---
Simply click right here (or the image below) and you'll be taken to the archive page to browse thumbnails of each month. Happy tech wallpaper shopping!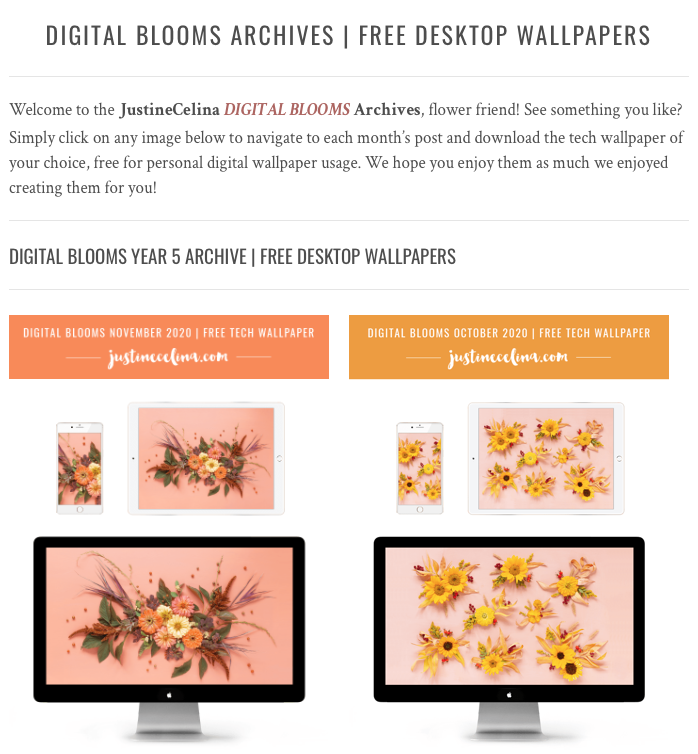 ---
Thank you for stopping by to download November 2020's DIGITAL BLOOMS today! I'm so happy I was able to bring some ultra-local Alberta prairie blooms, foliage and grasses to these pages this autumn and preserve this season's fleeting beauty digitally before the first snowfall!
Know someone who could use a free, floral pick-me-up? You can help me spread a little extra love and share your DIGITAL BLOOMS in action with #justinecelinadigitalblooms on social media — I always highlight my favourites on Insta Stories and absolutely love seeing my floral creations out in the wild on the background of your devices! Enjoy the rest of your weekend, flower friends!
---
Disclaimer: This post is not sponsored, and contains my genuine thoughts, ideas and recommendations. All copyright of these images is retained by JustineCelina.com. If you're interested in licensing these images for other personal or commercial purposes, please contact me.