---
Well guys, we're over half way through 2017 — and it's been about 7 months since I published my New Year New Goals: Cultivating a Balanced 2017 post (say what?!). I've just come home from a partially unplugged weekend visiting family and I'm feeling refreshed, so I thought it was a good time to check in and update you how I'm working towards the goals, intentions and plans I set out for myself this year in an attempt to cultivate more balance in my life. Overall, I'm happy to say I'm in a much better place than I was at the beginning of the year — but it's been a lot of hard work to get there and some things definitely haven't turned out how I planned!
Today I'll be updating you on my progress towards my overarching goal for 2017 to return to a more balanced lifestyle and what exactly that looks like for me as an entrepreneur and blogger. I'm also sharing my progress towards more specific goals like learning to overcome perfectionism, recovering from burnout, getting organized, investing in myself and my businesses, refreshing our space and being more mindful about looking at the bigger picture more often to ensure the puzzle pieces of my life and career fit together in a way that works for me. I'm also sharing a few detours I've taken along the way — some intentional and some completely unintentional (but serendipitous!). If you're interested in learning more about the changes I've made so far this year in my quest to cultivate balance in my life while working towards my personal and professional goals, pour yourself a nice, juicy glass of wine (or a big cup of coffee if you're reading in the morning!) — and let's get into it!
---
CHECKING IN | 2017 GOALS & CULTIVATING BALANCE
---
"How can you bridge the gap between your current life and your ideal life?"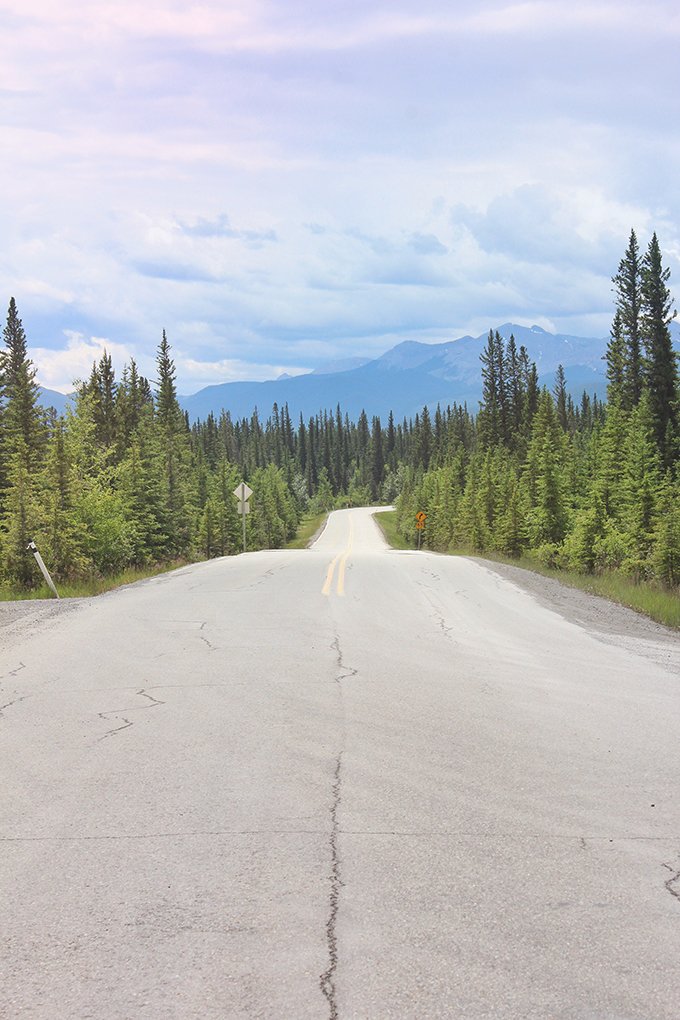 That was the lofty question I asked myself at the beginning of 2017. And today, I'm holding myself accountable to the goals, intentions and plans I set out for myself this year in an attempt to cultivate more balance in my life. Before we dive in, if you haven't already read my New Year New Goals: Cultivating a Balanced 2017, I'd suggest doing so. I'll be moving through each goal I set back in January in today's post, updating you on my progress — and it would make a lot more sense with a little backstory!
---
1. Done is Better Than Perfect
---
This was the first goal I set for myself in 2017 and it was the most general. I also knew it was going to be the most difficult for me but have the biggest impact on my quality of life. Basically, this goal forced me to overcome my perfectionist tendencies by essentially treating this blog like it's client work, enforcing hour caps on posts (to give you an idea, each blog post takes between 10 – 40+ hours to create — which includes planning, conceptualizing, sourcing elements, styling, writing, photographing, editing and promoting). It was a simple idea, but one I had already started implementing in the first couple of weeks of January before I published my New Year New Goals post with great results.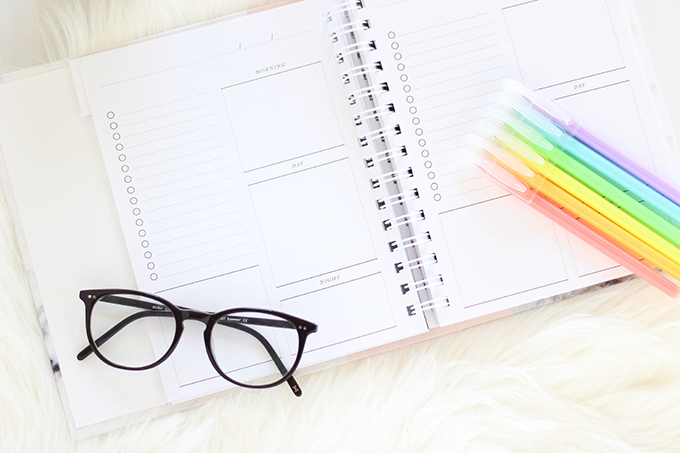 I'm happy to say that although I'm still a perfectionist at heart and always will be, I've definitely learned (and had to be very honest with myself about) what is and is not worth my time when it comes to this blog (more on that later!). I've been able to create content much more efficiently by working under an hour cap for posts and tracking my time like it's client work. This new structure has been a welcome (and necessary) change, and I find that by treating JustineCelina like a client, I'm able to compartmentalize my work for the blog without it overtaking my entire life.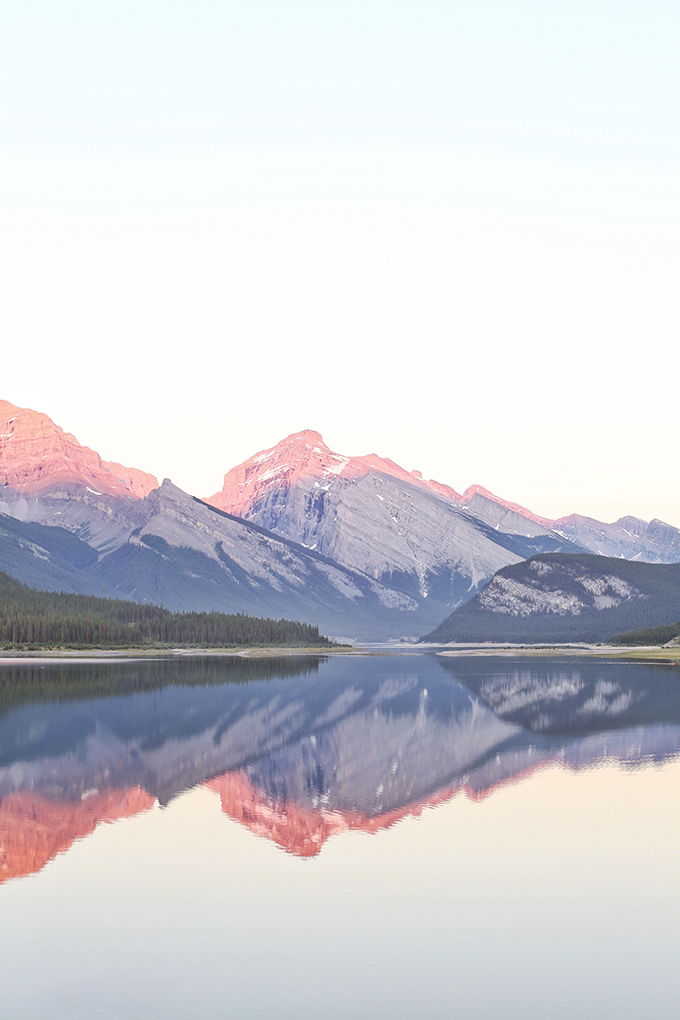 The second thing I decided to do pretty early on this year (I announced this change back in the beginning of March) was to move to publishing 8 blog posts monthly rather than 2 posts per week (some months, that meant up to 10 blog posts!). Additionally, I decided to publish these 8 blog posts when it worked best for my schedule, rather than committing to 2 posts weekly. If real life got in the way and I had to publish 1 post one week and 3 posts the next, I completely released stressing about it. This may seem like a small change (and it's also one I didn't plan to make) but for my overall peace of mind and emotional well being, it's been huge. In fact, looking back it's been one of the best decisions I've made for myself creatively and it's allowed for more interesting and varied content here at JustineCelina.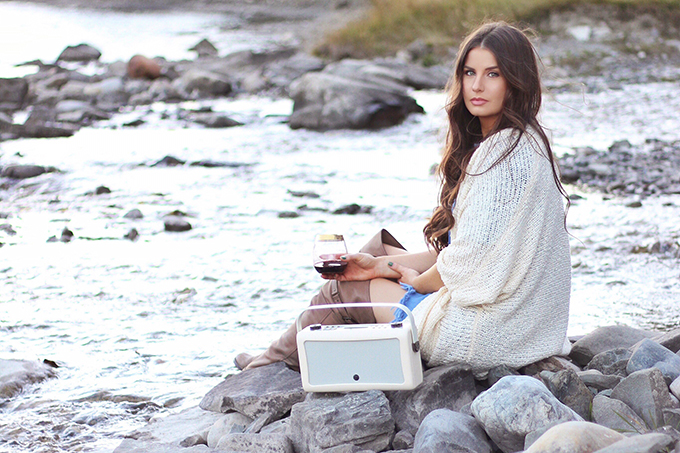 Basically, it's allowed for increased flexibility in my schedule and freed up time for client work, travel, spontaneity (like that week night we randomly ended up in Canmore and chased the light all the way to Spray Lakes to watch the sunset with a bottle of wine, where I snapped a lot of the photos you see in this post with my new camera… more on that below!) and yes, even some downtime. I've enjoyed many weekends off, read, unplugged more since March 2017 than I have since I started blogging almost 2 and a half years ago — and I also find that I'm far more efficient and focused in all aspects of my life. It makes absolutely no sense to decline exciting opportunities and stay behind my screen to get my posts out on a strict schedule, so I embraced the departure from my diligent, twice weekly posting schedule to allow things to ebb and flow a little more organically around here and it's been great! I do still think consistency is key to growing and maintaining healthy blog traffic and plan to stick to 8 blog posts monthly for the foreseeable future. At this stage I feel that it's completely manageable and not being tied down to a specific publishing schedule seems to really work for me!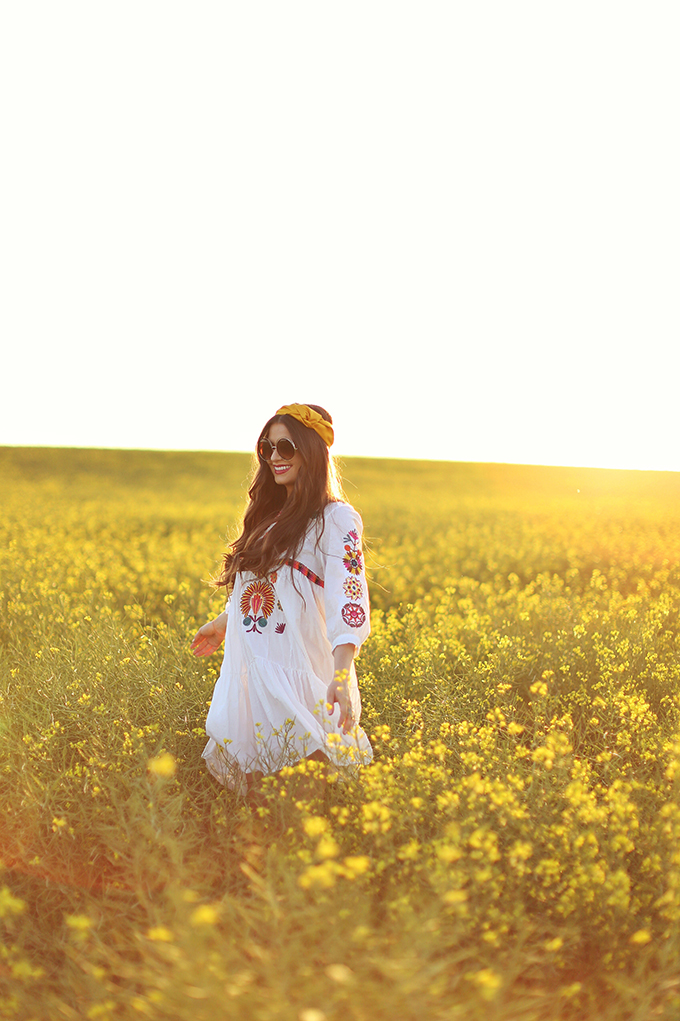 ---
2. Get Organized
---
This goal was actually pretty straightforward, but long overdue — and I spent the better part of all my free time in the first quarter of 2017 getting some very necessary organizational systems in place in both my personal and professional life.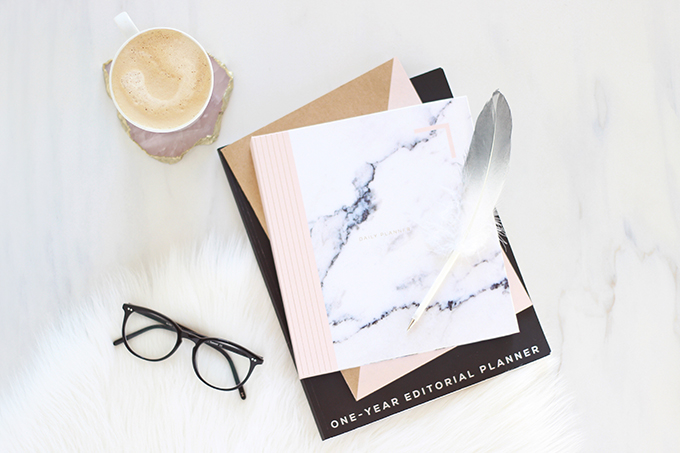 Professionally, I've been very diligent about using all my scheduling tools (which includes 3 calendars!) and scheduling my time in quarters. As I expected, it helps me to get a better idea of what I have on the go and whether or not I'm able to accommodate new accounts and projects, as well as determine where they would best fit. It also allows me to see how my year is shaping up, so that I can also plan for things like travel and vacations (we're planning a hot getaway this winter — for the first time in about 3 years!). Basically, I no longer feel like my businesses are running me — now I have the upper hand again after the starting the blog kind of threw my scheduling practices for a loop. I feel like I've figured out my 'new normal' between balancing client and blog work. Some months, I'm more focused on JustineCelina (this summer I've been working a lot on the blog and my upcoming eCommerce section!) and some months, client work is more of a priority (now through October client work is very busy). It feels good to say, "I'm booked until mid October, but can look at accommodating your project then" again — and guess what? People will wait for quality work. If they can't, it's not the right fit and I have no problem passing them along to someone who can accommodate them sooner. Learning to say no and schedule myself properly so I'm able to enjoy life again has been a big hurdle to overcome, especially in trying to grow this blog, but I finally feel like I'm back in control of my time again. However, this is a constant struggle and something I have to be mindful of every single day.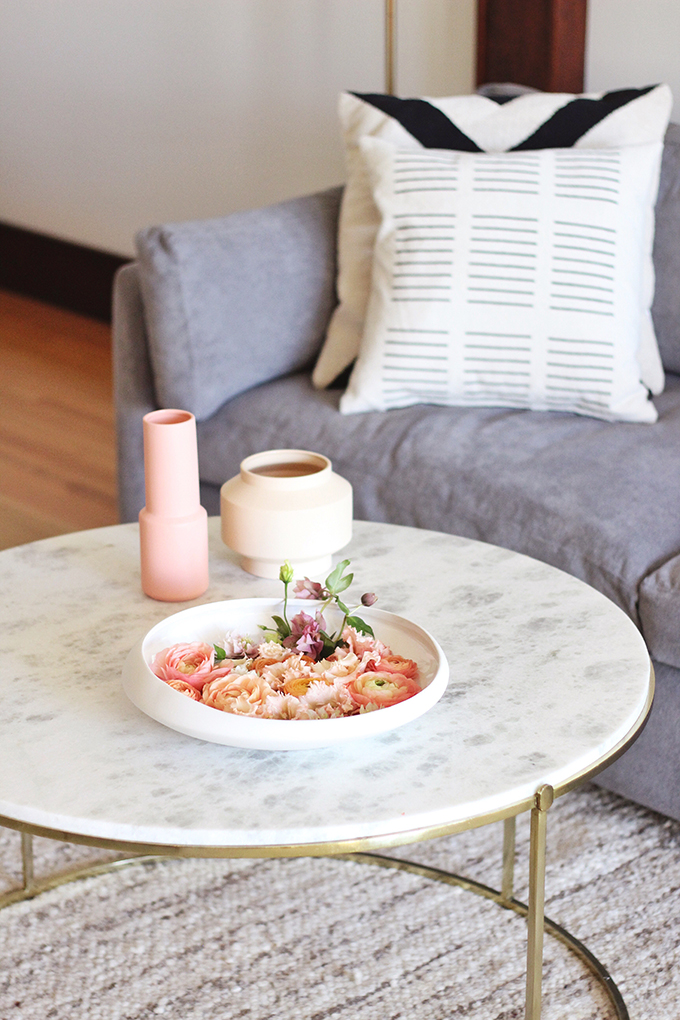 Personally, I've almost completely purged and reorganized our home (the office, where I'm typing to you right now is actually still in need of some love!) — and let me tell you, it's been quite the process. As I've mentioned previously, we've been here for over 5 years and it's where I live and work — so when I'm working 80 hour weeks, things get crazy around here! When my space is disorganized and chaotic, so is my mind. In 2017, I've been working towards turning that around. I've started working through our home in sections, purging, cleaning and organizing room by room (and Kijiji'ing all the things, then using the money to fund our massive paint-a-thon! — more on that below). Although I planned to be completely finished my home reorganization by mid February, it ended up taking a lot longer than I expected and that's okay (taking weekends off from housework is also necessary — my 'ideal life' does not include spending every weekend organizing and purging our home!). Although I still have a little more work to do, I've discovered I actually really like the process and am embracing it rather than dreading it like I thought I would.
---
3. Invest, Upgrade & Automate
---
This section was all about investing in tools to allow me to work smarter and free up some time for me to concentrate on larger goals (see 4 and 5!). At the start of 2017, I decided it was time to invest in my blog and business in meaningful ways that will help me continue to grow and advance my skills. Although it took some time, I've actually been able to turn the tools and upgrades I've been dreaming about into a reality — and I'm sharing how!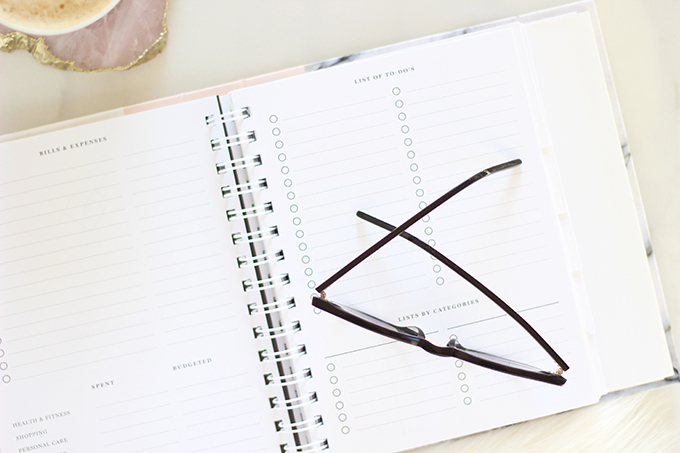 The largest investment (both in terms of the time it took to save up, and the actual financial investment itself) was a new camera and photography gear. As a blogger and creative entrepreneur, I use my camera almost daily and hit a wall well over a year ago with my super basic Canon Rebel with an inexpensive prime lens. I promised myself that I wouldn't purchase a new camera or lens until I figured out how to stretch the limits of my starter set up and an upgrade was long overdue. In late June (and thanks to a sale at The Camera Store that finally made me pull the trigger!) I was able to upgrade to my dream kit — a Canon 5D Mark III and a couple of different lenses, as well as a new Manfrotto tripod. I didn't really mention this on the blog, but in late 2016 my camera fell off of my tripod mid shoot thanks to a stripped connection, smashing my lens (while I was on deadline for sponsored content!) — ever since that day, I got really serious about saving up for some new gear. While this was a hefty investment, it was one that I was absolutely ready for. In fact, one of my stipulations for this upgrade was that I would pay in cash and that I would wait until income from JustineCelina was able to completely fund the purchase. I hadn't really considered myself a professional photographer until now, simply because of the quality of my gear. Since upgrading my set up, I've increased my rates for both sponsored work and content development, and secured quite a few client projects that involve photography — and I've already been able to recover a large portion of my investment (my plan was to use my new gear to do this as quickly as possible!). Being able to provide professional quality imagery has been a game changer for both my blog and my business. Note: I'm planning a post dedicated to exactly what's in my new photography kit, why I chose what I did and how I use it — so if you have any specific questions for me in that regard, fire away!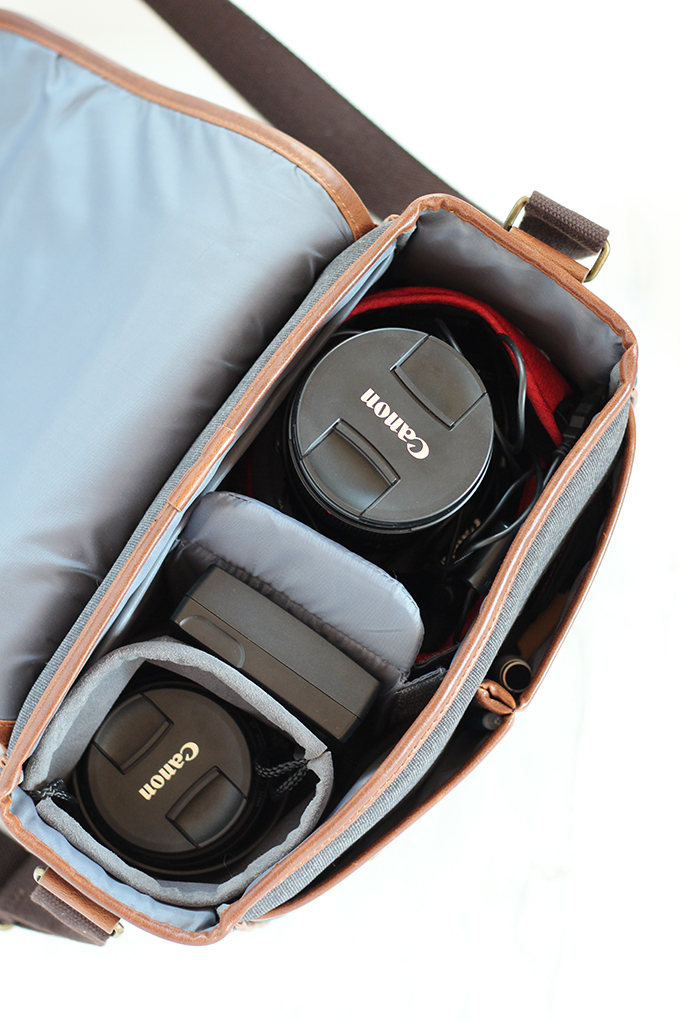 The second part of this goal was to learn new software, tools and apps to help me deliver the highest quality, most efficient work possible and free up even more time. So, I started to teach myself Lightroom and establish some new image processing workflows, but I'm still learning and using a number of other methods to edit photos (although, they require even less editing with my new camera!).
I'm also still learning what works best for me in terms of managing my socials — one of my least favourite parts of blogging. While social media can be a great tool for bloggers and business owners, they're also platforms I don't own (unlike this blog) and therefore cannot control or monetize in any meaningful way. In fact, social media could shut down tomorrow and it would have a minimal impact on my business plan, traffic and the way I generate income for JustineCelina — therefore, my socials have never been my priority. So far this year, I've explored a number of automated options so that I can grow my socials faster and free up time that's better spent doing other things. I still use and love Planoly to visually plan and schedule my Instagram account (so worth the investment!) and I've also dabbled in Tailwind, which I really like for Pinterest. Meet Edgar is still on my list, but I can't seem to decide if it's worth the investment, and they don't offer a free trial. I still have a bit of work to do here, but to be completely honest, Instagram has completely lost it's magic for me since switching over to a business account (I may actually look into switching back!) — my growth has stagnated and I (along with many other bloggers and content creators) have generally fallen out of love with my once favourite social platform. Basically, I still use it — but it, along with my other socials, are very slow to grow compared to my blog traffic (and I absolutely refuse to buy followers, likes, participate in loop giveaways or pay to promote my content!). I would rather have a small, engaged following than huge numbers and I'll have to keep you updated on this one as I figure it out — but as I said, it really doesn't impact my business plan so I'm not stressing about it!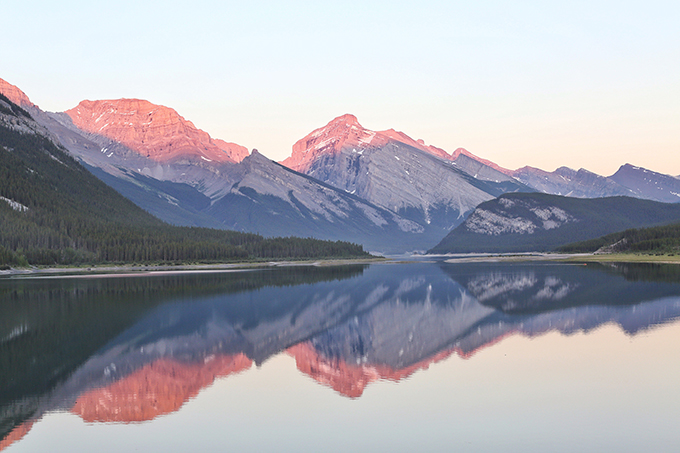 One area I have excelled in is implementing different affiliate / ad networks and investigated additional revenue streams so I can monetize space here at JustineCelina in a more efficient way. I've partnered with Mediavine and have been enjoying the passive income that this ad network affords me (which I invest back into my blog and businesses by using it for tools like Tailwind and to cover costs associated with running a blog) and RewardStyle / LiketoKnow.it. I also announced this back in March, but moving the majority of my affiliate marketing efforts over to RewardStyle has allowed me to simplify the back end the affiliate side of things tremendously, saving me tons of time while enjoying its many other perks — comprehensive webinars on everything you every wanted to know about content creation, as well as increased commissions.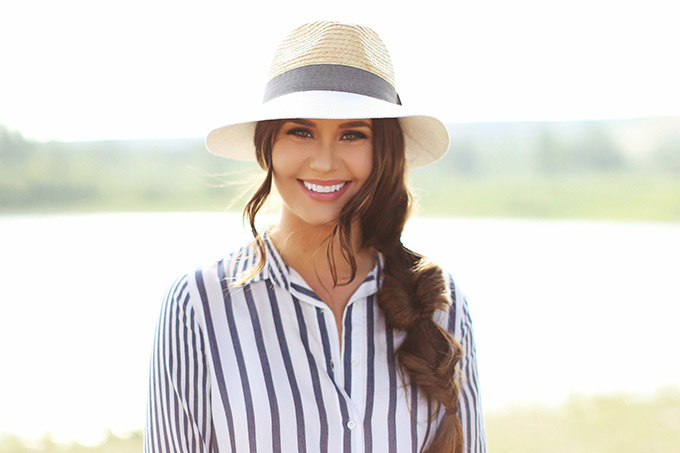 ---
4. Refresh our Space
---
Slicing my finger and ending up in the ER with 5 stitches in April definitely threw a wrench in my plans for organization and refreshing our space on the schedule I originally thought would be possible (if you're wondering, I'm all healed up now and can feel the area I injured up to about 60% — it looks pretty normal now, too!). But, if you've been following along with my Insta Stories this month, you'll know we embarked on the first part of our space refresh in August — a fresh coat of paint!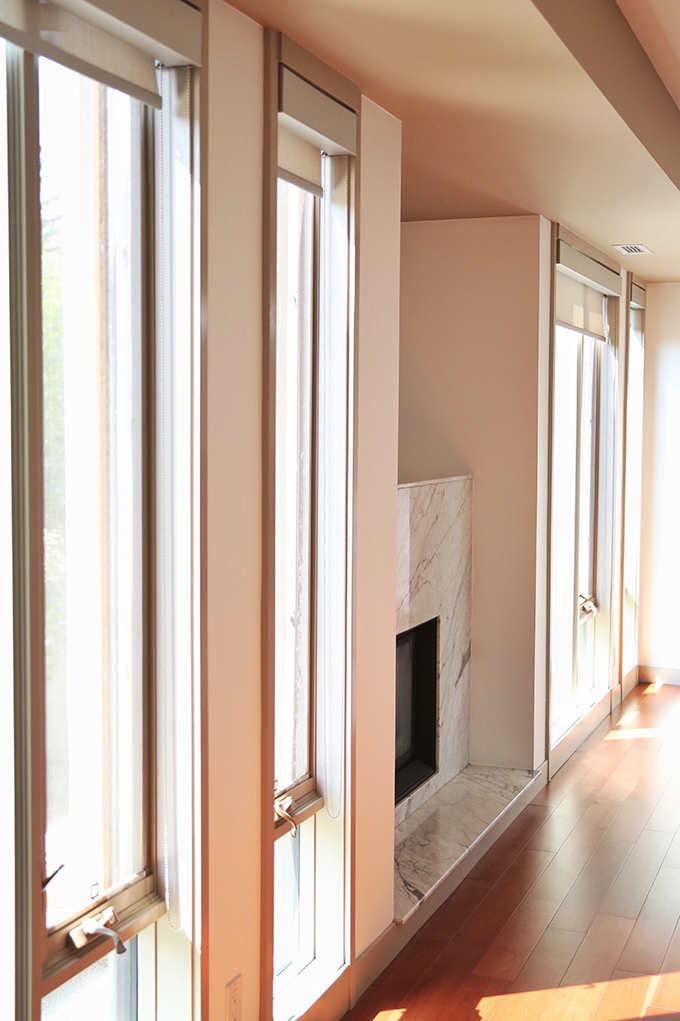 Currently, we've painted about half of the apartment (the main living area, kitchen, entrance way, hallways and main bath) — and it's a huge job. We're covering a dark builders greige with a bright white and 3 good coats are needed. That said, it's looking great! Over the past few months, I've spent a lot of time behind the scenes planning our Space Refresh, lining up partnerships to help bring it to life, sourcing elements and putting together Pinterest boards and project plans for inspiration! I'll be bringing a brand new DWELL series to the blog documenting our Space Refresh (set to kick off with a post detailing our painting experience, everything we used, project cost, savings and helpful tips!), so keep your eyes peeled for that in September! Again, this is a large project and one that we had a bit of a late start on (my 'ideal life' does also not include home renos every weekend!), so while it's not rolling out exactly as I had planned, we can't wait to start sharing it with you. I'm elated to bring more home based content to JustineCelina — interior design and styling is a huge passion of mine!
---
5. Look at the Bigger Picture
---
I mentioned in my New Year New Goals post that I feel like I have all the pieces for the puzzle — that said, some need repair, are misplaced, or scattered all over the apartment! In 2017 I set out to organize them (check!) and put them together in a way that make sense for me at this stage of life (still working on that one!). As a busy person who juggles a lot of roles and tasks, stepping back to take a look at the bigger picture (or the whole puzzle) more often is a major priority for me this year. I set some extremely large 'big picture' goals for myself this year — and although I've made some great progress towards both of them I don't have anything tangible to share. But, I will chat about what I have accomplished behind the scenes and a few serendipitous detours I've taken along the way!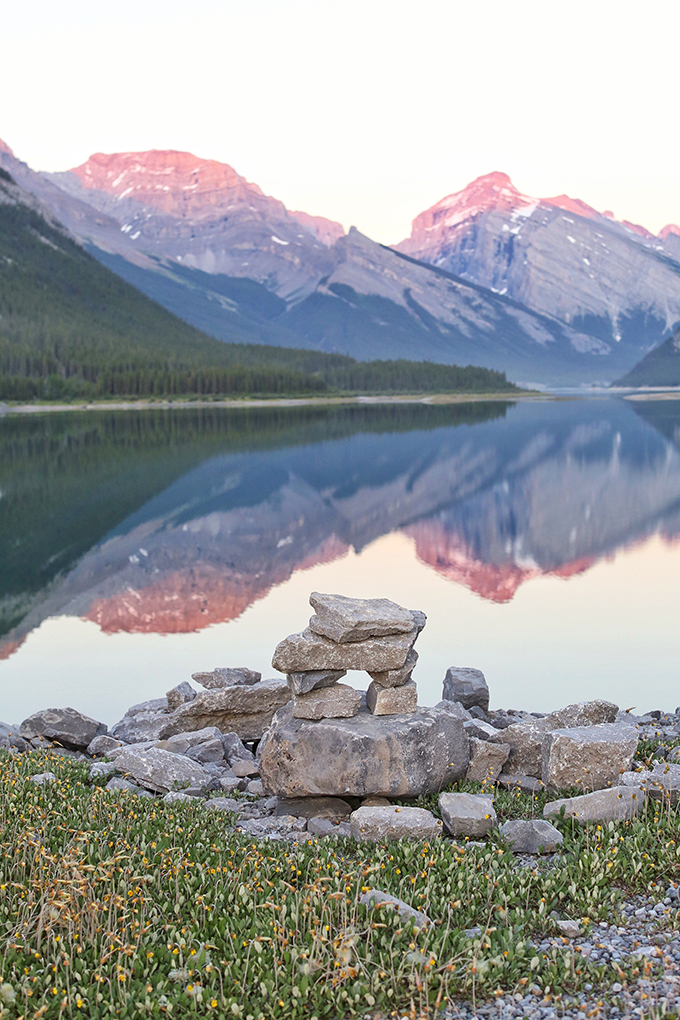 My first big picture goal was to sync my business up with this blog and market myself and my creative services under one unified brand. Currently, rebranding my business has taken a back seat — simply because I'm too busy with client and blog work and I haven't been able to make the time (what is it about the shoemaker going barefoot?!). This is more of a 'nice to do' goal rather than a 'have to do' goal of mine. My business has had the same brand and name for the past 10 years since I started it out of college in 2007 — it's established, it's reputable and really, the change isn't mandatory. However, this is something I would like to accomplish when I can do so while enjoying the process, not overworking myself or destroying the balance I've worked so hard to create. Falling back into burnout this year is also not part of my 'ideal life'. I'll definitely keep you updated on this one, but as of right now, in and spare time I do have, refreshing our space and working on my second big picture goal are more of a priority!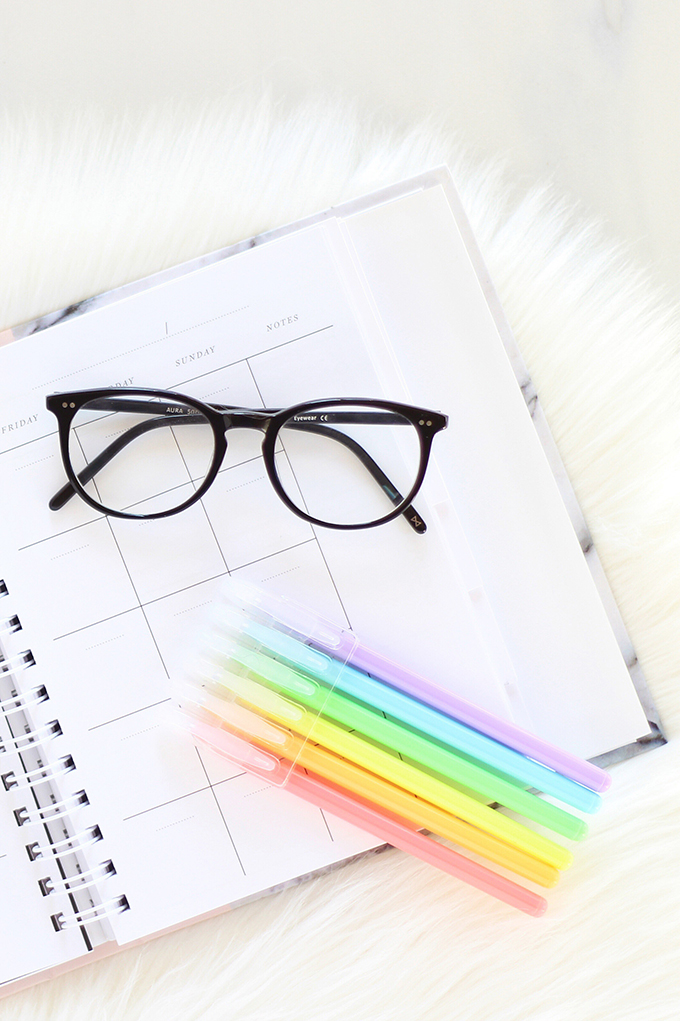 My second goal was to bring an eCommerce component to JustineCelina. This is something I've always had the intention of doing and I've done a ton of behind the scenes work towards this goal. Personally, I'm the type of person that doesn't really like to talk in detail about something until I've done it, so I won't linger too long here! I will share that I'm developing products and educational materials that I'll be selling here at JustineCelina — eventually. Adding a third, mostly passive revenue stream to my business model will free up even more time for me once it's off the ground (I'll be able to generate income by selling products rather than selling my time) and therefore is another important piece of the puzzle in cultivating more balance (as long as I can get it off the ground without overworking myself!). I'm developing some gorgeous printed goods (I've now taken over 100 000 photos since starting JustineCelina!) — and I'm in the early stages of working with a supplier to bring them, along with some other prints to you off screen as well. More to follow!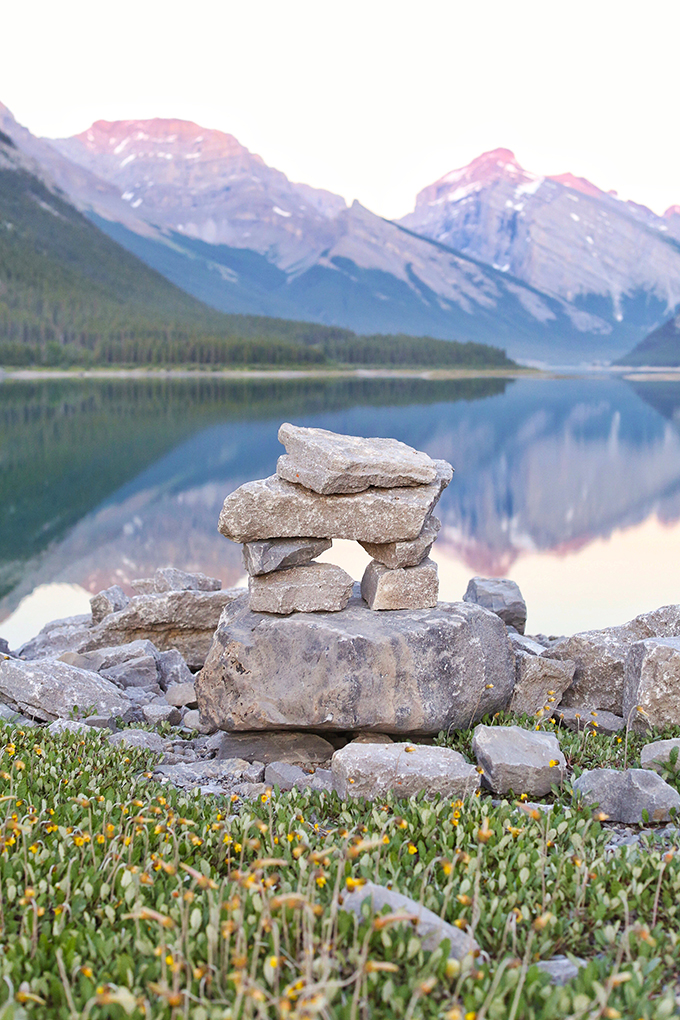 I'm still planning to develop a series of downloadable ebooks and resources piggybacking on a new series I'll be bringing to the blog, The Business of Blogging. No matter the topic, JustineCelina has always been rooted in education and creation, so it feel that it's a natural step to make additional resources available to answer FAQs about my creative work while providing tips around branding, styling, photography, editing, content development, planning, writing, media kits and pitching, among other topics.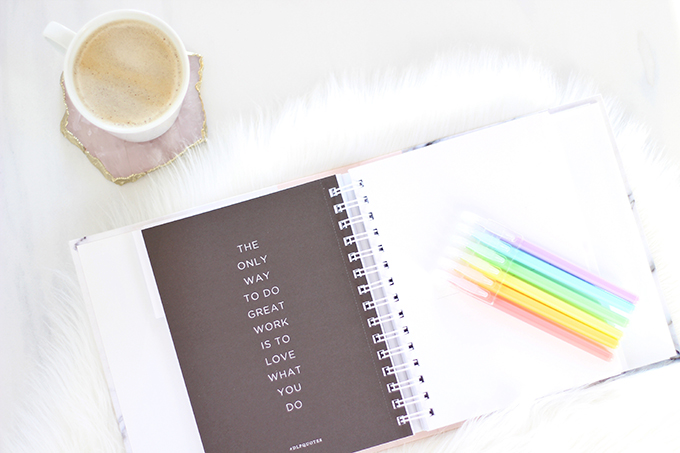 It was also a natural step to branch out into related (but completely unplanned!) territory — speaking engagements! Earlier this summer, I had the opportunity to speak at a YYC Blogger Babes event about The Business of Blogging and it was such a rewarding experience to share some of what I've learned along the way with this group of passionate women. I left feeling more inspired than ever! It was also a fantastic way to gauge interest about the different topics that will comprise the series (feel free to comment, email or message me with any questions you have about blogging!). In October, I'll also be speaking on Next Big Thing's Content Creation Panel alongside a very esteemed group of talented creatives. I'm so passionate about sharing what I've learned to help other entrepreneurs and bloggers navigate these waters with confidence and feel incredibly grateful for these opportunities!
---
MORE RAW, INTROSPECTIVE, MOTIVATIONAL CONTENT
---
My 2nd Blogiversary + 10 Things I Learned in my Second Year of Blogging
My 1st Blogiversary + 10 Things I Learned in my First Year of Blogging
---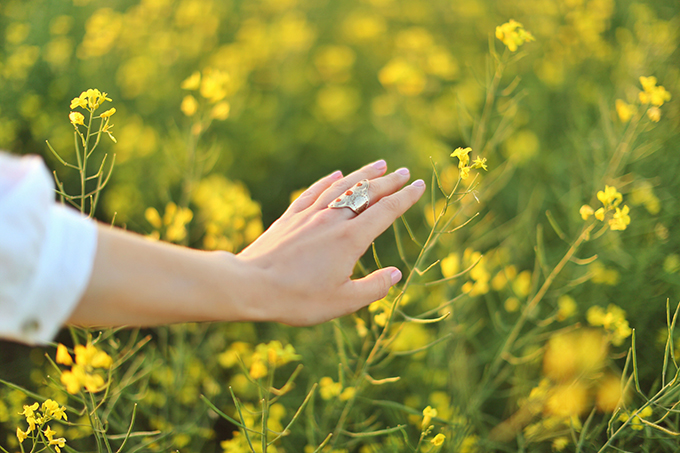 How are you getting on with the goals and intentions you set for yourself this year? If you're comfortable sharing your progress (or if they changed and what you learned along with way), I'd love to hear from you! Thanks for hanging out for another introspective post today — I know most of you really enjoy this type of raw, honest content and it's something I always plan to bring to JustineCelina. And if these types of posts aren't really your thing, not to worry — we're back to regularly scheduled programming later this week!
---
Disclaimer: This post is not sponsored and contains my genuine thoughts, ideas and recommendations. JustineCelina uses affiliate and referral links, which allow me to receive a small commission when you make a purchase through one of my links. Thank you for supporting the brands and businesses that support JustineCelina.com!