---
Clean COCKTAIL lovers, I'm back with 2019's first better-for-you libation! I've actually been testing my Gingered Cara Cara Grapefruit Paloma since last February — but because my recipe testing process is so intense, believe it or not, my star ingredients went out of season by the time I had it perfected (call me crazy, but that's how committed I am to the perfect cocktail!). So, I waited until the height of citrus season this year to publish the recipe — and I'm so glad I did, because the results are absolutely delicious!
Have you ever had (or heard of) a Paloma? In true JustineCelina style, I've elevated this traditional Mexican cocktail with a fresh, plant-based, seasonal spin. My Gingered Cara Cara Grapefruit Paloma is a simple, refined sugar free, 6 ingredient ode to citrus season in cocktail form! Freshly squeezed Cara Cara orange, Ruby Red grapefruit and vibrant lime juice combine with Reposado tequila, spicy ginger beer and a Himalayan pink salted rim to create a jubilant, citrus-centric tipple bursting with vivacious Spanish flavour. Escape the depths of our Canadian winter and transport yourself to a sun-drenched, white sandy beach in just 10 minutes — no plane tickets required!
---
GINGERED CARA CARA GRAPEFRUIT PALOMA
---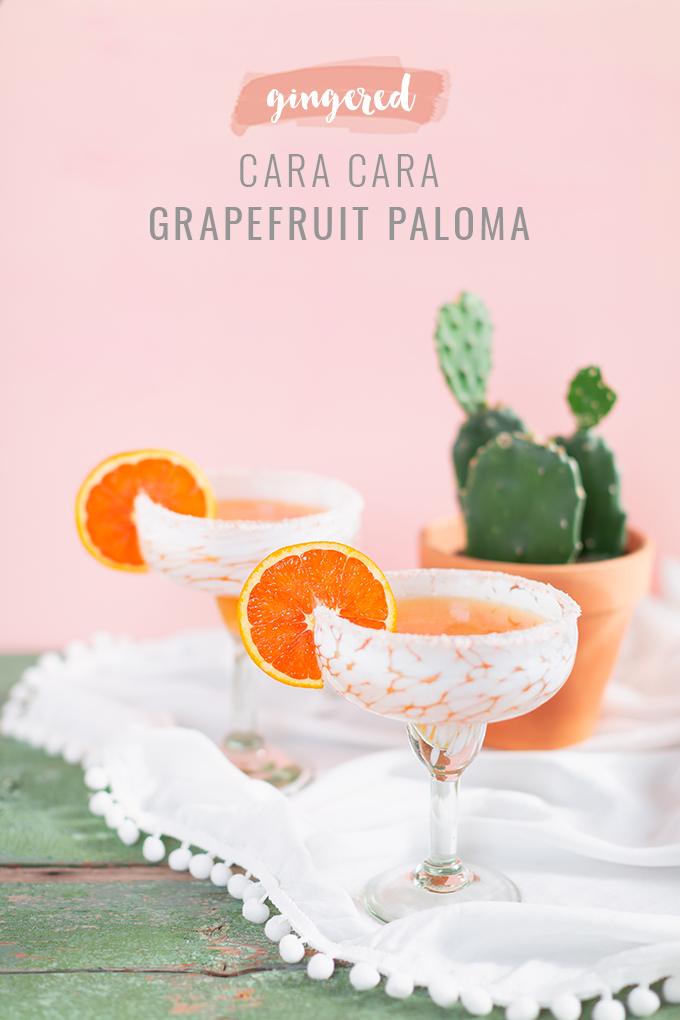 There's something about weeks of snowy, -30 °C conditions that make me crave bright, tropical flavours, colours, cuisine and cocktails inspired by exotic destinations. Without fail, every February I begin to inject a serious dose of colour into my content across categories here at JustineCelina — it's my way of coping with our brutal Canadian winters here on the Alberta prairies!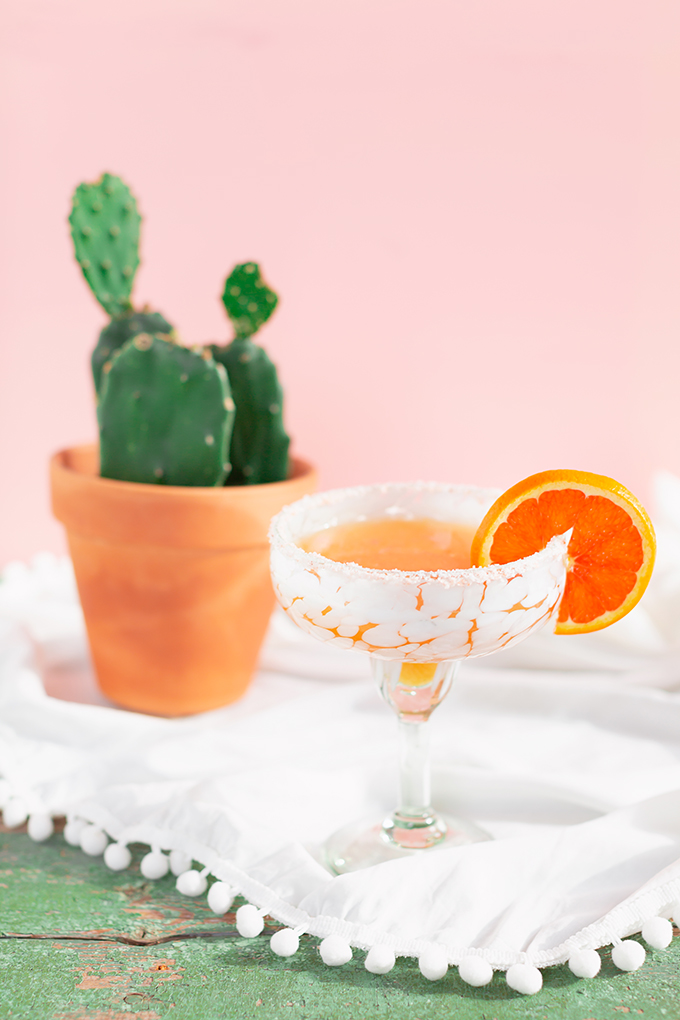 I discovered Cara Cara oranges last winter in late January. They were on sale at our local grocer and neither of us had tried them before, so I filled our basket. We both love citrus and are always looking for delicious new varieties to try!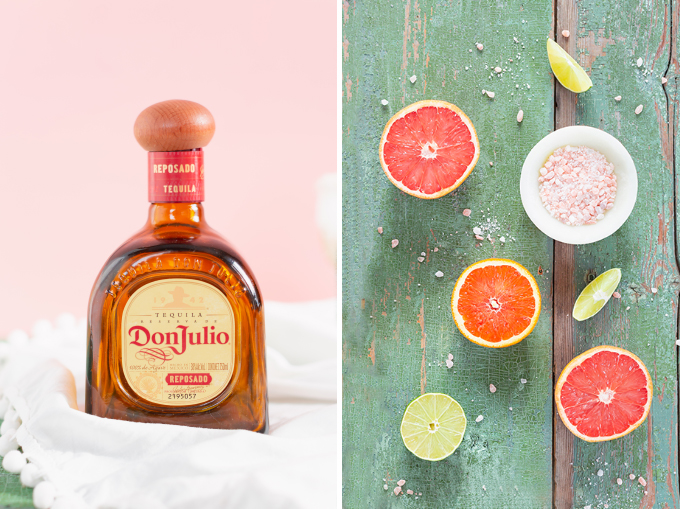 After devouring our body weight in Cara Cara oranges, we learned these delicious, coral-hued navels are less acidic than other citrus varieties and have a sweet, almost berry-like flavor. They're also seedless — which makes them the ideal citrus fruit to juice, or use for cocktails! And they're readily available at this time of year at all major grocers. This perfectly balanced, naturally sweet trio of Cara Cara orange, Ruby Red grapefruit and zingy lime juice makes an incredible citrus base for my Gingered Cara Cara Grapefruit Palomas!
Just add a splash of spicy ginger beer and a healthy dose of tequila and you're all set! I've mentioned this previously here at JustineCelina, but my tequila of choice is Reposado — we fell in love in Oaxaca a few years ago and we've never looked back. It's the only tequila we keep stocked in our bar!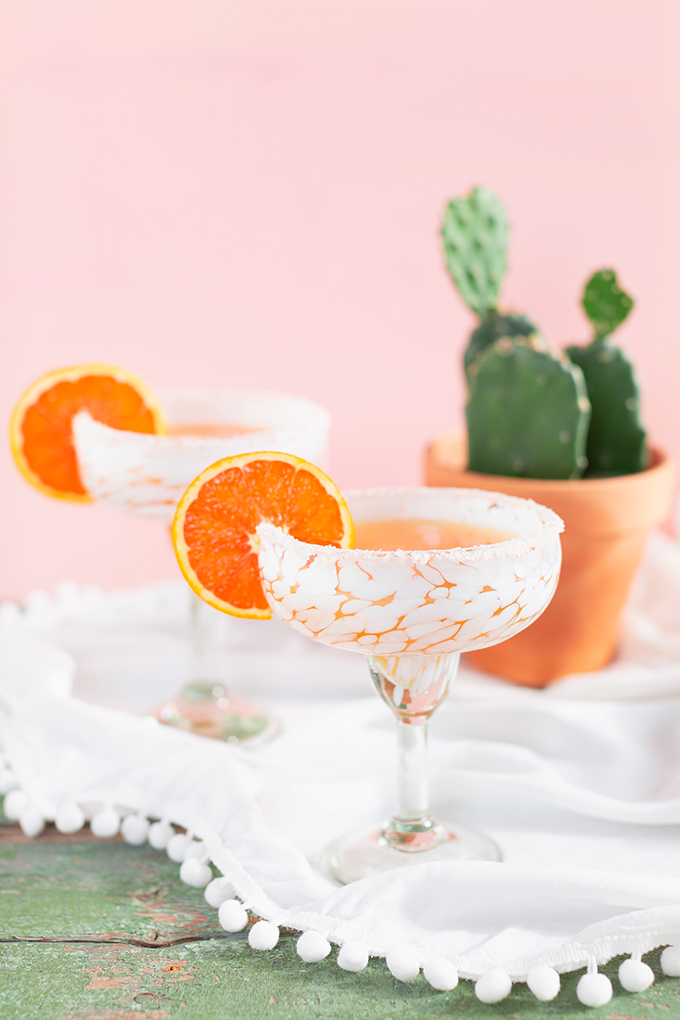 While the majority of cocktail recipes are loaded with simple syrup or added sugars, I often don't find any added sugar necessary — especially when you're working with gorgeous, naturally sweet citrus at peak season! This is a healthier alternative compared to most cocktails which are high in calories and full of refined sugar. I'm all about balance (even in my COCKTAILS!) and truly believe in making better choices no matter what you're eating or drinking.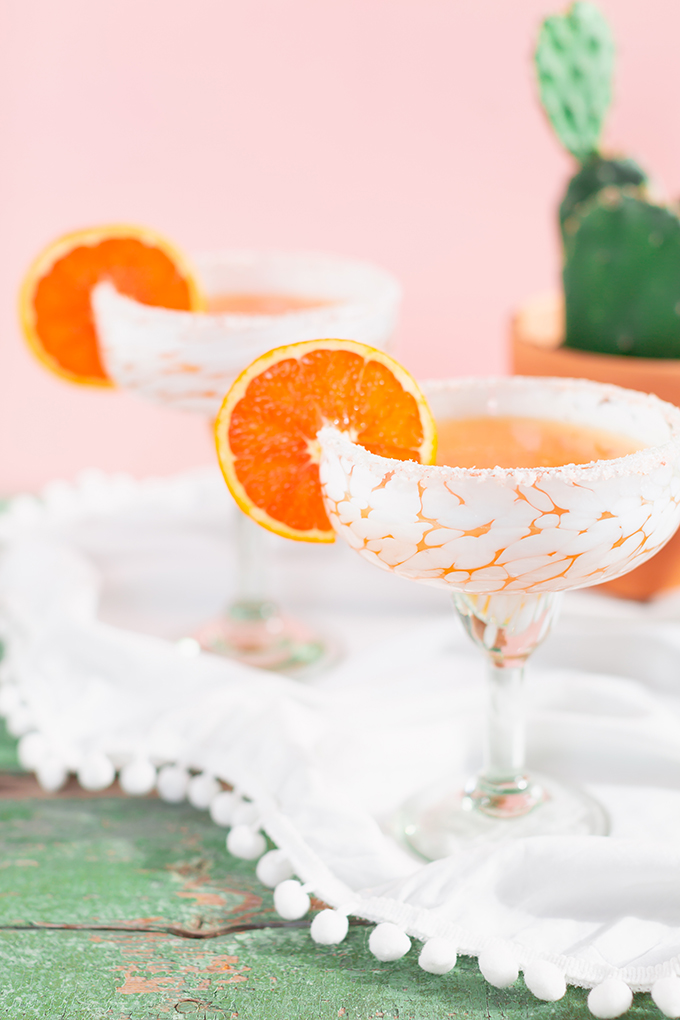 ---
Ingredients
---
Serves 1
GINGERED CARA CARA GRAPEFRUIT PALOMA
• 1.5 oz Reposado tequila
• 2 oz freshly squeezed grapefruit juice
• 1 oz freshly squeezed Cara Cara orange juice
• 1 oz ginger beer (I like Old Thyme or The Great Jamaican Co.)

• 0.5 oz lime juice
• Himalayan pink salt
OPTIONAL GARNISH
• Cara Cara orange slice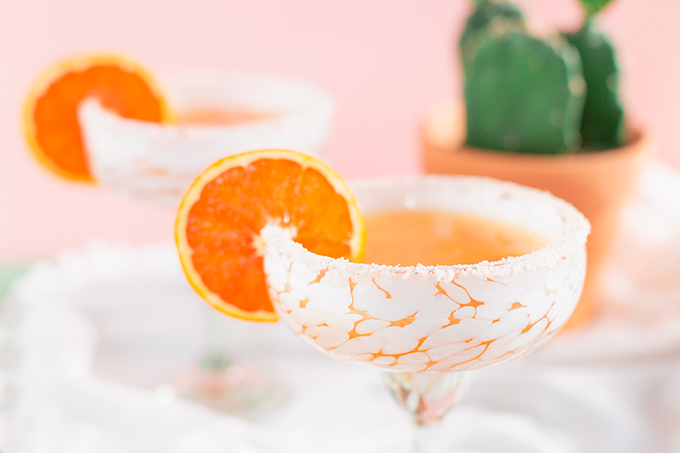 ---
Instructions
---
1. Juice citrus fruit.
2. Add a splash of extra lime juice to a saucer to coat the rim of your glass. Add a thin layer of Himalayan pink salt to another saucer. Dip rim of your glass into the lime juice first, then into the Himalayan pink salt to create a salted rim.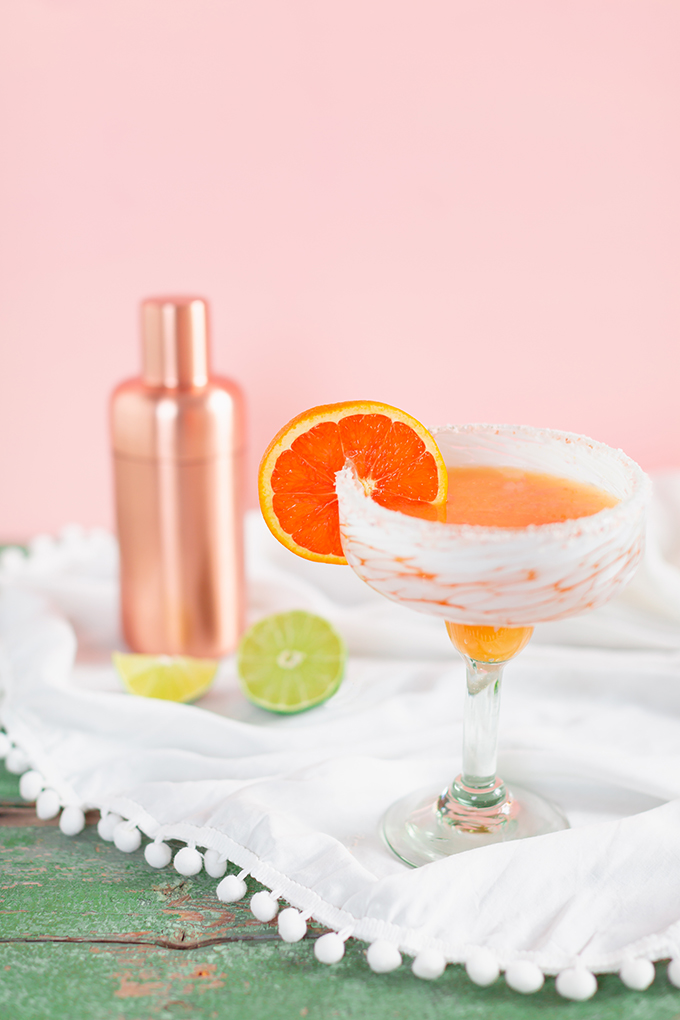 3. Build your Gingered Cara Cara Grapefruit Paloma in a cocktail shaker by adding 8 ice cubes, along with citrus juices, tequila and ginger beer. Shake vicariously, until cocktail shaker becomes cold.
4. Strain contents into a margartia glass.
5. Garnish with a Cara Cara orange slice.
6. Bottoms up!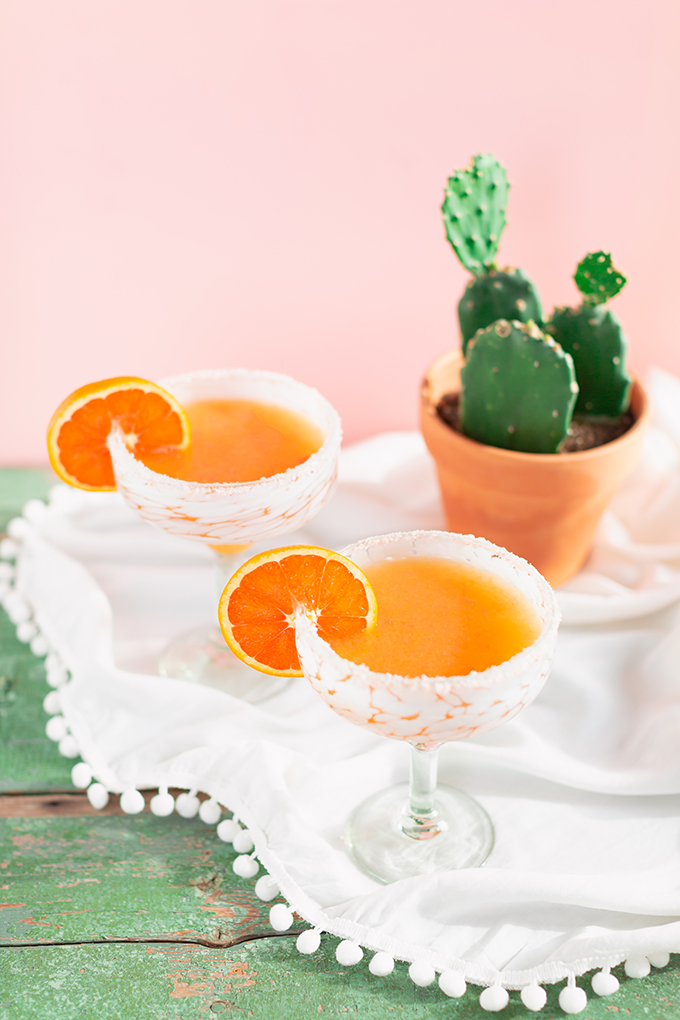 ---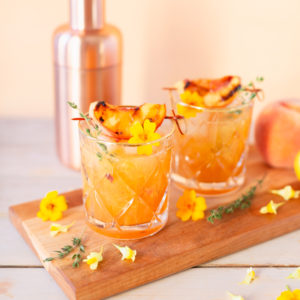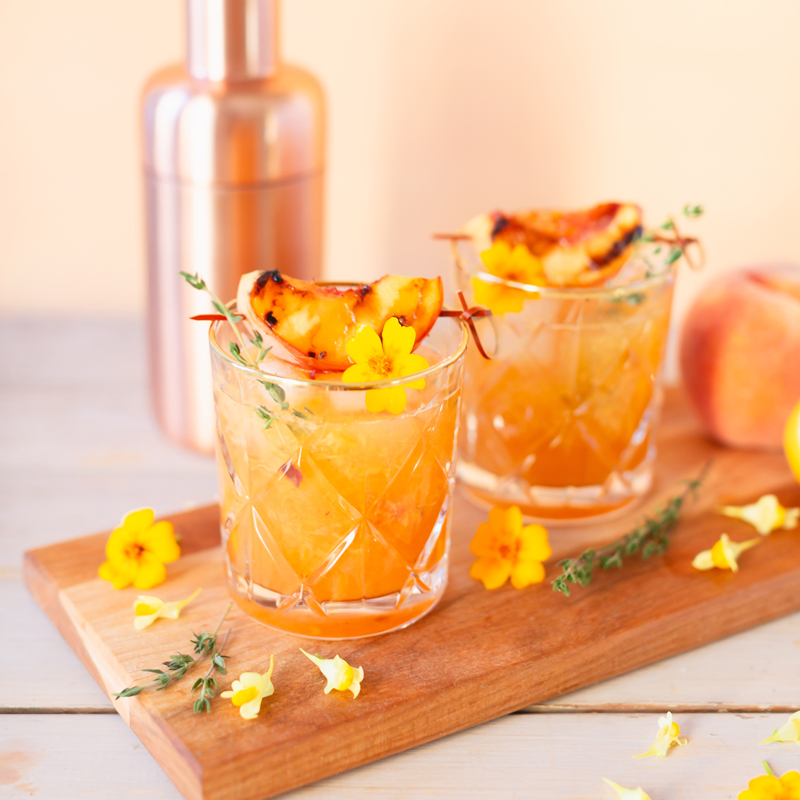 SMOKED PEACH MAPLE BOURBON SMASH
This summer-meet-autumn sip juxtaposes the essence of juicy late summer fruit with a smoky grilled edge, infused with spicy autumnal warmth and  to create the ultimate transitional cocktail that's equal parts sweet 'n spicy. If you still haven't had your fill of late summer peaches, get your grill on and imbibe this simple but sassy cocktail sure to impress both bourbon lovers and bourbon skeptics (believe it or not, I was the latter prior to this cocktail) alike! As always, my Smoked Peach Maple Bourbon Smash is free of dairy, gluten and refined sugar -- and brimming with better-for-you ingredients, because I believe in balance in all areas of life. Grilled Okanagan peaches, Smoked Maple Bourbon, 100% pure Canadian maple syrup, fresh thyme, spicy ginger beer, fresh lemon juice, a splash of soda water and a dash of bitters are shaken to perfection and served over ice in this quintessentially September libation!
Ingredients
1

peach

1

tsp

maple syrup

(100% pure Canadian)

2

oz

(I used Knob Creek)

3

dashes

1

sprig

fresh thyme

2

oz

non-alcoholic spicy ginger beer

(I used The Great Jamaican) 

1/2

oz

fresh lemon juice

1

oz

soda water
OPTIONAL GARNISH
Grilled peach slice

Sprig of fresh thyme

Edible flowers
Instructions
Start by firing up your grill and setting it to high heat. Grilling the peaches not only leaves delicious grill marks and a beautiful char on the fruit, it softens the peaches perfectly so they're able to break down in the cocktail shaker. That said, if you don't have access to a grill, set your oven to broil.

While the grill / oven comes up to temperature, wash and halve a fresh peach, removing the pit. Coat fresh with a thin layer of 100% pure Canadian maple syrup and set aside.

Add peach halves to a clean, hot, freshly oiled (I find Canola Oil works best) grill. Allow to cook for 5 minutes, or until a light char appears on fruit. If you're broiling, broil fruit for 2 minutes or until maple syrup starts to bubble and caramelize. 

Remove peach halves from grill (or oven) and turn grill (or oven) off. Set aside to cool while you prepare the cocktail shaker.

Build your Smoked Peach Maple Bourbon Smash in a cocktail shaker by adding 8 ice cubes along with a grilled peach halve, sprig of fresh thyme, bitters and bourbon. Shake vicariously, until cocktail shaker becomes cold and the peach is throughly broken down.

Add 4 fresh ice cubes to a cocktail glass. Strain shaker contents overtop. It will take some effort to get most of the peach flesh out of the strainer, so keep shaking until your cocktail glass is more than half full (if your hand gets too cold, wrap a kitchen towel around the shaker!).

Top with spicy ginger beer, fresh lemon juice and soda water. Stir to combine.

Garnish your Smoked Peach Maple Bourbon Smash with a grilled peach segment, a sprig of fresh thyme and / or edible flowers.

Serve immediately and enjoy!
---
MORE CLEAN, SEASONAL COCKTAILS & SANGRIAS
---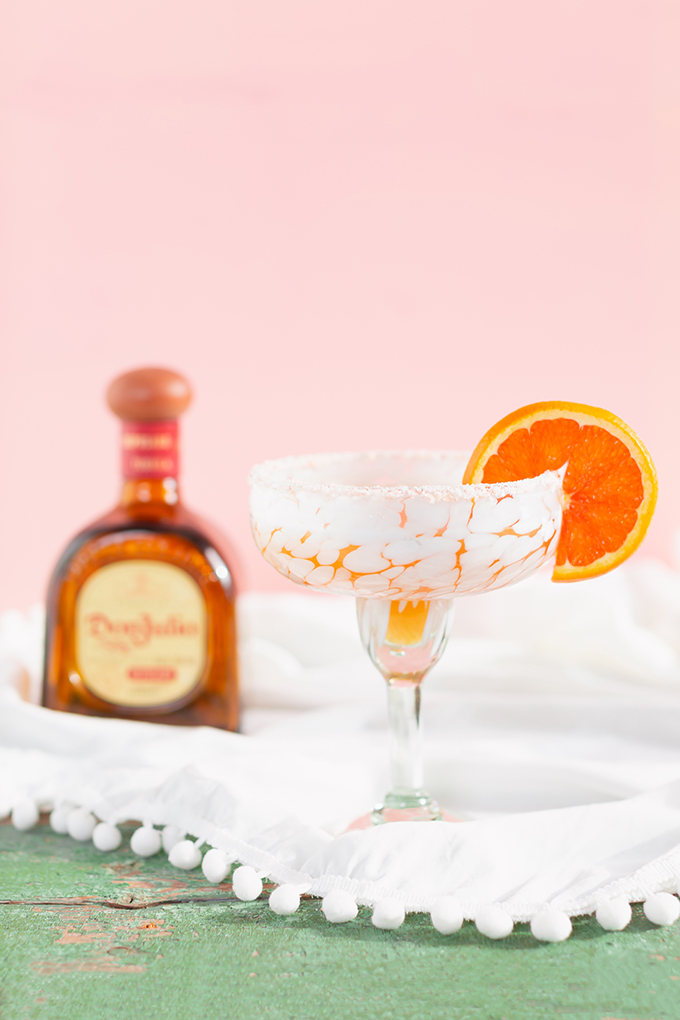 White Citrus Sangria
Coastal Orange Blossom Gin Cocktail
Classic Winter Citrus Red Sangria
Blood Orange Creamsicle Mimosas
---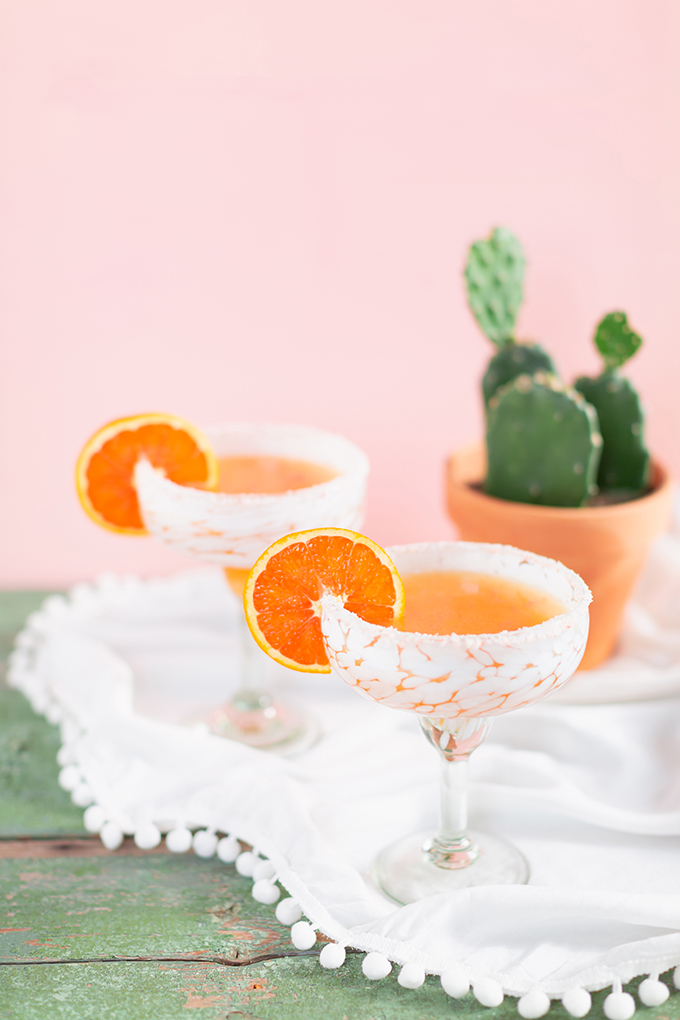 Have you ever tried a Paloma? If not, the height of citrus season is the perfect time! They're incredibly tasty, simple to prepare and refreshing — ideal for late winter when we're all dreaming of warmer destinations and craving a taste of the tropics!
As always, if you try my Gingered Cara Cara Grapefruit Paloma please leave me a comment below, or tag me on Instagram, Twitter or Facebook! You can also use the hashtag #justinecelinacocktails in your recreations on social media so I can find them — I love it when you guys tag me so I can see what you're whipping up at home! I also have a Pinterest board for my recipes and a newer board exclusively for my cocktails if you're looking for more  better-for-you cocktail options with clean ingredients. Thanks for stopping by today to celebrate citrus season with me!
---
Disclaimer: Thank you to Amici Home for providing the Carmen Marble Margartia glassware I used in this post — each piece is unique, recycled and handcrafted in Mexico (aren't they gorgeous?)! This post is not sponsored, and contains my genuine thoughts, ideas and recommendations. JustineCelina uses affiliate and referral links, which allow me to receive a small commission when you make a purchase through one of my links. Thank you for supporting the brands and businesses that support JustineCelina!