---
I absolutely love fall makeup, and transitioning into darker, richer shades. Fall colours are my favourite to wear! During September I rediscovered my favourite powder eyeshadows from Makeup Geek (who makes the best quality eyeshadows at any price point, but these just happen to be $6 each!). I picked up some new goodies from e.l.f. Cosmetics (another inexpensive brand with awesome products) and found a holy grail setting powder and some beautiful berry-toned blushes. I also found the perfect daytime berry lip. Let's chat about fall beauty products!
---
US $6.00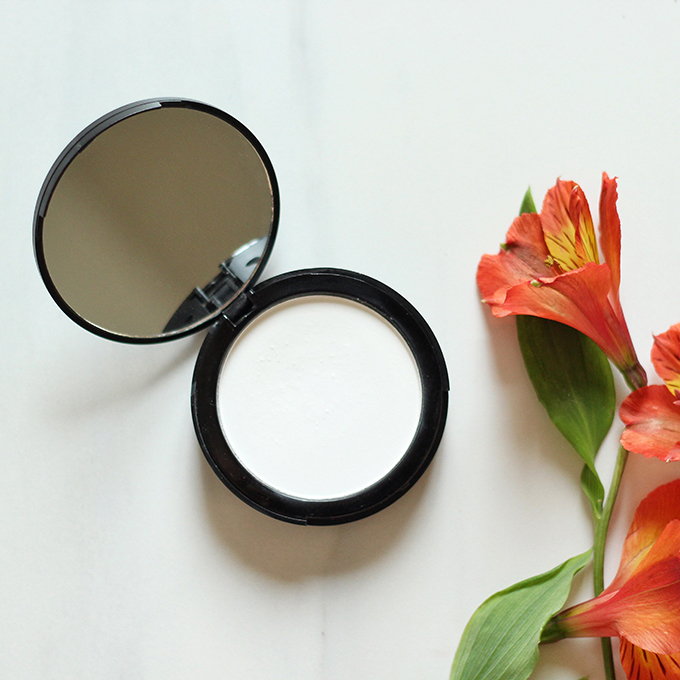 I wish I had found this powder before I purchased the Laura Mercier one I was raving about last month — I like it even better than my Laura Mercier powder, and it's 1/7th of the price! This is by far the best setting powder I have ever used, and it's only $6! I use it to set my face and it makes the skin look flawless, while providing a velvety matte finish that literally lasts all day. I like using translucent powders to set my foundations since they don't add any coverage, but lock everything into place. I apply it with the sponge provided with the powder, patting it into the skin, and then I sweep the excess away with a brush. If you've never ordered from e.l.f. Cosmetics and you want to try some things, definitely pick this powder up — I'm totally blown away by it!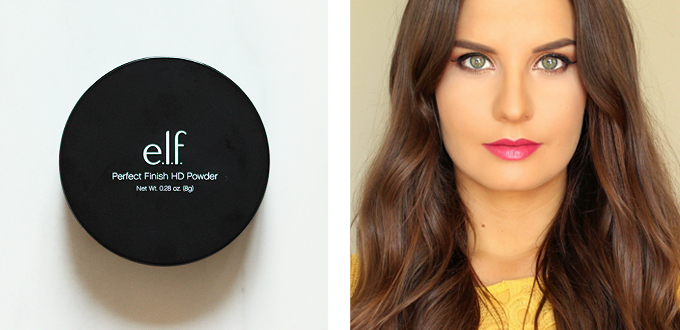 I'm wearing the e.l.f. Studio Perfect Finish HD Powder.
---
2. Powder Eyeshadows
US $6.00 – C $22.00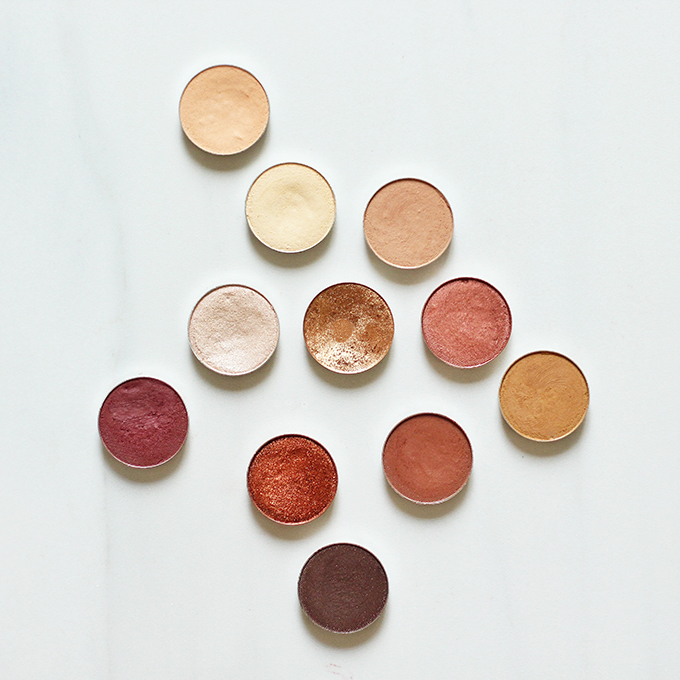 I feel like Colourpop eyeshadows have been dominating my beauty life for the past little while (just search for Colourpop in my search bar and you'll see what I mean!) — I'd kind of forgotten about all my single powder eyeshadows. I made a few custom palettes with all my favourite shades last year, and had been getting tons of use out of them until I discovered Colourpop. Well, I reorganized them into my ultimate fall palette, and these are the shades I've been loving lately. Most of them are from Makeup Geek — an independent makeup brand, founded by a woman who absolutely loves makeup, and seems like a very sweet person. The quality of these eyeshadows is outstanding — at a drugstore price point (regular shadows are just $6 each, while foiled shadows are $9.99) the quality is better than most high end brands. I love to support businesses like hers! These eyeshadows are so buttery in texture, very pigmented, and very easy to blend. I purchased all of these eyeshadows individually and added them to a Z Palette to create my own custom palette. They're magnetized and so is the base of the palette, so they stick to the base, but you have the freedom to move them around and swap them out for other colours. If you guys are interested in a most in depth post about how to make a custom eyeshadow palette, let me know!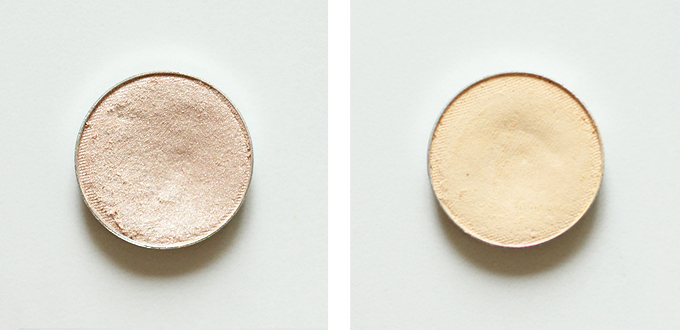 US $6.00
My holy grail inner corner highlight, and a beautiful all over the lid shade. A buttery, metallic champagne.
US $6.00
My favourite brow bone highlight, and a great neutralizing shade to set eyeshadow primer or concealer on the lid before beginning your eyeshadow look. A matte, creamy vanilla shade with a beige undertone.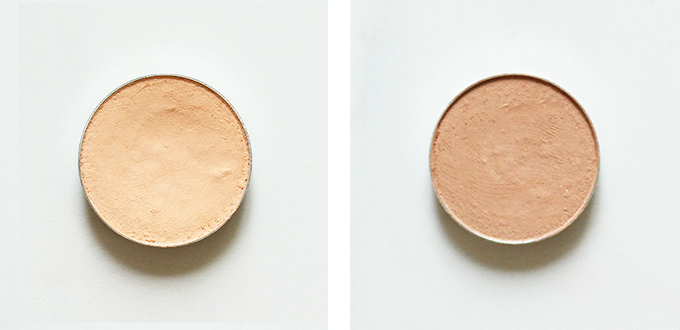 US $6.00
My favourite transition shade to add warmth to the crease and help blend darker colours out. A light, matte peachy shade.
US $6.00
I like to mix Creme Brûlée with Peach Smoothie as a transition shade, or use it to add more warmth and depth in the crease. A matte, warm, sandy brown.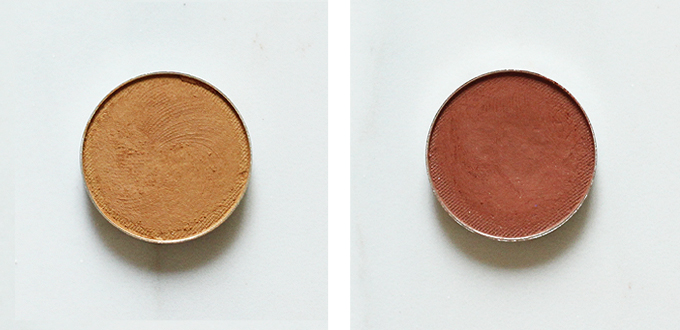 US $6.00
This is unique shade I like to wear in my crease. It's a warm, yellow-based camel brown.
US $6.00
This is my favourite rich brown — perfect for fall smoky eyes. It's a great shade to add depth to the crease and outer corner. Cocoa Bear is a matte, red based brown.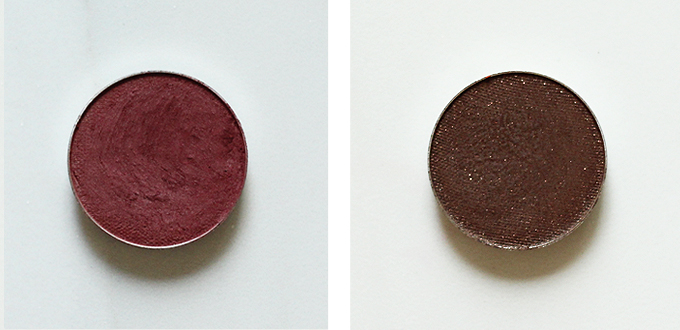 US $6.00
This is a beautiful burgundy shade that I love to use in the fall to add depth and warmth to the eye. This is a matte, deep wine shade.
US $6.00
Bada Bing is a bit stiffer in texture than the other shades I've mentioned, but it's a great espresso brown with gold flecks. The gold flecks don't really translate to the eye, so I use this shade to add structure and deepen the outer V. It's also perfect to smoke out liner.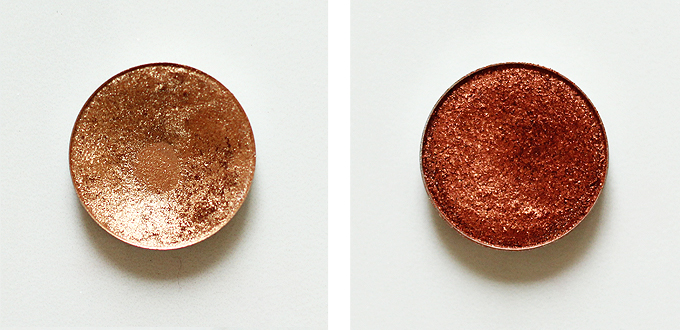 US $22.00
The only single shadow I love that isn't from Makeup Geek — Half Baked is the most perfect intense, metallic true gold shade you will ever find. I've gone through at least 5 of these over the years — it was a staple for me long before the Naked palettes were released!
US $9.99
Here's a shade from Makeup Geek's Foiled Eyeshadow range (which are ultra creamy and intensely metallic — even more than their regular line). It's the most intense, bright orange copper shade I've ever seen. I absolutely love how it looks with green eyes.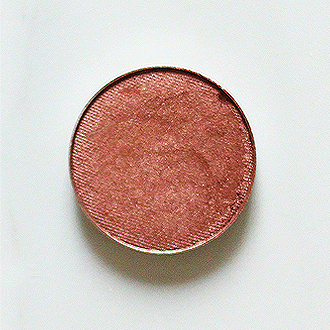 US $6.00
Roulette is a very unique shade — a metallic, marsala red. I love to wear this shade all over the lid for a fall smoky eye.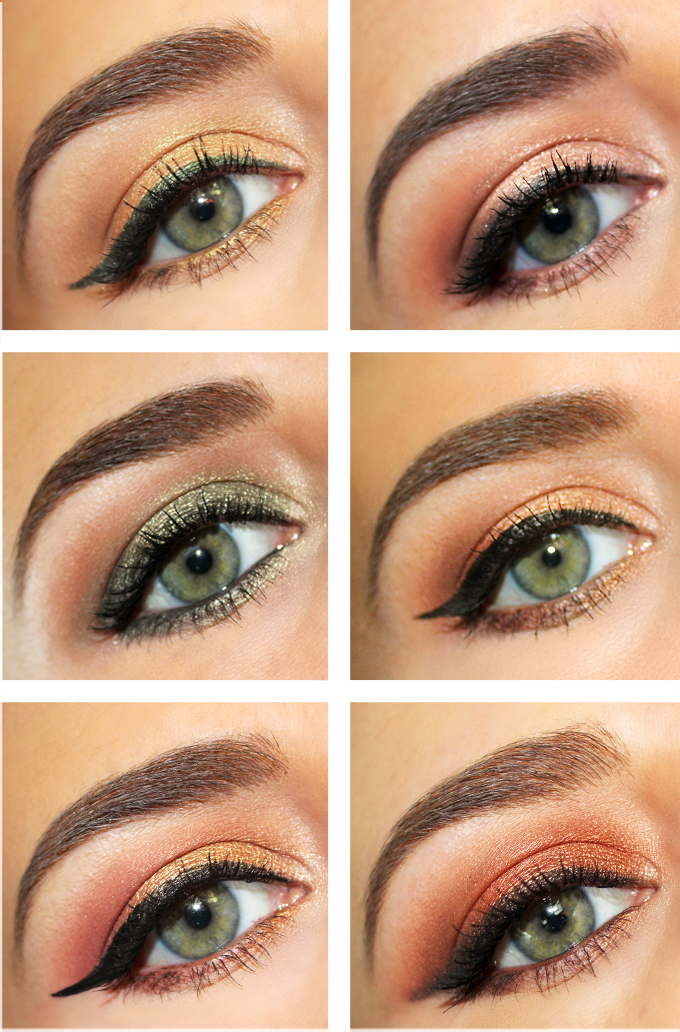 Here are some looks I've worn this month incorporating my favourite fall eyeshadow shades.
---
C $17.94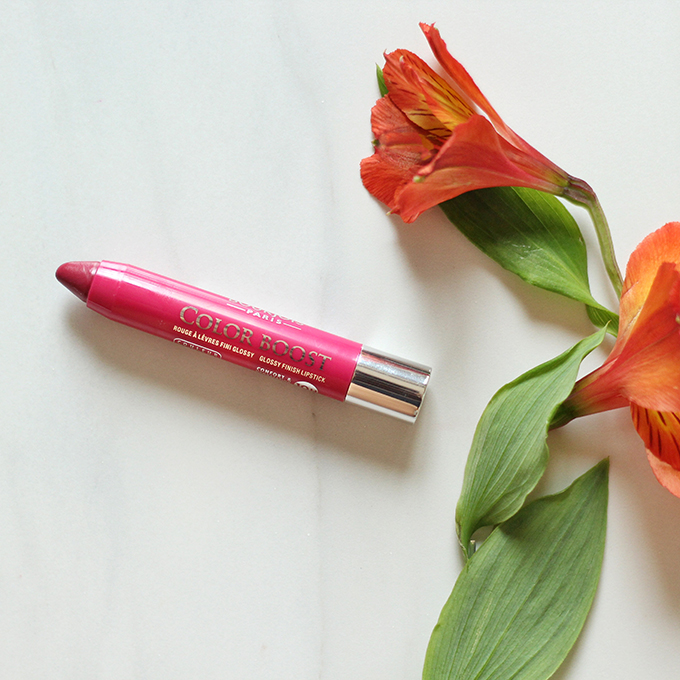 I own all of the shades available in the Colour Boost Lip Crayons, and they're all amazing. I've mentioned other shades here, here and here. Pinking of It is the perfect daytime berry for fall. I've described these previously as the yoga pants of lip products — they're so comfortable, moisturizing and beautiful on the lips. They're easy to wear, taste and smell delicious, and the colours are gorgeous. I order mine online from ASOS. If you're looking for a great lip crayon with a glossy finish, definitely check these out.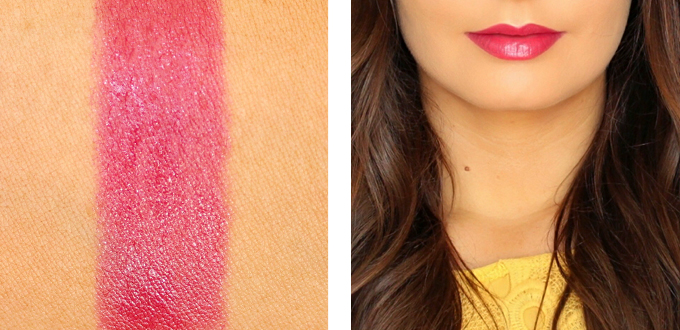 I'm wearing the Bourjois Colour Boost Lip Crayon in Pinking of It on my lips.
---
US $6.00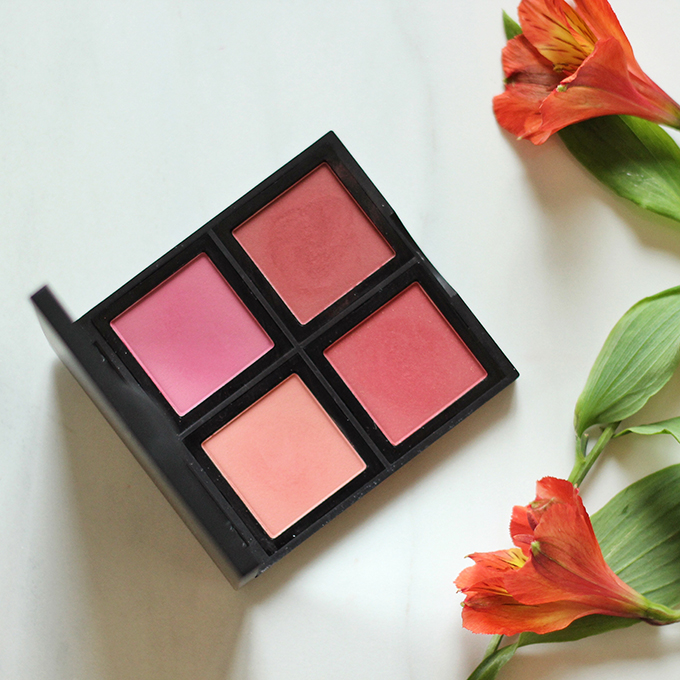 This was another item I picked up during my last e.l.f. Cosmetics order, and I absolutely love these blushes! This is the Dark palette, and the shades are so pretty for fall. These powders and creamy and super pigmented, so you have to use a light hand to apply them, but they give a natural looking flush to the cheeks — like you just got in from a brisk fall walk. What's cool about these palettes is that you can pop the shades out and create your own custom palette! I also purchased the Light Blush Palette, as well as the Contour Palette (which I'm currently experimenting with), so you could totally create an all-in-one blush, contour and highlight palette for travel with these. I'm super impressed — e.l.f. is really stepping up their game.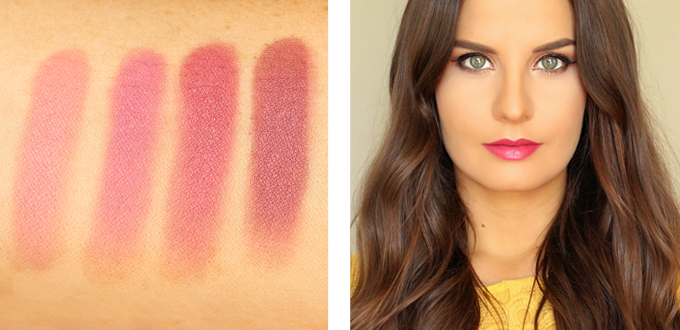 I'm wearing the third shade of the e.l.f. Studio Blush Palette in Dark on my cheeks.
---
I've still been wearing the Colourpop Ultra Matte Lips alot — but I've already mentioned and reviewed my favourite September shades. For a review and swatches of Bumble, head here and here. For a review and swatch of Trap, go here. I'm also wearing Trap in this photo.
---
What are your favourite fall beauty products? Try anything new lately? Leave your recommendations in the comments for me, I'd love to hear from you!
---
Disclaimer: This post is not sponsored, and contains my genuine thoughts and recommendations. JustineCelina uses affiliate and referral links, which allow me to receive a small commission when you make a purchase through one of my links. Your purchases help to support JustineCelina.com!