---
Spring is definitely in the air… can you feel it?! The weather is absolutely beautiful here in Calgary as we approach Spring Equinox — and I couldn't be more thrilled! I've been taking every opportunity to get outside to enjoy long walks, runs and hikes as I work towards my health and wellness goals for 2021. Each year as we transition into spring, I also find myself  lightening up our meals and incorporating lots of fresh, seasonal produce, edible flowers and bright, herbaceous flavours! Over the last couple of years I've begun publishing seasonal recipe roundups here at JustineCelina — and in reviewing my archives, was surprised to discover that I hadn't yet created a spring version. So, I've scoured my virtual recipe box to compile my favourite 20+ Plant Based Spring Recipes across culinary categories, from breakfast through happy hour! If you're looking for some healthy, veggie-centric (and largely vegan), spring meal ideas utilizing all the gorgeous seasonal produce available to us from March though June, you've come to the right place!
While I'm perpetually testing new recipes, I've also published a solid repertoire of spring-inspired eats over the past 6 years (some of which are Wild Rose D-Tox Friendly!). Today I'm excited to share them all with you in this convenient, easy-to-browse format that you can come back to again and again. As always, my recipes are simple, seasonal, free of dairy, gluten and refined sugar and packed full of  fresh, nourishing ingredients — perfect to make after a weekend grocery run or trip to the farmer's market! These whole food dishes are also budget friendly, with many yielding large batches (perfect for families, spring meal prep or batch cooking and freezing!).  From my kitchen to yours, I hope this roundup of tested-till-perfect, plant based eats and drinks inspires you enjoy and experiment with seasonal produce, herbs and blooms this spring!
---
20+ PLANT BASED SPRING RECIPES
---
There's so much delicious spring goodness to share that I'm going to jump right in! If you're familiar with my typical recipe roundup format, I've organized this post by course or category for easy browsing. I've included a photo, summary and link to each recipe — and also indicated which category each recipe falls into: Vegan, Vegetarian, Gluten Free, Refined Sugar Free and Freezer Friendly. 
 You'll also find a Pinterest friendly graphic at the footer for easy reference if you'd like to bookmark this roundup for later. Here's to finding fresh ways to enjoy spring's bountiful produce this season  —  I hope you enjoy my 20+ Plant Based Spring Recipes roundup!
---
SNACKS
---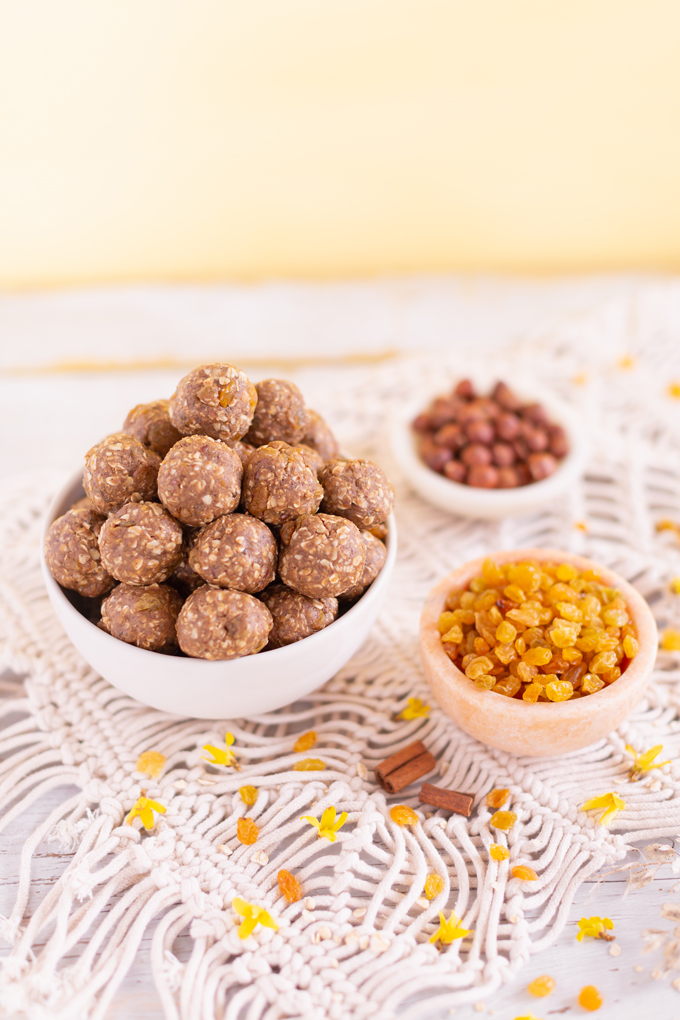 Vegan, Gluten Free, Refined Sugar Free, Freezer Friendly
Lately I find myself craving simplicity in all areas of life, including what I fuel my body with. My no-bake Hazelnut Oatmeal Golden Raisin Energy Bites are reminiscent of your favourite cookie, elevated with a healthy, plant based, protein-packed, antioxidant-rich spin! This incredibly easy recipe comes together in just 10 minutes with 9 intensively nourishing ingredients — including fibre-rich quick oats, omega-packed flax meal, my new favourite vanilla protein powder, decadent hazelnut butter, scrumptious golden raisins, pure Canadian maple syrup, creamy vanilla extract, Himalayan pink salt and a kiss of cinnamon.
---
BAKING & TREATS
---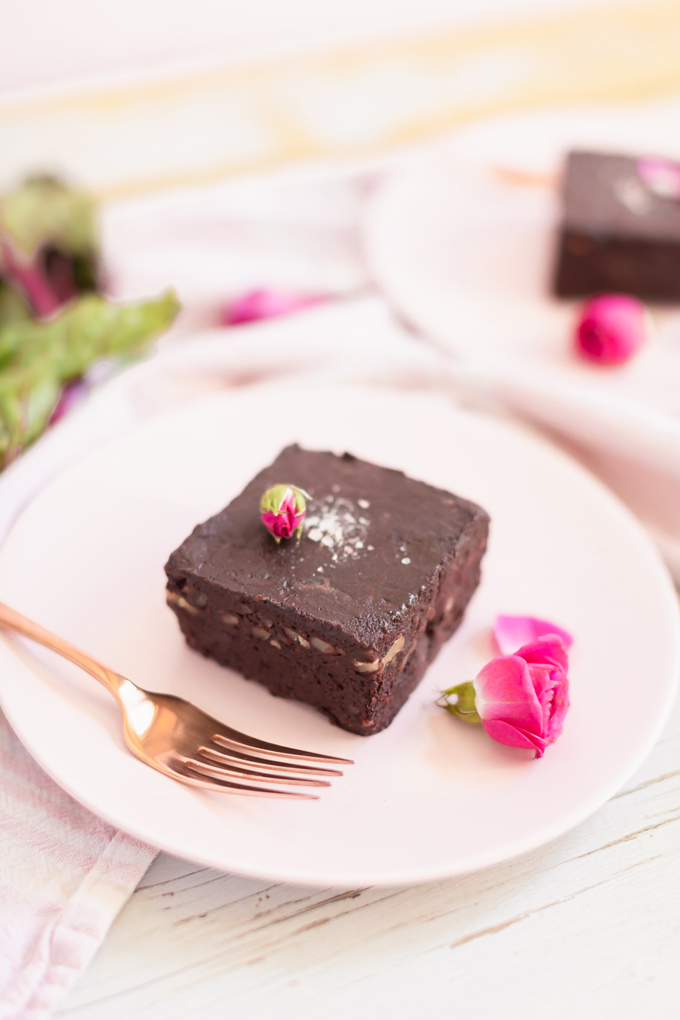 Vegan, Gluten Free, Refined Sugar Free, Freezer Friendly

I believe you can treat yourself and nourish yourself at the same time — and my Raw Red Velvet Vegan Brownies are a perfect example of that philosophy. They come together with just 8 simple, plant-based, antioxidant packed, anti aging, brain and immune boosting ingredients (yes, including beets!) — and they're truly one of the most decadent brownies I've ever tasted. These easy, no-bake brownies are earthy, fudgy, nutty and brimming with beautiful natural sweetness — plus, they're free of dairy, gluten and refined sugar. If you're looking for a fuss-free, fresh, veggie-centric twist on the traditional brownie that comes together in less than half an hour, you've come to the right place! The best part? If you have a well-stocked pantry and a beet or two on hand, you can probably make these delicious vegan brownies right now!

---
SMOOTHIES & JUICES
---

Vegan, Gluten Free, Refined Sugar Free

My Vegan Cardamom Carrot Cake Smoothie tastes exactly like carrot cake batter but is packed full of heart healthy, anti-aging, digestion-aiding ingredients! Gorgeous heirloom carrots, hearty pear and fresh ginger combine with frozen bananas, pineapple, gluten free quick oats, vanilla protein powder, creamy cashew milk, dried apricots, a splash of bright lemon and a medley of warming, anti-inflammatory spices to create a nourishing, spring-inspired smoothie. Next time you're craving the essence of carrot cake, indulge in this sweet and spicy smoothie to treat yourself to some incredible health benefits!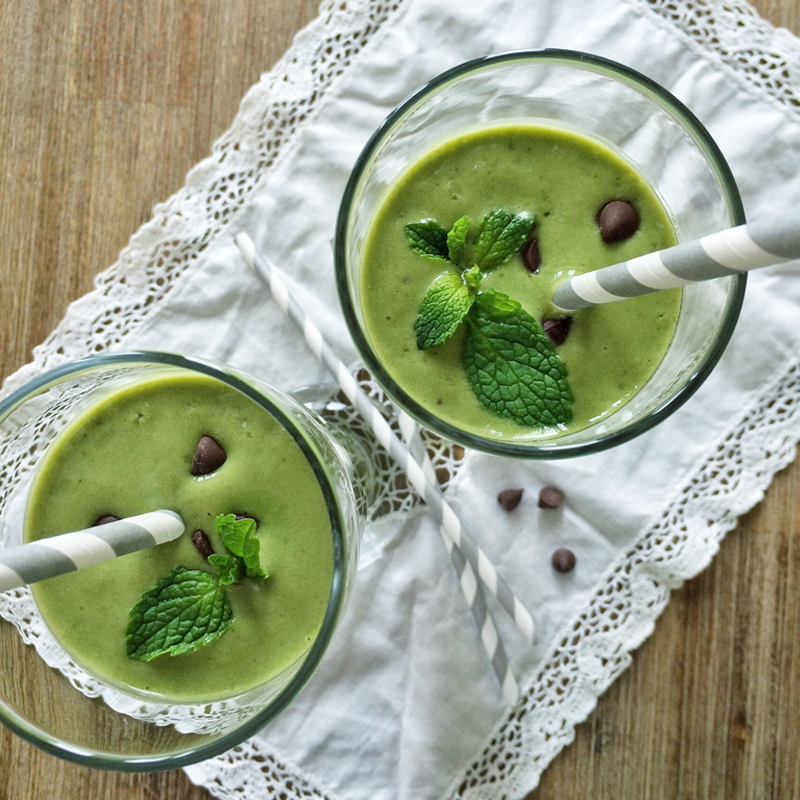 Vegan, Gluten Free, Refined Sugar Free
Have you ever had a Shamrock Shake? I can honestly say that I haven't, but I know the limited edition Shamrock Shake has a cult following, and people go nuts over it every year come mid-February. The shake is minty and creamy, and I thought it would be fun to put a healthy spin on it for St. Patrick's Day. I need to get my St. Patty's beverage fix in somehow, and my green-beer-drinking college days are long gone (hey, I am half Irish, after all)! My Superfood Shamrock Smoothie is dairy free, gluten free and vegan, plus it's made without food colouring and refined sugar.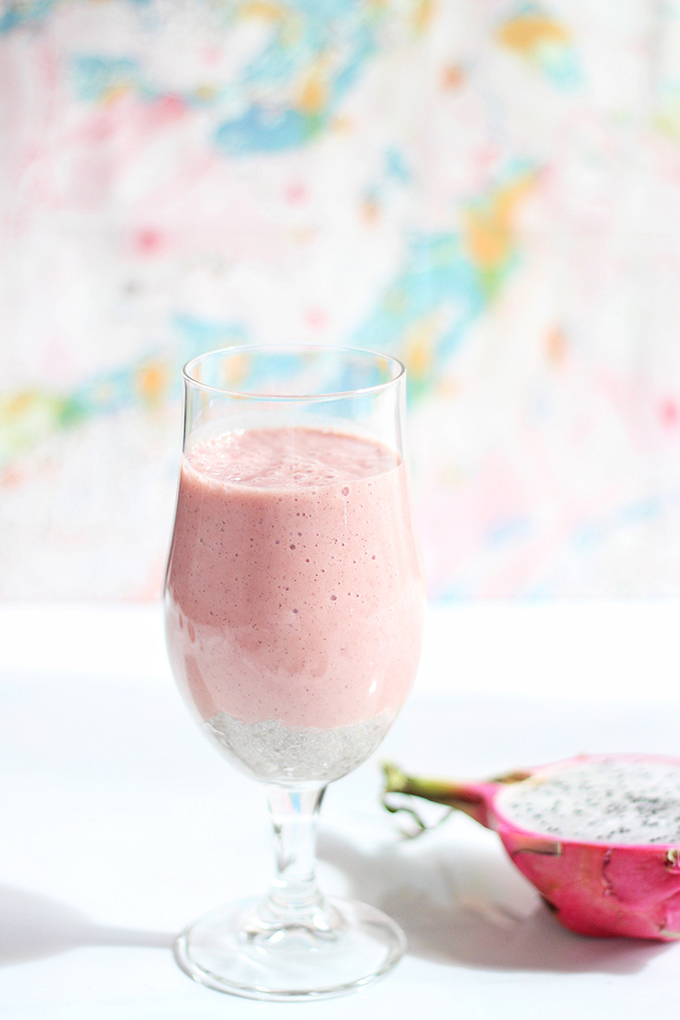 Vegan, Gluten Free, Refined Sugar Free
Taiwanese bubble tea is something I love as a treat occasionally, but I know it's full of less than desirable ingredients and tons of processed sugar. So I decided to create a bubble tea inspired smoothie at home with the beautiful dragon fruit I picked up during my trip to the Asian market! My Dragon Fruit Bubble Tea Smoothie is full of healthy, nourishing ingredients, vitamins and antioxidants. I like to enjoy it post-workout because it's also loaded with clean, plant-based protein. A delicious chia seed pudding base mimics the texture of the black tapioca pearls usually seen in bubble tea, while a spring-inspired combination of dragon fruit, banana, mango, strawberry and creamy vanilla almond milk gives the smoothie its natural sweetness and soft pink hue. If you're in the mood for something exotic, try my healthy spin on bubble tea!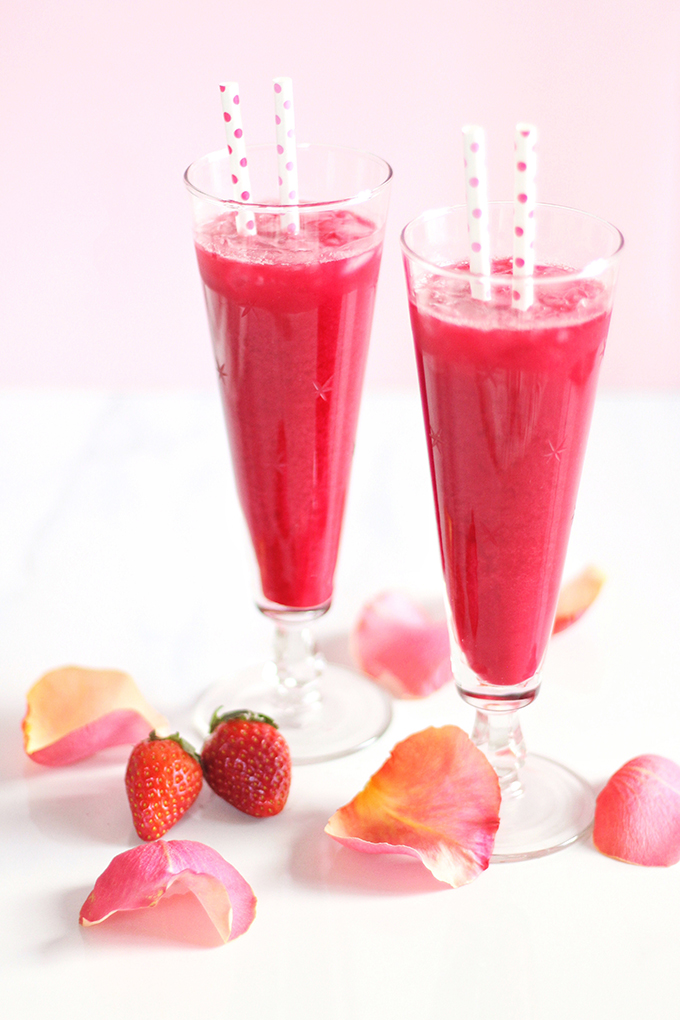 Vegan, Gluten Free, Refined Sugar Free
My Blushing Beet Juice incorporates seasonal produce like beets, oranges and grapefruit with ingredients that I don't normally juice, like strawberries (which have been looking particularly delicious lately, even though they're not in season). The result is a perfectly sweet, balanced pink juice, packed full of amazing, heart healthy ingredients. Enjoy this vibrant pink juice for love month — the recipe makes enough for two generous servings, and you can also freeze it to make your own popsicles (kids love them!). Have some fun in the kitchen this winter and shake up your juicing menu!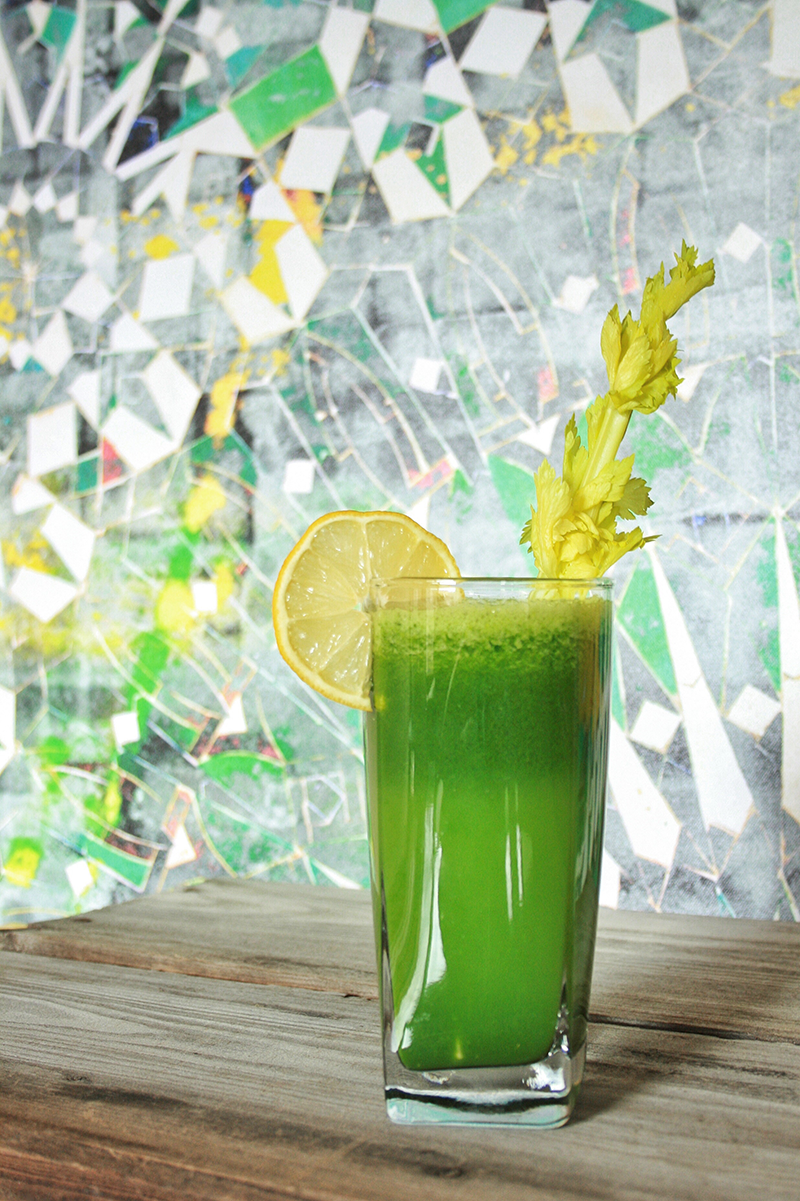 Vegan, Gluten Free, Refined Sugar Free
My Lean Green Protein Juice is another very early recipe here at JustineCelina that still remains my go-to green juice. There are so many reason why I love this recipe — and why I think you will too. First, it's quick to make and I usually have all the ingredients on hand. It's a perfect on-the-go option when I'm busy.It's full of antioxidants, vitamins, minerals and complete protein (did you know when celery and cucumber combine, they form a complete protein!). When I drink it consistently my skin is more radiant (seriously!). And last but certainly not least, it's absolutely delicious!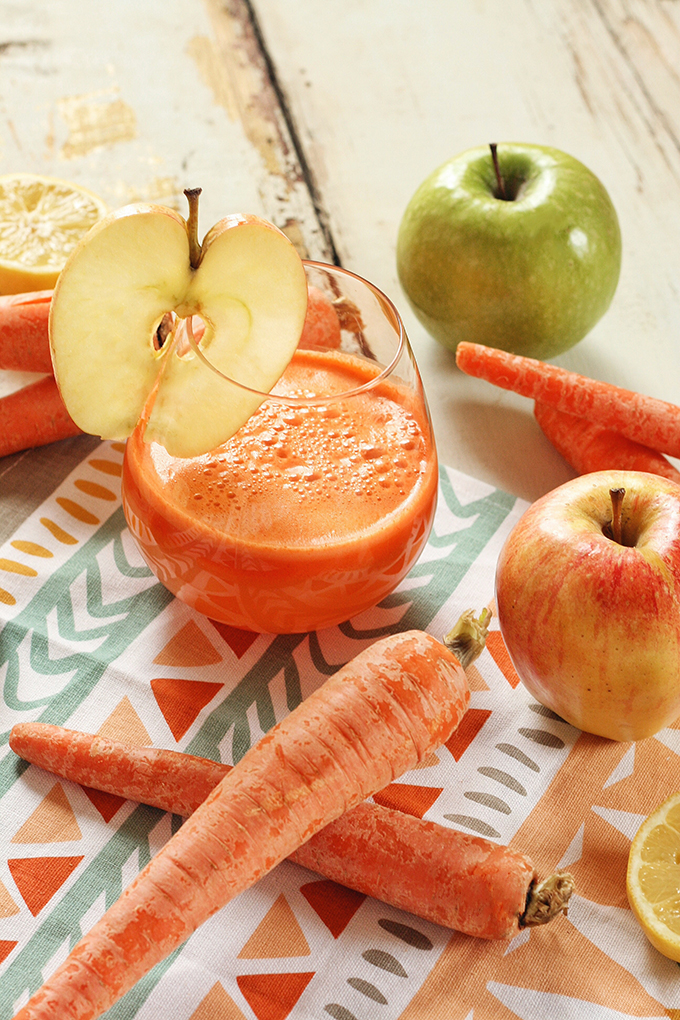 Vegan, Gluten Free, Refined Sugar Free
Apple Carrot Lemon Ginger Juice is my all-time-favourite juice recipe and the first one I published here at JustineCelina! Sometimes simple really is best. Enjoy this little bit of sunshine in a glass whenever you need a quick dose of vitamins and antioxidants to cleanse your digestive system and rev up your metabolism, or you have a ton of fall apples to use up.
---
SALADS & BOWLS
---

Vegan, Gluten Free, Refined Sugar Free

My Vegan Power Salad with Lemon Dill Dressing is a raw, protein packed, ultra simple, seasonless bowl full of plant-based goodness that can be on your table in less than 20 minutes! Chick peas, canned green lentils, broccoli, orange pepper, red onion, garlic stuffed olives and an abundance of fresh dill combine with a zingy, lemon based dressing to create a powerhouse vegan salad brimming with clean, lean protein, fiber and vitamins. The best part? There's absolutely no planning ahead or cooking involved and you may just have all the ingredients on hand. Lighten up your weekly meal plan as we transition into spring with this flavourful, herb-forward, hearty salad — prep it this weekend and you'll have healthy lunches sorted for the week!
---
SOUPS
---

Vegan, Gluten Free, Refined Sugar Free

My Rainbow Carrot and Yellow Pepper Soup is one of my favourite soups to make after a spring trip to the farmers market (substitute rainbow carrots for regular carrots to make it more accessible). This fresh, nourishing and colourful pureed soup featuring just 10 ingredients (including seasonings). Enjoy this fun and vibrant medley of colour and flavours on your next cold, rainy day to warm you right up!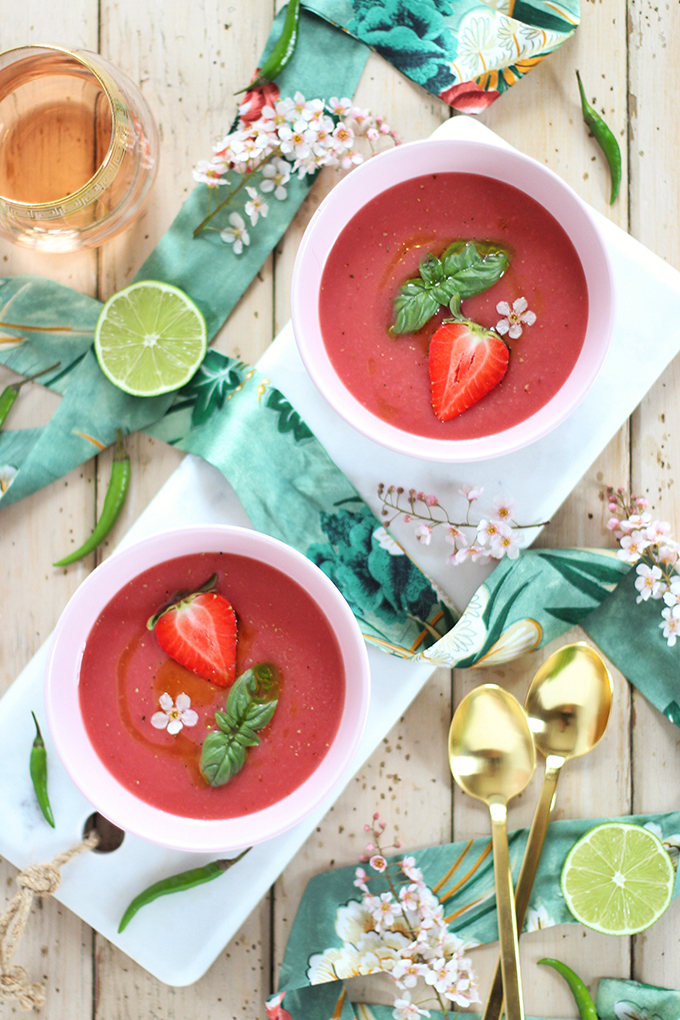 Vegan, Gluten Free, Refined Sugar Free

If you're looking to treat your taste buds to something refreshing after a long winter, embrace spring's bountiful produce with my Spiced Strawberry Watermelon Gazpacho. This pretty, pink, chilled soup is so simple, I almost can't call it a recipe! With just 10 ingredients (seasonings and garnish included!) this fruity spin on traditional gazpacho comes together in just 10 minutes! This chilled soup is the perfect menu addition for your next spring soirée, baby or bridal shower, or anytime you're hosting your girlfriends and want something fuss free, fresh and festive!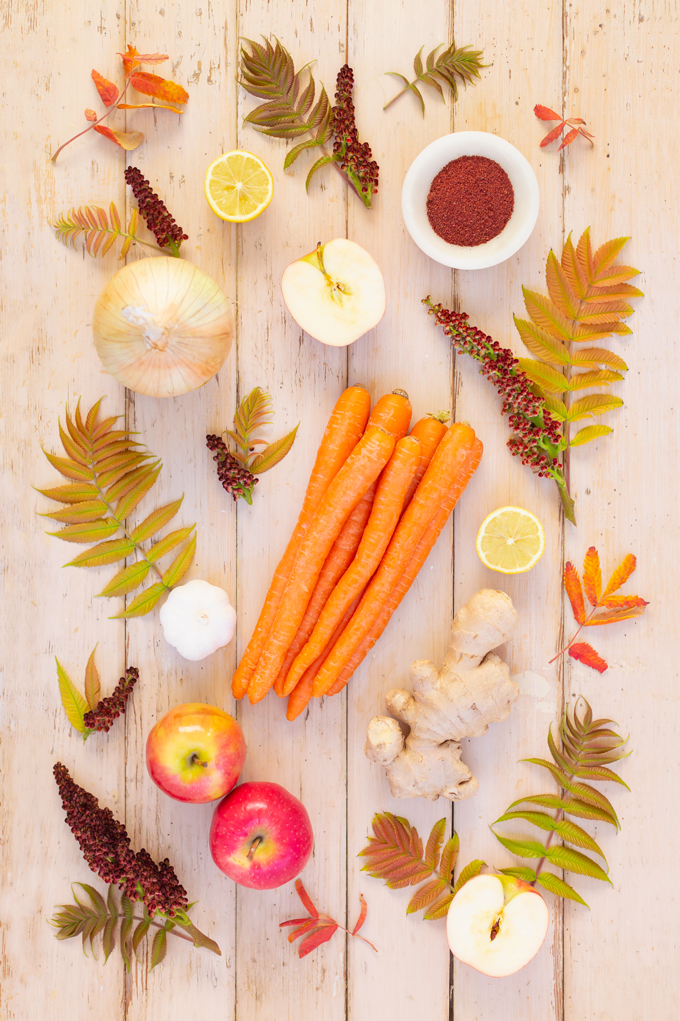 Vegan, Gluten Free, Refined Sugar Free
My Sumac Roasted Carrot Apple Soup is a fruity, exotic twist on a classic roasted vegetable soup — where seasonal produce staples of carrots, apples, onion and garlic are generously seasoned with sumac and simple spices, roasted to perfection and pureed with creamy cashew milk, vegetable stock, fresh ginger and zingy lemon. This ultra simple, ultra nourishing, family-friendly soup is vegan, gluten and refined sugar free and comes together in just one hour with twelve ingredients, including seasonings!
---
ENTREES
---

Vegan, Gluten Free, Refined Sugar Free

 My Spring Vegetable Stirfry with Coconut Ginger Tofu is a colourful medley of spring vegetables in a coconut milk and tahini based sauce flavoured with garlic, ginger, lime and simple pantry spices ontop of a bed of brown rice and crispy tofu and toasted almonds. This easy to prepare, unconventional spring stirfry is light, clean and nourishing — perfect for weeknight dinners! It's also Wild Rose D-Tox friendly.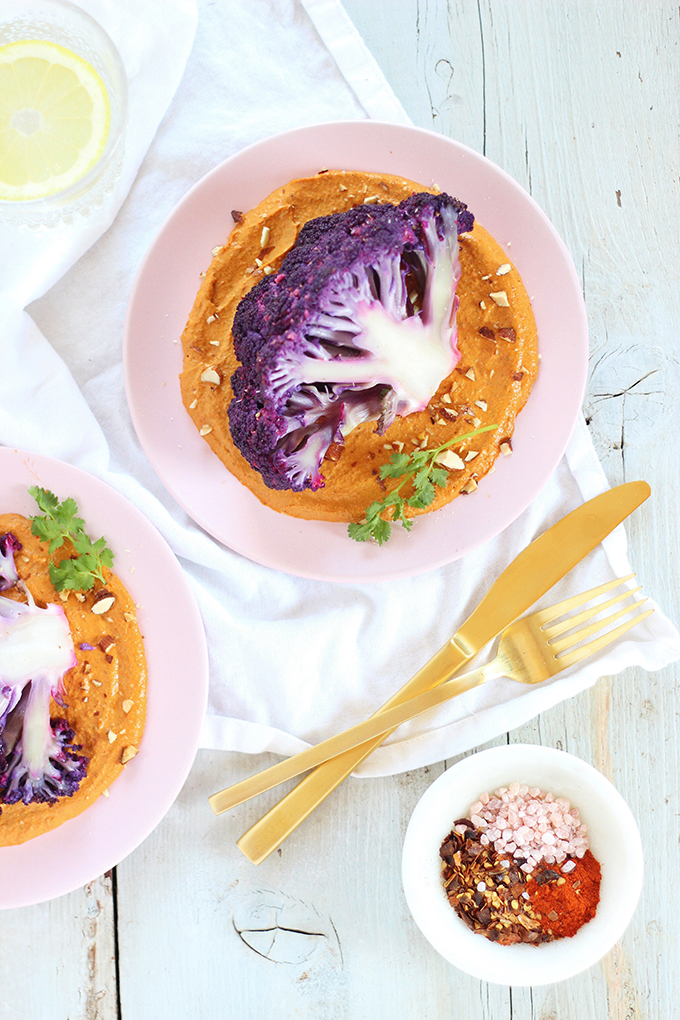 Vegan, Gluten Free, Refined Sugar Free

Cauliflower is such an underrated hearty vegetable! My delicious Roasted Purple Cauliflower with Red Pepper Romesco is a breeze to whip up, packed full of vitamins, minerals, fibre and plant-based protein — a great lighter entree option for winter. This unconventional main is extremely colourful, inexpensive, ultra clean and nourishing with a gourmet flair and simultaneously light yet hearty!  It's a simple recipe with minimal ingredients that packs a big wow factor that will be on your table in less than an hour. It's also Wild Rose D-Tox friendly!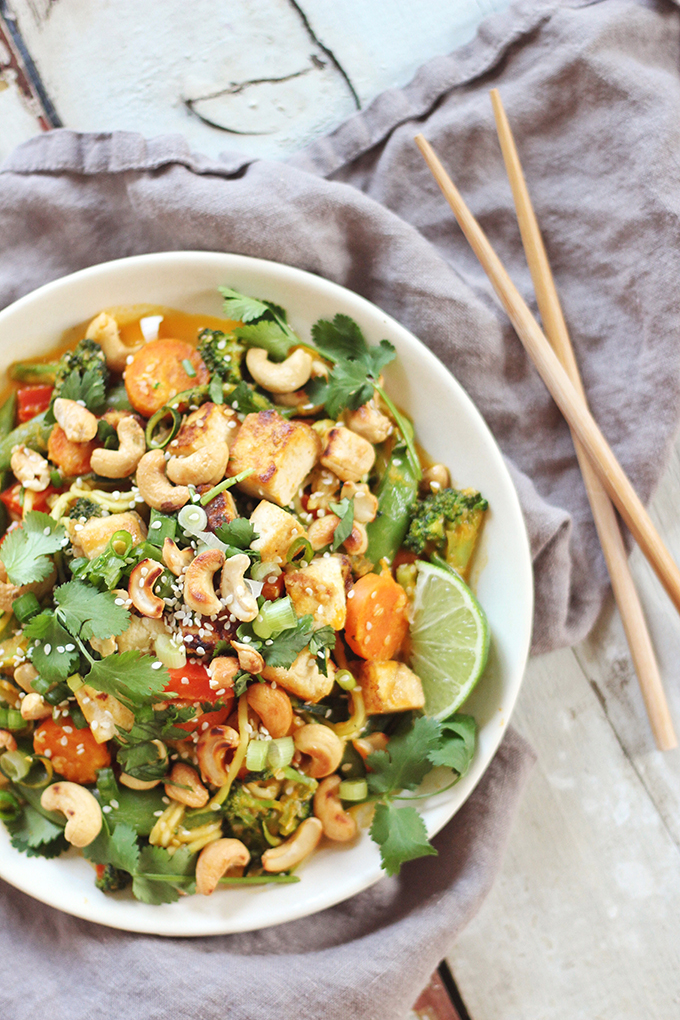 Vegan, Gluten Free, Refined Sugar Free
My Carrot Cashew Zoodles with Crispy Sesame Tofu is an ultra-light, ultra-fresh spring stirfry brimming with clean, plant-based protein. If you're craving something fresh, colourful and satisfying, you'll love this recipe! I'd been experimenting a lot with cooked carrots in smoothies and sauces when I developed this recipe — and I have to say this Creamy Carrot Sauce is to die for! It's smooth and decadent, and takes on Asian-inspired flavours so well. Paired with a veggie stir-fry atop a bed of zoodles, sprinkled with Crispy Sesame Tofu and toasted cashews, this is a perfectly balanced dish — which is one of my favourite things about Asian flavour profiles! There's a healthy mix of freshness, acidity, sweetness and spice, with a touch of richness here. This stir-fry makes a beautiful, light winter dinner! It's also been featured on Brit + Co and The Feed Feed.
---
COCKTAILS
---

Vegetarian (contains honey), Gluten Free, Refined Sugar Free
My Rose Infused Cherry Gin Fizz is feminine, fruity and lightly floral cocktail combines Eau Claire's stunning Cherry Gin with my favourite Prosecco, a splash of fresh lemon juice and a Rose & Pink Peppercorn Infused Honey Simple Syrup for a contemporary spin on the classic French 75. This spring-inspired sip can be enjoyed anytime you want to indulge in a gourmet craft cocktail at home! As always, it's free of dairy, gluten and refined sugar — and bursting with fruity flavours, floral undertones, unique botanicals and a refreshing effervescence.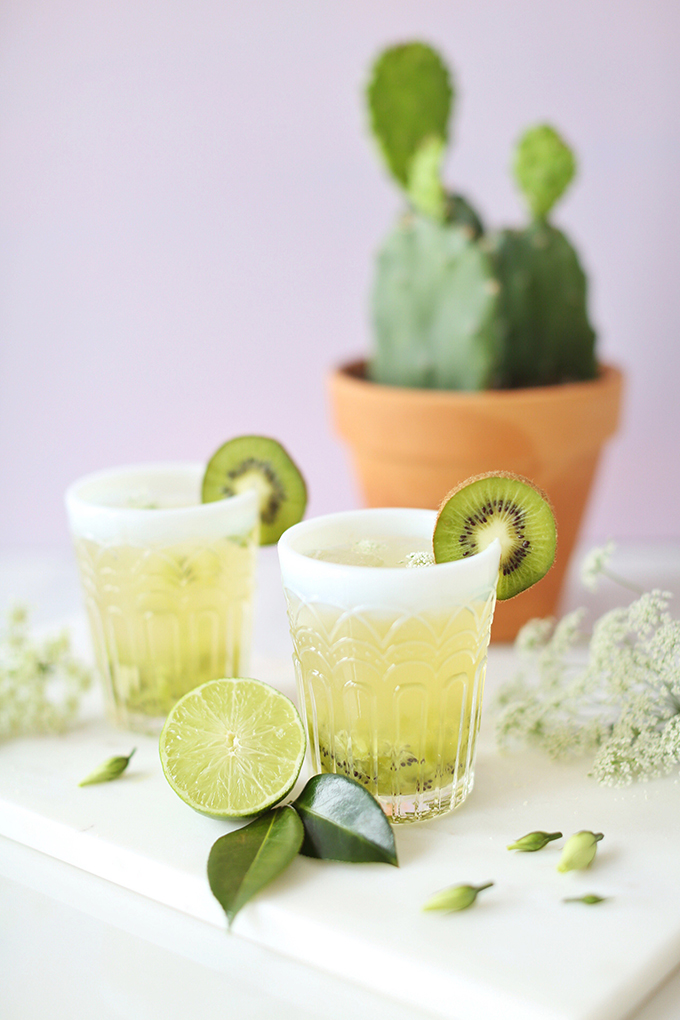 Vegan, Gluten Free, No Sugar Added
My Spring Equinox Kiwi Elderflower Smash is a post-hibernation celebration of spring's refreshing flavours in cocktail form! This rejuvenating spring cocktail features Eau Claire Distillery's award winning Prickly Pear EquineOx (a sweet, lightly citrusy, barley based vodka incorporating Alberta's Prickly Pear Cactus with a special blend of spring botanicals), complimented by a refreshing bouquet of elderflower, kiwi, lime, a kiss of wine, a dash of bitters and a splash of soda. I've created a seasonal elixir that pairs perfectly with longer evenings and balmier weather!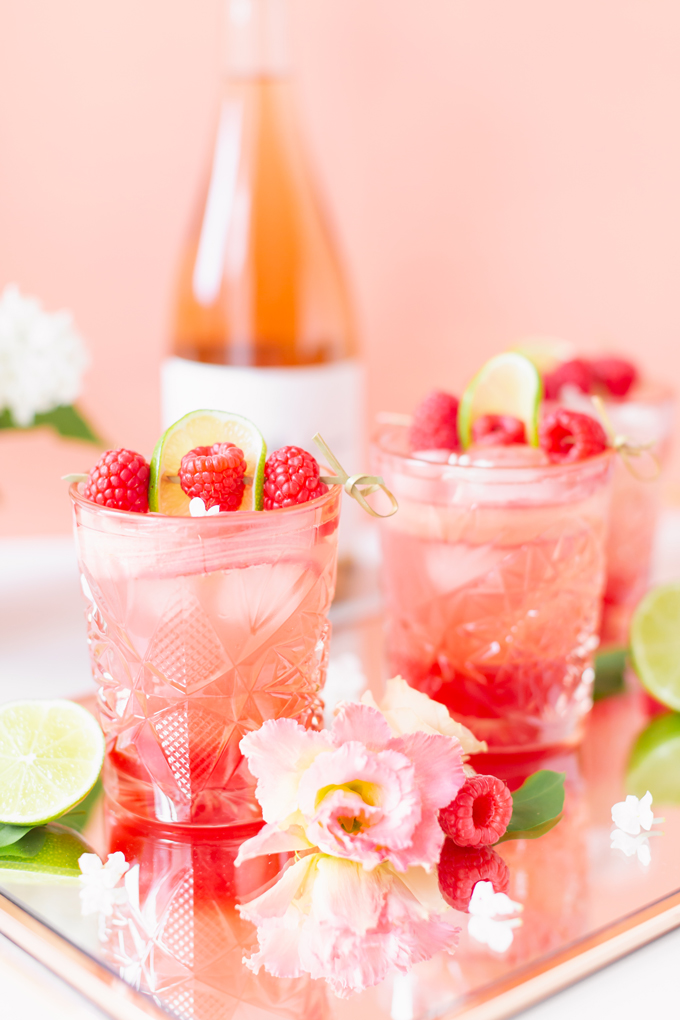 Vegetarian (contains honey), Gluten Free, No Sugar Added
My Raspberry Rhubarb Rosé Spritz typifies the season in a jubilant celebration of all things feminine, fruity and nostalgic. Rhubarb and raspberries have always reminded me of my Grandmother's garden and berry picking at the family farm — so I channeled some of my fondest childhood memories into this cheerful libation! A summer-inspired trio of rhubarb, raspberries and honey combine in a scratch-made Honeyed Raspberry Rhubarb Syrup to infuse this effervescent cocktail with seasonal panache, beautifully complimented by sparkling rosé, local craft vodka, soda water, fresh lime juice and a dash of bitters. Enjoy this pretty, pink spritz with the special ladies in your life this summer — it's the perfect menu addition for your next summer soirée, brunch, baby or bridal shower, or girls night in!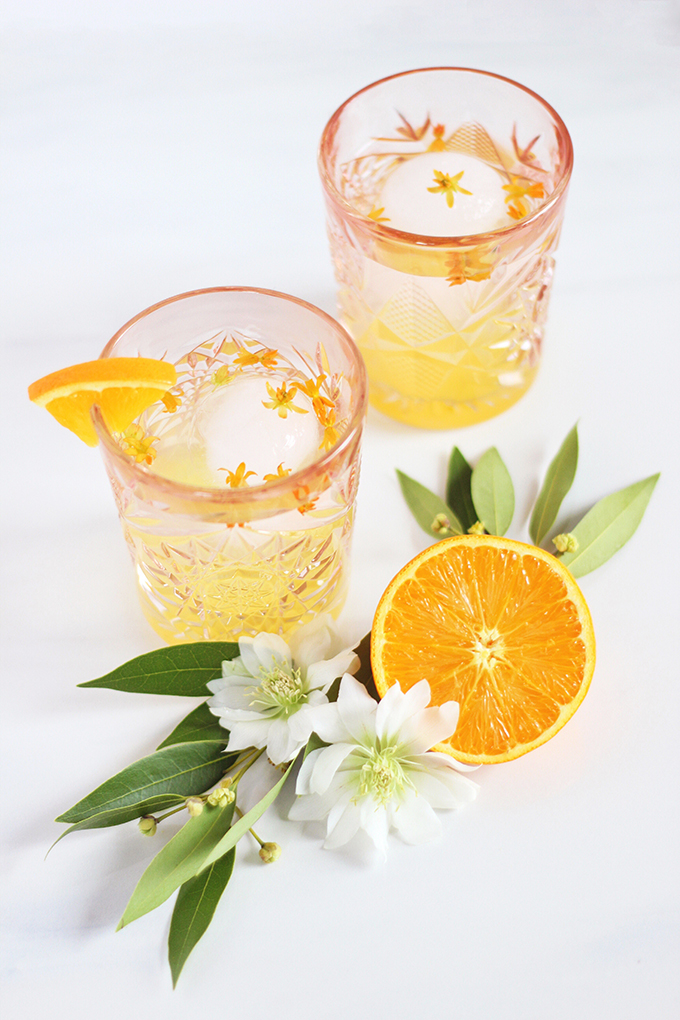 Vegan, Gluten Free, Refined Sugar Free

My Coastal Orange Blossom Gin Cocktail was inspired by a springtime trip to Canada's west coast. Delicate and ultra mellow, this refreshing spring sipper features small batch, hand harvested, artisanal gin from Vancouver island complimented by a fusion of orange blossom water and hydrating coconut water, finished with a splash of fresh orange juice. With just 4 ingredients, this elegantly understated gin cocktail is simple to prepare, but sure to impress. My Coastal Orange Blossom Gin Cocktails would be the perfect accompaniment to a light spring lunch, garden party, birthday party or shower.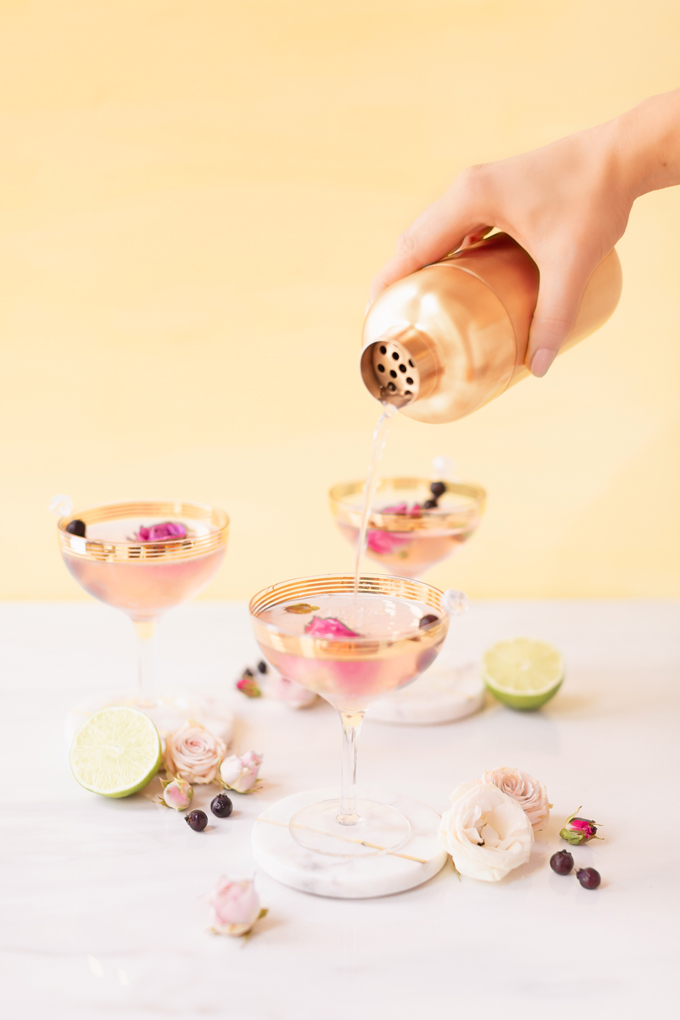 Vegetarian (contains honey), Gluten Free, Refined Sugar Free
My Honeyed Saskatoon Cherry Gimlet is a refreshingly spirited, 4 ingredient spring cocktail inspired by doing the best you can with what you have, where you are. The best part? If you have a well-stocked bar, you likely already have all of the ingredients on hand! This simple but perfectly balanced craft cocktail combines Saskatoon Honey Gin with Honey Simple Syrup, cherry bitters and freshly squeezed lime juice shaken over ice — and can be prepared with ease by home bar beginners and skilled mixologists alike. Bring the cocktail bar to the comfort of your own home this spring with my Honeyed Saskatoon Cherry Gimlet — a quintessentially Albertan twist on a classic gin cocktail!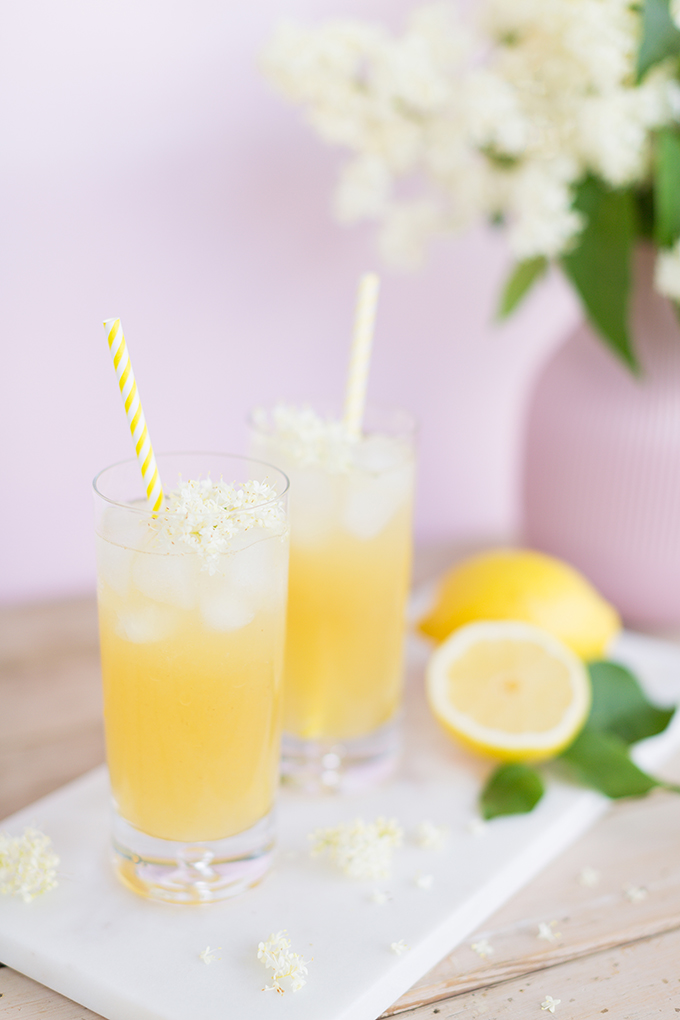 Vegetarian (contains honey), Gluten Free, Refined Sugar Free
Did you know lilac blossoms are edible? They're lemony, floral and delicate — and they lend themselves to so many cocktails and dishes (I often use them as salad garnish!). In this cocktail, I harvested the blossoms from my Mom's Japanese Lilac tree (a hardy, prairie variety that produces gorgeous white flowers) to infuse them into a Honey Lilac Syrup.
If you're looking for a refreshing, floral twist on traditional spiked lemonade this spring and summer, try my  Japanese Lilac Gin Lemonade! It tastes like summertime in the country and is very near to my heart — incorporating Japanese Lilac blossoms from the tree at my childhood home in rural Alberta, honey from the hives just across the stream and Eau Claire Distillery's award winning Parlour Gin distilled from the flourishing barley crops and unique botanicals of Alberta's prairies. This floral-kissed, lightly effervescent lemonade was created with a thoughtful, hand crafted, farm-to-glass approach and made for lazy spring days on the patio!
---
PIN MY 20+ FAVOURITE PLANT BASED SPRING RECIPES
---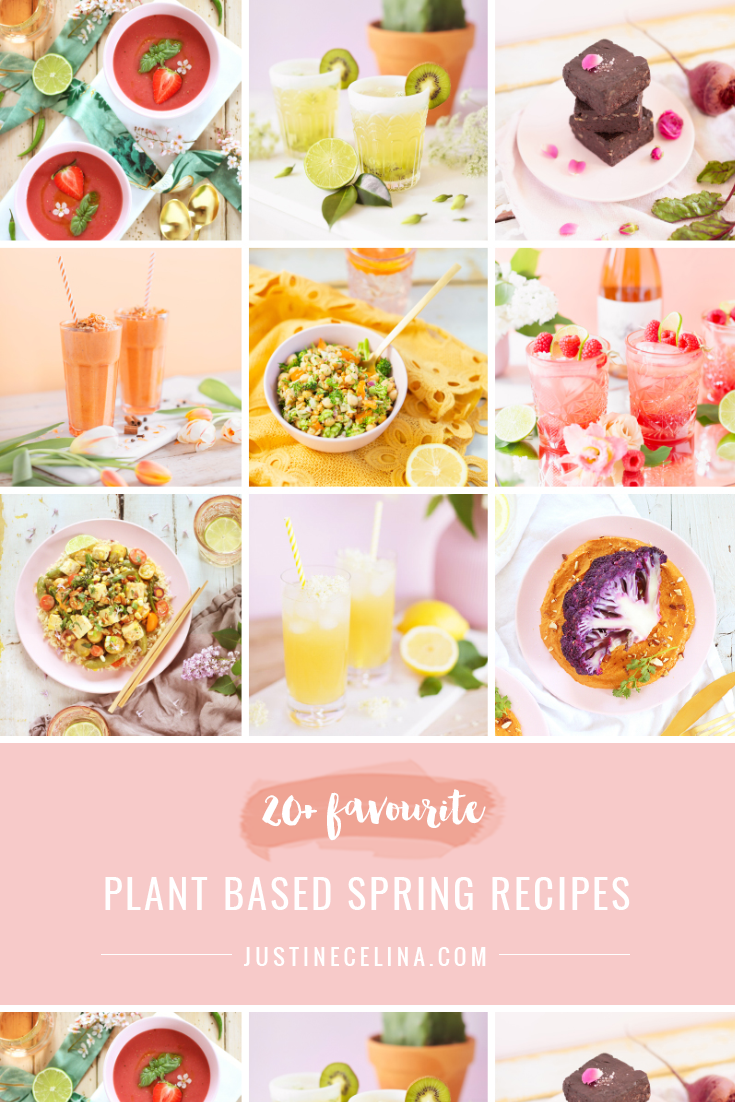 ---
Thanks for stopping by to check out my favourite spring recipes, friends! It feels great to finally have all my favourite plant based spring recipes in one spot to ensure you can reference them in one convenient location. I have so much delicious content planned for Spring 2021 that I can't wait to share, as well as a few reshoots and republications planned for a handful of the recipes you see featured in this post!
As always, if you try one of my recipes, please let me know how you liked it — I absolutely love your feedback! Leave me a comment, or tag me on Instagram, Twitter or Facebook. I'd love you to hashtag #justinecelinarecipes in your recreations so I can find them — browsing my feed and stumbling on your beautiful recreations is one of my favourite feelings! I also have a Pinterest board for my recipes if you're looking for more healthy, plant based recipes (and you can find all of the recipes in this roundup on my Healthy Plant Based Spring Recipes Board!). Wishing you all a beautiful spring season!
---
Disclaimer: This post is not sponsored, and contains my genuine thoughts, ideas and recommendations. JustineCelina uses affiliate and referral links, which allow me to receive a small commission when you make a purchase through one of my links. Thank you for supporting the brands and businesses that support JustineCelina.com!