---
Autumn is definitely approaching here on the Alberta prairies! The leaves are changing, the temperatures are dropping and I find myself craving all things warm, cozy and comforting. This transitional time of year is also my favourite for gorgeous, seasonal produce — and I've spent the past couple of weeks pouring over my RECIPE archives, adding our most loved fall recipes to the menu! If you follow along with my socials you've likely seen these delicious seasonal dishes trickle into my feeds, but I wanted to round up my 20+ Favourite Plant Based Fall Recipes for you here at JustineCelina for easy reference. It's been so much fun taking a walk down memory lane and digging up my old recipes (and old, pre-professional photos!) to appreciate just how far I've come on my blogging and recipe development journey over the past 6 and a half years! And what a delicious ride it's been.
While I'm always working on something new, I've also published so many incredible recipes over the years. Today I've scoured my virtual recipe box to share the very best of the season with you — I've rounded up my all-time-favourite fall recipes across culinary categories, from breakfast through happy hour! As always, my recipes are simple, seasonal, free of dairy, gluten and refined sugar and and packed full of fresh, nourishing ingredients — perfect to make after a weekend grocery run or trip to the farmer's market! These whole food dishes are also budget friendly, with many yielding large batches (perfect for families, fall meal prep or batch cooking and freezing!). If you're looking for some fresh, veggie-centric culinary inspiration as we transition into fall, you've come to the right place. From my kitchen to yours, I hope this roundup of tested-till-perfect, plant based fall eats (and drinks!) inspires you enjoy autumn in all its abundance!
---
20+ FAVOURITE PLANT BASED FALL RECIPES
---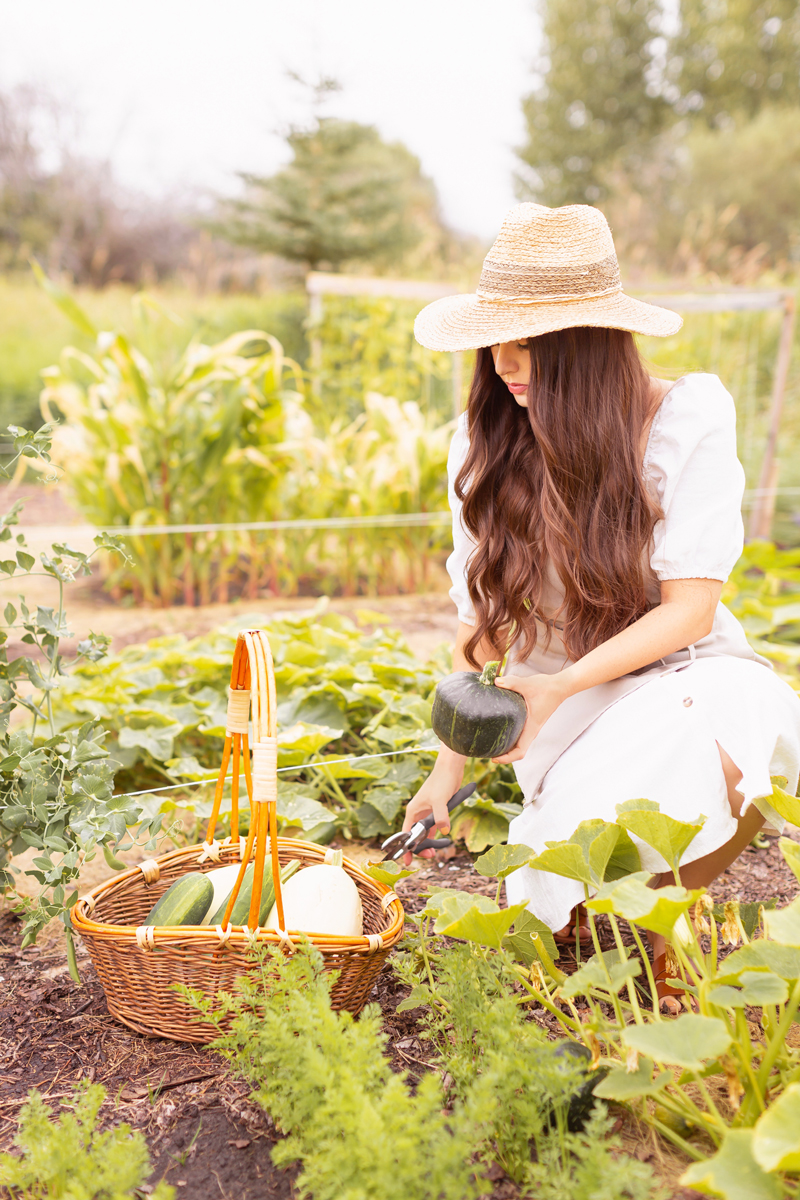 There's so much delicious fall goodness to share that I'm going to jump right in! If you're familiar with my typical recipe roundup format, I've organized this post by course or category for easy browsing. I've included a photo, summary and link to each recipe — and also indicated which category each recipe falls into: Vegan, Vegetarian, Gluten Free, Refined Sugar Free and Freezer Friendly.
You'll also find a Pinterest friendly graphic at the footer for easy reference if you'd like to bookmark this roundup for later. Here's to finding fresh ways to enjoy autumn's bountiful produce this season — I hope you enjoy my 20+ Favourite Plant Based Fall Recipes roundup!
---
BREAKFAST
---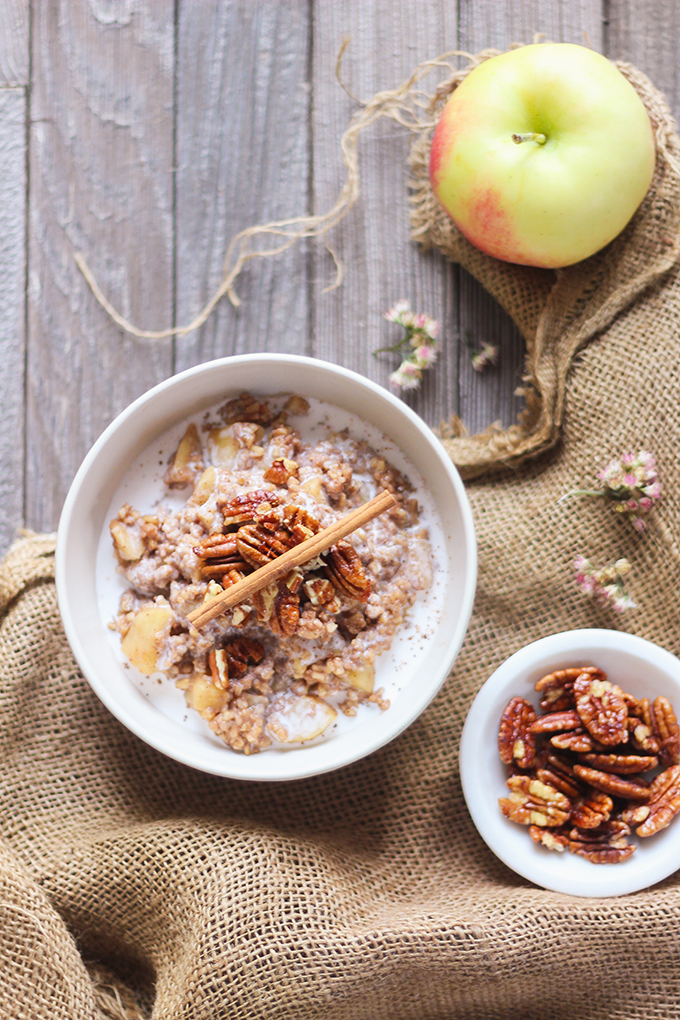 Vegan, Gluten Free, Refined Sugar Free, Freezer Friendly
Inspired by comfort food, holiday flavours and warming, autumnal spices, these steel cut oats are the perfect way to celebrate fall's freshly harvested apples. Spend 45 minutes making them and have breakfast sorted for a week or so! This powerhouse breakfast bowl is free of dairy, gluten and refined sugar — and busting with natural sweetness, spices and wholesome nutrition. This reader favourite really does taste just like apple pie!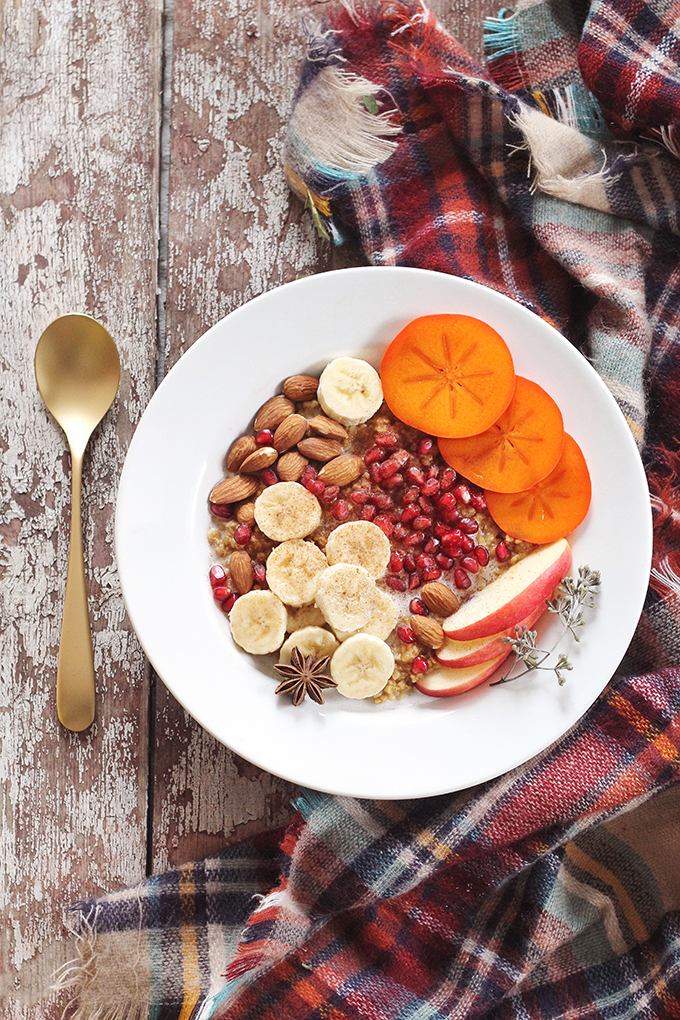 Vegan, Gluten Free, Refined Sugar Free, Freezer Friendly
Another steel cut oat recipe that you can prep on the weekend to enjoy all week long! This seasonal breakfast bowl combines warming spices with my favourite seasonal superfoods. Homemade pumpkin puree subtly flavours the steel cut oats, while a splash of coconut cream adds richness and decadence. This breakfast bowl is a harmonious medley of textures, colours, flavours and aromas — it's a true delight to the senses!
---
SNACKS
---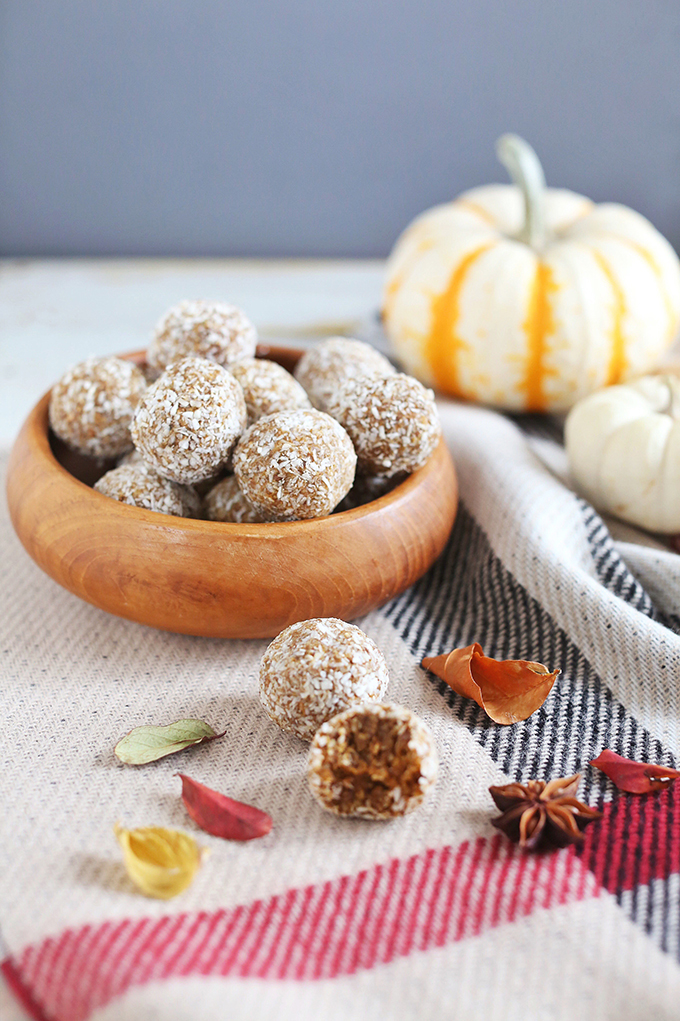 Vegetarian (contains honey), Gluten Free, Refined Sugar Free, Freezer Friendly
Seasonal energy bites that combine pumpkin puree with a powerhouse medley of nuts and seeds, oats, shredded coconut, medjool dates and local honey (or maple syrup, if you're vegan!) with cozy, autumnal spices for a portable dose of pumpkin pie whenever and wherever you need it (they also freeze well). If you have 15 minutes and a well stocked pantry, I bet you can whip these tasty little bites up right now!
---
BAKING
---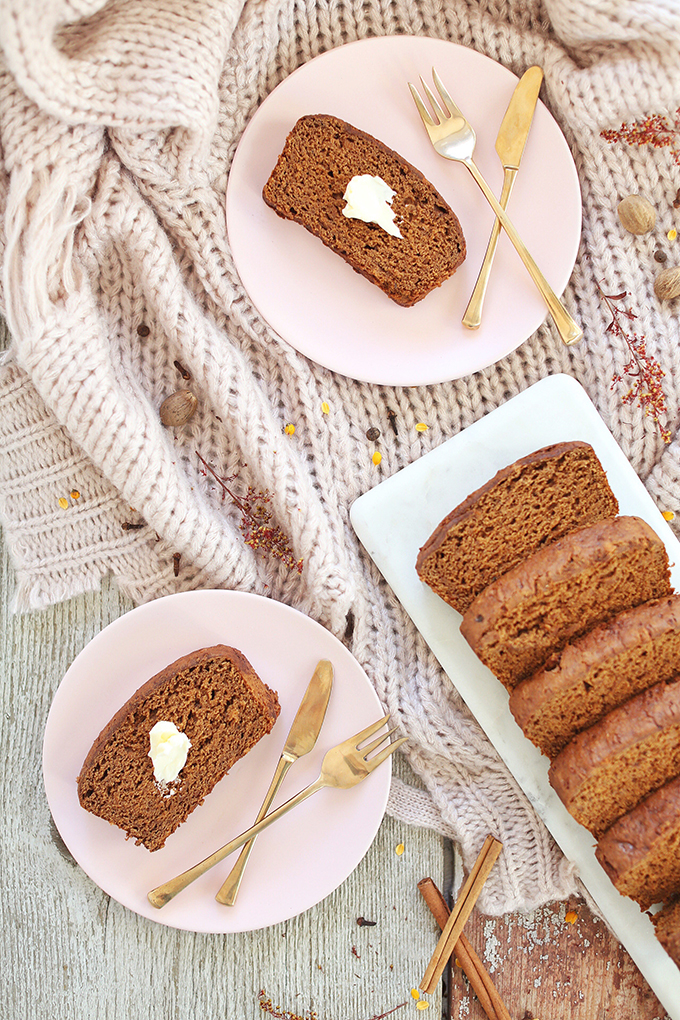 Vegetarian (contains eggs), Gluten Free, Refined Sugar Free, Freezer Friendly
An ancient recipe that just made its way to JustineCelina last year, this loaf tastes like a beautifully spiced, indulgent, autumnal cake — I promise absolutely no one will know it's a 'free from' recipe! A mega dose of nutritious, mashed sweet potatoes and decadent coconut milk mix and mingle with fall spices of cinnamon, nutmeg, cloves, ginger and allspice to create a dense, cake-like loaf enjoyed by plant baser eaters, people with food allergies and sensitivities and anyone that loves delicious seasonal baking!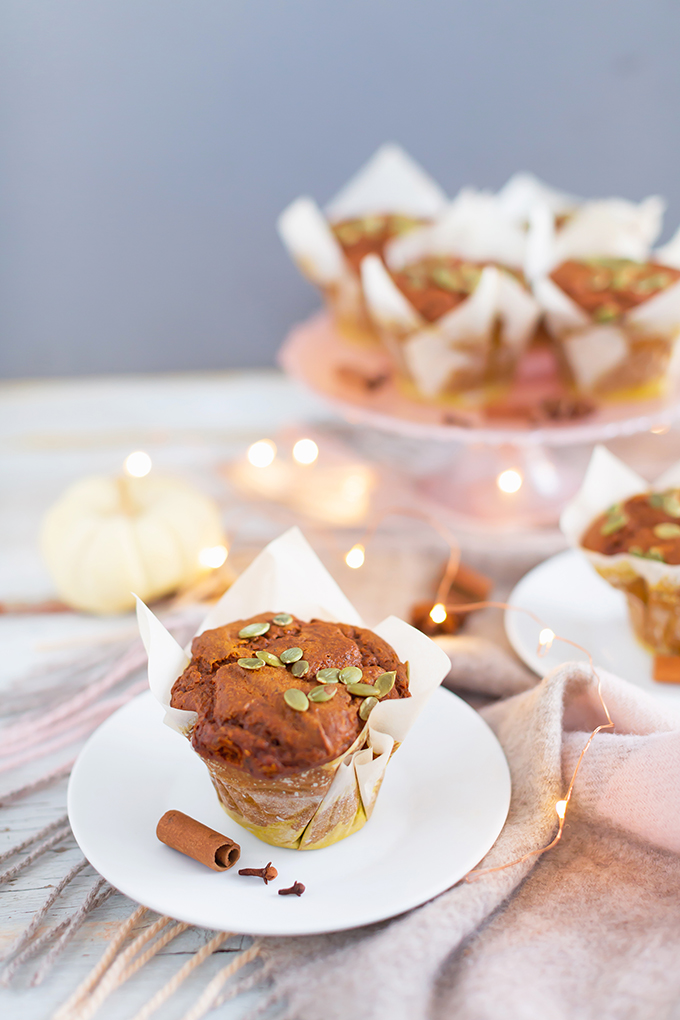 Vegetarian (contains eggs), Gluten Free, Refined Sugar Free, Freezer Friendly
My Gluten Free Pumpkin Turmeric Muffins are free of dairy, gluten, refined sugar and oil — and a fantastic way to start your day while sneaking in tons of nutrition, even when you're on the run! Pumpkin puree, pure Canadian maple syrup, decadent coconut milk, freshly grated ginger and a kiss of pure vanilla combine with warming fall spices of cinnamon, nutmeg, cloves and allspice to create a light and fluffy, plant based muffin to help you power through your day. Enjoy them at breakfast, as a mid-day snack, or as a lighter alternative to more calorie-laden pumpkin-based desserts. This deceptively 'free from' recipe and can be enjoyed by plant-baser eaters, people with food allergies and sensitivities and anyone that loves delicious seasonal baking!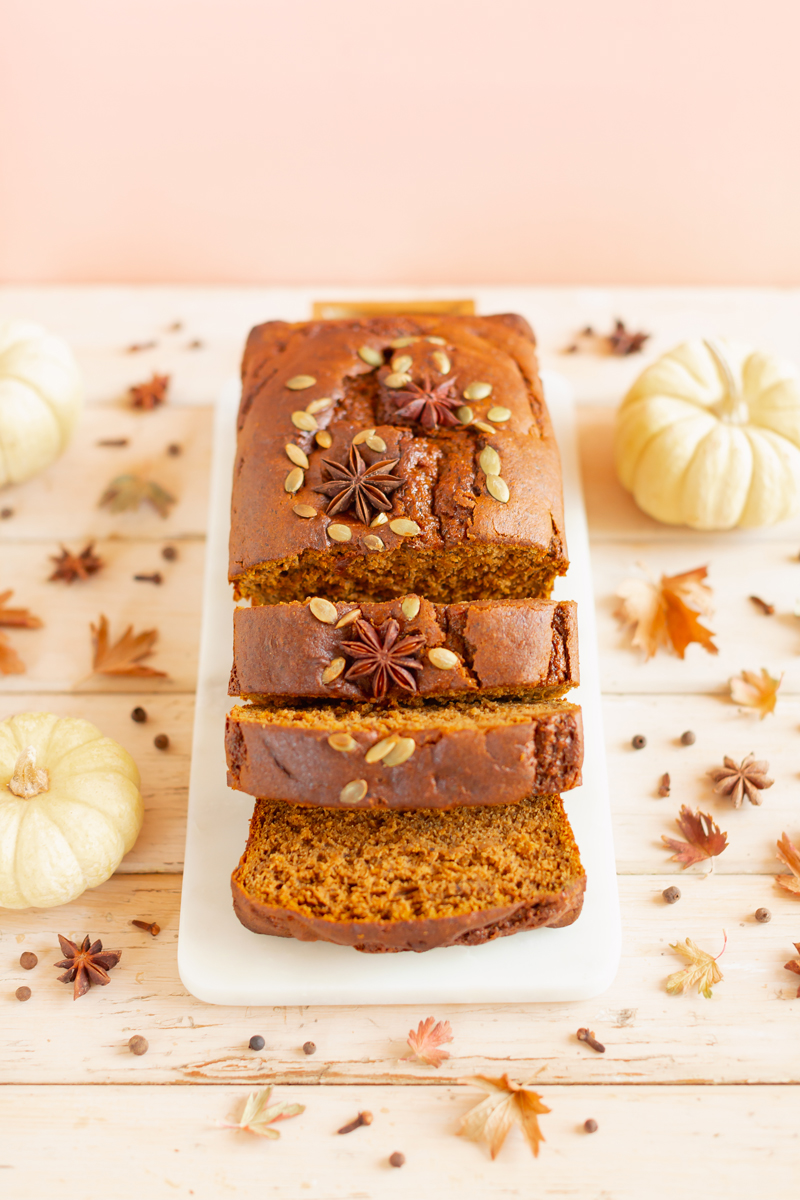 Vegetarian (contains eggs), Gluten Free, Refined Sugar Free, Freezer Friendly
My Gluten Free Mapled Pumpkin Chai Bread combines two of my favourite seasonal flavour profiles in one deceptively decadent, easy-to-bake loaf that's free of dairy, gluten, refined sugar and oil. Exceptionally moist and perfectly spiced, this simple, seasonal pumpkin bread tastes like an indulgent fall cake, but is loaded with nourishing ingredients and warm, healing spices! Pumpkin puree, creamy coconut milk, pure Canadian maple syrup and a splash of Mexican vanilla extract are beautifully complimented by a rich melange of quintessential chai spices — including cinnamon, ginger, cloves, allspice, cardamon and anise. The result is an incredibly delicious 'free from' pumpkin loaf to be enjoyed by plant based eaters, those with food allergies and sensitivities and anyone that loves delicious seasonal baking!
---
SMOOTHIES & JUICES
---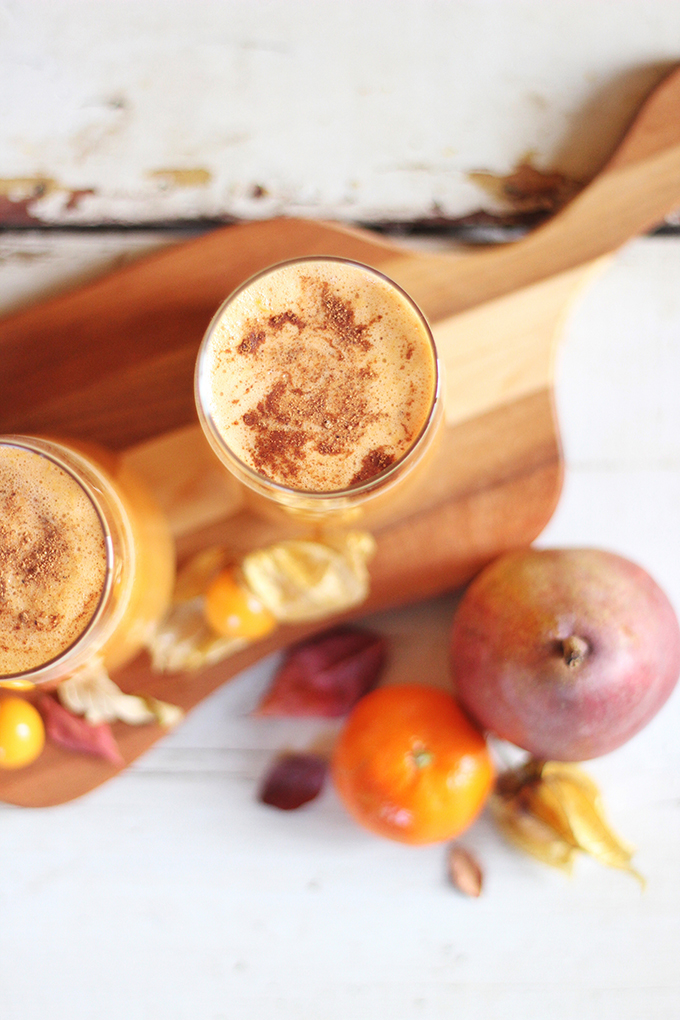 Vegan, Gluten Free, Refined Sugar Free
Try my Autumn Energizer Juice to kickstart your mornings as we transition into fall! This inventive seasonal elixir combines traditional autumn produce with unconventional ingredients — including red pears, green apples, mandarins, sweet potatoes, cape gooseberries and fresh ginger, finished with a kiss of cinnamon. The result is a sweet, creamy, energizing juice with a spicy, warming kick — brimming with immune boosting vitamins and antioxidants!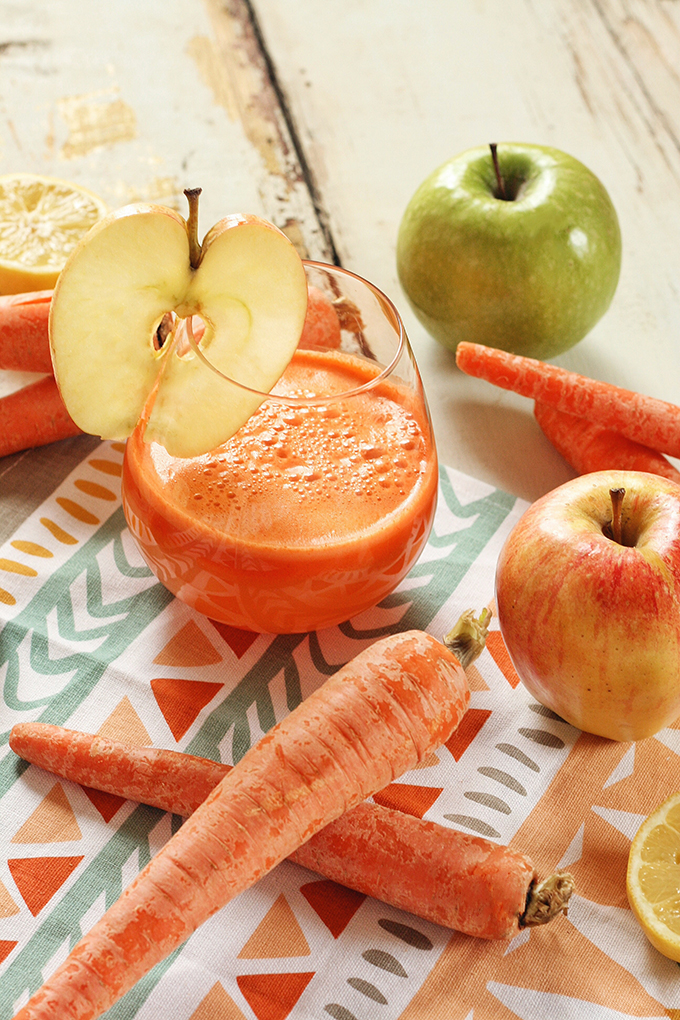 Vegan, Gluten Free, Refined Sugar Free
My all-time-favourite juice recipe and the first one I published here at JustineCelina! Sometimes simple really is best. Enjoy this little bit of sunshine in a glass whenever you need a quick dose of vitamins and antioxidants to cleanse your digestive system and rev up your metabolism, or you have a ton of fall apples to use up.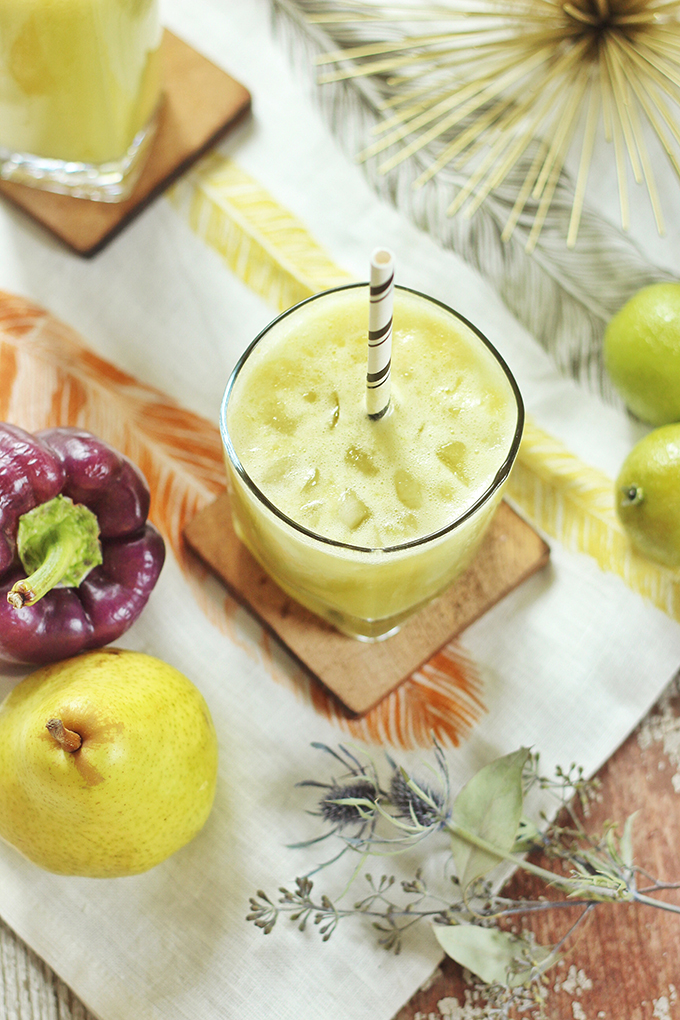 Vegan, Gluten Free, Refined Sugar Free
Another delicious fresh juice recipe from way back in the archives, featured on BuzzFeed! A sweet n' spicy, aromatic juice brimming with a medley of awesome detoxifying ingredients. Perfect for brisk fall mornings while Bartlett pears are in season to kick-start your day!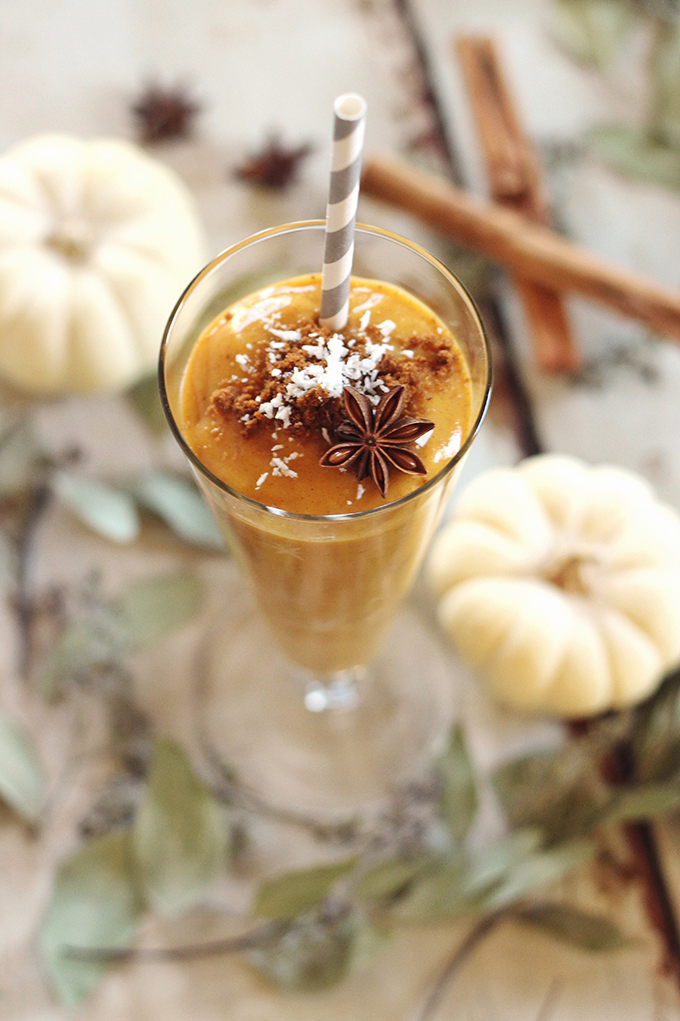 Vegan, Gluten Free, Refined Sugar Free
Another oldie but a goodie! Homemade pumpkin puree (that recipe is also included!) combines with sweet and creamy persimmon and spicy fall flavours of fresh ginger, cinnamon, nutmeg and clove. It tastes like an indulgent treat, but it's brimming with healthy, nourishing ingredients!
---
SALADS & BOWLS
---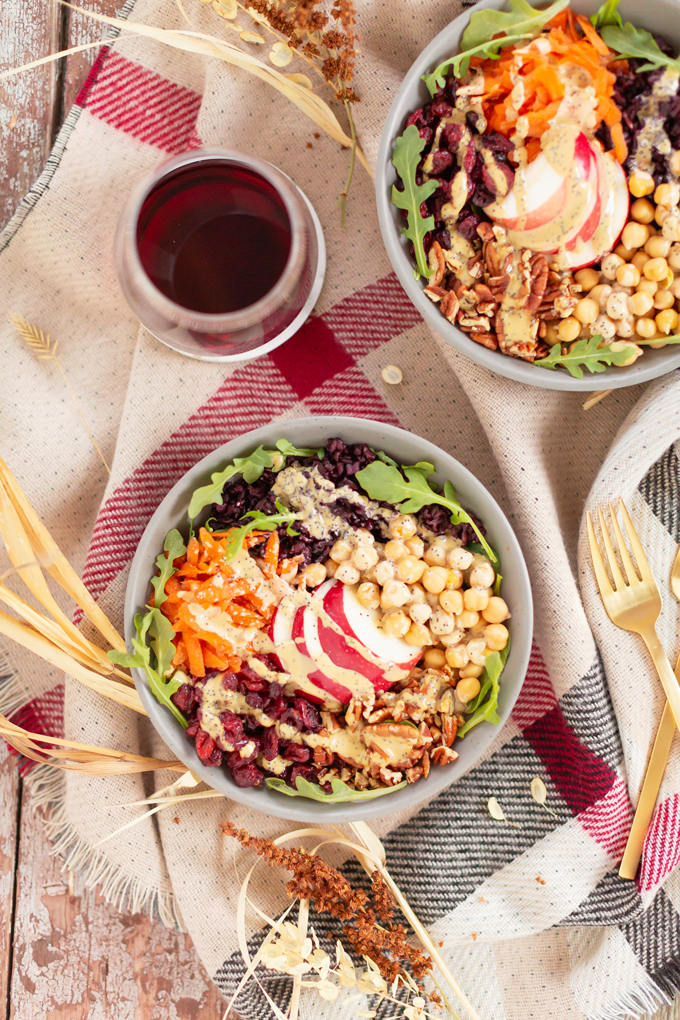 Vegan, Gluten Free, Refined Sugar Free
My Fall Harvest Bowls with Creamy Poppyseed Dressing are an ultra nourishing, 30 minute vegan meal that beautifully showcase seasonal produce and pantry staples, but can be enjoyed year-round. A bed of baby spinach and arugula houses a hearty melange of black glutinous rice, chick peas, fresh apples and shredded carrots — topped off with a tanini-based Creamy Poppyseed Dressing, dried cranberries and roasted pecans.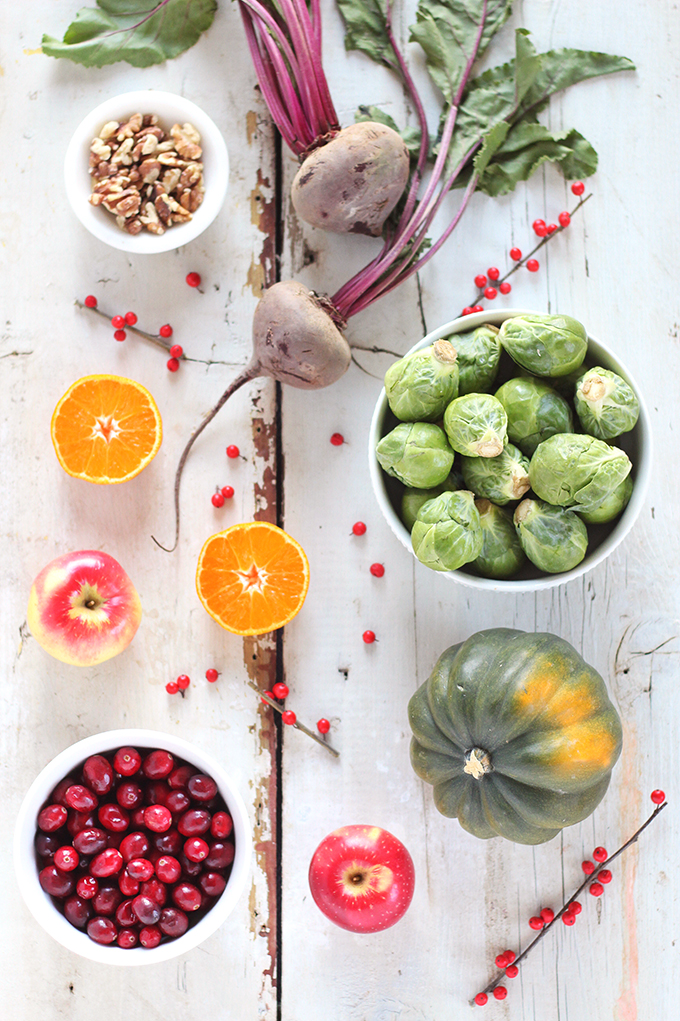 Vegan, Gluten Free, Refined Sugar Free
This is a classic holiday recipe in our family, for both Thanksgiving and Christmas! Eat the rainbow and fuel up on the good stuff during this indulgent time of year — a powerhouse mélange of apples, mandarin oranges, brussel sprouts, shredded beets, roasted acorn squash, toasted walnuts and a tangy Cranberry Dijon Vinaigrette comprise this nourishing holiday salad.
---
SIDES
---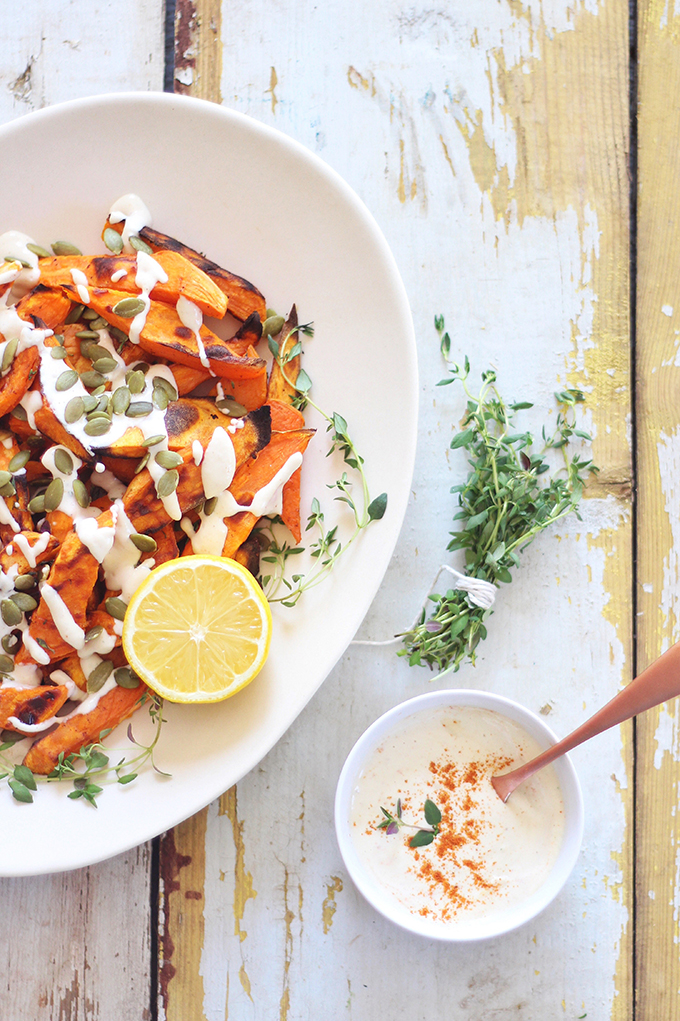 Vegan, Gluten Free, Refined Sugar Free
Without fail, this recipe makes it into our weekly rotation (even when sweet potatoes aren't in season!). It's also one of your favourites and my most featured. These sweet potato fries are infused with fresh thyme and oven roasted — they come out crisp on the outside and soft and velvety on the inside. Topped off with my Lemon Tahini Sauce (you'll want to drizzle it on everything!) and pepitas, this is a bright, plant based spin on traditional loaded fries.
---
SOUPS & CHILIS
---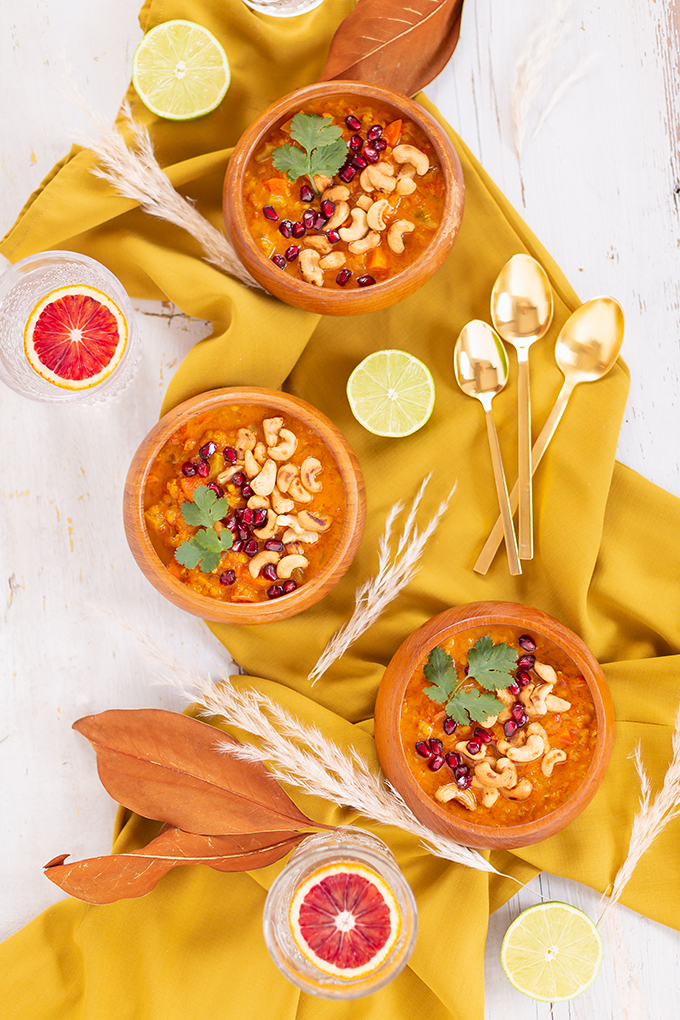 Vegan, Gluten Free, Refined Sugar Free
Warm up with a batch of my Slow Cooker Vegan Mulligatawny Soup with Red Lentils — an ultra clean, nourishing, protein packed, plant-based spin on a classic English soup with South Indian roots. The best part? You likely have most (if not all!) of these ingredients on hand and this recipe truly couldn't be easier! A hearty base of red lentils combines with a mirepoix of carrots, celery, onion and apple simmered in a rich, exotically spiced, tomato-based broth with a splash of coconut milk and a kiss of cinnamon.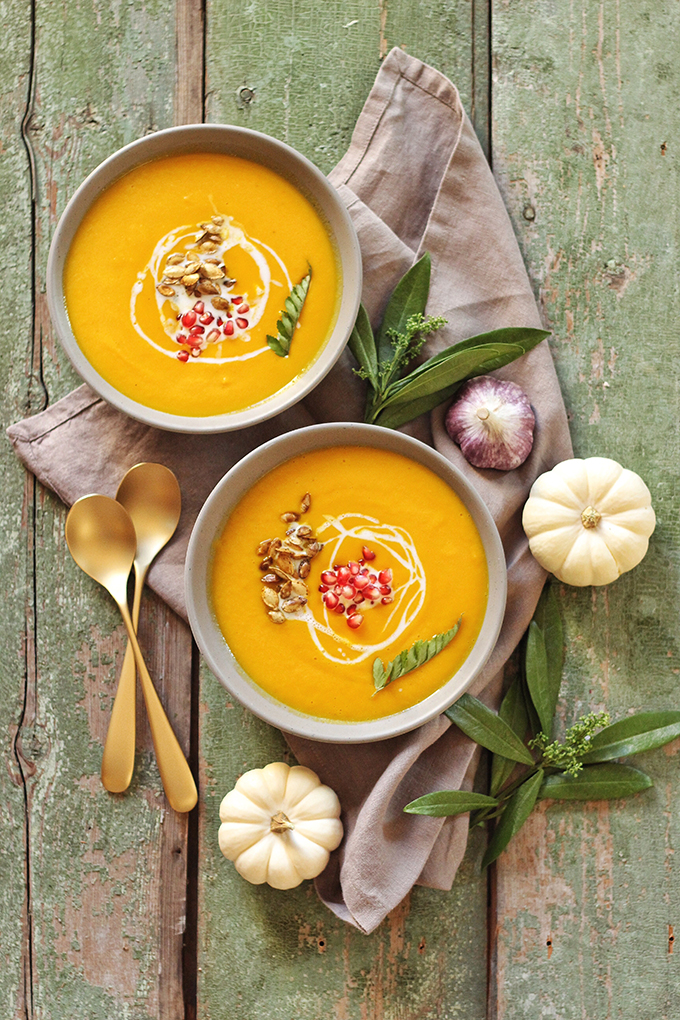 Vegan, Gluten Free, Refined Sugar Free
Autumn in a bowl! My Autumn Harvest Soup with Roasted Squash Seeds is the ultimate autumn comfort food — hearty, nourishing and velvety smooth featuring squash, apples, carrots, onions and some rhubarb from a friend's garden (you can't eat more local than that!).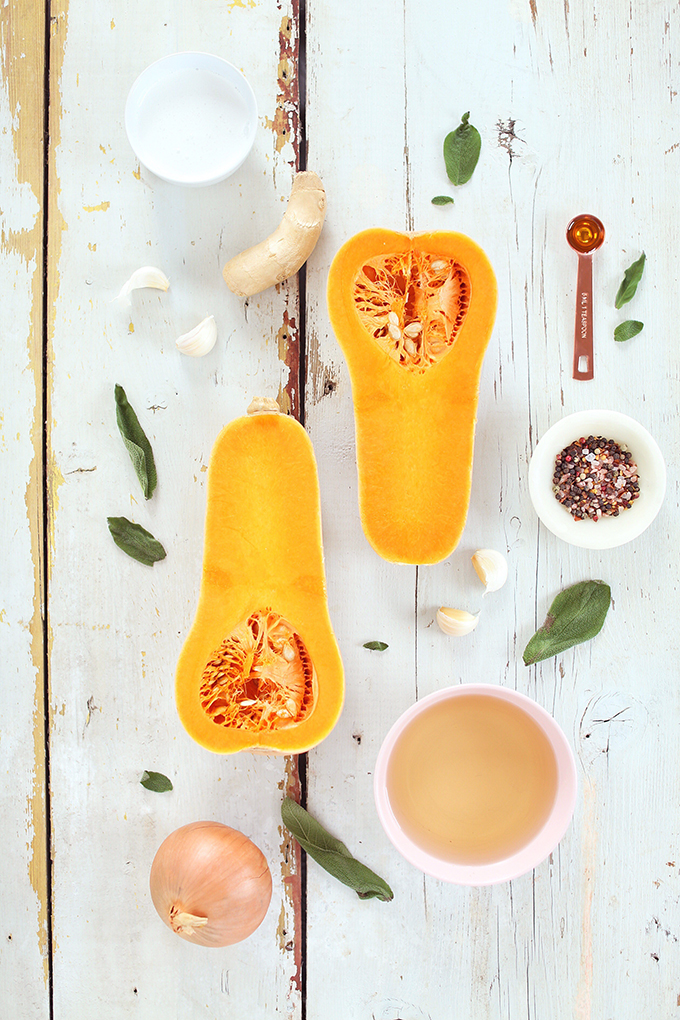 Vegan, Gluten Free, Refined Sugar Free
A luxurious, sophisticated twist on a cold weather classic and a more recent addition to my recipe archives! With just 10 ingredients, this creamy bowl of vegan comfort is a breeze to whip up and makes a great light lunch or accompaniment to dinner.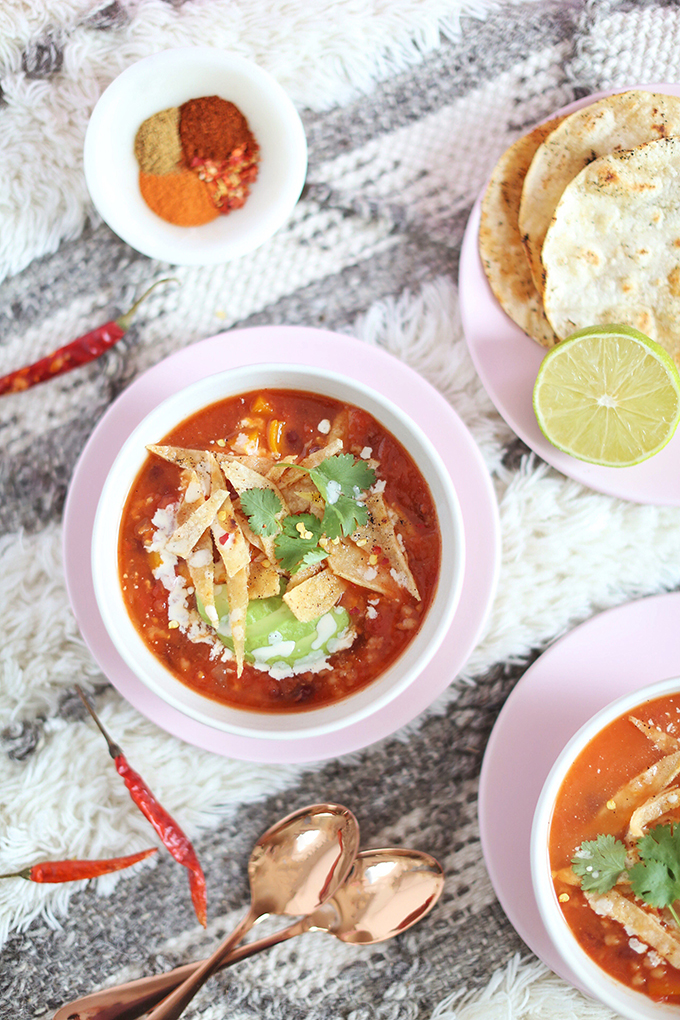 Vegan, Gluten Free, Refined Sugar Free
Another newer recipe and one I've already made twice this season. This vibrant recipe comes together with pantry staples, seasonal produce and minimal effort! Hearty winter squash, brown rice, protein packed black beans, bright cherry tomatoes, sweet orange peppers, yellow onion, garlic and a mosaic of spices infuse a tomato and vegetable stock base with feisty mexican flavour.

Vegan, Gluten Free, Refined Sugar Free
My Sumac Roasted Carrot Apple Soup is a fruity, exotic twist on an autumnal classic — where seasonal produce staples of carrots, apples, onion and garlic are generously seasoned with sumac and simple spices, roasted to perfection and pureed with creamy cashew milk, vegetable stock, fresh ginger and zingy lemon. This ultra simple, ultra nourishing, family-friendly fall soup is vegan, gluten and refined sugar free and comes together in just one hour with twelve ingredients, including seasonings!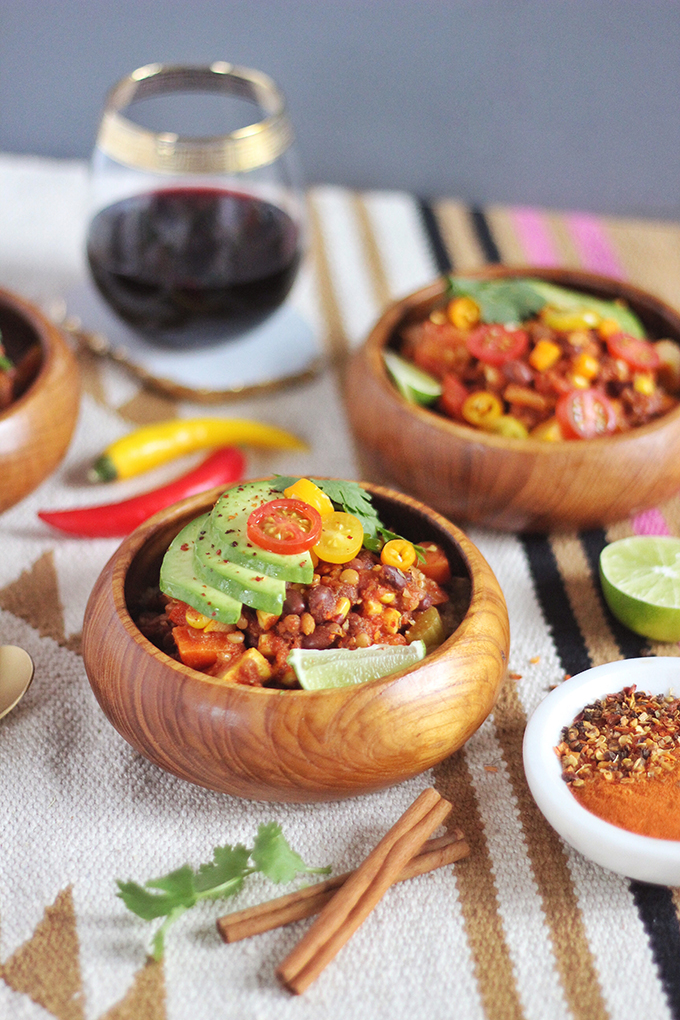 Vegan, Gluten Free, Refined Sugar Free
My colourful Indian Summer Vegan Chili is inspired by this fleeting, transitional season when we're able to enjoy the abundance of both summer and fall in our kitchens and on our tables. The recipe incorporates summer tomatoes and corn with autumn squash, carrots and peppers along with an array of complimentary vegetables, spices and seasonings. It's a sweet and spicy, comforting dish brimming with clean, plant-based protein — approved by meat eaters, plant eaters and vegans alike.
---
LIBATIONS
---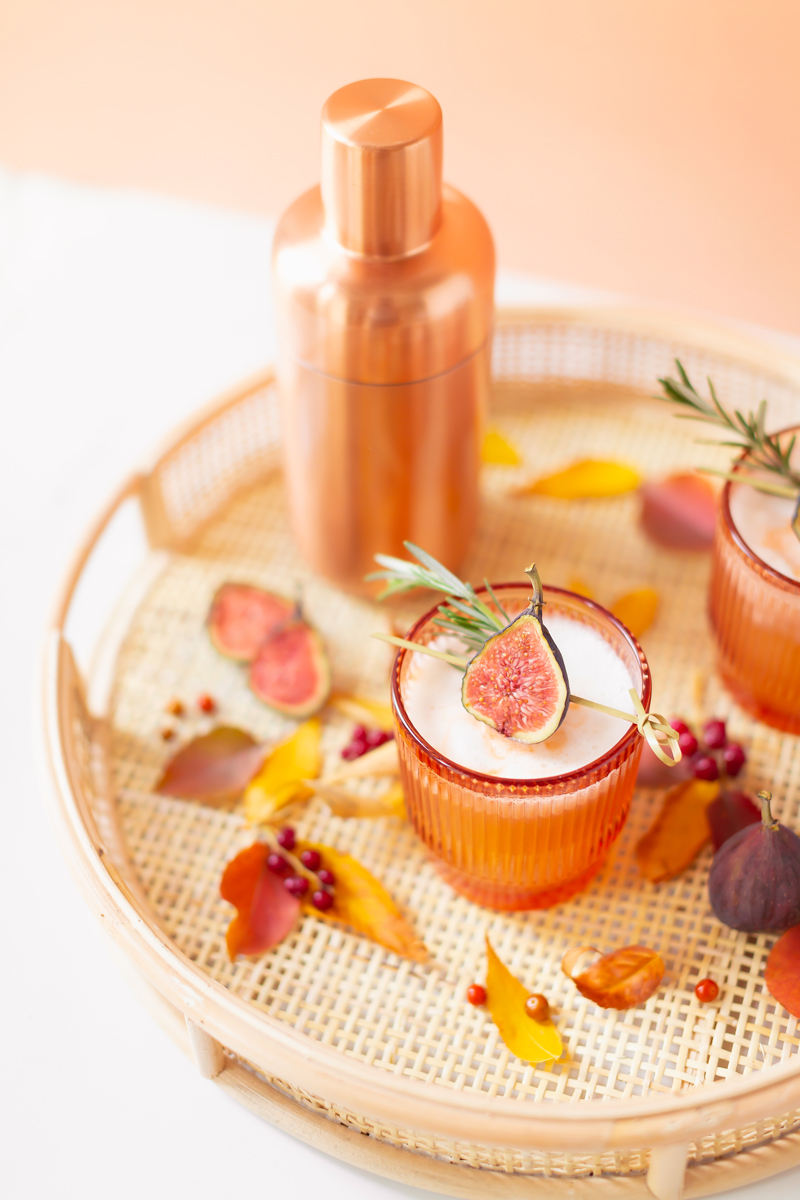 Vegetarian (Vegan option), Gluten Free, No Sugar Added
My Rosemary Fig Japanese Whisky Sour is a deliciously luxurious juxtaposition of fall flavours and textures that you can shake up at home. This creative, comforting cocktail is creamy, smoky, sweet and sour — enveloping your tastebuds in early autumn inspired warmth! Premium Japanese whisky combines with egg whites (with a vegan option), fig syrup, bitters, fresh lemon juice and a spring of rosemary shaken into a creamy, comforting sip that celebrates quintessential fall flavours in cocktail form. If your looking to satisfy your cocktail lounge cravings at home this autumn, look no further! Dust off your cocktail shaker, slip on your fuzzy slippers, light a fire and learn how to shake up this sumptuous, seasonally inspired Japanese whisky sour in the comfort of your own kitchen.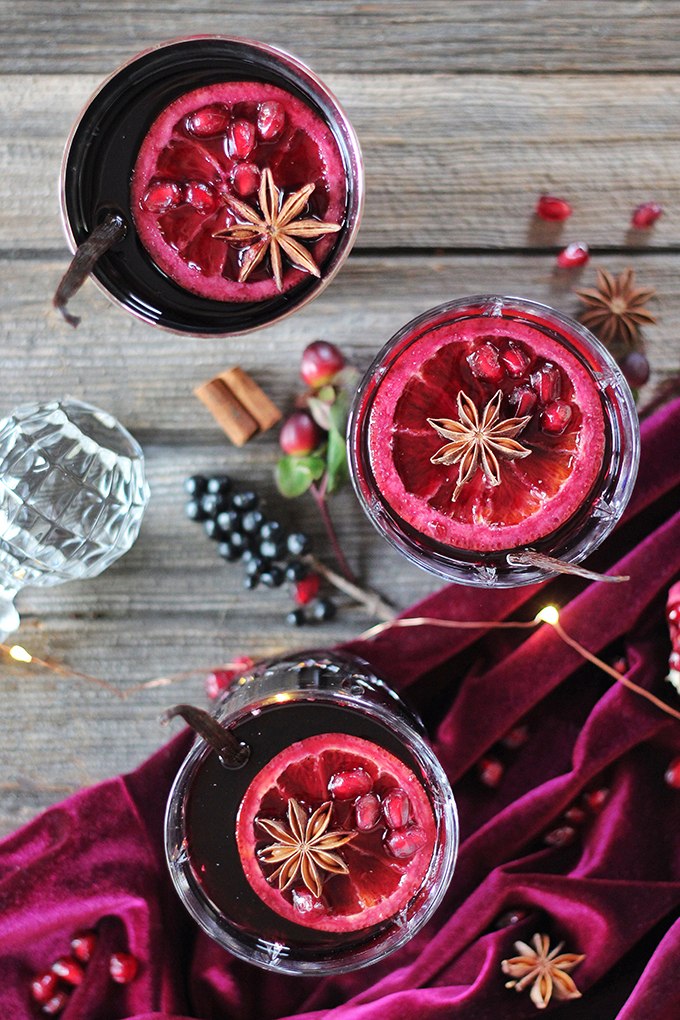 Vegan, Gluten Free, No Sugar Added
Recently featured in Country Living's 25 Easy Mulled Wine Recipes to Warm You Up This Fall and Redbook's 11 Fall Drinks that will Warm You Right Up roundups, this sophisticated twist on a classic is sure to leave you feeling all warm and fuzzy. Luxurious flavours of pomegranate and vanilla mix and mingle with robust Zinfandel, clementines, honey, cloves, star anise and a touch of nutmeg to warm you from the inside out!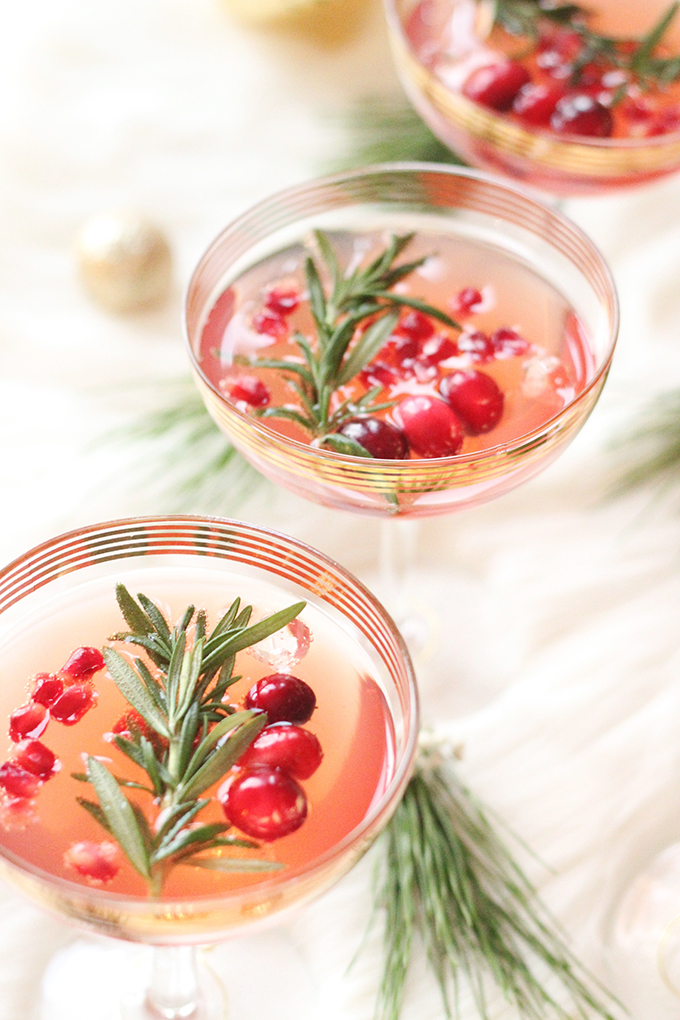 Vegan, Gluten Free, Refined Sugar Free
Traditional sangria gets a luxurious makeover in my Sparkling Pomegranate Cranberry Sangria — I'm swapping wine for bubbles and infusing the recipe with flavours of pomegranate, cranberry, orange, and ginger, plus a healthy splash of Grand Marnier to send it over the top. It's been featured in Brit + Co's 14 Herbaceous Cocktails Full of Fall Flavors and You'll Want These 21 Signature Cocktails at Your Fall Wedding roundups — and was infact one lovely couple's signature wedding cocktail (thank you for the sweet email!).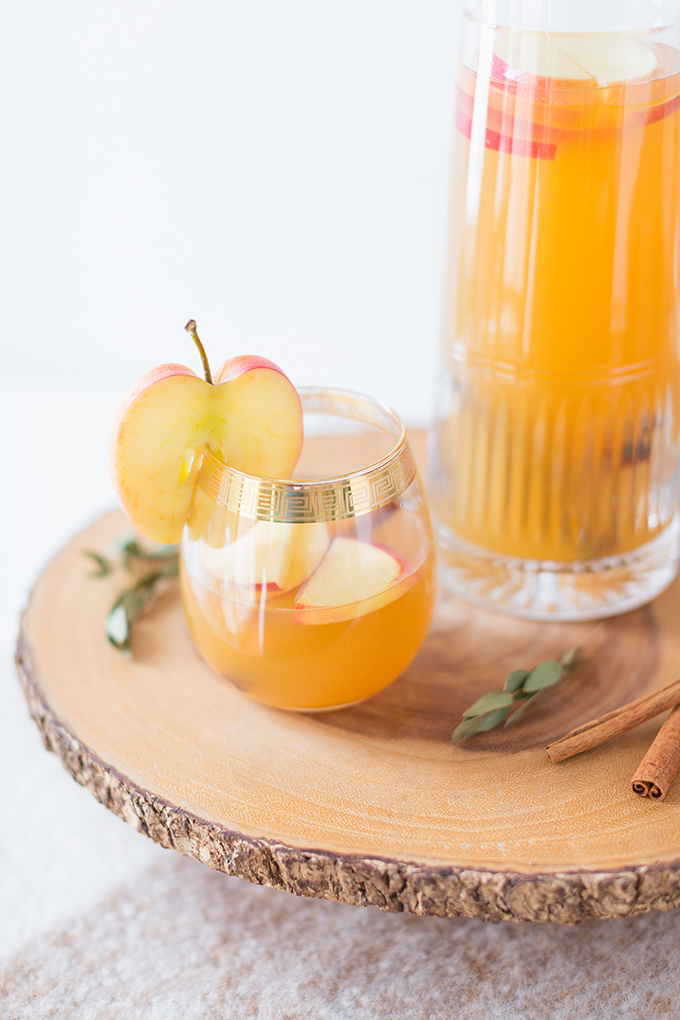 Vegan, Gluten Free, No Sugar Added
My Late Harvest Spiced Apple Sangria combines late harvest riesling with Eau Claire's Apple Brandy, freshly pressed apple cider and ginger beer with a sweet and spicy trio of Okanagan apples, fresh ginger and cinnamon sticks to infuse this comforting, apple-centric sangria with autumnal warmth.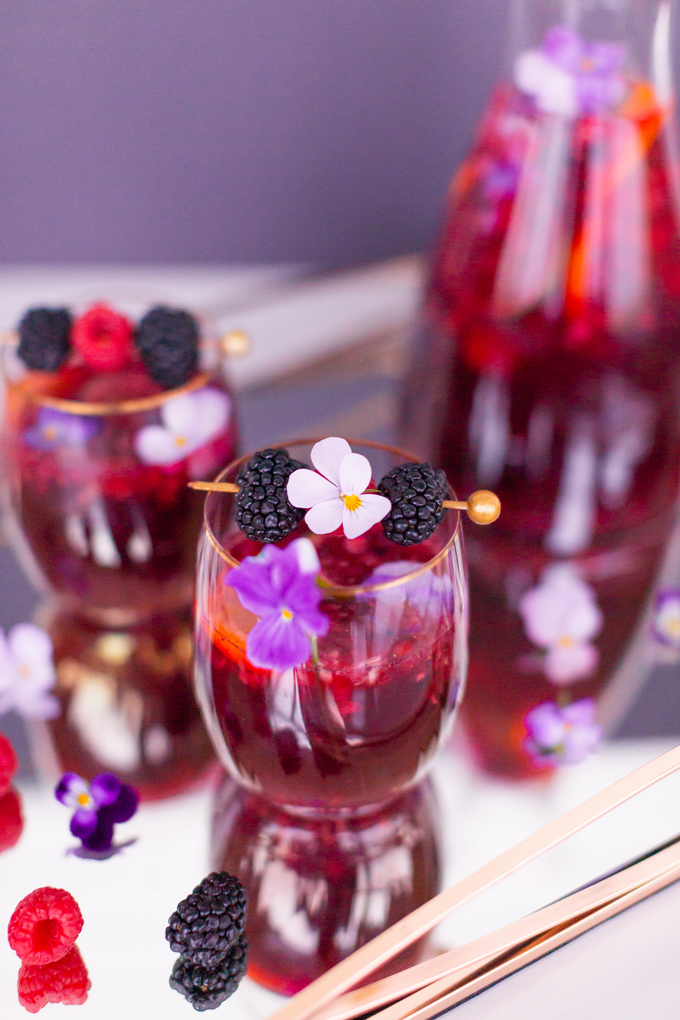 Vegan, Gluten Free, No Sugar Added
My Violette Noir Berry Sangria is a dramatic, berry-infused libation where bold, luscious flavours of raspberry-laden Chambord, floral Crème de Violette, juicy blackberry and a fresh kiss of citrus intertwine over an elegant Pinot Noir backdrop. This sophisticated, Parisian-inspired spin on traditional red sangria is as intricate as it is accessible — seducing both wine lovers and skeptics with each delicious, antioxidant-rich sip!
---
PIN MY 20+ FAVOURITE PLANT BASED FALL RECIPES FOR LATER
---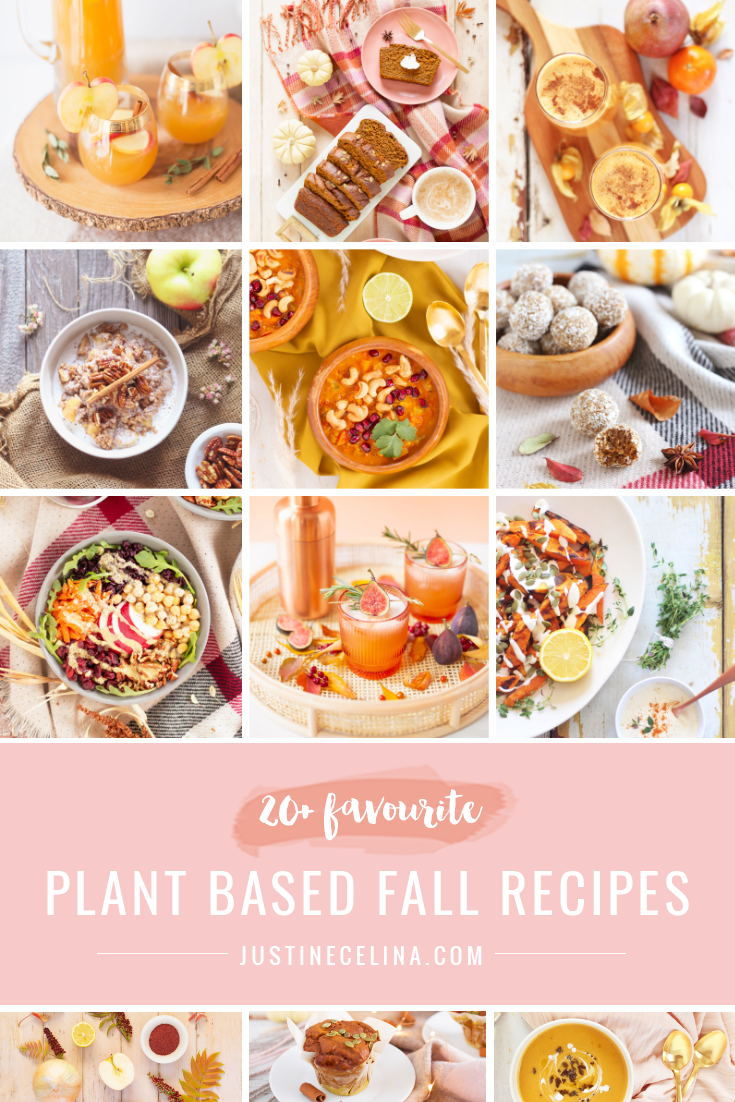 ---
Thanks for stopping by to check out my favourite fall recipes, friends! Each year I update this post to ensure you can reference all my favourite seasonal recipes in one convenient location — and I can't wait to update it with autumn 2020's creations! We're enjoying the last of our bountiful Country Garden harvests currently and they've inspired many new plant based recipe ideas.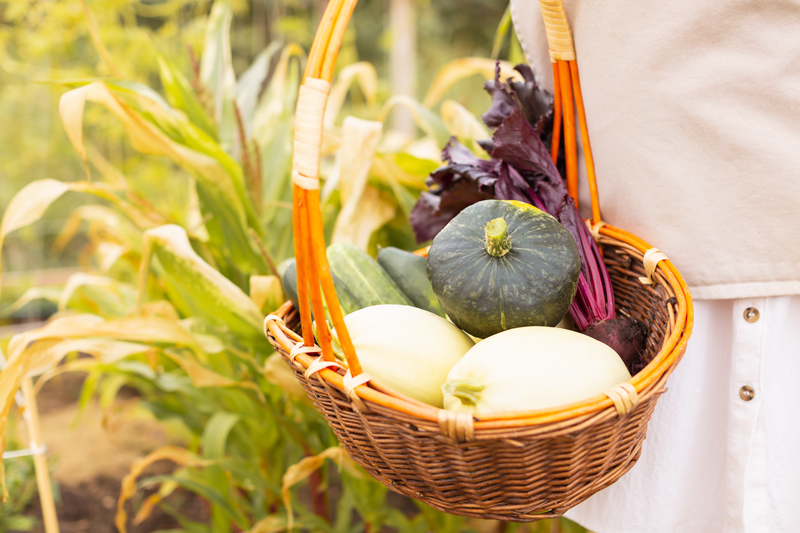 As always, if you try one of my recipes, please let me know how you liked it — I absolutely love your feedback! Leave me a comment, or tag me on Instagram, Twitter or Facebook. I'd love you to hashtag #justinecelinarecipes in your recreations so I can find them — browsing my feed and stumbling on your beautiful recreations is one of my favourite feelings! I also have a Pinterest board for my recipes if you're looking for more healthy, plant based recipes (and you can find all of the recipes in this roundup on my Healthy Plant Based Fall Recipes Board!). I have so many more seasonal recipes coming your way this autumn and I can't wait to share them with you. Wishing you all a beautiful fall season!
---
Disclaimer: This post is not sponsored, and contains my genuine thoughts, ideas and recommendations. JustineCelina uses affiliate and referral links, which allow me to receive a small commission when you make a purchase through one of my links. Thank you for supporting the brands and businesses that support JustineCelina.com!