---
I'm excited to share the first of many DESIGN themed posts here on JustineCelina centered around the home and DIY — today I'm showcasing our Wine Nook! This is one of those spaces that took awhile to come together — our living room is a long, rectangular shape, and there was always this open space on the far wall, next to the patio door. Come take a look at how I finished this space and share some design inspiration, along with a few DIY tips!
---
THE WINE NOOK
---
When it comes to interior design, I would describe my style as a mixture of contemporary and natural with a bit of glam thrown into the mix — I like to combine different elements in unexpected ways. I love sleek lines, high-end finishes and lots of organic, raw touches.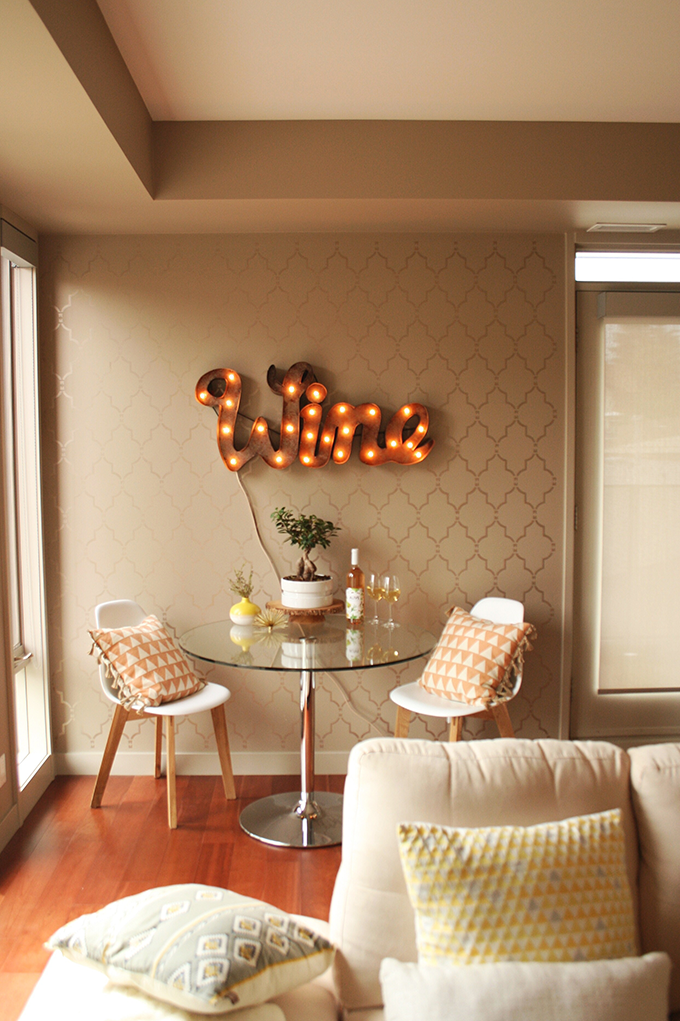 Our apartment is very modern, industrial and linear — different from anything else we looked at; it was love at first sight. But, over the years I've learned that the space can seem cold when it's furnished with too many industrial pieces. To make the most of this extra space in our living room, I knew I wanted to add an additional seating area that could be used when we're hosting a lot of company. I also wanted to soften the space in a way — so I decided on either wallpaper or a stencil to bring some life and visual interest to the wall. I was shocked at the cost of wallpaper for our space (for both this wall, and a really long wall along the other side of the living room). Cutting Edge Stencils was recommended to me by a friend, so I ordered their Marrakech Trellis stencil; a happy medium of soft, rounded shapes and clean lines.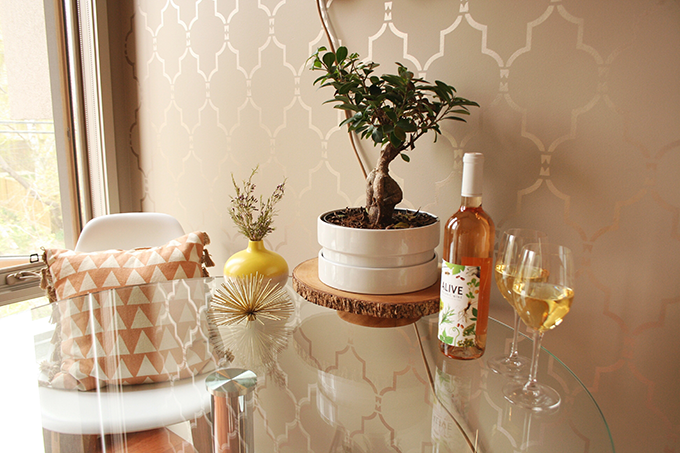 I'm so happy with the results. The stencil was really easy to use with the paint I chose, a latex-based, champagne metallic taupe. I wanted to add a bit of glam with a touch of metallic, but chose the stencil colour in an almost identical shade to the wall colour to keep the overall effect tonal. I used a small foam roller to apply the metallic paint to the stencil and the process was really quick and simple — this whole wall only took about an hour and a half, and I had no idea what I was doing! This was also a very inexpensive project, coming in at a grand total of $84.92 for both the stencil and the paint (with enough paint leftover to stencil another very long wall).
One of my favourite parts of this nook is the way light hits the metallic paint — it has different effects at different times of day. Sometimes it blends right into the wall colour, but it's more reflective in daylight and becomes darker at night in the shadows.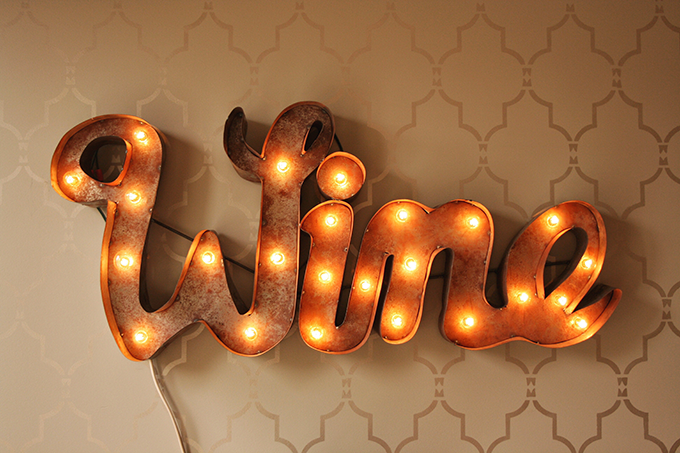 I like to collect art and home decor from all over the world — I think it's so cool to be able to recall your travels through different pieces in your home. So when I spotted this lighted marquee sign at a flea market in Mesa, Arizona, I knew it would be the perfect piece to complete our nook. It's handmade from reclaimed metal, and totally one of a kind — plus, the design nerd in me is crazy about the typography! We hauled it back to Canada and installed it above the glass table, and I'm totally in love with it. It really ties in with the rich tones of the hardwood, and adds a lot of ambiance to the space with its soft, warm glow.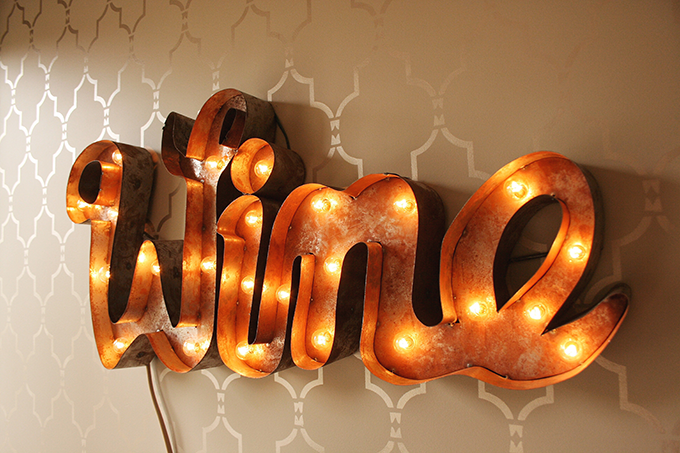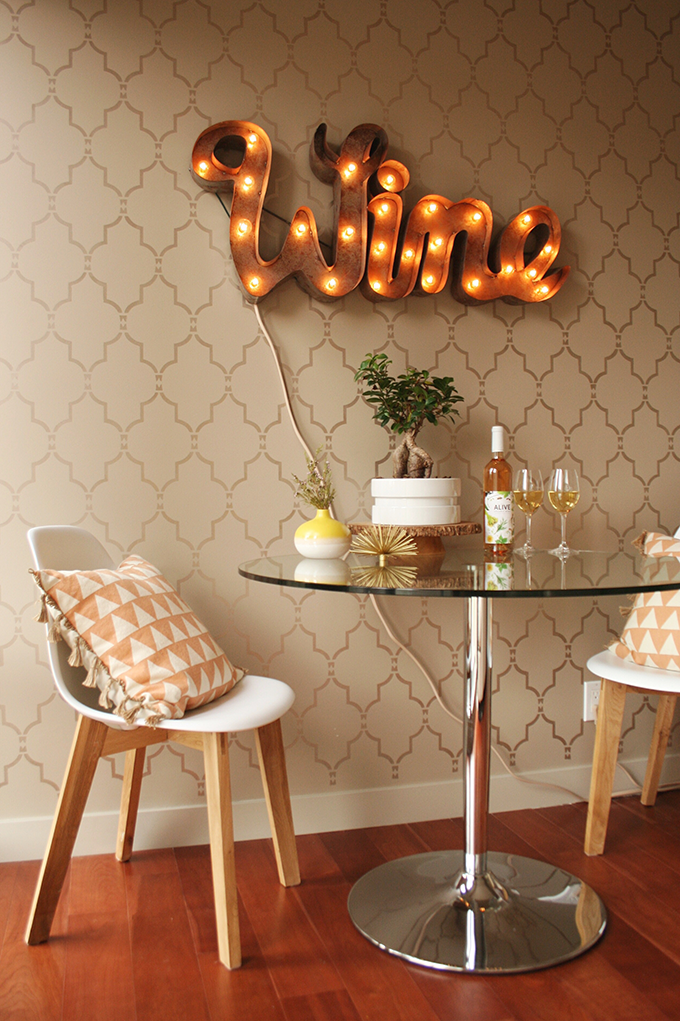 The furnishings for the space came together over time. I've owned the glass table for about 6 years, and it's been through 3 homes with me. Since we've lived here, it found a place in this nook — it can actually seat 4 people comfortably when pulled away from the wall and works well here because it keeps everything feeling open and airy. For seating, I'd been on the hunt for some white, plastic chairs for a while when I stumbled on these chairs from Bouclair's Atelier department. I knew they were the ones, and purchased 6 of the same chairs for the main dining room table (which is across the room near the opposite wall) — having the same chairs at both tables brings some unity to the space. These ergonomic chairs are really comfortable; perfect for dinner parties or long visits over a few glasses of wine. The rest of the decor I found on separate occasions over the last 6 months. And even though the space took awhile to come together, it's one of my favourite spots in our apartment.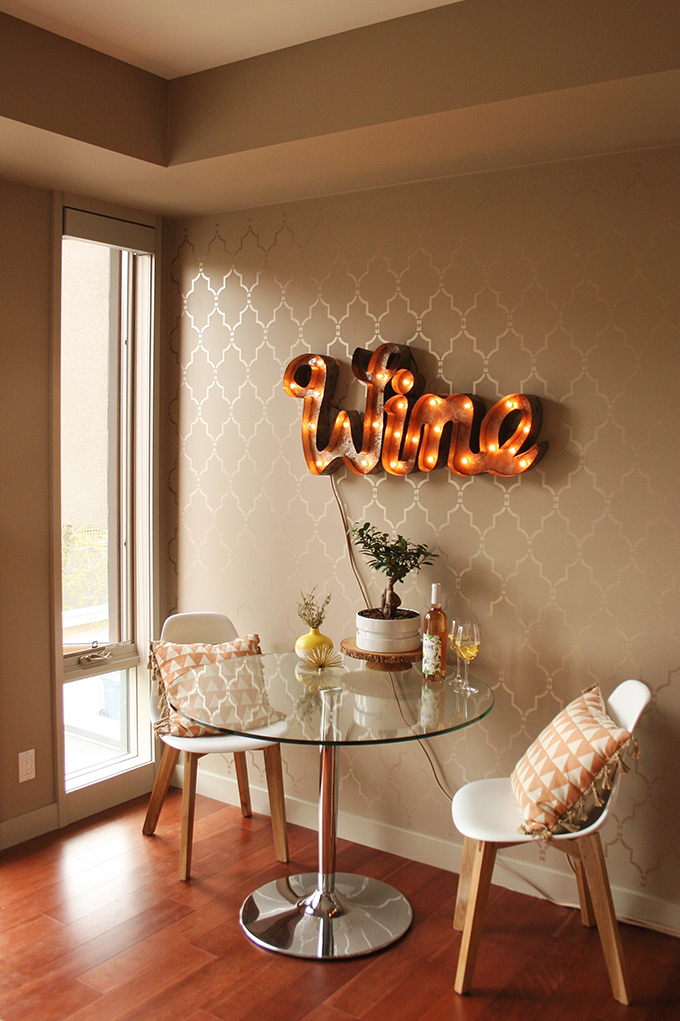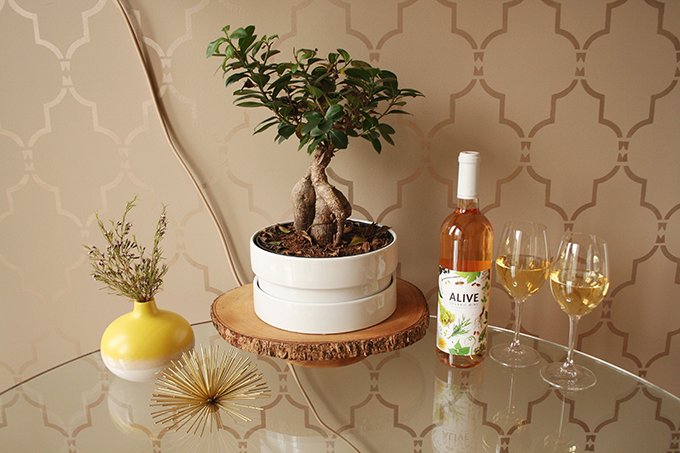 I styled the table top with natural elements, simple shapes a pop of yellow. I really think it's the little details that make a space feel cohesive and add personality. I love the character and life our bonsai plant brings to the space (plus it's pretty low maintenance), and added a few dried wax flowers to a colourful vase for textural interest. Chapters Indigo, Urban Outfitters, Hudson's Bay and Target are a few of my favourite places to shop for unique, affordable decor.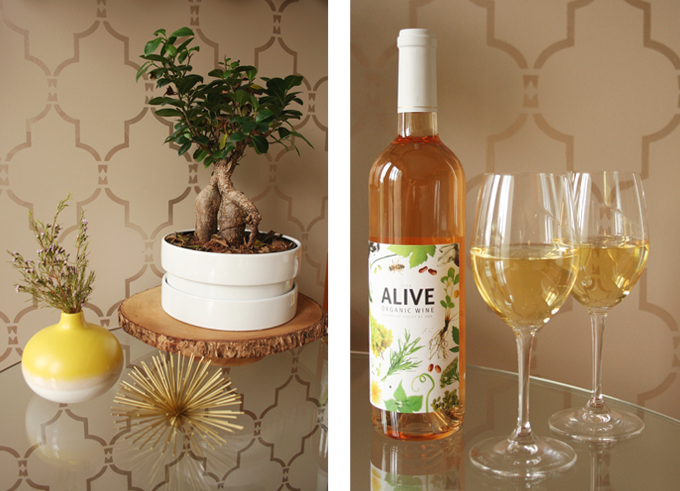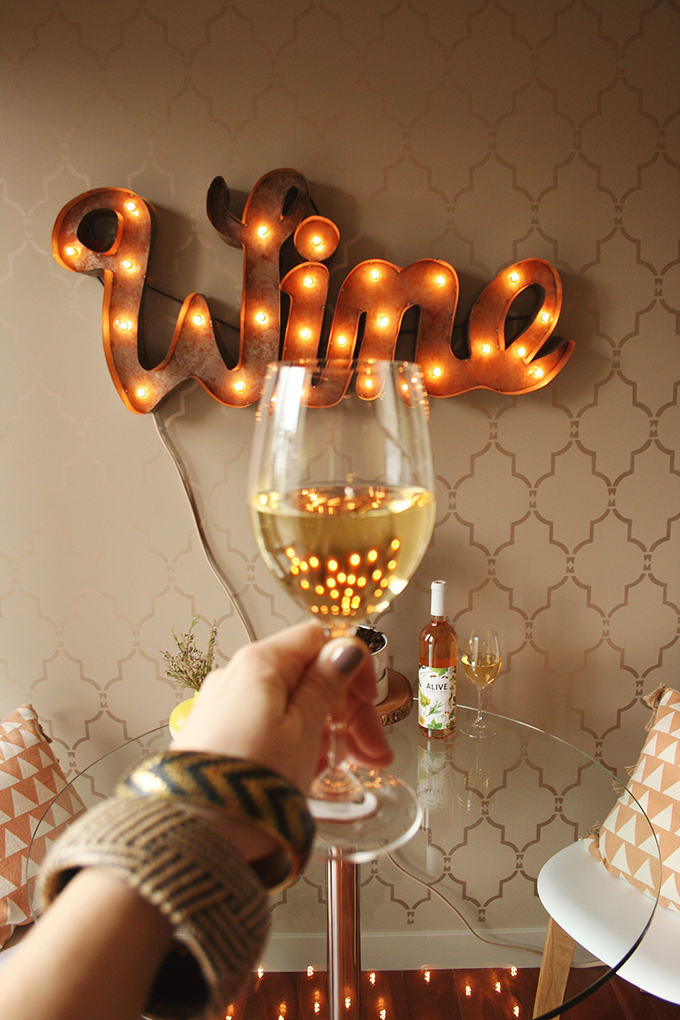 And for you fellow winos who are wondering about the wine in these photos — it's a white blend from an awesome Canadian vineyard, Summerhill Pyramid Winery, who produces delicious organic and biodynamic wine. It's one of my favourites to drink during the spring and summer months, and of course I love the design of the label. If you're around the Kelowna area, the estate is beautiful and the food is to die for. Summerhill wines are also available at select locations across Canada if you're interested trying their wines!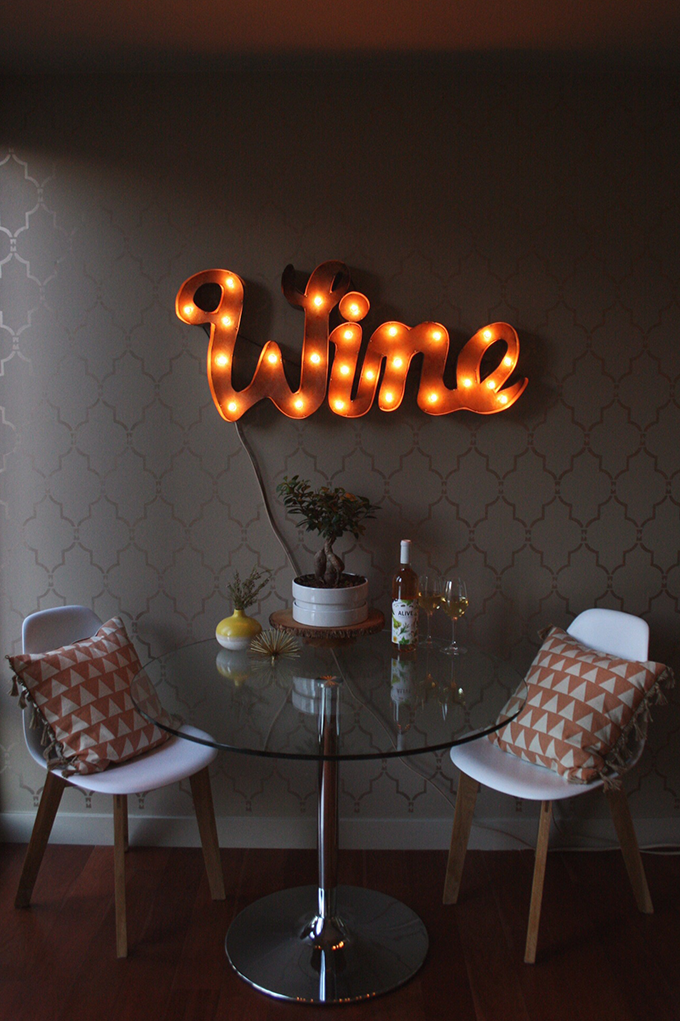 ---
Shop the Space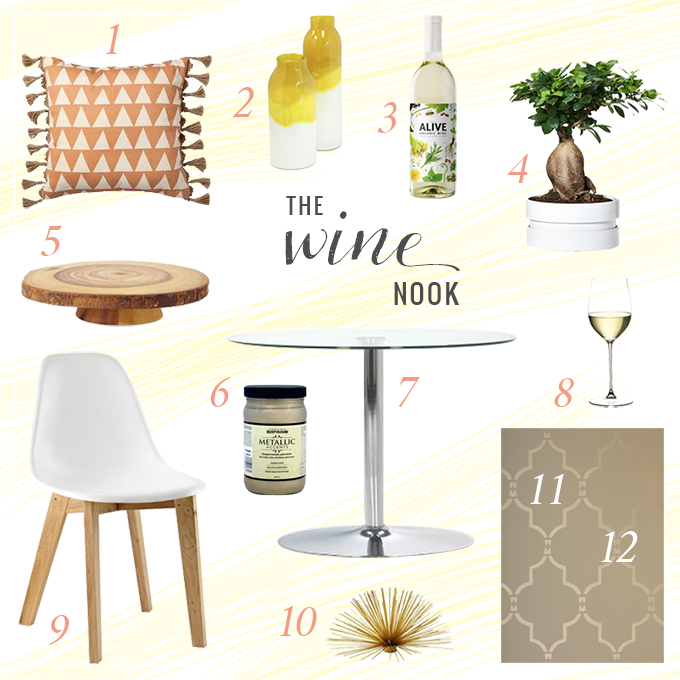 1. PILLOWS Nate Berkus for Target Canada Spring 2015 (similar here) | 2. YELLOW VASE Target Canada (similar here) | 3. WINE Alive Organic White Summerhill Pyramid Winery | 4. BONSAI TREE Ficus Microcarpa Ginseng in White | 5. WOOD PEDESTAL Acacia Wood Pedestal | 6. METALLIC PAINT Rust-Oleum Metallic Accents in Champagne Metallic | 7. GLASS TABLE Becky Cafe Table in Clear | 8. STEMWARE RIEDEL Veritas Chardonnay Glasses | 9. CHAIRS Atelier Plastic Dining Chair with Wood Legs | 10. SPIKE ACCENT Gold Spike Wall Pod | 11. PAINT our builder's "greige" (unsure of exact colour, similar here) | 12. STENCIL Marrakech Trellis by Cutting Edge Stencils | Not pictured: MARQUEE LIGHT WINE SIGN purchased at a flea market in Mesa, Arizona
---
Pssst… Cutting Edge Stencils is having a sale right now! From May 8-15 2015, enter code LOVE MOM at checkout to receive 20% off your purchase. And belated Happy Mother's Day to all of you Mom's out there — my Mom actually helped me install this wine sign in our living room! Cheers, Moms!
---
Thank you to Cutting Edge Stencils for featuring The Wine Nook.

---
Disclaimer: This post is not sponsored, and contains my genuine thoughts and recommendations. JustineCelina uses affiliate and referral links, which allow me to receive a small commission when you make a purchase through one of my links. Your purchases help to support JustineCelina.com!