Remember when I mentioned I've been obsessed with natural wood lately, and I was planning to make a bunch of wooden things this summer? This is my first DIY project involving wood! Today I'm showing you how I made this Driftwood Sculpture Centerpiece with foraged driftwood. This is a simple, inexpensive project that adds a lot of interesting, natural texture to your tablescape — all you need is driftwood, twine and some imagination! I'm also sharing some styling ideas for a summer dinner party.
---
What you'll need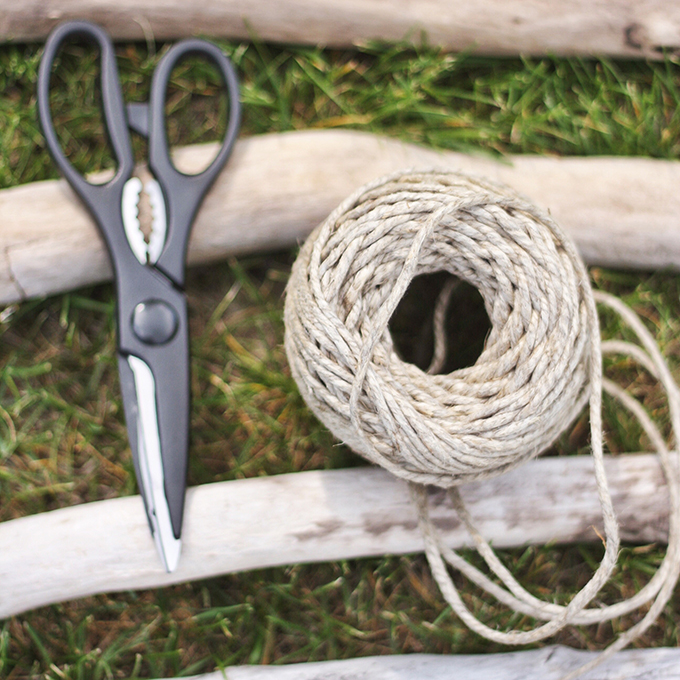 • 3 – 6 pieces of driftwood
• Twine (I purchased mine at Michaels, but you can also find it for much less at dollar stores)
• Scissors
---
DRIFTWOOD SCULPTURE CENTERPIECE
1) First, you need to gather your driftwood pieces (mine came from the shores of Kootenay Lake, British Columbia). Look for 3 – 6 pieces that are similar in length, keeping the size of your table in mind. For example, our table can seat up to 12 people with the extra leafs in it, so my pieces measured up to 40″ in length. You want your sculpture to be proportional to the size of your table.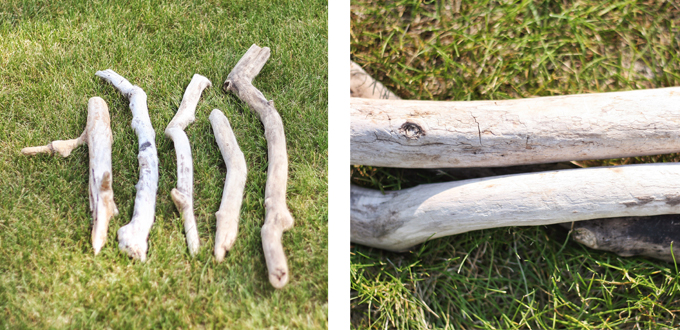 2) Before you begin, make sure you driftwood is clean and dry. Then, lay it out and see how the pieces fit best together. Start by stacking pieces on top of each other to band them together, and rearranging them. Work on a flat surface, so you can see which parts of your sculpture will sit on the table.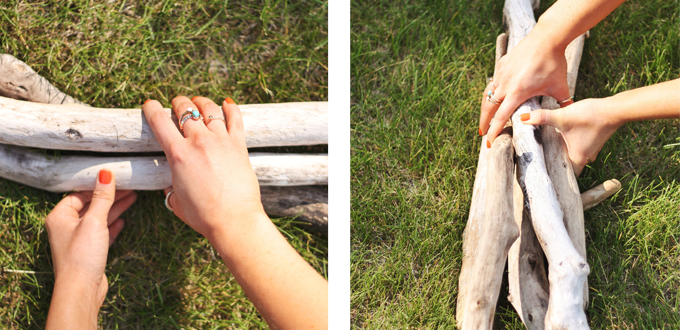 3) When you're happy with the shape of your sculpture and how all the pieces fit together, tie a few pieces of twine in bands around the sculpture to secure the wood in place. These don't have to be perfect, they're just placeholder while we work on the actual twine bands.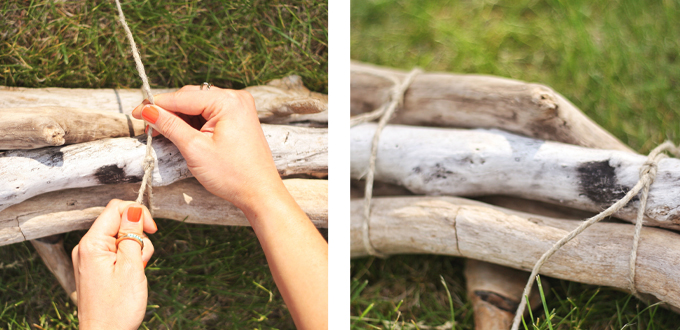 4) Now, start experimenting with different textures for your twine bands. I decided that I wanted 5 bands on my sculpture, and I wanted to do a mixture of straight bands, braids and twists. As a general rule, a mixture of textures and band widths will be most aesthetically pleasing, and so will an odd number of bands.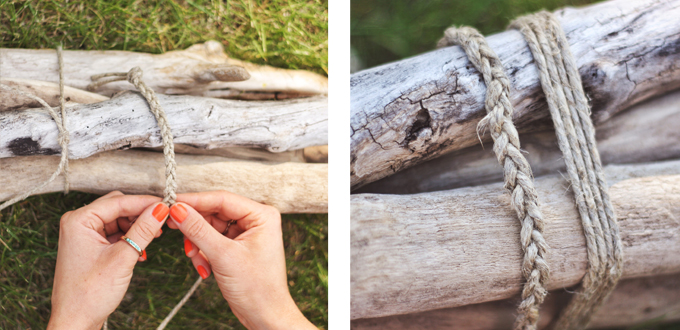 5) Position the bands where you want them on your sculpture, starting in the middle first (for stability) and then working outwards. Tie them tightly on the bottom of the sculpture where they'll be out of sight, and trim any excess twine. Snip the temporary bands off as you go.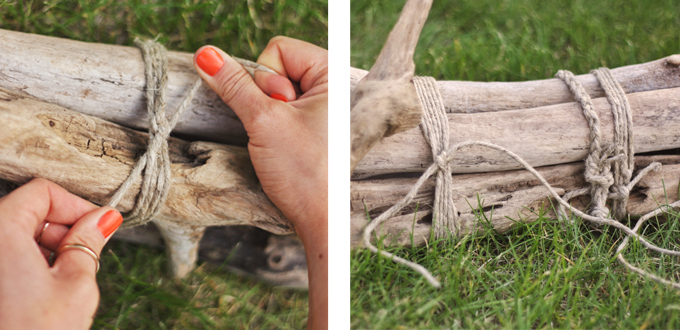 Your sculpture should look something like this when you're all finished!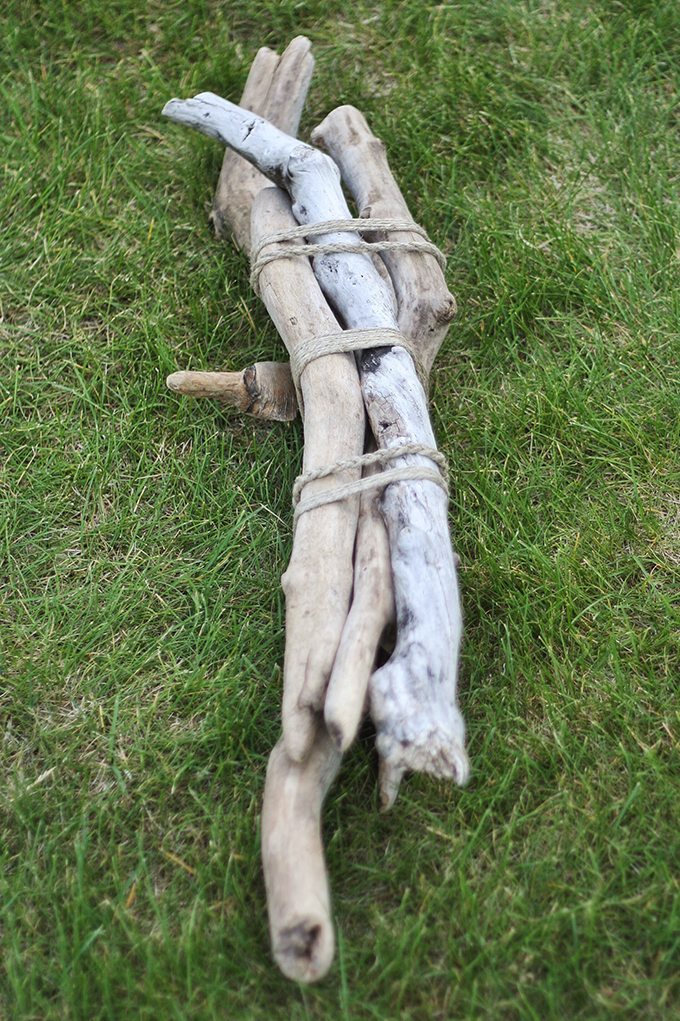 Note: If you're looking to add some colour to your centerpiece, you can paint little patterns and bands of colour on your driftwood (check this out for inspiration). I wanted a more timeless piece that allowed the textures of the wood and twine be the focus, so I left mine au naturale.

---
Styling a Summer Tablescape
Here's how the centerpiece looks in our space! I've mentioned this before on the blog, but I'd describe my style as a mixture of contemporary and natural with a bit of glam thrown into the mix — I like to combine different elements in unexpected ways. I love sleek lines, high-end finishes and lots of organic, raw touches.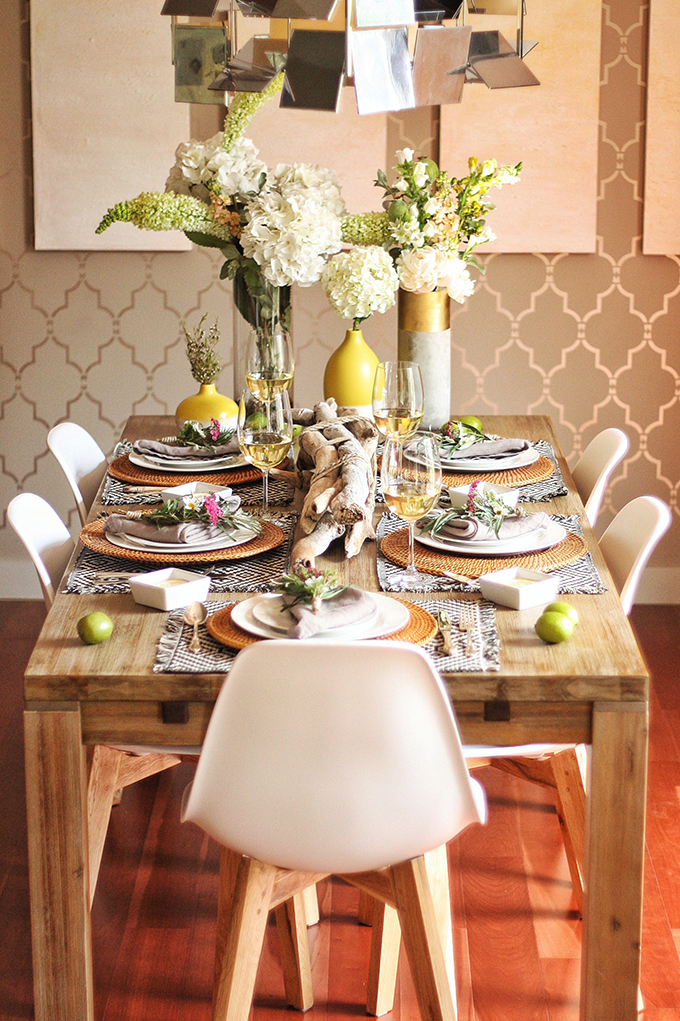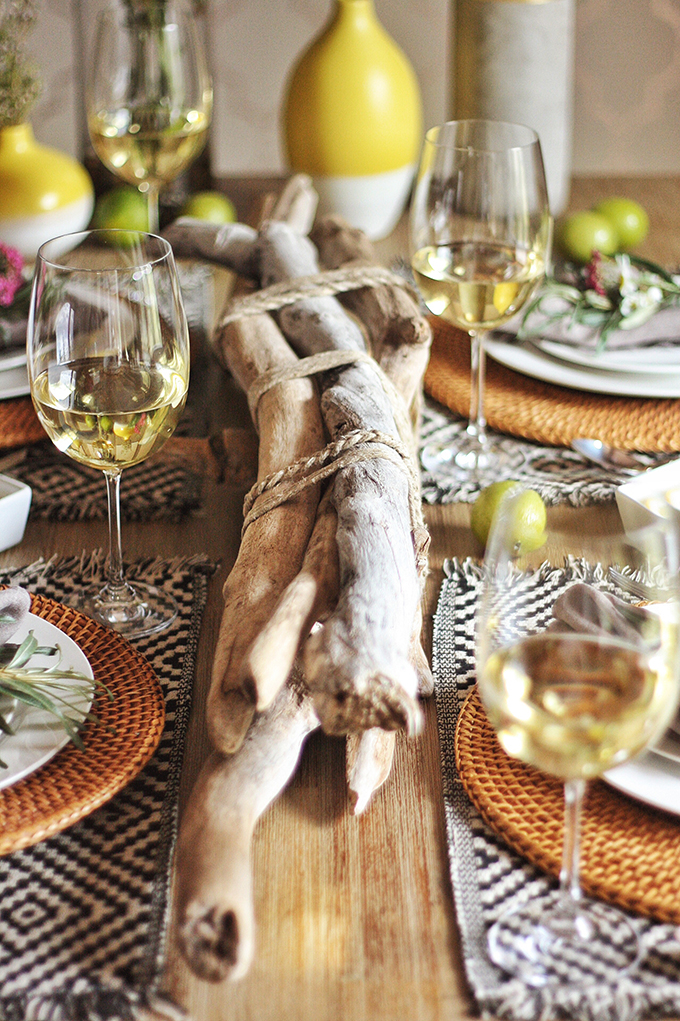 In the summer, I like my space to feel light, bright and fresh. I love using citrus fruit for pops of colour. Fresh flowers make such a huge difference to the feeling of a tablescape — my favourites this summer are peonies, hydrangeas and freesia in soft colours with lots of greenery.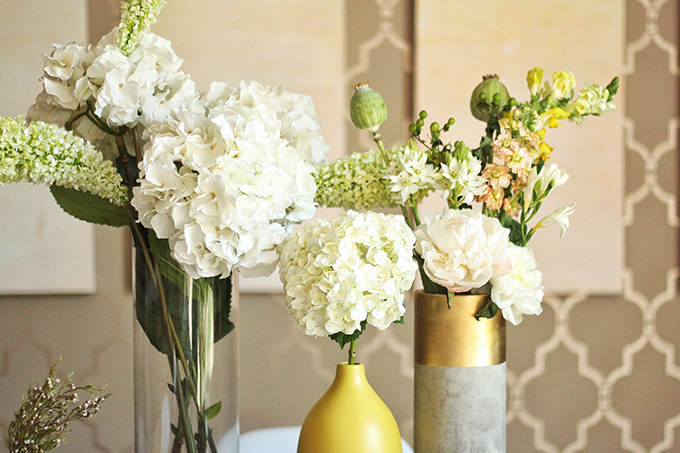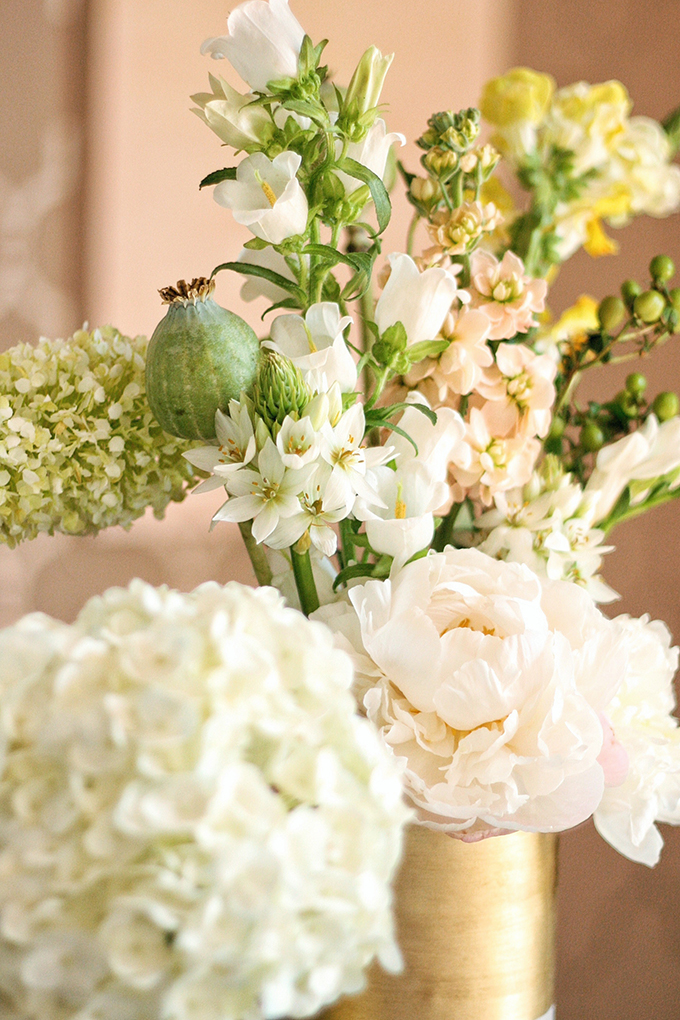 For this dinner party, I made little wildflower bouquets for my guests. It's such a simple but special gesture, and guest like to take them home and dry them. I have an in-depth post about how I made them!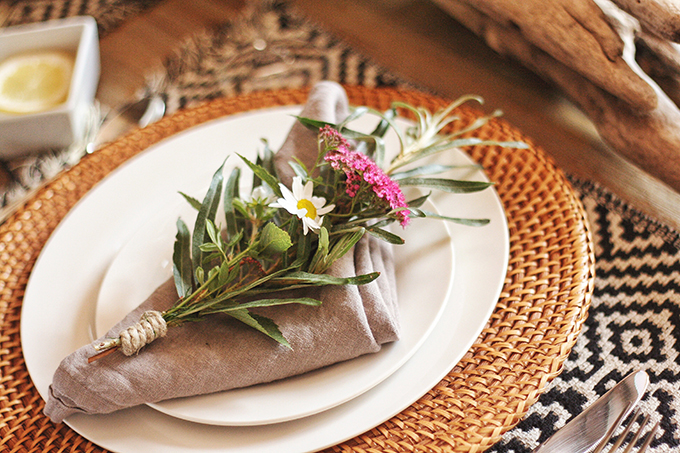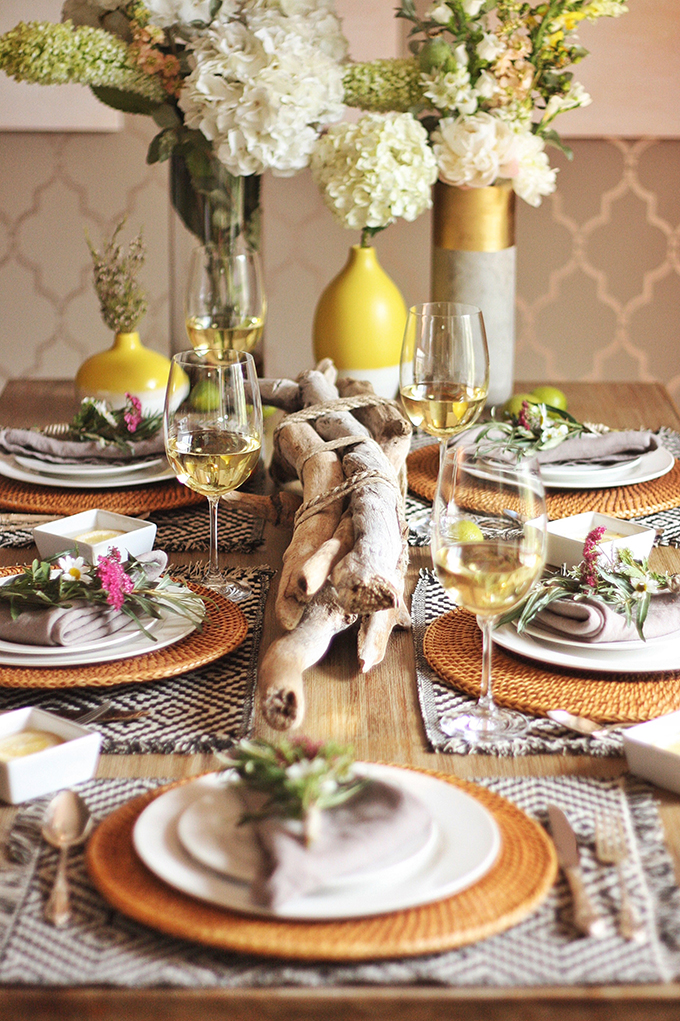 When choosing elements like dinnerware, placemats and chargers, I like to keep a balance between sleek lines and organic textures. I also love to layer. Styling a beautiful tablescape is just like styling an outfit!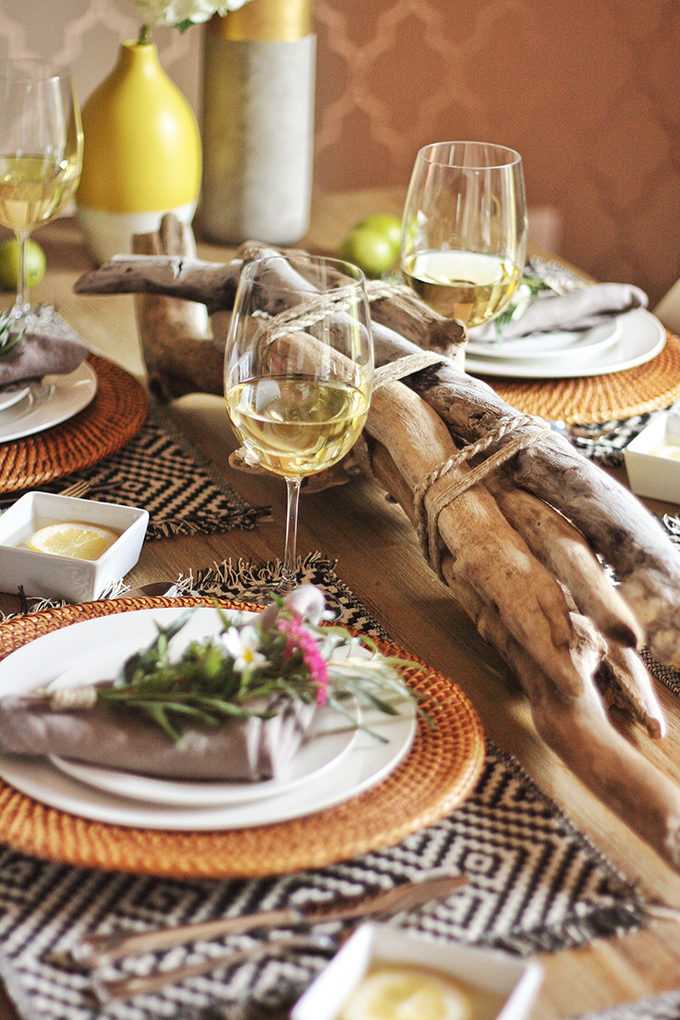 I think my favourite thing about this Driftwood Sculpture Centerpiece is that it will go with any colour scheme. I change my tabletop decor up seasonally (I change my mind a lot!), and I know that this will transition well through the seasons and always look great at the center of our table.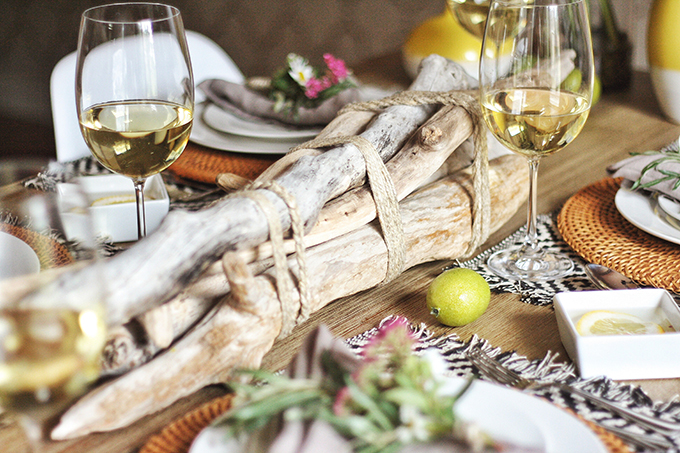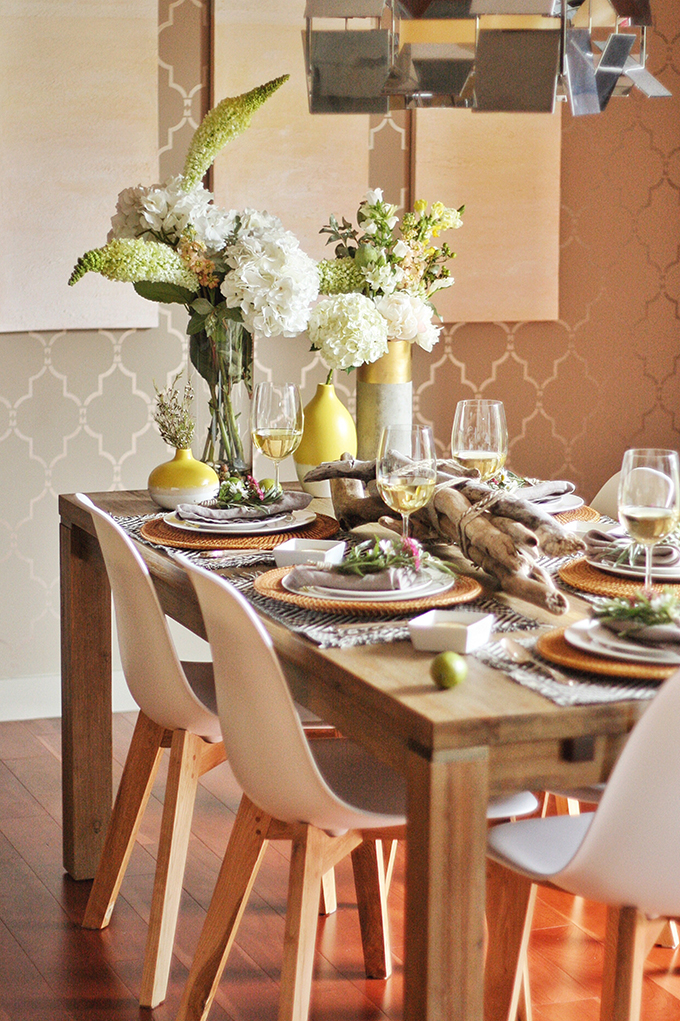 Wondering what's in our glasses? It's Kim Crawford Sauvignon Blanc.
---
Shop the Space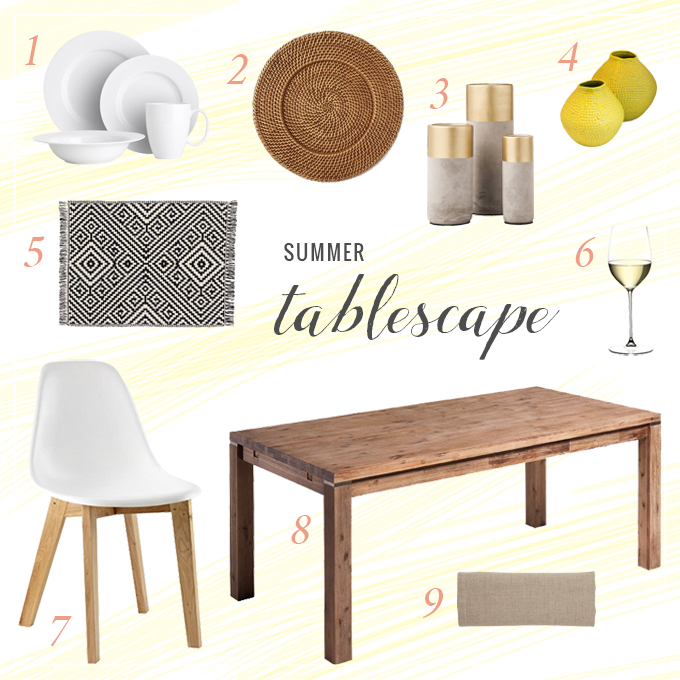 1. DINNERWARE Luminous 16-piece Dinnerware Set | 2. CHARGERS Rustic Chargers | 3. CEMENT VASE Target Canada (similar here) | 4. YELLOW VASE Target Canada (similar here) | 5. PLACEMATS Threshold Woven Placemat | 6. STEMWARE RIEDEL Veritas Chardonnay Glasses | 7. CHAIRS Atelier Plastic Dining Chair with Wood Legs | 8. DINING TABLE VERONA Dining Table | 9. NAPKINS Classic Linen Napkin
For more information on the wall colour and metallic stencil, check out my Wine Nook post!
---
Are you guys planning any DIY's this summer? If you are, let me know, or link them in the comments! If you make a Driftwood Sculpture Centerpiece (or anything out of driftwood), send me photos or tag me on social media!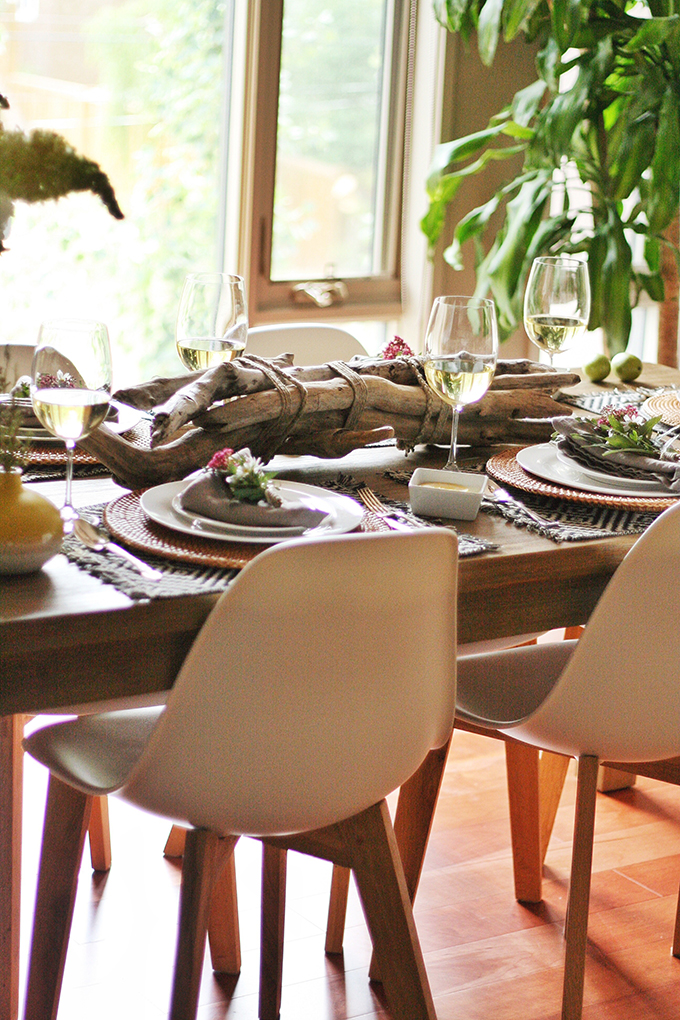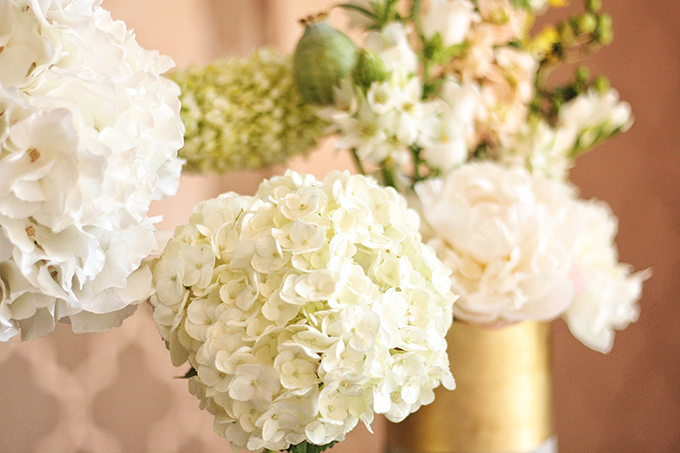 ---
Disclaimer: This post is not sponsored, and contains my genuine thoughts and recommendations. JustineCelina uses affiliate and referral links, which allow me to receive a small commission when you make a purchase through one of my links. Your purchases help to support JustineCelina.com!