Today I'm continuing my OBSESSION series here on JustineCelina — highlighting a print, colour or texture of the moment, and showing you how to work it into your personal style — whether it be in the form of fashion, beauty, or in the home. Lately I've been obsessed with natural wood in all forms, so I thought it would be fun to share the pieces I've been lusting after! I have a few DIY projects planned for the summer in an attempt to make some of these items myself, so stay tuned if these pieces interest you (and you like making stuff!).
---
1. Tree Trunk Planter | 2. Natural Tree Stump Side Table | 3. Pyramid Mirror | 4. Reclaimed Teak Single Dresser | 5. Aleksandra Zee | 6. Freeform Tree Stump Coffee Table | 7. Reclaimed Teak Low Dresser | 8. Teak Root Floor Sculpture
---
I grew up on an acreage in rural Alberta — and looking back, I think that's where my love for raw, natural wood textures stems from. My Dad was an antique lover, avid do-it-yourselfer, and he was always making things out of foraged materials. There was an abundance of old barn board kicking around, and we loved to hunt for vintage treasures together — I used to tag along to flea markets and auctions with him. Now, I love reclaimed wood and natural textures mixed clean lines and modern styling — our home has an industrial (but natural) vibe. I get weak in the knees for good vintage mid-century pieces and teak, as you'll see below! If you're interested in seeing a bit of our interior design style in action, check out our Wine Nook (we're also huge winos!).
I created this post to organize all my DIY ideas and inspirations in one spot, so I can come back to it this summer when I try to recreate some of these items myself. Keep in mind that all of these pieces wouldn't be in one room together, but scattered throughout the home.
---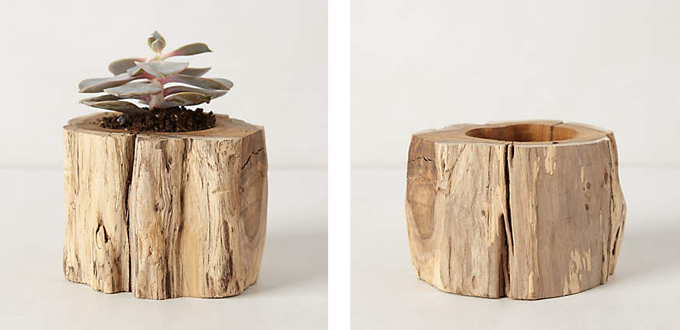 How cute is this tree trunk planter from Anthropologie?! It's such a great idea, and I think this piece would be really simple to make. In fact, I already have a few pieces of wood lined up for this project. It will help me get my bearings for a few larger tree trunk DIYs I have in mind.
---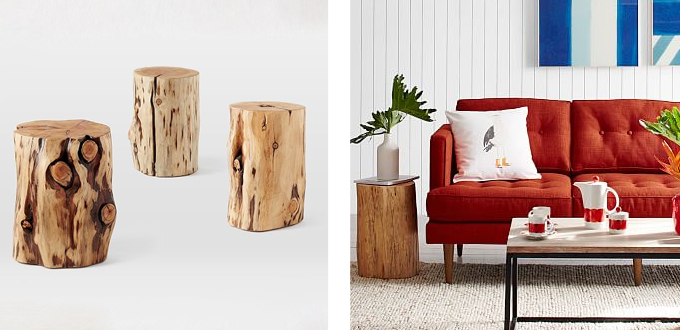 I've been drooling over these Natural Tree Stump Side Tables for well over 2 years now, but I just can't justify the price tag. So, I'm going to try to make one myself. I have the stump, and I've sourced the materials I'll need, so I think this will be my second project in the tree trunk collective!
Update: I made one — head over here to check it out!
---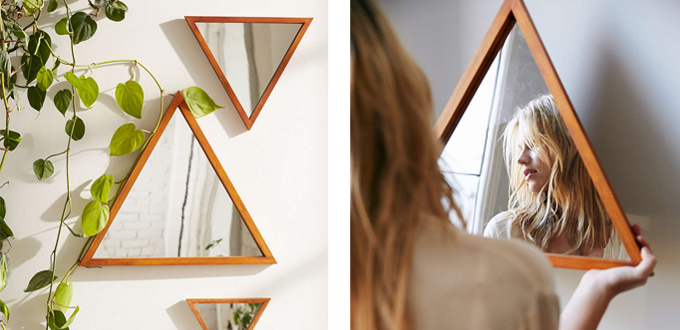 Triangles are my favourite shape, and I really like the simple stylings of this wooden mirror. It also comes in different sizes so you can hang them creatively to have a gallery wall effect.
---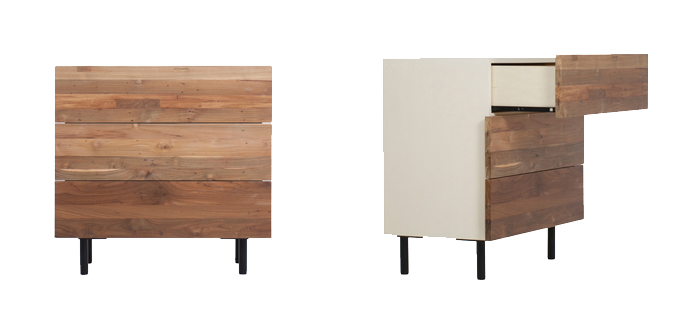 I'm not kidding when I say that I've almost bought this single dresser (which we would use as a nightstand) and the low dresser in the set (my #7 pick) about 3 times. I stalk them online, wait until they go sale, then march into EQ3 and prepare to shell out the cash. Every time, I stop myself because they're so expensive! Don't get me wrong, I love the way these look, but the construction of the actual dressers themselves leaves a little bit to be desired for the price. For 2 of these single dressers and the low dresser that we would need to furnish our bedroom, the total cost is $2597.00! The dresser fronts are made from beautiful reclaimed teak, but the dressers themselves are just a standard particle board. This is an extremely lofty DIY idea, but I'm going to try to recreate this set on my own. If you're interested to see how it shapes up, stay tuned!
---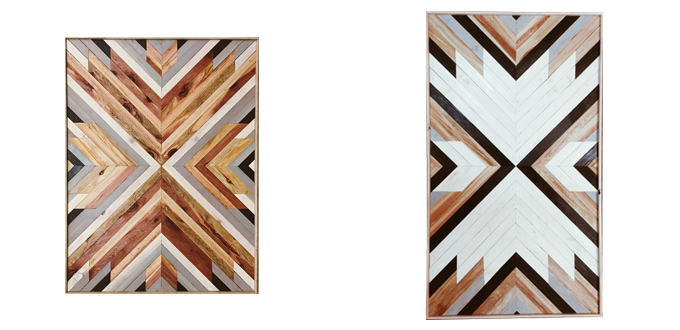 I stumbled on the work of this amazing San Fransisco based woodworker via Instagram. Wow! Her creations are so artful and inspiring. I love the mixtures of texture, colour and pattern. I would love to try to recreate something similar to this for an office desk table top. I'm not sure if I'm going to be able to pull it off, but I'm constantly drooling over her unique designs, and look to her account for inspiration often. Check her out!
---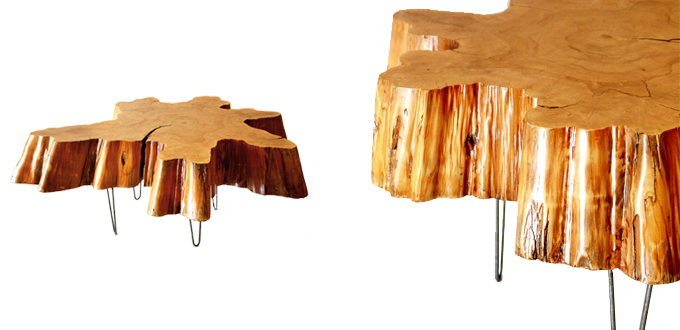 This will be the last installment in my tree trunk collective! My family happened upon a beautiful piece of spruce and saved it for me (a friend of theirs had a large spruce tree removed from their backyard), knowing that I would probably want to turn it into a coffee table. This is a big project, so I'm going to start with the planter and side table (#1 and #2) first to make sure I really know what I'm doing here. I've also found a great Canadian source for mid-century inspired hairpin legs! I'm super excited for this one.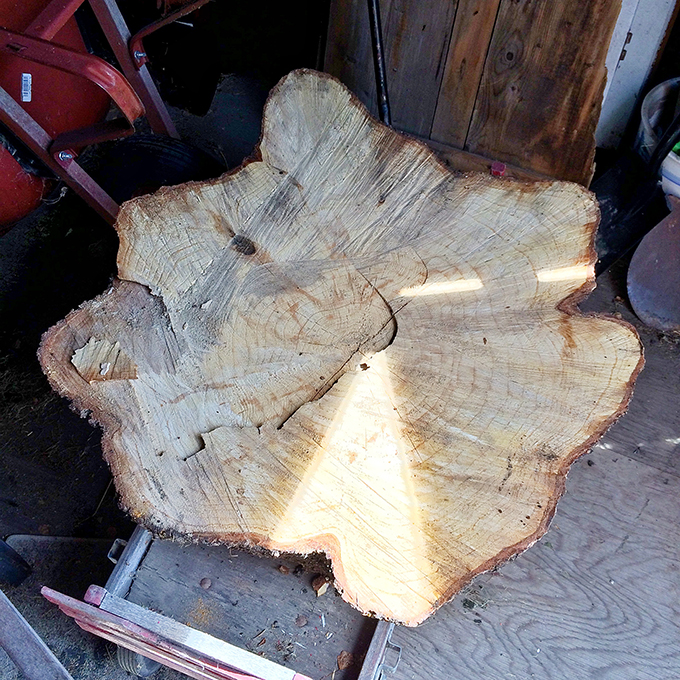 This is the actual piece of wood! I know it doesn't look like much now, but just wait until I'm done with it. 😉
---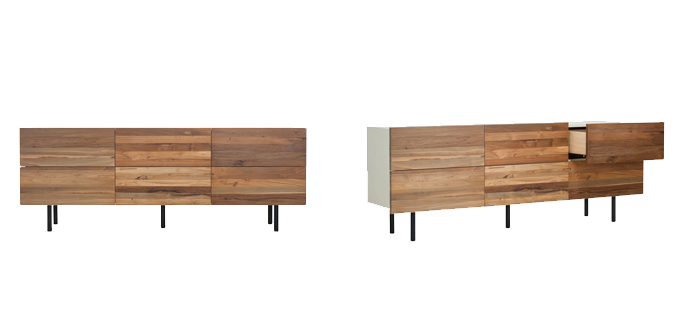 See my thoughts under #4 above on this beautiful (but expensive!) mid-century inspired piece.
---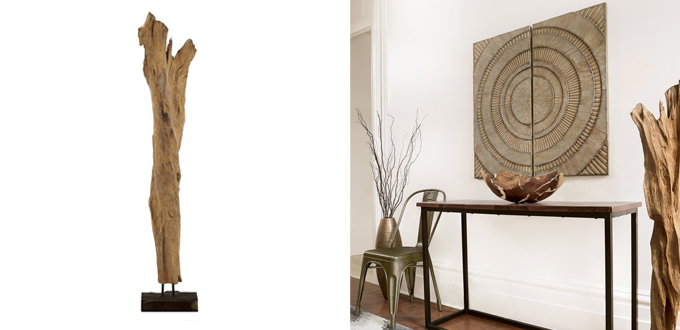 My good friend Kelsey grew up spending her summers at their family cabin at Kootenay Lake, near Creston, British Columbia. Every year, we have a girls weekend lake retreat and head to her cabin. We drink way too much sangria and I forage the shores for driftwood! I have a few driftwood DIY ideas, but I really love the idea of mounting a large piece to a metal base and making a floor sculpture, like this one from Bouclair. If you love driftwood too, stick around for some simple DIYs this summer.
---
Want to read more about my obsessions? Check out my last post from this series, Pattern Obsession | Floral Frenzy!
---
Disclaimer: This post is not sponsored, and contains my genuine thoughts and recommendations. JustineCelina uses affiliate and referral links, which allow me to receive a small commission when you make a purchase through one of my links. Your purchases help to support JustineCelina.com!