There's just something about spring that makes me really want to experiment in the beauty department! After our long, dreary (and extremely colourless) winters here in Calgary I feel so energized and inspired by the fresh beauty of spring. It's a time where I try a lot of new products and discover new beauty favourites. So today's post is something a little different — I'm sharing my favourite 5 Unconventional Spring Lip Colours! Pink and peach are great standbys, but this post is all about trying something totally outside of your comfort zone. I like to keep up with what's going on in both fashion and beauty, so today's picks combine a bit of runway inspiration with spring beauty trends. I love affordable beauty products and am always on the hunt for the next drugstore gem — each of my recommendations today is under $20! If you're looking for some spring beauty inspiration or some fun, on-trend spring shades, this post is for you!
---
5 UNCONVENTIONAL SPRING LIP COLOURS
---
CANDY APPLE
---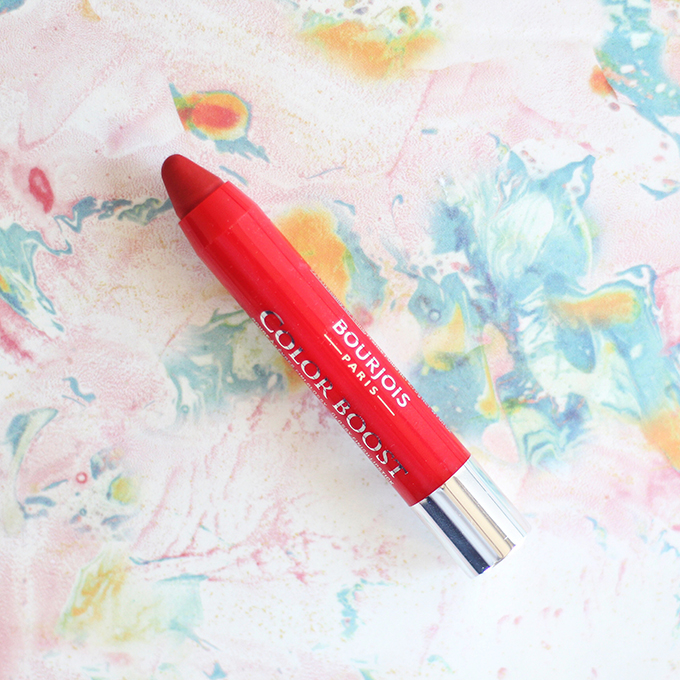 Lightly glossy, candy apple red lips were all over the runway this spring. It's definitely a shade I seem to overlook at this time of year because I usually reserve blue-based reds for the winter. For a classic candy apple lip, try a blue-based red like the Bourjois Colour Boost Lipstick in Red Island ($18.34) — it's sheer, but buildable. Red Island probably the 'safest' colour choice in this post and I truly believe almost anyone looks great in a blue-based red lip (plus, they make your teeth look super white!) I own these Color Boost Lipsticks in literally every colour — they're one of my all time favourite formulas! The formula is so comfortable and lightly hydrating. Canadians, I purchase Bourjois products at Shoppers Drug Mart (they're on the boutique side). Or, you can order online from ASOS.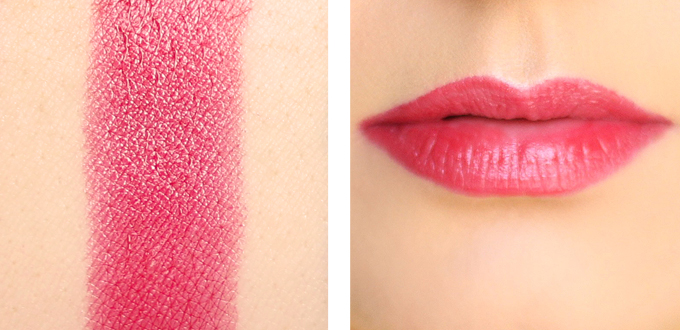 I'm wearing the Bourjois Colour Boost Lipstick in Red Island on my lips.
---
WARM PURPLE
---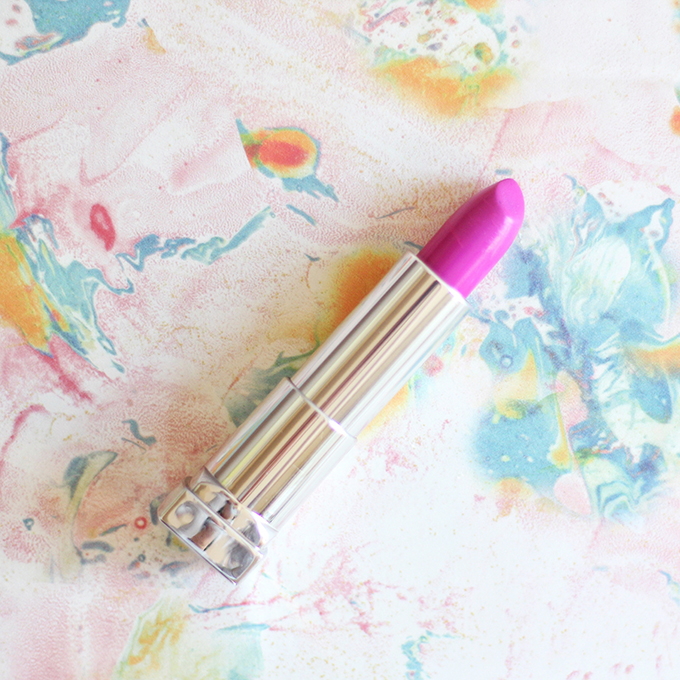 You're probably thinking — whoa, hold up, purple lips? Yes, purple lips. I absolutely love Maybelline's ColorSensational Vivids Lipstick in Hot Plum ($9.99) — it's a warm toned fuchsia purple with a lot of magenta in it. If you're not sure that you can pull off a purple lip, try Hot Plum. It's strangely wearable because it's more on the pink side. Green eyed ladies — fuchsia and purple lips do something magical for us! Since green and purple are complimentary colours (meaning they're opposite on the colour wheel — art school coming out here!), they create a contrast and make green eyes pop. I always get lots of compliments when I wear purple lipstick! I think the Maybelline ColorSensational Vivids lipsticks are some of the best at the drugstore; the formula is creamy, mostly opaque and pretty long wearing while still being comfortable on the lips — I find they last about 5 hours on me, and fade nicely.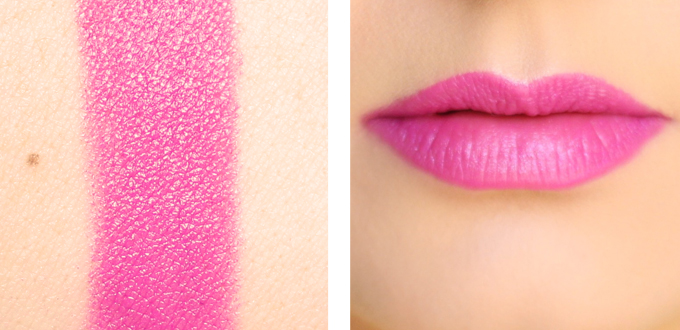 I'm wearing the Maybelline ColorSensational Vivids Lipstick in Hot Plum on my lips.
---
GREIGE
---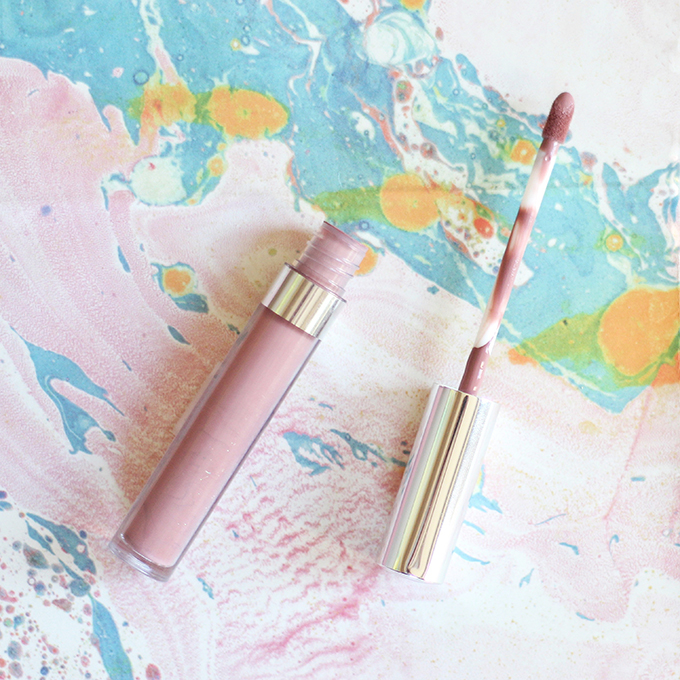 This grey / beige hybrid is no longer a popular choice reserved exclusively for interior design — I also love to wear it on my lips! Whenever I wear Colourpop's Ultra Matte Lip in Trap ($5) I feel like a total badass. Although the colour is muted, this extremely cool, grey-based nude definitely makes a statement. My favourite way to wear it is with monochromatic skin and a smoky eye. I get a lot of compliments and questions about this lip colour, and even my boyfriend who usually prefers me in more natural makeup (ha!) really likes this shade. There's something very sexy and understated about it! For a review of all the Colourpop Ultra Matte Lips I own, hop over to this post. Colourpop is my go-to brand for fun, inexpensive, top quality products. I've mentioned Colourpop many times here at JustineCelina if you're looking for other product recommendations!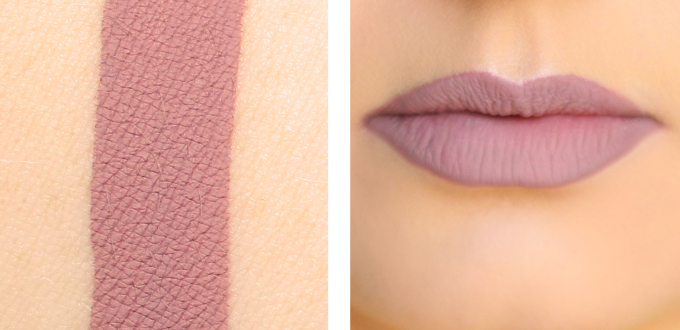 I'm wearing the Colourpop Ultra Matte Lip in Trap on my lips.
---
CHOCOLATE BROWN
---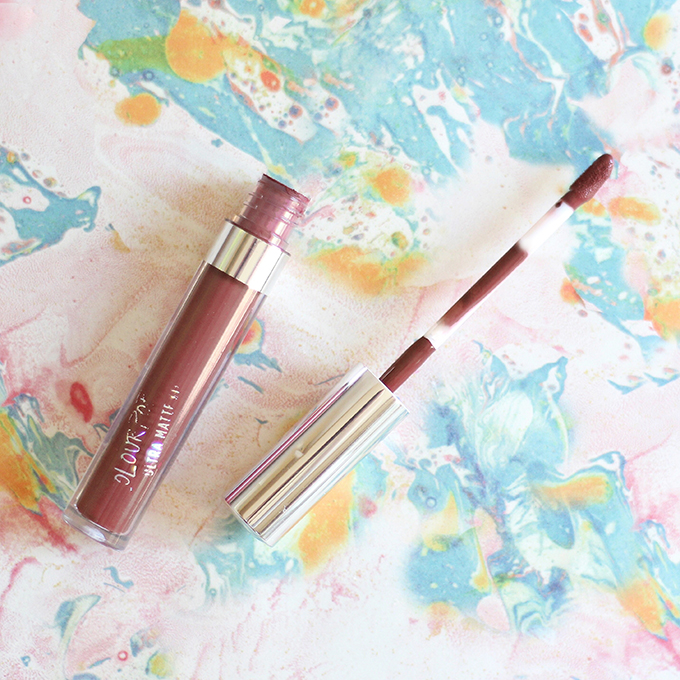 I like to think of chocolate brown as the more earthy, bohemian sister of traditional dark, vampy shades. Chocolate brown lips have been making a major comeback in the beauty world lately — but in a much more sophisticated way than we wore in the 90's. Did anyone else wear brown lips as a teenager (or pre-teen)? The first lipstick I ever bought was Bonne Bell's Downtown Brown and I vividly remember wearing it to school on the first day of 6th grade! If you're looking to really shake things up this spring, I recommend picking up a budge proof, chocolate brown liquid lipstick like Colourpop's Ultra Matte Lip in Limbo ($5). I love wearing it with whites and pastels during spring to really make a statement! For a review of all the Colourpop Ultra Matte Lips I own, hop over to this post.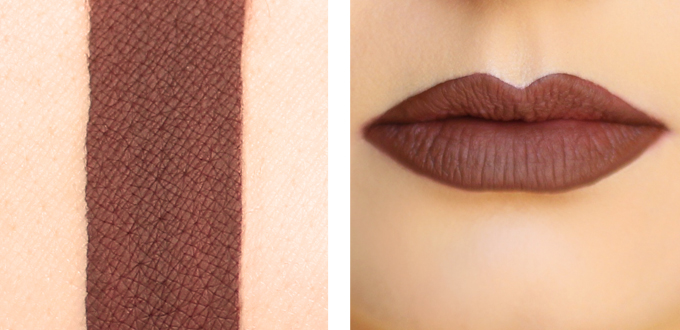 I'm wearing the Colourpop Ultra Matte Lip in Limbo on my lips.
---
DUSTY PINK
---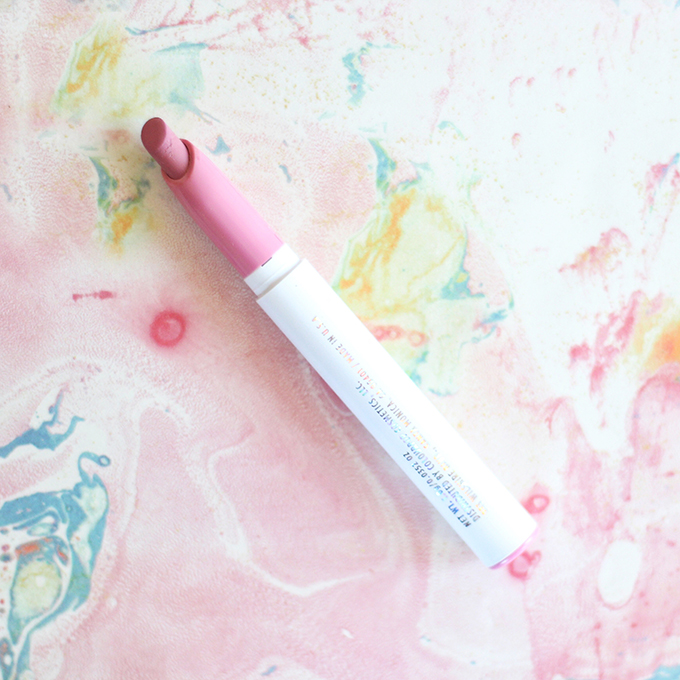 Consider a dusty pink lip as an updated, fresher alternative to warmer pinks and nudes this spring. My product pick for this hard to find shade is Colourpop's Lippie Stix in Westie ($5). It's a muted, dusty pink with a hint of lilac in it! Westie is such a soft, pretty shade that looks especially beautiful on fair to medium skintones. It's a pretty versatile colour that pairs easily with a variety of eye looks. Colourpop Lippie Stix wears for about 5 – 6 hours on me, which is typical of their matte formula, especially when you use the coordinating liner to line and completely fill in your lips before applying the Lippie Stix. I've mentioned Colourpop Lippie Stix and Pencils many times here at JustineCelina, if you're interested in other colours!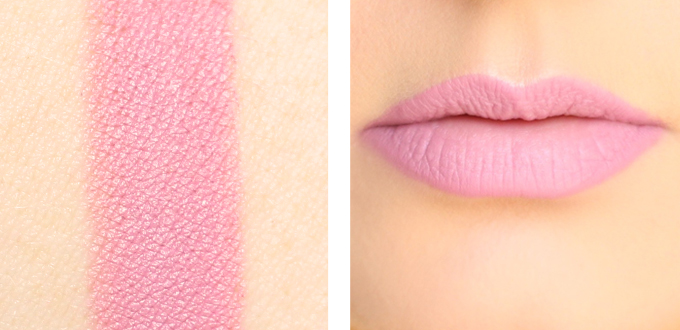 I'm wearing the Colourpop Lippie Stix in Westie on my lips.
---
None of these shades speaking to you? If you're looking for some more conventional options in the pink and coral family, hop over to my 6 Fresh Spring Lip Colours post. Keep in mind that lip colours look completely different on different skintones. For reference, I have light / medium skin with yellow-warm undertones — I'm a MAC NC 30.
---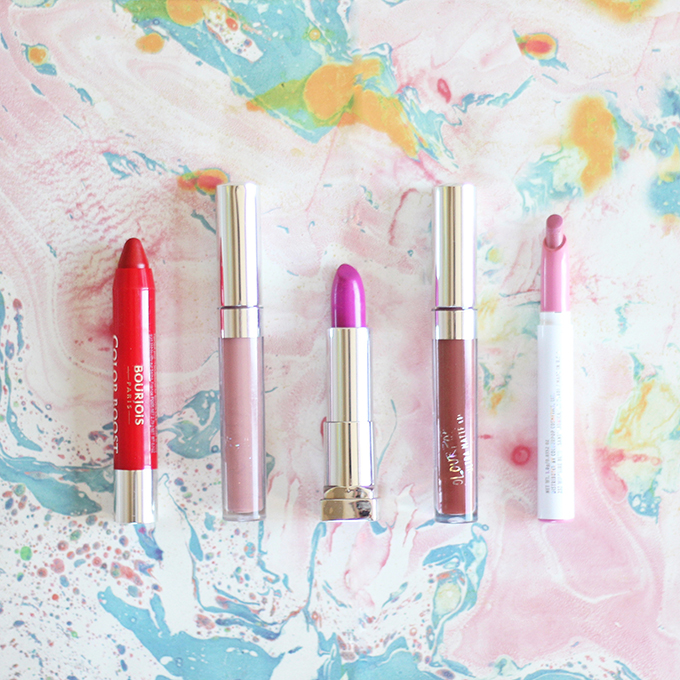 Would you wear these unconventional lip colours this spring? If you end up trying one of my picks please let me know how it works out for you! And remember, it's just makeup — it washes off at the end of the day, so why not have a little fun? I get the most compliments on my lipstick when I wear something a little bit out there! And for those of you wondering about the background, it's the same backdrop I used to shoot my Dragon Fruit Bubble Tea Smoothie. I chat more about how I made it in that post!
---
Disclaimer: This post is not sponsored, and contains my genuine thoughts and recommendations. JustineCelina uses affiliate and referral links, which allow me to receive a small commission when you make a purchase through one of my links. Your purchases help to support JustineCelina.com!