---
The changing leaves is one of my favourite things about autumn — and I'm back today with a fresh installment of DIGITAL BLOOMS to celebrate!  I actually got a bit overexcited and shared this wallpaper on Instagram to celebrate Autumn Equinox before it hit the blog officially as part of October 2019's Digital Blooms. The response from my Instagram audience was incredible — and I'm thrilled to make it available for all of you today, too! Although I truly adore flowers, sometimes it's nice to take a break from the usual onslaught of fall blooms and appreciate the stunning beauty of our changing seasonal landscape!
October's DIGITAL BLOOMS welcome autumn to your screen with a beautiful, simplistic leaf design comprised of a mosaic of foraged Calgary foliage in all of fall's gorgeous warm neutrals! These seasonal tones and natural textures are some of my absolute favourites to wear, incorporate into my home and my beauty routine — if you've been following along lately you'll know I've been endlessly inspired by the Pantone Autumn/Winter 2019/2020 Fashion Colour Trend Report, which reflects Mother Nature's changing leaves. Usher October in with a free tech wallpaper that preserves autumn's colourful foliage on the background of your computer, tablet or phone all season long!
---
HOW TO DOWNLOAD
---
Desktop (iOS)
Click on the image you want to download and it will open in a new window. Right click and select 'Save Image As' or 'Set as Desktop Wallpaper'. If you selected the 'Save Image As' option, then just locate the image you saved, right click, and then select 'Set Desktop Picture'.
Phone / Tablet (iOS)
Click on the image you want to download and it will open in a new window. Then, click on the up arrow icon at the bottom of the screen, and select 'Save Image'. Navigate to 'Settings', then 'Wallpaper', then 'Choose a New Wallpaper' and select the image you downloaded from your photos. You'll be able to scroll across the image by dragging your finger across the screen and you can resize or crop it to your liking to display different sections of the design.
---
USAGE
---
These images are for personal use as digital device wallpapers only and cannot be used in any other way (including social media posts) without express permission from JustineCelina. I'm relying on the honour system here, but you guys are good people, right? 😉 You can still share the love — if you know someone who would enjoy these wallpapers, please send them our way by sharing the link to this post.
---
DIGITAL BLOOMS OCTOBER 2019 | FREE DESKTOP WALLPAPER
---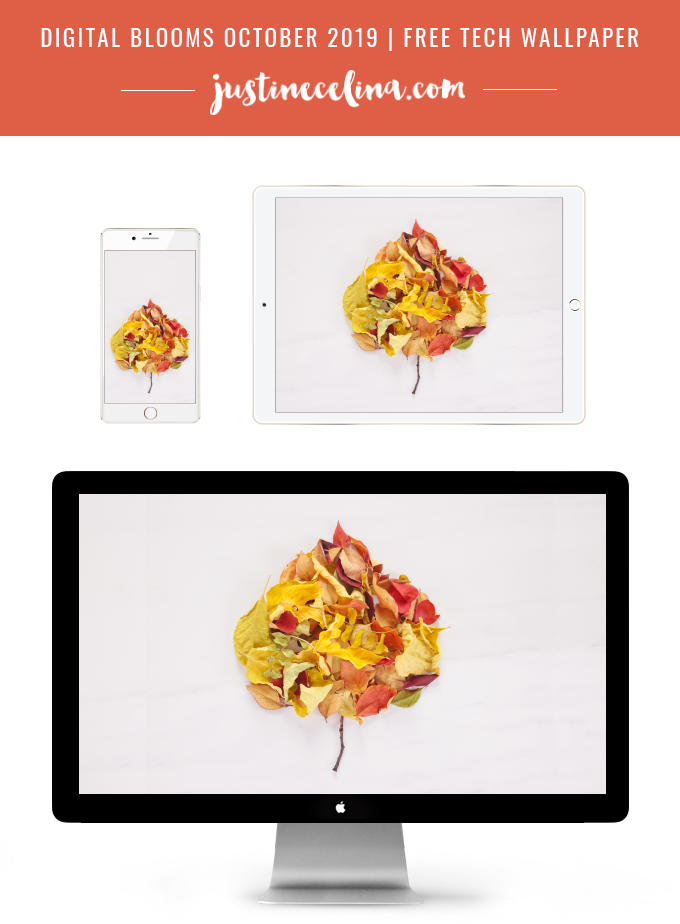 ---
— To download, simply click the image below and follow the How to Download steps —
---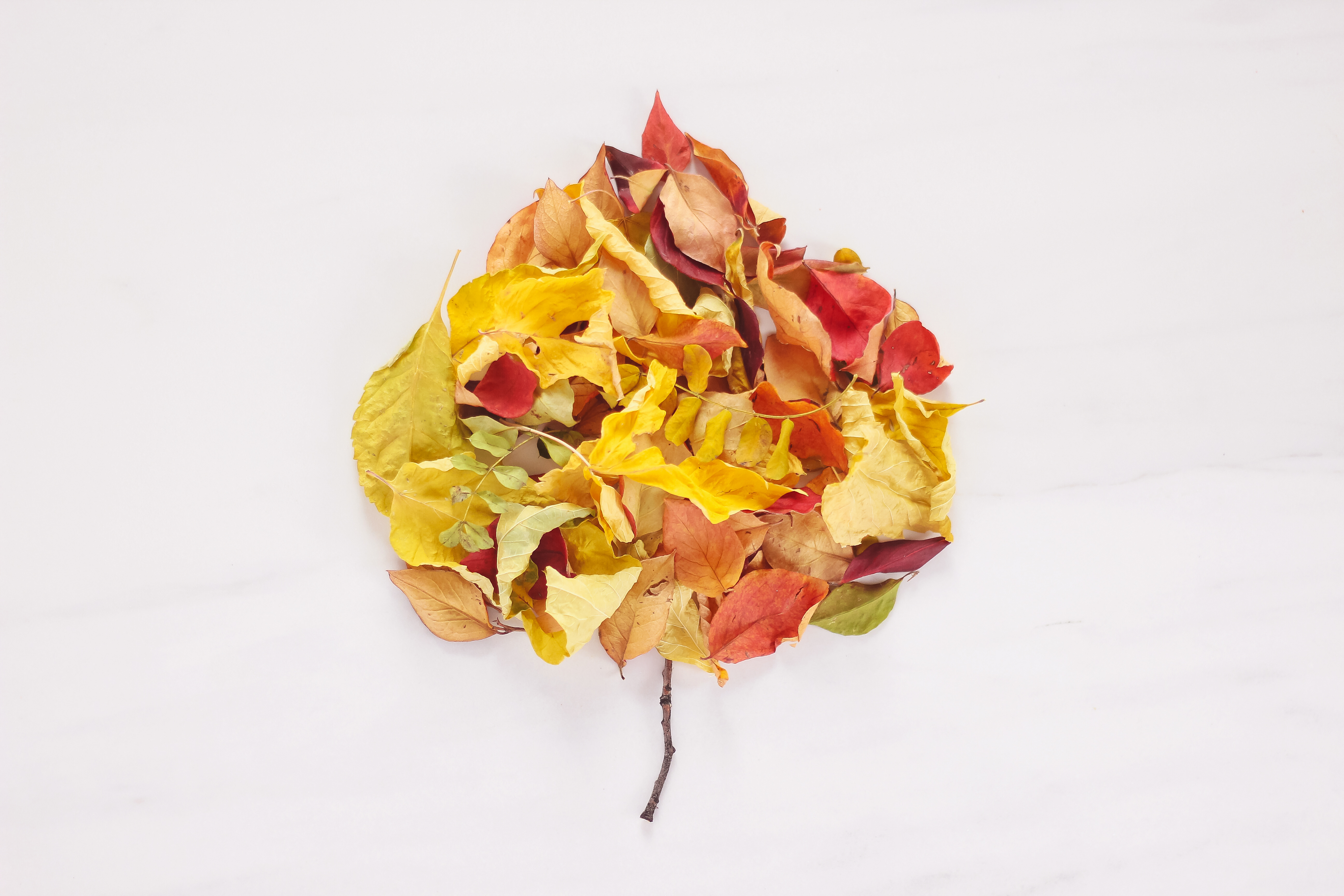 ---
BROWSE THE DIGITAL BLOOMS ARCHIVES
---
Simply click the image below (or right here!) and you'll be taken to the archive page to browse thumbnails of each month — just like you were able to do at the bottom of our previous DIGITAL BLOOMS posts. Happy tech wallpaper shopping!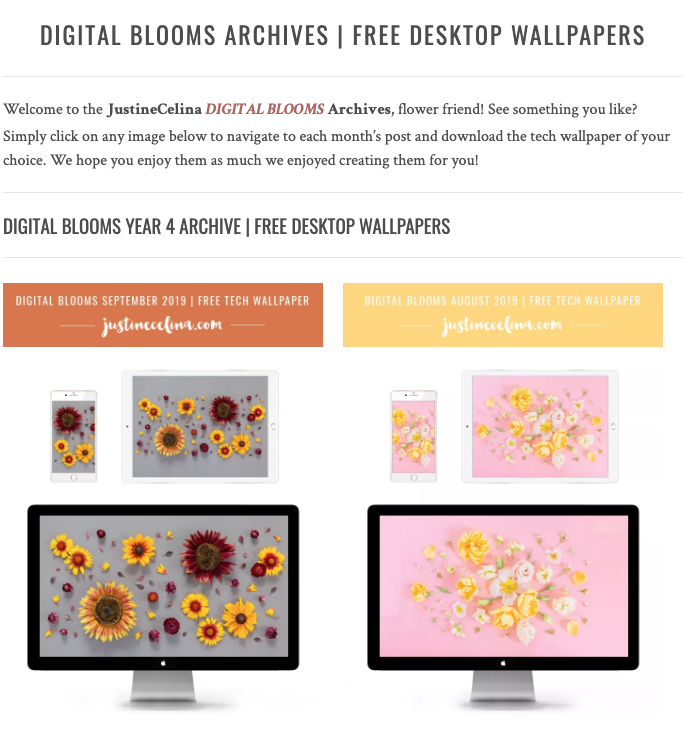 ---
Thanks for stopping by this weekend for the October 2019 edition of DIGITAL BLOOMS! I love to incorporate foraged elements into these free tech wallpapers and look forward to our changing leaves here in Calgary — although the blizzard that hit us last weekend has wiped some of them out now. At least I've preserved them digitally!

If you're craving a taste of seasonal blooms, check out my FLOWER archives or follow along with our Digital Blooms Board and Flower Board on Pinterest for more even more floral inspiration. Wishing you all a beautiful autumn!

---
Disclaimer: This post is not sponsored, and contains my genuine thoughts, ideas and recommendations. All copyright of these images is retained by JustineCelina.com. If you're interested in licensing these images for commercial purposes, please contact me.