---
As someone who's very attuned to branding, art direction and design, I love it when a company totally nails it. Enter the truly stunning Oatbox. When I was presented with the opportunity to try Oatbox, the brand immediately captured my attention because they're doing things a little bit differently. As a busy person who loves clean breakfasts, whole foods and granola (but doesn't always have time to make my own), Oatbox's product offering sounded right up my alley. Each month they deliver fresh, healthy granola mixes inspired by the season and prepared by Montreal chefs, right to your doorstep. Everything about my experience with Oatbox was outstanding — from my introduction to the brand, to unwrapping my box, to the absolutely delicious granola. These guys really care about the details. Plus, for every box shipped, they donate $1 to the Breakfast Club of Canada. If you love artisinal granola, thoughtful details and supporting businesses that give back, read on for my favourite way to enjoy Oatbox's featured flavours!
---
FIRST IMPRESSIONS & UNBOXING
---

I mean, how cute is this note? I knew as soon as I opened the box I was going to love it! Beautifully packaged, beautifully branded and designed, and thoughtfully put together.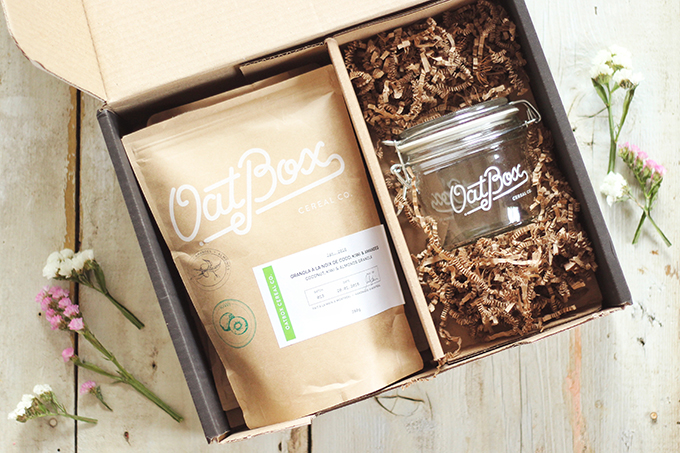 The box contained two 380g bags of granola in January's featured flavours, along with a glass travel jar. The flavours I received were Coconut, Kiwi & Almond and Banana, Pecan & Walnut. It also contained 2 beautiful recipe cards, and a card that provided more information about Oatbox's partnership with the Breakfast Club of Canada.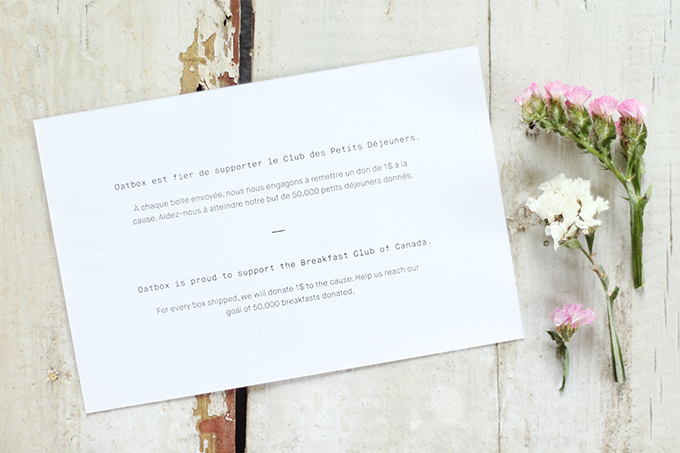 In addition to the packaging being beautiful, it's also very functional. It's a durable, foil-lined package with custom labels and stamps for each mix. You'll see the batch number, the date it was made, and even who made it!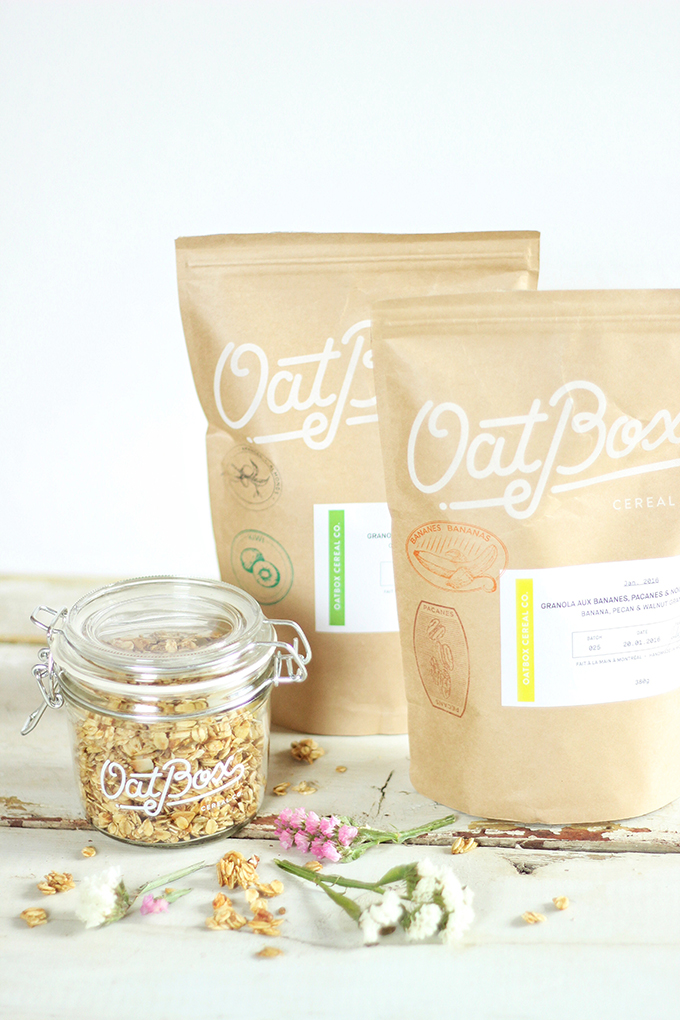 On the back, you'll find a simple, clean ingredients list (which is largely organic), nutritional information and the best before date. Note that these mixes expire within 6 month, because they contain no preservatives.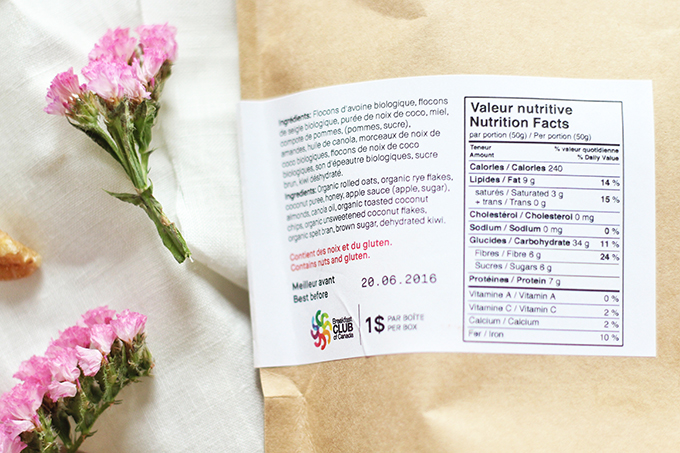 ---
JANUARY'S FEATURED FLAVOURS
---
Banana, Pecan & Walnut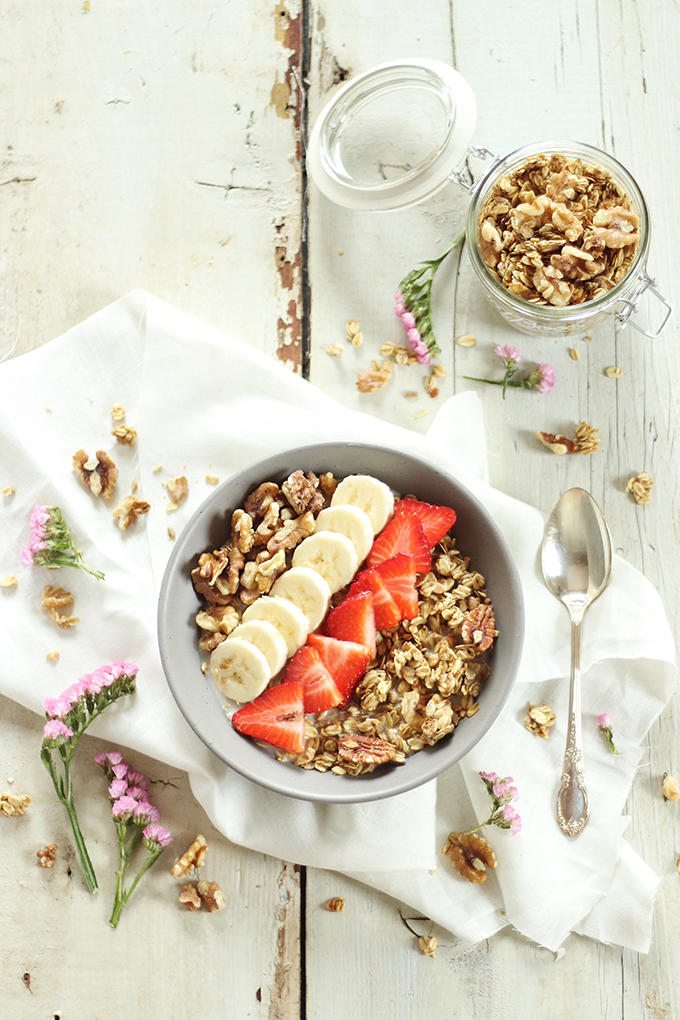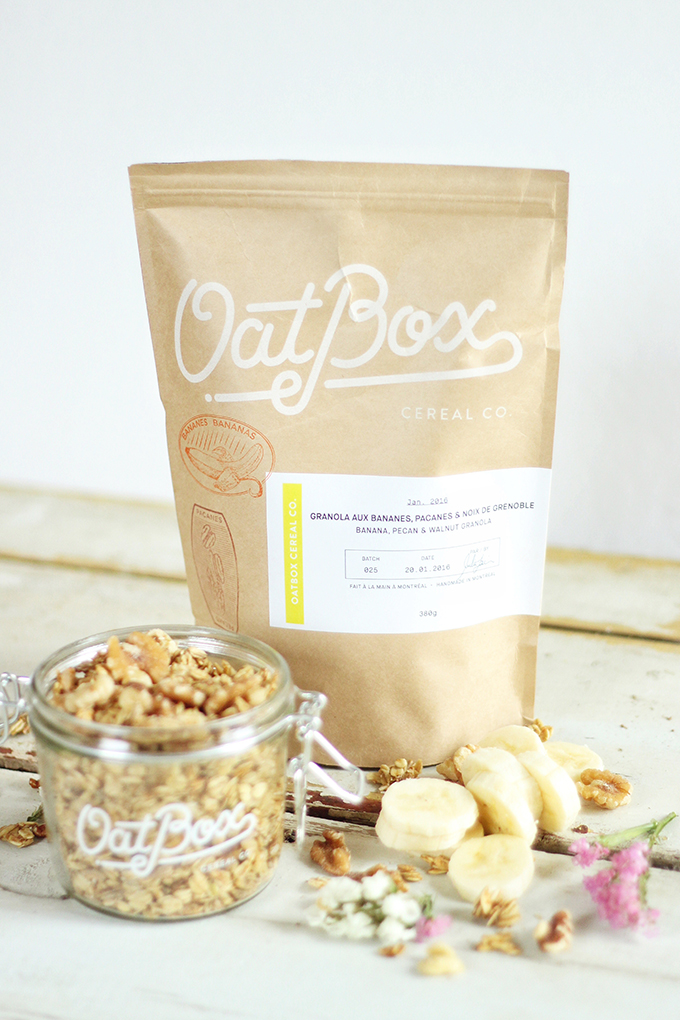 This one tasted exactly like homemade banana bread, which I loved! It was crunchy and lightly sweet, with large fruit and nuts pieces so you're able to actually taste the flavour of the ingredients. These are all important factors when I purchase granola — I look for good, simple ingredients and mixes that are similar to what I would make at home.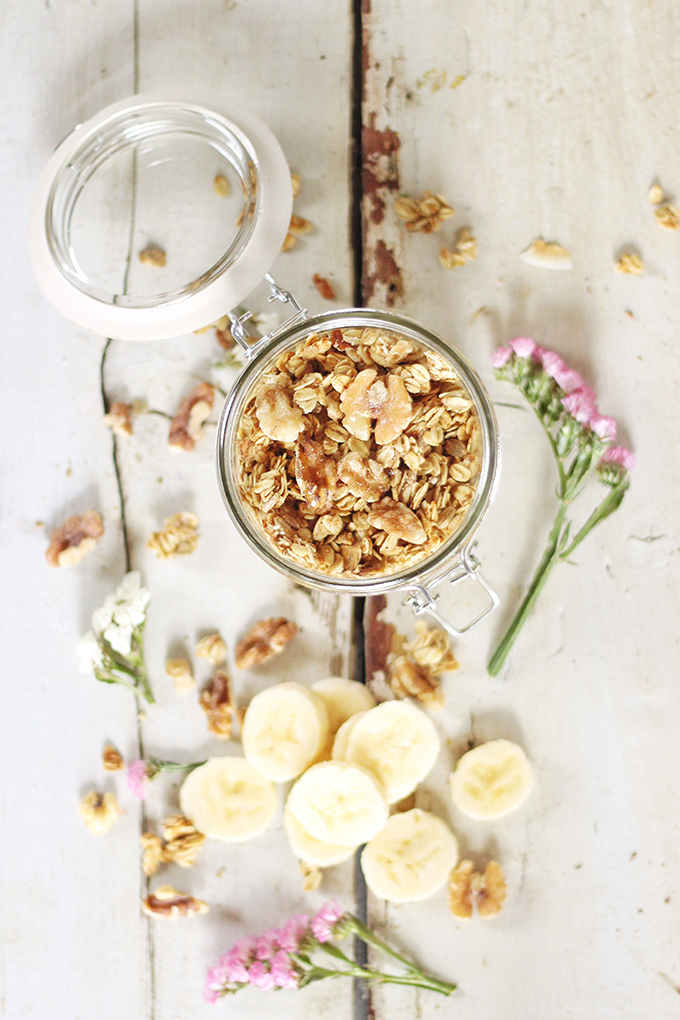 My favourite way to enjoy Banana, Pecan & Walnut flavour is in a breakfast bowl with almond milk, some additional walnuts for protein, fresh bananas and strawberries. If you want a bit more of an indulgence, it's also delicious with dairy free dark chocolate chips scattered on top! Note: this flavour contains gluten.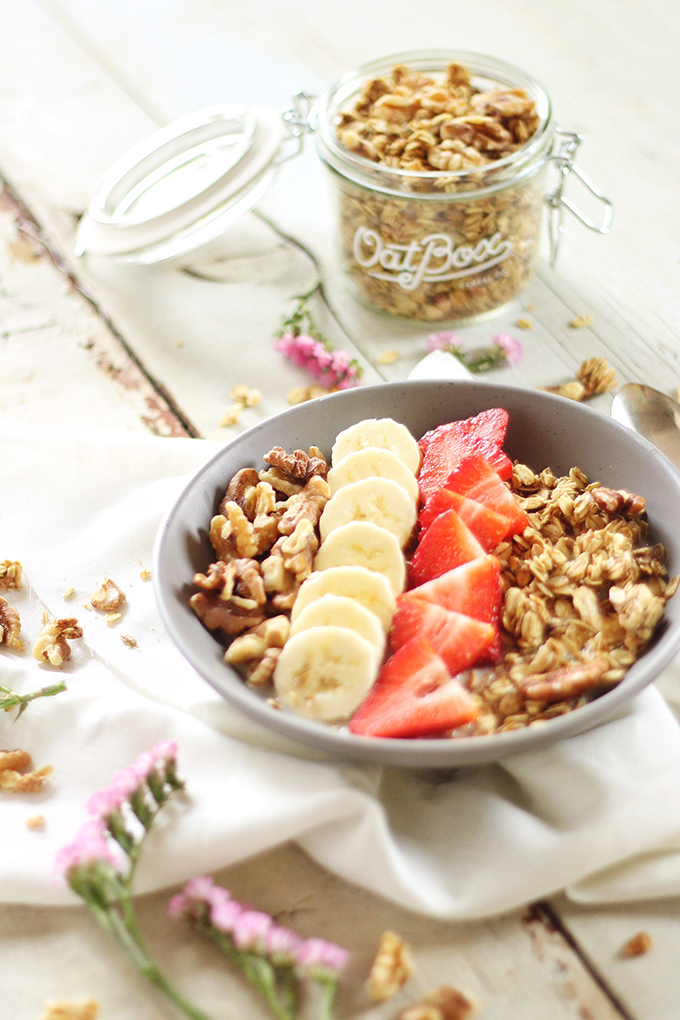 ---
Coconut, Kiwi & Almond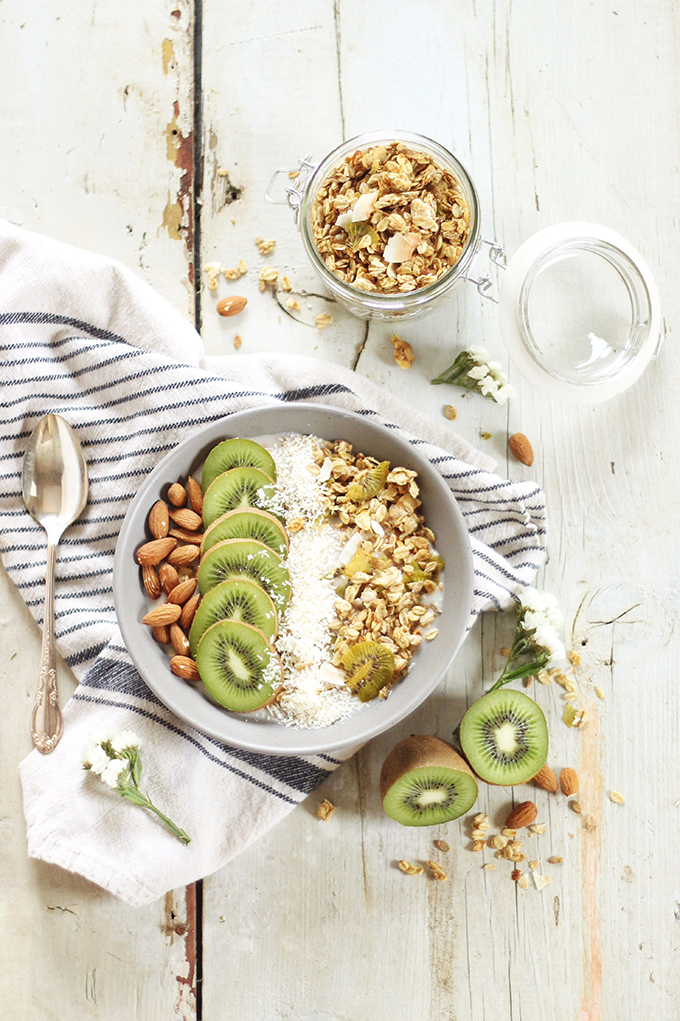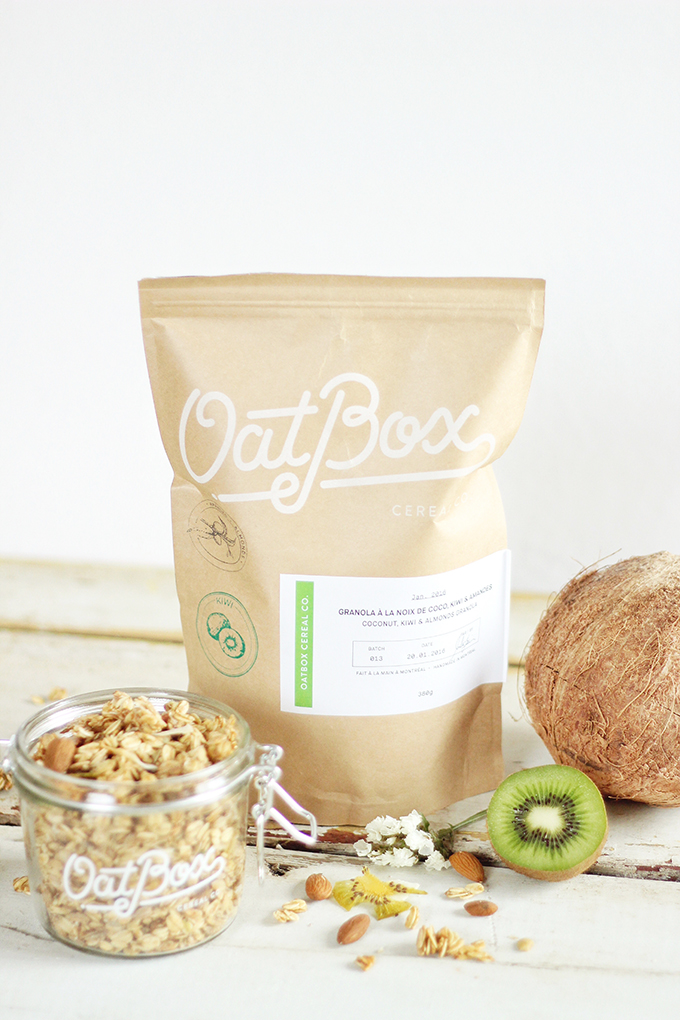 This flavour was more unique. It wasn't as sweet as the Banana, Pecan & Walnut flavour, and I loved the dried kiwis complimented by large pieces of toasted coconut. It had a bit of a tropical vibe, and I enjoyed it breakfast bowl style — along with fresh kiwi, some additional almonds for protein, shredded coconut and a splash of coconut milk.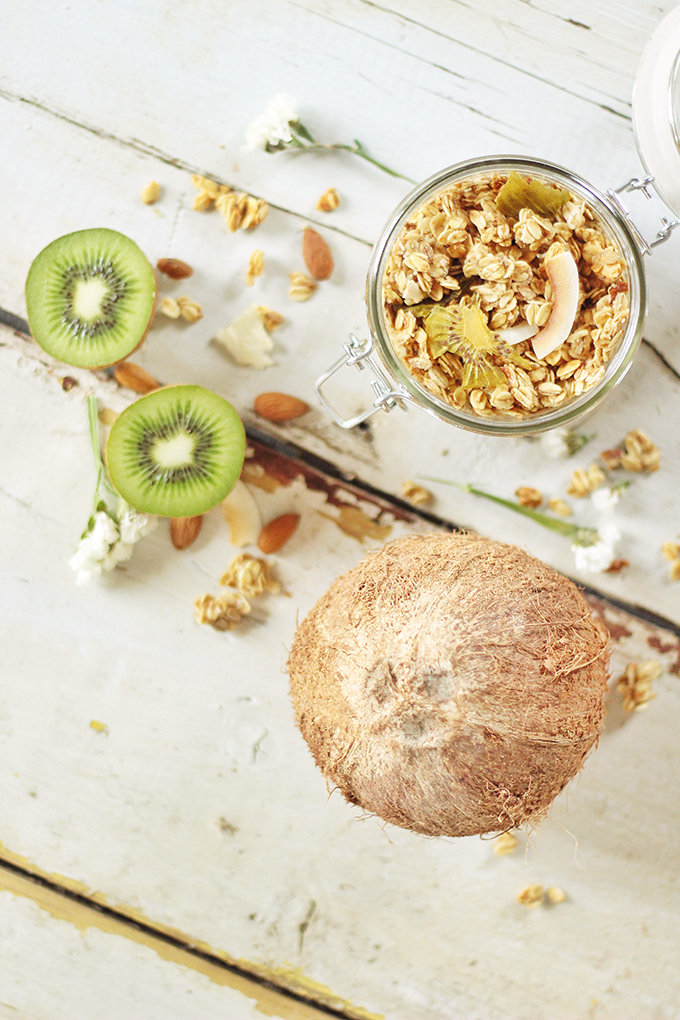 I love that Oatbox's flavours inspire me to spice up my breakfast bowls — I'd never have thought to pair kiwi with my granola! The best way I can describe these flavours is that they just taste clean. This one is also boyfriend approved! Note: this flavour contains gluten.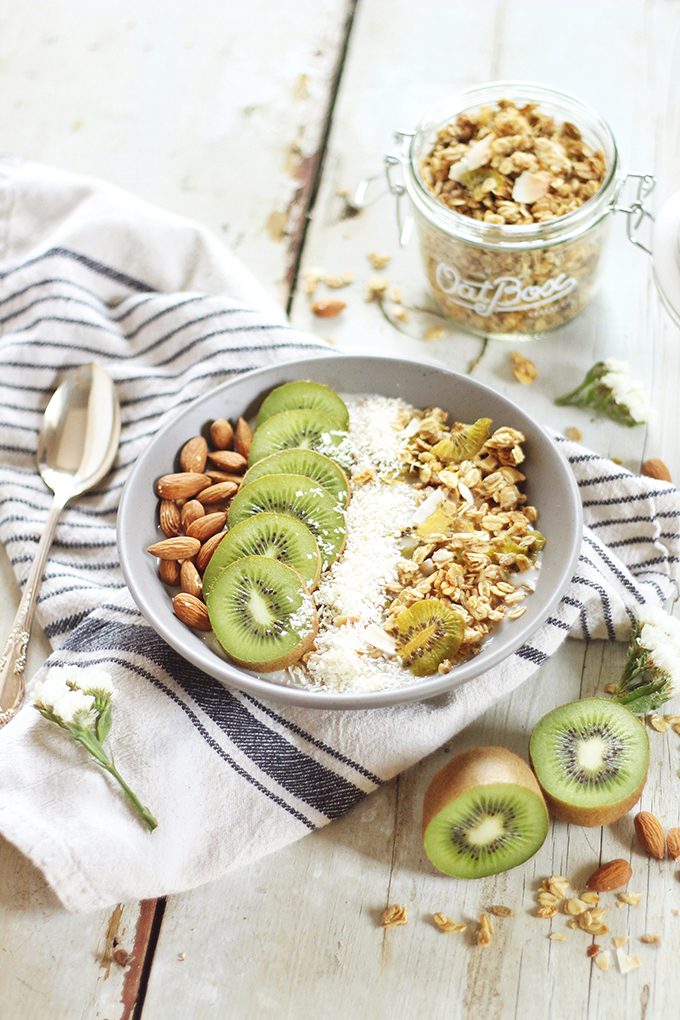 ---
Take it to go!
These mixes were also delicious when prepared in the glass travel jar as overnight oats. In fact, I preferred them this way — the nut milk soaks into the granola and gives it a softer texture while hydrating the dried fruit. This would be a great option for those of you to take your breakfast to the office, or eat away from home in the morning. Simply add the granola into the jar first, then add your nut milk, and finish with fresh fruit toppings. Refrigerate overnight and grab it on your way out the door the next morning!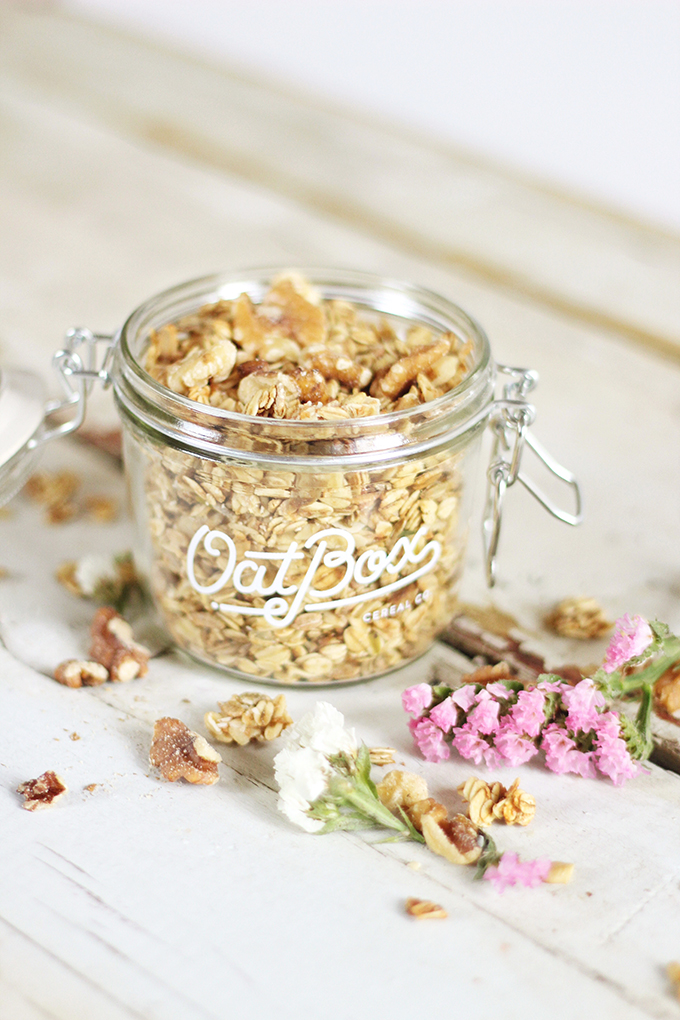 ---
WANT TO TRY OATBOX?
---
Here's what you'll receive
Your first box will come with two 380g bags of the featured granola of the month, along with a glass travel jar. Ongoing, the subscription is totally flexible. Each month, you receive an email a few days before your box is sent outlining the mixes that month, and you can choose to either go ahead with the order, skip that month if you won't be around, don't like the sound of the mixes, or have allergies. You can also cancel your subscription at any time, no strings attached. The service is available to residents of Canada and the US.

Cost & Affiliate Program
Each box costs $20, which I think is totally reasonable for the quality and convenience of the product. Oatbox has offered me an affiliate link, so your first box will cost just $15! If you use my link, thank you for your support — I appreciate it and I hope you love Oatbox just as much as I do.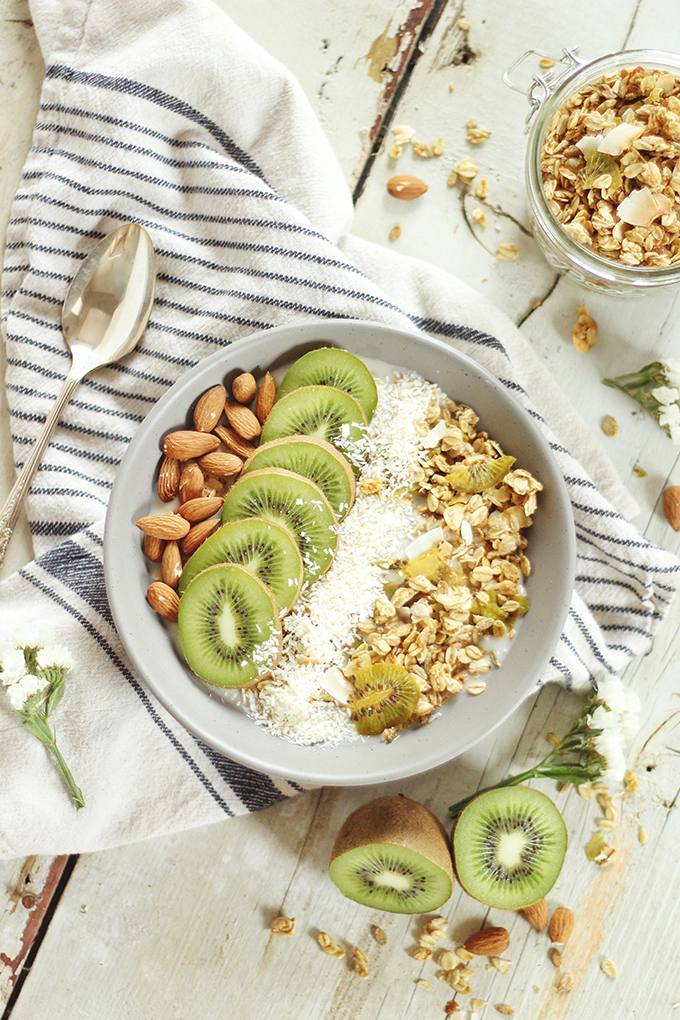 Shipping
Guess what? Shipping is always free. And, your Oatbox will arrive straight to your doorstep 2-3 business days after you subscribe. How awesome is that!?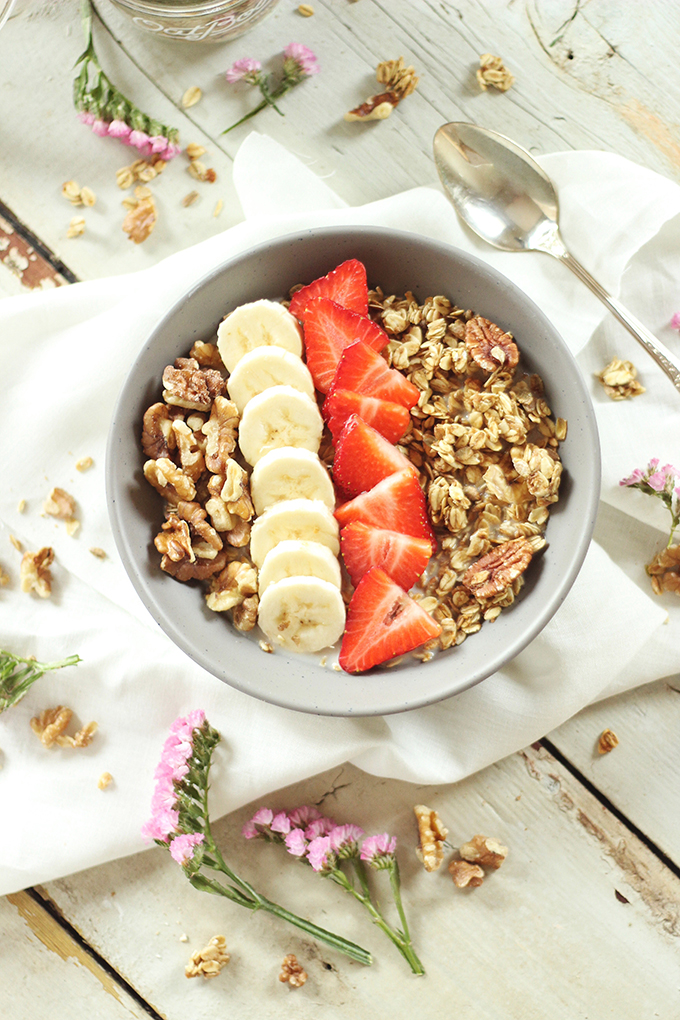 Have more questions? Hop over to their FAQ page, or get in touch with their customer service.
---
STILL HUNGRY? MORE HEALTHY BREAKFAST IDEAS
---
Winter Breakfast Bowls with Pumpkin Spice Steel Cut Oats
Decadent Dark Chocolate Banana Bread
Banana Maca Pankcakes with Raspberry Maple Syrup
---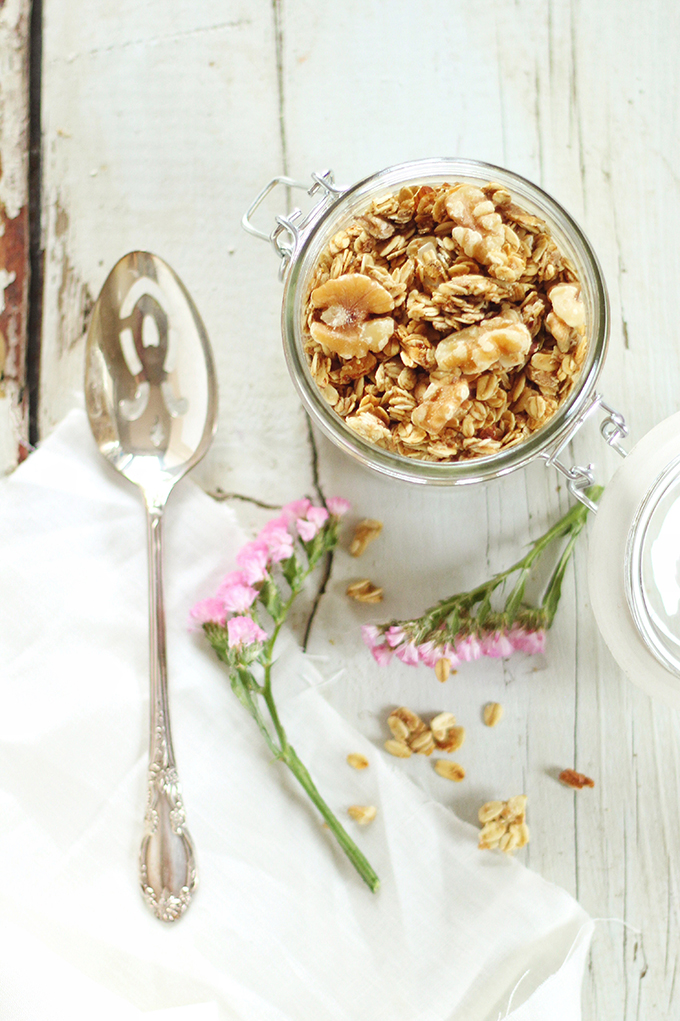 P.S. — I had a conversation with Oatbox via Instagram a couple of month ago about our mutual love for vintage silver, so I've used my favourite pieces to style this post! They've been in my family since 1847 and are very dear to me. We don't actually eat with them, but they make beautiful styling props!
---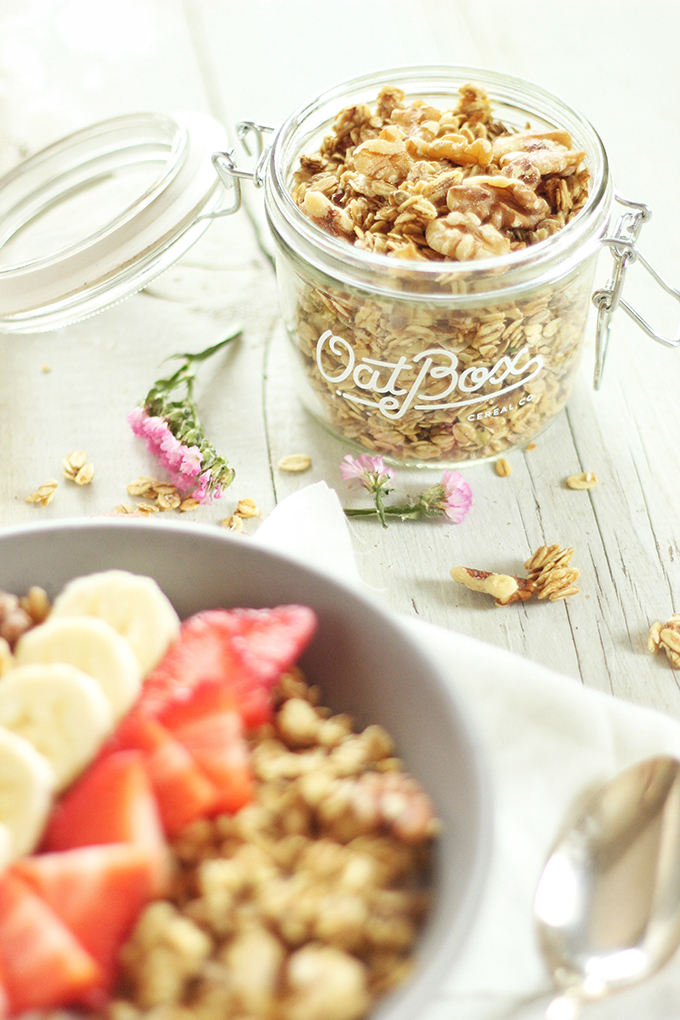 What do you guys think, do you want to try Oatbox? If you love healthy breakfast and your taste buds get bored easily, I think you'll love it! If you do decide to try Oatbox, leave me a comment below letting me know how you like it! You can tag me on Instagram, Twitter or Facebook, or use the hashtag #justinecelinarecipes in your breakfast bowls so I can find them! I also have a Pinterest board for my recipes, if you care to follow along for inspiration.
---
Disclaimer: Product provided by Oatbox. This post is not sponsored, and contains my genuine thoughts and recommendations. JustineCelina uses affiliate and referral links, which allow me to receive a small commission when you make a purchase through one of my links. Your purchases help to support JustineCelina.com!