Print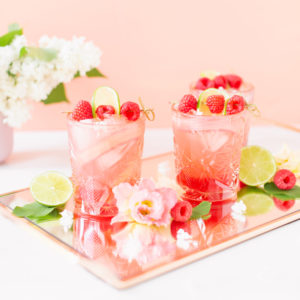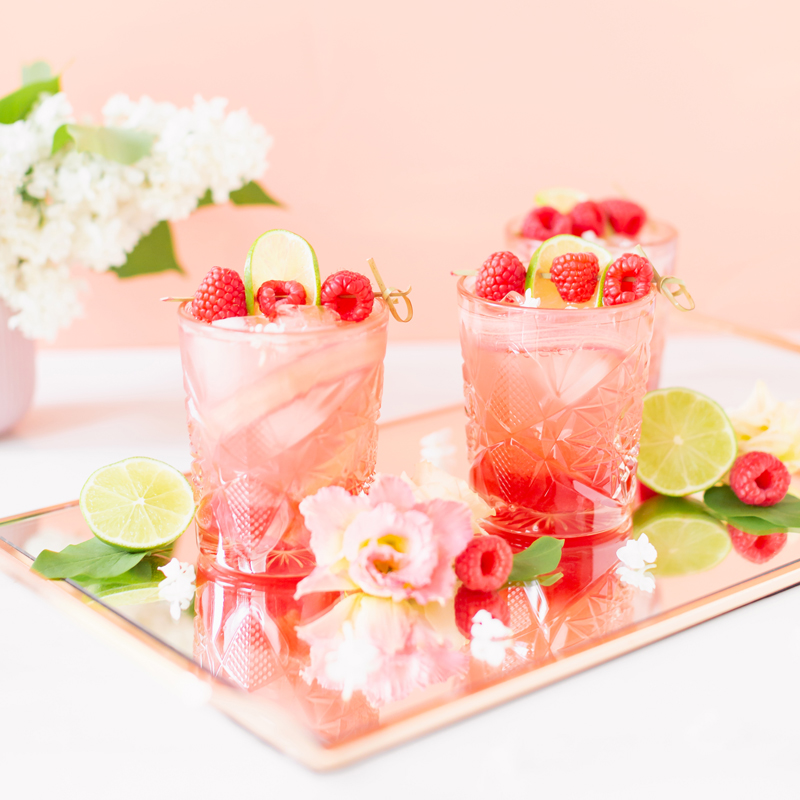 RASPBERRY RHUBARB ROSÉ SPRITZ
My Raspberry Rhubarb Rosé Spritz typifies the season in a jubilant celebration of all things feminine, fruity and nostalgic. Rhubarb and raspberries have always reminded me of my Grandmother's garden and berry picking at the family farm — so I channeled some of my fondest childhood memories into this cheerful libation! A summer-inspired trio of rhubarb, raspberries and honey combine in a scratch-made Honeyed Raspberry Rhubarb Syrup to infuse this effervescent cocktail with seasonal panache, beautifully complimented by sparkling rosé, local craft vodka, soda water, fresh lime juice and a dash of bitters. Enjoy this pretty, springtime spritz with the special ladies in your life this summer — it's the perfect menu addition for your next summer soirée, brunch, baby or bridal shower, or girls night in! Cheers!
RASPBERRY RHUBARB ROSÉ SPRITZ
1

oz

premium vodka

I like Eau Claire Distillery's Three Point Vodka

2

oz

dry

fruity sparkling rosé
• 2 oz soda water

2

oz

Honeyed Raspberry Rhubarb Syrup

recipe to follow

0.5

oz

fresh lime juice

3

dashes Angostura Bitters
OPTIONAL GARNISH
Rhubarb ribbons

Fresh raspberries

Edible flowers
HONEYED RASPBERRY RHUBARB SYRUP (Yield: Approximately 2 1/4 cups (18 oz)
1

cup

water

1

cup

honey

Zest from 1 lime

2

cups

rhubarb

1

pint

raspberries
Start by making your Honeyed Raspberry Rhubarb Syrup. In a saucepan over medium / high heat, combine 1 cup water with 1 cup honey and the zest from 1 lime. Bring to a boil.

Once boiling, reduce to a simmer and add chopped rhubarb and whole raspberries. Stir boiling mixture constantly for 10 minutes. Remove from heat and allow to cool for 30 minutes.

Strain the saucepan contents into a bowl over a fine mesh strainer, using a mixing spoon to aid in separation if necessary.

Reserve the Honeyed Raspberry Rhubarb Syrup (bowl contents) for the cocktail. The Honeyed Raspberry Rhubarb Compote left in the strainer is also delicious (I love to enjoy it over oatmeal!). Both will keep for up to a week, refrigerated.

Optional: to make rhubarb ribbons, use a mandolin or vegetable peeler to shave thin ribbons off of your rhubarb stalks. I used rhubarb that had been sitting in the fridge (and was a bit soft) to create these, but ideally you want them to have a bit of bend. If you ribbons are firm, you can achieve softer ribbons by blanching them for a few moments before twirling them around the inside of your glass. Feel free to skip this step -- your cocktail will be delicious either way!

Build your Raspberry Rhubarb Rosé Spritz in a cocktail shaker by adding 8 ice cubes, along with all ingredients. Shake vicariously, until cocktail shaker becomes cold.

Add 5 - 6 fresh ice cubes to a cocktail glass. Strain shaker contents overtop.

Garnish with fresh raspberries, lime and / or edible flowers.

Serve immediately and enjoy!
Note: My Honeyed Raspberry Rhubarb Syrup also freezes very well if you'd like to save half a batch for later!