Print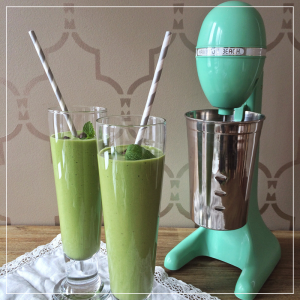 SUPERFOOD SHAMROCK SMOOTHIE
Have you ever had a Shamrock Shake? I can honestly say that I haven't, but I know the limited edition Shamrock Shake has a cult following, and people go nuts over it every year come mid-February. The shake is minty and creamy, and I thought it would be fun to put a healthy spin on it for St. Patrick's Day. I need to get my St. Patty's beverage fix in somehow, and my green-beer-drinking college days are long gone (hey, I am half Irish, after all)! My Superfood Shamrock Smoothie is dairy free, gluten free and vegan, plus it's made without food colouring and refined sugar.
Combine all ingredients in your Vitamix (or similar) and blend until smooth.

Add your smoothie to the serving glass.

If you want a little chocolate fix, sprinkle a few chocolate chips (or carob chips, if you're vegan) on top, and garnish with a few mint leaves. You can also blend a small handful of chocolate or carob chips into your smoothie.

Serve immediately and enjoy!