Print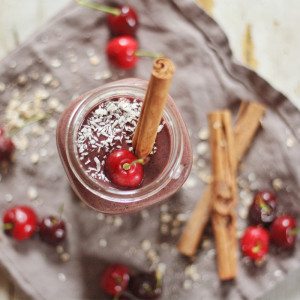 CHERRY CRUMBLE SMOOTHIE
In honour of Canada Day, I'm sharing a red and white smoothie recipe inspired by one of my favourite summer desserts -- cherry crumble! It's cherry season in Canada, so I wanted to incorporate cherries into a healthy, nutrition packed smoothie that you can enjoy anytime of day (even though it tastes like a dessert!). My Cherry Crumble Smoothie also contains an unexpected superfood vegetable that makes it naturally sweet and decadent tasting -- just like real cherry crumble.
Cook your sweet potato. For a super quick method, dice 3/4 cup of sweet potatoes, and add to a 1 cup glass measuring cup. Fill the measuring cup with water, covering the potatoes. Microwave on high heat for 2 minutes (you'll hear the water boiling). Strain the potatoes and allow to cool before adding to the Vitamix with the rest of your ingredients. Can't wait? That's okay -- you can add them right away, your smoothie will just have a thinner consistency.

Combine all ingredients in your Vitamix (or similar) and blend until smooth.

Serve in a mason jar, and garnish with a cinnamon stick, sprinkle of oats or shredded coconut and a fresh cherry.