Print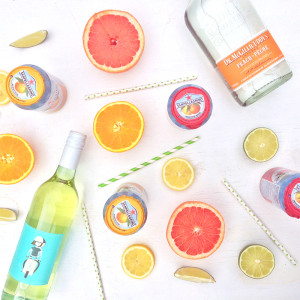 WHITE CITRUS SANGRIA
Sangria has been my summer beverage of choice for as long as I can remember, so over the years my friends and I have perfected the recipe! Our White Citrus Sangria is a crisp and refreshing white wine-based drink that's perfect for summer parties, backyard barbeques, or even camping. This sangria is really easy to drink (maybe a little too easy!) and people who don't drink wine usually like it, too. It's a crowd-pleasing recipe that's fun to make with friends, so next time you're entertaining, try it out -- it always gets the party started!
Mix
1

can of Aranciata Rossa

Blood Orange San Pellegrino

1

can of Aranciata

Orange San Pellegrino
(Note: I also like Limonita (Lemon) or Pomello (Grapefruit) San Pellegrino in this recipe!)

2

cans of Soda Water
Fruit
1

Grapefruit

1

Orange

1

Lemon

1

Lime
Add white wine and peach schnapps to a large beverage dispenser.

Add San Pellegrino, then soda water. We like our sangria not too sweet, but if you prefer sweeter drinks you may want to add more San Pellegrino and less soda water. Make sure to taste (and stir) as you go!

Slice and squeeze 1 grapefruit, 1 orange, 1 lemon and 1 lime into the mixture, reserving a few slices to float on top. We like ours pretty citrus-y, but again, if you prefer sweeter drinks you may want to add more orange and less grapefruit, lemon and lime.

Pour the sangria into wine glasses, add a fun straw, and garnish with a slice of citrus. Enjoy!
If you have leftover sangria (which doesn't happen often), you can totally freeze it! Then, when you want to drink it, just allow it to unthaw about about 30 minutes -- it's delicious as a slush.