Print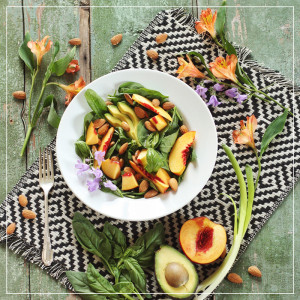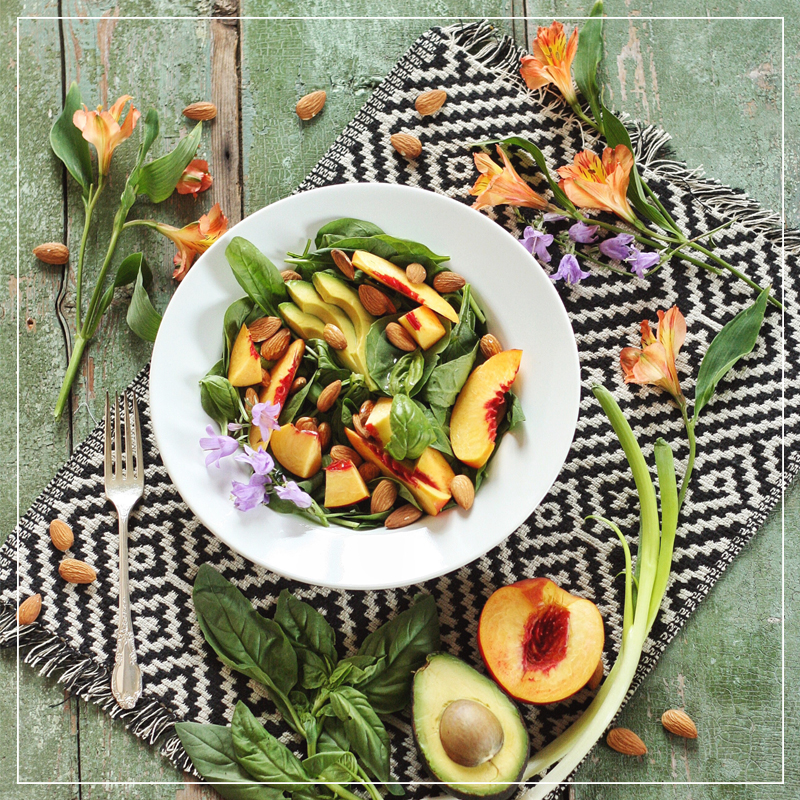 NECTARINE BASIL SALAD WITH PINEAPPLE BALSAMIC VINAIGRETTE
I'm totally in love with nectarines right now, and I've been making My Nectarine Basil Salad with Pineapple Balsamic Vinaigrette for lunch often lately! It's quick to whip together and combines a delicious summer flavour profile — nectarines and basil. You could also have this salad for dinner, just add some grilled chicken, shrimp (or more almonds) and you're set! In this recipe I use a pineapple balsamic white vinegar from Lucero Olive Oil, which I picked up in Napa Valley last summer (and have been rationing like an insane person), because it's absolutely heavenly.
Nectarine Basil Salad
4

cups

baby spinach

1

nectarine

1/2

an avocado

3

sprigs green onion

10

fresh basil leaves

1/4

cup

almonds
Pineapple Balsamic Vinaigrette
1

tbsp

pineapple balsamic white vinegar


(Calgarians: Sunterra, Community Natural Foods or Amaranth Whole Foods Market may carry this.
If you're not able to find it, substitute 1 tbsp chopped fresh pineapple)

1

tbsp

regular balsamic vinegar

1

tbsp

extra virgin olive oil

A dash each of pink Himalayan salt and freshly cracked black pepper
Add your baby spinach to a large mixing bowl.

Then, slice the nectarine and avocado and add to the bowl.

Chop the green onion, and basil and transfer to the bowl.

Prepare the Pineapple Balsamic Vinaigrette Add all ingredients to your Vitamix (or similar) and blend until smooth.

Pour the vinaigrette over your salad and toss. Serve immediately.