Print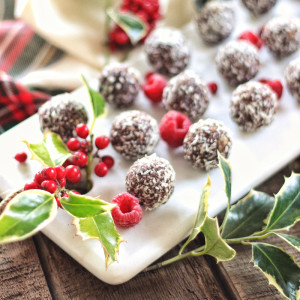 DARK CHOCOLATE RASPBERRY ENERGY BITES
I believe that if you're going to treat yourself, you can nourish yourself at the same time — so this year I'm putting a whole food spin on traditional holiday sweets. These are my kind of treats -- the ones you feel really good about indulging in (sometimes I even have them with my morning coffee!). Next time you're looking for a quick, no-bake, holiday party treat, try my Dark Chocolate Raspberry Energy Bites! They're a healthier alternative to traditional holiday truffles or rich, chocolate-based desserts. They're also vegan and free of gluten and refined sugar — perfect for parties where guests have food sensitivities and allergies. You can whip these festive little bites up in just 10 minutes, and keep them on-hand for last-minute guests, holiday gatherings, or all for yourself!
1/2

cup

macadamia nuts

1/2

cup

cashews

1/2

cup

raw pumpkin seeds

1/2

cup

shredded coconut

1/3

cup

cocoa powder

1/2

cup

pure whole grain quick oat flakes

1

tsp

instant coffee

4

medjool dates

2

tbsp

pure maple syrup

1/4

tsp

pure Madagascar vanilla extract

1/8

tsp

sea salt

1/2

cup

fresh raspberries
Wash raspberries and chop medjool dates.

Combine all ingredients in a food processor, Vitamix or similar. Pulse until the mixture is mostly smooth and combined.

Now, take about 1 tbsp of the mixture and roll it in-between the palms of your hands until a ball is formed.

Then, sprinkle some shredded coconut onto a small saucer. Begin rolling bites in the shredded coconut until coated. Then, pick the coconut covered bites up and roll them around in-between the palms of your hands to embed the coconut into the surface.

Cover and refrigerate for 30 minutes. Serve and enjoy!
Store refrigerated in an air-tight container for up to 2 weeks.