Print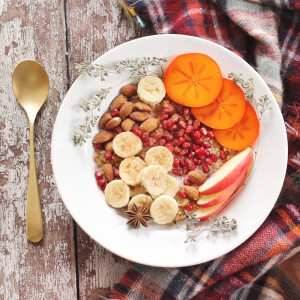 WINTER BREAKFAST BOWL WITH PUMPKIN SPICE STEEL CUT OATS
My Winter Breakfast Bowl with Pumpkin Spice Steel Cut Oats combines warming spices with my favourite seasonal superfoods. Homemade Pumpkin Puree subtly flavours the steel cut oats, while a splash of coconut cream adds richness and decadence. This breakfast bowl is a harmonious medley of textures, colours, flavours and aromas -- it's a true delight to the senses! I've also included instructions on how to layer it in a mason jar, so you can make it the night before and take it to go in the morning. Put on your favourite cozy sweater and treat yourself to a comforting, nourishing winter breakfast!
Steel Cut Oats
1

cup

gluten-free steel cut oats

3

cups

water

(for cooking the steel cut oats)

1

vanilla bean

1/2

cup

organic pumpkin puree

(I have a homemade recipe!)

1

tsp

cinnamon

1/2

tsp

ginger

1/2

tsp

nutmeg

1/2

tsp

cloves

2

tbsp

coconut sugar
Breakfast Bowl
1

banana

1

apple

1

persimmon

1/2

cup

pomegranate arils

1/4

cup

almonds

Splash of coconut cream
Once the oatmeal is cooked, remove from heat and stir in pumpkin puree, spices and coconut sugar.

Add a portion of oats to a bowl with splash of coconut cream. Then top with fruit, almonds and a dash of cinnamon.

Serve and enjoy!
Take it to go! To layer the breakfast bowl in a mason jar, start by spooning the steel cut oat mixture into the bottom of the jar, followed by coconut cream and fruit. Top with almonds. Seal the jar and refrigerate overnight, or for up to 3 days.