Print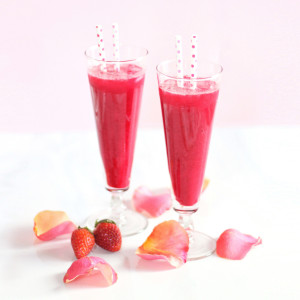 BLUSHING BEET JUICE
My Blushing Beet Juice incorporates seasonal produce like beets, oranges and grapefruit with ingredients that I don't normally juice, like strawberries (which have been looking particularly delicious lately, even though they're not in season). The result is a perfectly sweet, balanced pink juice, packed full of amazing, heart healthy ingredients. Enjoy this vibrant pink juice for love month -- the recipe makes enough for two generous servings, and you can also freeze it to make your own popsicles (kids love them!). Have some fun in the kitchen this February and shake up your juicing menu!
2

large carrots

2

apples

I used Ambrosia

1

beet

1

lime

1

grapefruit

2

small oranges

1/2

" piece ginger

1

pint

of strawberries
Start with chilled produce. Chop all ingredients into 1" pieces.

Add ingredients one at a time to your Hurom Slow Juicer (or similar), starting with an ingredient that isn't as juicy (like ginger), and alternating with an ingredient that makes lots of juice (like an apple). This will ensure that the juicy ingredients flush the not-so-juicy ingredients through the juicer and you'll get more of them in your cup!

Once you've juiced all of your ingredients, stir the juice and pour over ice.

Add a fun straw, or garnish of your choice and enjoy.
You can freeze this juice to make your own popsicles, too!